Drag has completely changed Shantel P. Mandalay's life. Ms. Shantel, as she is known, especially at Drag Queen Story Hour, said drag helped her feel accepted. During the day, Ms. Shantel is an elementary school teacher named Shane, which he said was very tough when he first started.
"I'm an educator, so when I first started in school, being gay and being a teacher was not accepted. They all thought gay people are bad for children, so I had to fight some battles to prove myself," he said. "Being a drag queen, I was able to hide behind a mask. People didn't know who I was, and I was appreciated for myself. Once I developed my persona and I was onstage, I realized it was OK to be me. In my regular life, I wasn't able to be me and be accepted, but I could put on makeup and I was accepted by the community. It saved me. It was very therapeutic for me because it gave me an opportunity to get out in the community and be appreciated when I wasn't appreciated in a straight society."
Mandalay remembers seeing drag for the first time right out of college at a club in Stillwater. He realized one of his student's brothers was a performer.
"That was my first moment of getting to meet someone that did it, and he was so nice to me. He actually painted my face the first time and helped me realize that it's OK to be me," he said. "I've learned a lot, and I've gotten a lot of opportunities and experiences I would have never had otherwise if I hadn't been performing."
Cassidy Q wasn't exposed to drag performers until she was old enough to drink since she grew up religious and drag shows in the area were typically only at places for those age 21 and older.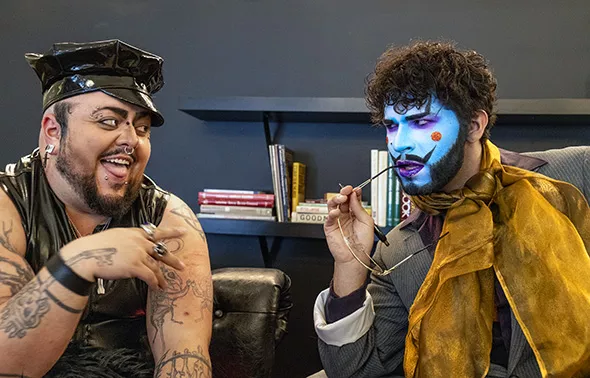 Phillip Danner
Damian Matrix and Topatío discuss the role drag has played in their lives.
Cassidy was fascinated by the performance art aspect of drag and one day approached the lead drag queen at a show at HiLo Club to ask about performing herself.
"So I started performing at the HiLo with them, and I had some friends help me learn how to contour and things like that," said Cassidy, aka Misty Snatch. "I came up with the name before I performed. So I tried to have everything all together. The whole point at the time was to be a faux queen, so people didn't know if I was male or female."
Because she calls Misty Snatch a faux queen, Cassidy said she went over-the-top with makeup to give herself a drag look.
"I wanted to look basically like a cartoon character because I obviously can't just paint my face straight feminine because it felt like it was cheating, I guess," she said. "Then I had to make sure I was wearing heels, body shapers, stuffing bras — I was trying to give myself a drag queen body, and I didn't show my female body that much at first because, again, I was trying to be accepted into the male drag world. I think I was the only working faux queen at the time as far as I knew."
Cassidy, who is currently also a burlesque performer in the troupe Dust Bowl Dolls, had been performing as Misty Snatch at open talent nights at HiLo and The Boom but wasn't getting booked, she said, because her style of drag wasn't as accepted as it is now.
A year after performing as Misty Snatch, Cassidy developed another drag persona, Dick Tater.
"At first I wanted to be like a sexy drag king, but it didn't work out," she said. "That's not my forte, so I decided to, like, go more comedic with it and just tried to be a creepy dude. He's kind of all the worst part of dudes but at the same time kind of funny. … I always just felt like both genders and neither gender at the same time, so I wanted to be able to play with that because I never felt totally like a girl but I also didn't want to transition. So now I get to be all the genders basically. When I do burlesque, I'm basically still in female drag. But then I do drag trying to look like a male in female drag, and then getting to be a female in male drag. It's basically just to play with gender and get to perform as whatever gender I'm feeling at the time."
Lindsey Churchill, director of Women's Research Center and BGLTQ+ Student Center at University of Central Oklahoma, said drag performers offer a different perspective outside of traditional binary gender roles.
"We often think of gender as something fixed or correlated with sex/biology," Churchill wrote in an email interview. "Drag challenges this by showing that gender can be something that is performed."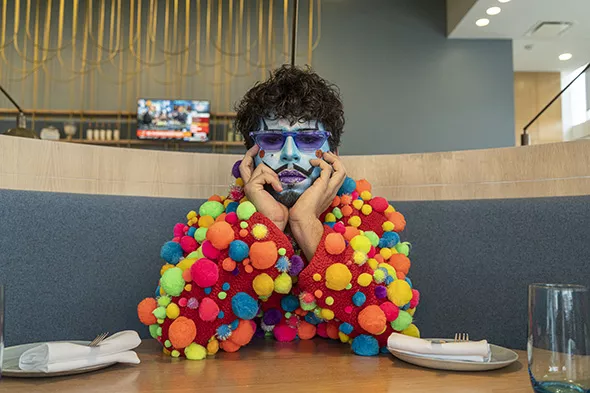 Phillip Danner
Topatío won the final season of Wreck Room Idol and now helps carveout all-ages spaces for drag throughout the city at places like The Loaded Bowl.
Damian Matrix said he has never really wanted to "pick the blue card or the pink card" because he sees himself as "a melting pot of traits," but society tends to judge those traits differently in men and women.
"People who are more sensitive, those people will be labeled, generally, as more effeminate, more female," Matrix said. "People who are more aggressive or in-your-face or loud or rowdy, those people are generally seen as more masculine. People who are super polite and very respectful and considerate of others, people categorize those traits as more feminine, and then the lack of thought for others or having a complete self-serving complex would be, probably, categorized more as male. That's seen as acceptable. If you put those traits in a different box, people are like, 'Oh, this girl is too crazy and aggressive,' but those same traits are celebrated in someone else."
Churchill said that to some extent, everyone is performing gender, in some cases with serious consequences.
"Gender is a set of social constructions regarding what it means to be a 'man' or 'woman,'" Churchull said. "These can vary depending on region, culture, etc. There are ideas within our society regarding emotional traits, clothing and so much more within this performance. If we step outside of or challenge this expected 'performance' and supposed correlation between sex/biology and gender, many times people are persecuted or marginalized."
Matrix found a way to express and accept himself outside society's expectations when he began performing drag 20 years ago.
"I absolutely found my gender identity because of drag," Matrix said. "I'm not sure if I would have ever figured it out if I hadn't. Before I started drag, I was an awkward, internally conflicted, angry, misunderstood person, and drag allowed me to create a duality that was 'acceptable' at the time socially and allowed me to find my own self-acceptance in my real life. … It actually ended up helping me a lot as far as finding better ways to express myself in a fashion that is positive and allow myself to not harbor all my life events in a big bottle that's just waiting to explode one day. It allowed me to figure out a way to understand, cope and move forward, which is why for me, drag is kind of like going to a counselor you don't have to pay to see."
Matrix compares drag to method acting, and his performances are more about self-realization than conforming to any preconceived ideas of gender.
"I can take the song and I can relate it to different pieces, different parts or experiences or events that I've had in my life ... whether positive, bad or somewhere in the middle," Matrix said. "It's an easy way to free the demons in a way that is personal to you, but entertaining other people without them actually knowing what lurks below. … What I portray on stage and who I am in my real life, those are going to be like complete opposites to the maximum. I'm a really even-keeled, chill, laid-back human in my regular life, but my drag character is very crazy, fucking intense and over-the-top."
Phillip Danner
Shalula hosts shows throughout OKC, including nonconforming drag entertainers who might not be accepted in other spaces.
Topatío, who considers themselves a "drag thing," first got involved in drag because they wanted to challenge the perception of drag.
"I wanted to embrace being weird," they said. "I realized that there was no one really representing what I was doing. ... It was a world full of kings and queens, so there was no such thing as things in Oklahoma at least. I felt a lot of power in that and a lot of responsibility in that especially for my identity and in the community as well. So I thought, 'Man, this is the thing that's going to keep me going.'"
Topatío first saw a drag show when he was 15 at The Wreck Room, where they would go on to start their own drag career.

"It was just so exciting, and I never thought I could be that honestly," Topatío said. "Some part of me just kept that love for whatever this art style brings, and I just wanted to be part of that."
Topatío said they got the perfect opportunity to get involved with Wreck Room Idol, a pageant-style competition for local drag queens. Despite losing their first attempt, Topatío was the winner of the final Wreck Room Idol, as the club closed last January.
"That's really what made me blossom because it was driven in competition, and I thought, 'This is the perfect time to prove that someone like me can make it to the end.' And I did not make it to the end the first time around," they said. "This competition was a pressure-cooker for people who are just bizarre. … This was a place that brought out entertainers like myself, Q, Shalula, Tape, Alotta Vahjeen, Vi Karius."

Inclusive community
After the closure of The Wreck Room, the only gay club catering to youth, there was a void for LGBTQ+ youth in the city. The only places creating space for that population were nonprofits like Q Space and Youth Equality Services.
Topatío said many of the performers who competed at The Wreck Room stepped up to help provide those spaces. Along with Q, Topatío hosts a monthly all-ages show at The Loaded Bowl.
"All the queer entertainers who really care about that community and really want to see that community thrive … we have hosted all-ages shows. That's the spirit of The Wreck Room. We want to be inclusive to the community," Topatío said. "The other side of that is we have entertainers of all kinds of backgrounds. A lot of these bars out here don't accept people like me or Tape or Q or people who are not female impersonators or male impersonators."
Despite not being an all-ages show, diversity in entertainers was the same thing that led to the creation of Bang Bang Queer Punk Variety Show, which happens three times a month across the city. Depending on the night, Misty Snatch or Dick Tater are the ringleaders.
"We started that in 2010 because we wanted to just be performers, my friends and I, but we couldn't get booked because we weren't the acceptable form of drag," Cassidy said. "We started our own shows just to give us a place to be able to do our performance art that we wanted to do. I think being the emcee helped because then I was the face of it, and then being in the position of the manager, I got more respect. Once people realized that binary gender is false, then they're more accepting once that wasn't so strict and the rules for drag wasn't so strict. It could just be a performance art instead of necessarily an illusion, a female illusion."
Phillip Danner
Damian Matrix hosts Rebels & Royals Drag Showcase the first Saturday of every month at Frankie's.
Ms. Shantel hosts a few shows at The Boom, works at Tramps and performs at a few other clubs in the city as a special guest. Mandalay also leads OKC Drag Queen Story Hour, where she reads literature to children of all ages followed by a dance party.
"I'm two different people, but it's the persona you set. When you're with kids, you're a role model. When you're in the club, you're a role model," Mandalay said. "People look up to me in both areas, but when I'm on the mic, I'm playing to the adult crowd. You have to realize, it's a character."
Churchill said events like Drag Queen Story Hour can help children learn to be more accepting of themselves.
"It can show them that there is a diversity of gender expression and maybe help them to not feel as much pressure in their own lives to conform to stringent gender roles," Churchill said. "Such stringent roles have the propensity to become very oppressive and harmful."
Mandalay compared being in drag around children to Mrs. Doubtfire. Ultimately, she just wants to show her crowds, no matter what age, what she's learned through the art of drag: It's OK to be whoever you want to be. Particularly with children, Mandalay said it's important for them to start hearing that early on.
"When we're doing story hour, it's for the kids to understand its OK to be whoever you want to be and to appreciate others for being different. We always talk about acceptance, whatever that means to you, and being who you want to be and being happy with who you are," she said. "We don't even talk about being gay; it's about loving everybody for who they are as individuals. We're getting ready to start our third year in March, so obviously we're doing something right."