Gazette / file
High-point craft beer will be available in supermarkets and convenience stores effective Oct. 1.
It all changes Oct. 1. On that day, Oklahoma will no longer be a low-point beer state, a place where high-point beer can only be bought in liquor stores at room temperature. As the state ramps up for the change and customers anticipate greater access to their favorites, grocery stores are unveiling new wine displays and liquor stores are installing shiny new coolers. One local Sprouts Farmers Market proudly displays dozens of wine bottles, but several posted signs warn customers they "can look, but don't touch."
The push to modernizing Oklahoma's alcohol laws began with political pressure from big-box retailers. Walmart contributed more than $4.8 million to the group Yes On 792 Inc., which promoted State Question 792, providing about 90 percent of the group's funding.
Walmart also made donations to the campaigns of SQ792 coauthors and state senators Stephanie Bice (R-Oklahoma City) and Clark Jolley (R-Edmond, now retired).
Retailers will benefit from the new revenue stream of being able to sell high-point beer and wine by Oct. 1, but its total benefits are yet to be fully recognized, said Jeff Fulk, general manager at Crest Foods.
"Displays will be determined by the size of the store, but it's an exciting time — especially with the craft beer coming in," Fulks said.
OnCue gas stations, along with 7-Eleven and QuikTrip, made donations to political action committees (PACs) like Oklahomans for Consumer Freedom, Oklahoma Grocers Association and Foundation for Economic Prosperity.
"Once we heard about the law change, we started retrofitting stores with beer caves and making other improvements," said Laura Aufleger, vice president of corporate communication at OnCue Express.
The phasing out of low-point beer has led to a transition period for mass-produced beer. Some retailers stopped ordering low-point beer as early as the beginning of September, not wanting to leave unsold product on the shelves.
Anheuser-Busch will continue production of 3.2 beer for select markets in the country but will no longer sell the product in Oklahoma after September, according to Jason Hall, head of Anheuser-Busch Oklahoma sales.
"We are a week out from transition. There are some packages that we've pulled back on a little bit, but we've been able to fully service the market where allowed," Hall said. "Our customers (retailers) also want to manage their inventory. … We haven't had any supply issues on our end for 3.2 beer."
Both Fulks and Aufleger said that they've heard of competitors cutting their low-point beer inventory in advance of the law change but each store is committed to selling as much as possible leading up to Oct. 1.
"After this last weekend, we might start to get a little low just because of demand," Fulks said.
Sold cold
Within weeks of the new alcohol laws taking effect, Elk Valley Brewing Company will move from its current location at Brewers Union, 520 N. Meridian Ave., into a new Midtown location at 1210 N. Hudson Ave. Owner and founder John Elkins is in the process of finishing the new 6,000 square-foot space that features three 1,000-gallon tanks and three 500-gallon tanks with two 2,000-gallon tanks planned for installation in early 2019. The space was developed by Pivot Project and will feature a taproom and upstairs patio.
For Elkins, the most seismic change before State Question 792's passage in November 2016 came with the passage of Senate Bill 424 earlier that same year, which allowed craft brewers to sell their products on brewery premises.
"Before the 2016 law went into effect, we couldn't sell high-point beer here [at the Brewer's Union] for anyone," Elkins said. "They could have up to 12 ounces in tasters, and it was such a pain. People wanted to buy, and they couldn't. We got to the point [at the Brewer's Union] that we didn't have most of our stuff on tap; only the low-point. It negatively impacted the customer wanting to buy all of these beers and we'd have to tell them no. We had nine taps, and all with low-point rather than getting someone's hopes up."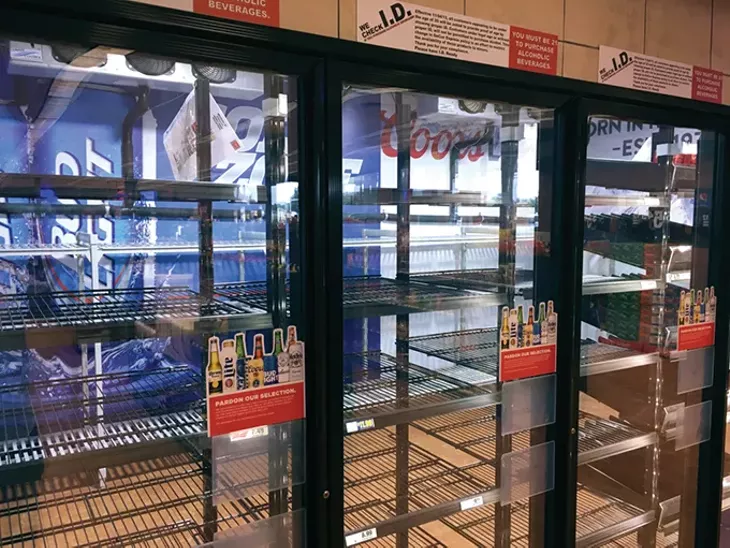 Jacob Threadgill
A beer cave at an OnCue Express on 36th Street and May Avenue sits nearly completely empty except for a flavored malt liquor on Monday Sept. 24.
For Elkins and other brewers, the new laws throw open many doors that were previously closed. Brewers distributing high-point beer can now distribute in supermarkets and convenience stores and their products can be sold cold in liquor stores.
This will likely result in enormous growth for Oklahoma's craft breweries. Sean Mossman, director of sales and marketing at COOP Ale Works, said the projections are strong. Under the new paradigm, COOP products will be distributed by Republic National Distributing Company, which Mossman said could significantly extend the company's retail reach.
"We're expecting to see somewhere in the range of a 40 percent increase in the fourth quarter of this year versus the previous year," Mossman said.
That potential growth comes as a result of two factors: increased distribution and the economics of convenience.
"There was a ton of pickup demand for products like ours, and they were fairly inaccessible," Mossman said. "You had to go to a liquor store before 9 o'clock and not on Sundays and not on holidays. There was nothing convenient at all about consumers' ability to buy our product before. Now, it's about convenience, not just because it's in grocery stores but because liquor stores can do so much more in their spaces."
Because of the blue-sky projections for local brewers, Elkins was able to go into a high-traffic district for his taproom, one that will give Elk Valley greater visibility.
"The law change opens the doors for a place like Midtown," he said. "Now you can afford to go into a place like that and be able to sell your product directly to the customer without having to go through two middle guys to get it."
Game day
When customers could not buy high-point beer on Sundays, they had to leave the couch for the big game. Sports bars, which make a large portion of their sales on Sundays, especially during football season, might be affected by the wider availability of high-point beer. But Chris Cochrane, owner of Lumpy's Sports Grill, said that his business offers customers more than the chance to buy a strong drink.
"We can only focus on the things that we can control," Cochrane said, "but do I think it will have an impact? I doubt it for a couple of reasons. One, everybody in this state has been so used to preparing for, you know, if they drink, they take care of it on Saturday. And in our case, we're a sports bar. This time of year, we've got NFL Sunday Ticket. We've got a lot of things that you wouldn't have at your house, or if you did, it wouldn't be as much fun. … We've got the Thunder season starting, so we're optimistic. Our sales have been trending up, and I don't think this is going to stop anything at all. It'll bring us in line with the states around us, most of the states, really, now. There's just a few states that have 3.2 left."
Though low-point beer is increasingly becoming a rarity as Oct. 1 approaches, it has accounted for a large portion of beer sales in Oklahoma and at Lumpy's, where stronger beer has been available.
"Everybody in the state has been on 3.2," Cochrane said. "Of course we had strong beer, but it really only represented, out of beer sales, probably 5 percent, maybe 10 at the most. The other 90 percent was Bud Light and Coors Light. It was all 3.2 until just recently. For example, out of the three locations we have, we're no longer able to order 3.2 beer, so what's coming in the back door is strong beer. We're just depleting our stock, and it looks like so far it's been pretty smooth."
Though the transition will ensure that the sports bar can continue beer sales uninterrupted, customers might notice an increased sales tax because strong beer is taxed at the same higher rate as liquor.
According to Oklahoma Policy Institute's Budget Guide, "3.2 beer is taxed at 11.25 per 31-gallon barrel, or about 20 cents per six-pack. Higher alcohol beer, wine, and liquor are taxed at rates between one-half and two cents per ounce. These taxes are paid by wholesalers to the Oklahoma Alcoholic Beverage Laws Enforcement Commission (ABLE) and included in the retail price of the beverage. In addition to the wholesale tax, there is a 13.5 percent tax on mixed drinks served at bars and restaurants."
Cochrane said the increased tax rate isn't as widely known as some of the other aspects of the changes in liquor laws and it will disproportionately affect bars and restaurants that serve alcohol.
"I don't think that the average voter was aware of the fact that this was going to affect just our industry, really," Cochrane said. "You go to Sam's or Walmart, and they don't have to pay the 13.5 percent tax. … I guess I am pretty opinionated because I followed the whole thing and I voted, and we're just going to make the best of it now. The voters have spoken."
While restaurants and bars statewide might be affected, Cochrane said he remains optimistic about sales at Lumpy's.
"As an industry, I could see it having some impact, but at Lumpy's, probably not. We're pretty liquor-driven already," Cochrane said. "I just don't think that the average person is aware that, 'Wow, it's going to cost me more now to have that Bud Light.'"
Consumer reaction
Jordan Bonagofsky arrived at Oklahoma City's Homeland grocery store near Classen Boulevard and NW 18th Street only to find lines of empty shelves where beer and wine used to be.
"I assume," she said, "there soon won't be any need for that stuff."
The stuff Bonagofsky was referring to was low-point beer and wine, anything with an alcohol content below 3.2 percent.
She reached for one of the few wine bottles still available. Come Oct. 1, when shelves will likely be filled with high-point wine and beer, Bonagofsky said she will be back and ready for the good stuff.
"I'm super-excited," Bonagofsky said. "I think this is long and far overdue."
Though she lives just down the block from Homeland, Bonagofsky said she's curious to see how the grocery store's prices will differ from those at Target and Walmart.
She's also excited, she said, to join a wine club where strong-point wine can finally be delivered to her home.
"It's a whole new ballgame," she said. "Welcome to the 21st century."
Fellow Homeland shopper Mark Leonard couldn't help but smirk when he noticed the empty shelves that were only months ago filled with Budweiser, Coors Light and the like.
"I don't drink," he said, "but I find this amusing. If I did drink, I'd buy my beer at the grocery stores while I buy my groceries."
Leonard said there's more than just amusement that makes him smile these days. A vendor for Homelands across the state, Leonard said the change in Oklahoma's alcohol laws could mean a fatter wallet for him.
"I think this is great," he said. "If the grocery store sells more beer and wine because of the change, then it will make them a lot more money, which will mean that I'll get a lot more money."