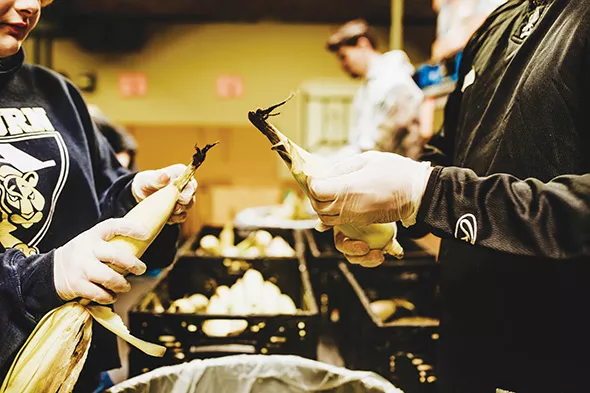 Alexa Ace
Regional Food Bank of Oklahoma provides fresh produce at Moore Food & Resource Center.
The pain shooting up Moore resident Terri Marshall's foot is a constant reminder for her to keep going, against her doctor's wishes, but she doesn't know what else to do.
Marshall is in the beginning stages of neuropathy associated with the diabetes that has prevented her from continuing her job in the bakery department at GFF Foods, the only grocery store within more than a mile of her apartment, near the border of Moore and Oklahoma City.
As she continues the process for approval for disability benefits, which has already taken over a year, she makes due with monthly Supplemental Nutritional Assistance Program (SNAP) benefits while caring for herself and her 3-year-old granddaughter.
"The doctor wants to put me in a wheelchair, but you're not going to put me in one," Marshall said. "My grandbaby keeps me going. I had all boys, so when she came along, she took my heart. I manage the [SNAP benefits] real good, but they don't last, especially when you have a little girl that wants to eat."
Alexa Ace
Skyler Parker is director of Moore Food & Resource Center.
When the benefits run out, she walks or gets a ride to nearby Moore Food & Resource Center, 2635 N. Shields Blvd., which is one of 14 food and resource centers that partner with Regional Food Bank of Oklahoma (RFBO), which covers 53 counties in the western part of the state, but is the only one owned and operated by RFBO.
Opened in 2014 to help in the aftermath of the 2013 Moore tornado, the resource center allows clients to use a shopping cart to walk down aisles of fresh produce, canned goods, shelf-stable items, fresh meat, milk, eggs and pre-mixed salad containers provided by both RFBO and retail partners like Walmart, Aldi, Sprouts Farmers Market and others.
"They've been here when I needed them," Marshall said of Moore Food & Resource Center. "They don't have a snobbiness like some other places. When you see [unwelcoming behavior], you walk away because you're already feeling bad about yourself."
Marshall said the one time per month she is allowed to get food from the resource center is the only time each month that she eats fresh produce.
"I walk to the convenience store because it's the closest thing to me," she said.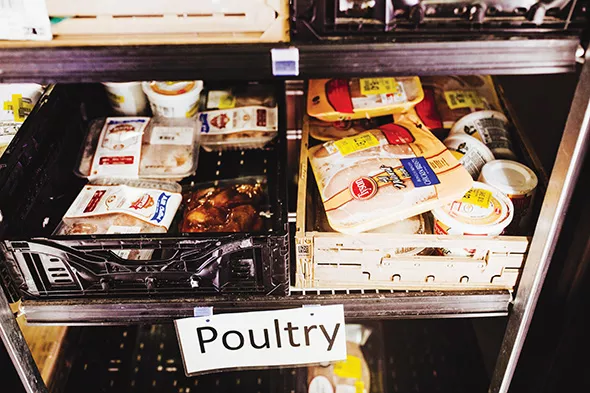 Alexa Ace
Moore Food & Resource Center partners with retail grocers to provide items like poultry, fish and packaged salads.
Food deserts
Marshall is not alone. Over 50 percent of the population in Cleveland County has low access to quality food, and 13 percent of the county lives in a food desert, which is determined by the U.S. Department of Agriculture using census tracts of low access to fresh produce within more than a mile.
Even in the largest county in the state, Oklahoma, 10 percent of the population is classified as living in a food desert, and nearly 20 percent of the state's population is classified as having low access to quality food, according to Katie Fitzgerald, chief executive officer at RFBO.
"We are living in a time in Oklahoma City and throughout the country where there is a wonderful celebration of food," Fitzgerald said. "People take pictures of their meals and we have this wonderful appreciation for food, clean eating, nutrition and all these things, but there is a good portion of our population — 16 percent — that if they wanted to, they couldn't."
Six percent of the state's population is classified as very low food security — not having enough to eat — and another 10 percent are those who have low food security and are not getting access to enough nutrients and rely on heavily processed food available at fast-food drive-thrus, convenience stores and dollar stores.
Director Skyler Parker said Marshall's situation of needing the center following a major health crisis like worsening diabetes is common.
"A lot of people are choosing between hospital bills, fixing their cars and buying food," Parker said. "We had a woman who came in recently that had no home and no money. The reason was that she had a flat tire. When she couldn't afford to fix the car, she couldn't go to work, lost her job and got evicted."
Parker said a lot of the clients at the center are senior citizens living on fixed incomes, and he highlighted an elderly couple who came in for the first time because the husband had a stroke and they were paying $500 co-pays at the pharmacy.
"Through our partnerships, we were able to get those co-pays down to $20," he said of the center's resources that include physician screenings, job placement and cooking classes, among others. "We have professionals in the community that come here and shop, including some single-parent teachers. The stigma and stereotype is not what people think. We've had oil executives that lost their jobs and couldn't find work for six months, and their savings were gone."
Alexa Ace
Moore Food & Resource Center provides fresh produce to clients once per month.
Moore Food & Resource Center is one such center in the metro area; others include The Urban Mission, 3737 N. Portland Ave.; Skyline Urban Ministry, 500 SE 15th St.; The Salvation Army, 1001 N. Pennsylvania Ave.; and Project 66 Food & Resource Center, 2612 S. Kelly Ave., in Edmond.
In OKC, the neighborhoods determined to have the least access to grocery stores include Culbertson's East Highland and Capitol View in the northeast part of the city and Capitol Hill on the south side, according to the city's Strong Neighborhoods Initiative (SNI).
Oklahoma City-County Health Department, in partnership with SNI and RFBO, launched a mobile market in late 2018.
A converted Coca-Cola truck has been retrofitted with shelves lined with fresh fruit and produce, and the group gives away bags of items, including recipe cards, to residents in the three neighborhoods. The truck has served more than 700 people since launching full-time in November 2018, according to Shannon Entz, SNI program planner.
The mobile market is parked at Christ Temple Church at 27th Street and Kelly Avenue in Capitol View, John F. Kennedy Park in Culbertson's East Highland and Capitol Hill Library in Capitol Hill one Saturday per month.
"All of these areas are lacking access to fresh fruit and vegetables," Entz said. "When you're trying to decide what to purchase, sometimes fruits and vegetables are not going to be the first thing if you have other vital necessities like medication or something for your kids."
Unfulfilled promises
The mobile kitchen serves the community in the 73111 ZIP code, which is the unhealthiest in the city, according to City-County Health Department data, and is located two blocks south of the now-closed Save-A-Lot grocery store on 36th Street, which opened in 2017 and is the latest in a string of failed attempts to supply better access to fresh produce on the city's east side.
"The conversation has technically been happening for northeast Oklahoma City to have an adequate grocery store since 1993," said Ward 7 councilwoman Nikki Nice.
Nice's predecessor John Pettis Jr. tried to bring an Uptown Grocery Store to NE 23rd Street and Martin Luther King Avenue, but when development costs increased, Uptown Grocery Store's owner Buy For Less opted to open a discount grocer Cash Saver instead.
"We saw this dramatic proposal for a grocery store, and they ended up downsizing into a discount store where you get taxed 10 percent on your bill even before you get your grocery rung up," Nice said. "That's not what the community wants, and the community deserves better."
The Save-A-Lot remained in business for little more than a year before it closed. Its proximity to a Dollar Tree highlighted the decision many consumers choose to make.
"I talked to a lot of people, and [the Save-A-Lot] was not what many people wanted in some aspects, especially when you have a next-door option of a Dollar Tree to get a dollar product that is a brand name with a smaller serving size compared to an off-brand product next door with a larger serving size," Nice said. "A lot of the community would rather have that smaller serving size because they want a brand-name product."
Tulsa city councilor Vanessa Hall-Harper led a protest that led to the six-month delay of the construction of a Dollar General next to a Family Dollar and highlights the proliferation of discount stores that offer smaller serving sizes and little fresh produce and meats in the communities that need them most.
"As a product of northeast Oklahoma City, I recall having more grocery options, but with those things leaving, it's very hard to tackle how to make the numbers work and for grocers to understand that even though their numbers aren't adequate, that the community has a need," Nice said, noting that getting a grocery store in her ward is one of her top priorities but it is only getting more difficult with the recent decision to close more schools under Oklahoma City Public Schools' recent Pathway to Greatness plan. "When you're looking at density in the communities and you have people closing these schools, your communities suffer drastically from that, and it's helped create a decline in numbers to where it's harder to make the numbers work for the grocers."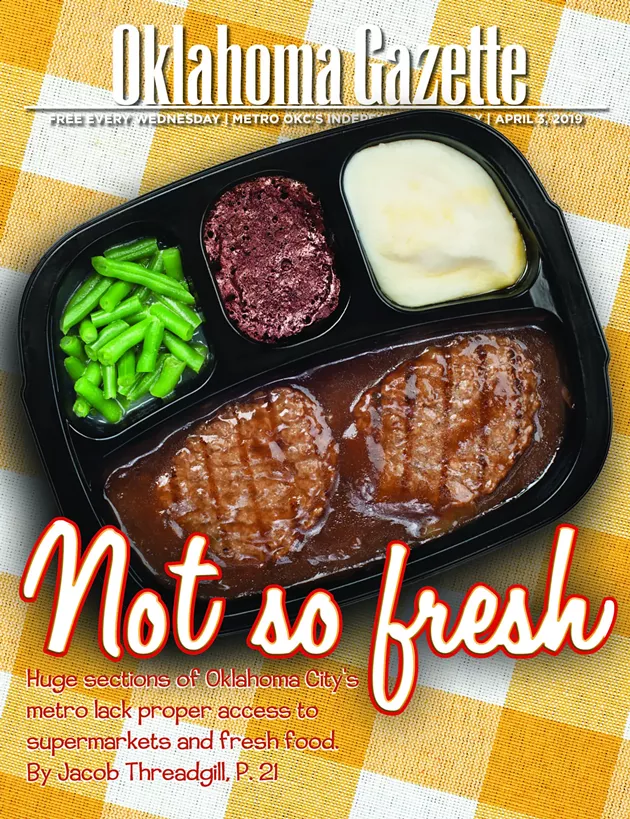 Legislative response
Oklahoma Legislature passed Senate Bill 506 in 2017 and established the Healthy Food Financing Initiative (HFFI), a public-private partnership designed to address food insecurity by providing grants for the construction of new grocery stores and small food retailers in the areas most in need.
Though passed in 2017, the initiative has yet to receive funding from the Legislature, but HFFI's main lobbying firm, American Heart Association, is making a push now that the state is running a $600 million budget surplus.
"In 2017, the budget picture was a lot different than it is now. We're in a better place. We feel like now is the time that would be appropriate gratis funding because it's really a way that the state can't lose," said AHA lobbyist Jordan Endicott. "Not only do get access to healthy food, but you're also creating new jobs, investing in communities. So you have new development, new property taxes all happening for the state. So it's really a good investment for the state to pursue."
Endicott said they are advising for $3 million in funding for HFFI. Fitzgerald and RFBO are advocating for HFFI during legislative meetings, and Fitzgerald said the food bank's funding allocation is driven ultimately by filling the gaps not filled by a private market solution.
"I would love to see us do more with it moving forward," Fitzgerald said. "It does have the potential to be a win-win, where private industry that's trying to advance retail establishments and grocery stores is also attracting their approach in areas that are in need."
Regional Food Bank of Oklahoma / provided
Katie Fitzgerald is CEO of Regional Food Bank of Oklahoma.
As the state is operating at its first budget surplus in years, she runs into hurdles while advocating for funding for programs that will help food insecurity.
"We know for a fact that people are working and still hungry," she said. "We have seniors who've worked their whole life and are still hungry, children and families who are very low-income who are hungry and that there are a lot of myths out there that people are just lazy or not applying themselves are working. And that is just not the reality of the vast majority of people who need supplemental food. … There are a huge amount of people that are doing the best that they can. The reality is that wages across our country have stagnated over the last 40 years."
Fitzgerald also noted that she is confronted with myths surrounding SNAP, like the idea that people can buy tobacco and alcohol with EBT cards or that work or job training requirements are strict enough.
"SNAP is probably the most successful federal program we have for keeping people out of desperate poverty," Fitzgerald said. "It provides 12 times the access of food that the food banks collectively across the country provide. A lot of folks think that we can get rid of these government programs and just look to the faith-based community or food banks. While we're super proud of the work we and the faith-based communities do, but we don't believe at all that we could fill that gap."
provided
Filling Tummies is a nonprofit that provides fresh fruit and vegetables to schoolchildren on Fridays.
Childhood hunger
Fitzgerald and RFBO are advocating for a change in the rule that requires students on the federal free and reduced lunch program to meet in a centralized area like a local church or recreation center to have access to the summer feeding program. Fitzgerald said Oklahoma ranks 51st in the country (which also includes the District of Columbia) for the percentage of children who participate in the summer feeding program.
"It's a total transportation issue," she said.
Sixty-one percent of Oklahoma public school children are eligible for the free and reduced lunch program, but only 9 percent participated in the summer program in 2017, according to the state superintendent's office.
Helping feed Oklahoma City's schoolchildren was the driving force for Lisa Blacknoll when she helped establish the nonprofit Filling Tummies, which converted an old school bus into a mobile pantry focused on feeding school kids.
"As a mom, I started the organization because I didn't want children going to bed hungry, and the statistics were just outrageous," Blacknoll said. "Because I was so heartbroken, I thought somebody should do something about it. I know that the food bank and other organizations were working hard to do something about being in the bottom states in the nation for hunger. But apparently, all the things that we're doing, all the effort that we're putting forth isn't enough."
The bus painted neon blue and green goes to schools on Fridays stocked with donated fruits and vegetables and a staff of volunteers. Blacknoll said the organization has a waiting list for schools requesting a visit from the bus.
"Many of the kids, as the teachers get to know them and know, you know, their families, they know that those kids are suffering in silence, they know which kids don't have food at home," she said. "And the kids will confide and deal with a trusted adult."
Fitzgerald, who worked with neglected and abused children before joining RFBO, said that lack of proper nutrition for children has lasting physical, emotional and cognitive impacts.
"Kids who had long histories of food insecurity would horde and gorge food for years after they were in a better environment because their brain and their trauma was so deep that they never really could trust that food would really be there the next day," Fitzgerald said.
RFBO offers backpack programs that provide shelf-stable items for elementary schoolchildren and food pantries at middle and high schools across the state. Filling Tummies operates independent of RFBO.
"Kids are chronically hungry here in Oklahoma every day," Blacknoll said. "So when people only think kids are hungry in Africa, you know, we're dead wrong. They're hungry right here in Oklahoma every day. We should work together to figure out how to do something about that."