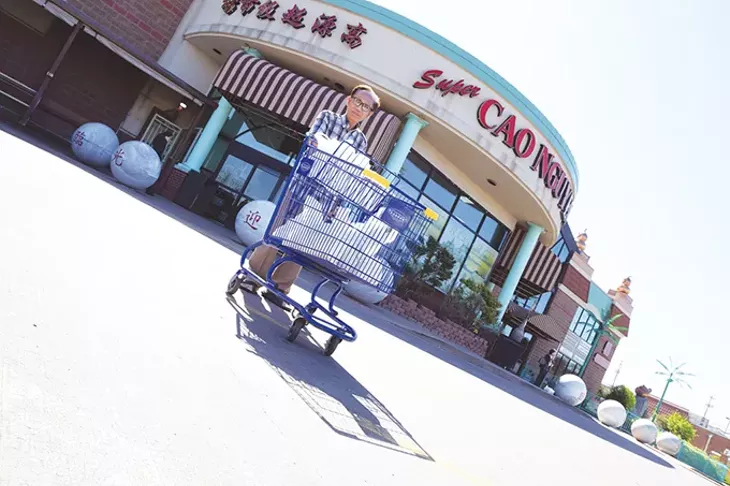 Mark Hancock
Super Cao Nguyen moved to its current location, 2668 N. Military Ave., in 2003.
During the 1950s and '60s, Oklahoma City earned the reputation as "the cafeteria capital of the country," which was given to the city by the president of the American Restaurant Association.
Dr. Bob Blackburn, executive director of Oklahoma Historical Society, said that 37 independent cafeterias operated during that period and defined the food scene in the city.
"Families brought their home-cooking skills into the restaurant business," Blackburn said. "They cooked what they knew: fried chicken, meatloaf, mashed potatoes. We're a rural-based city. People who moved here wanted the same kind of cooking they grew up with, and that was cafeterias, from the '30s to the '60s."
In an end to that era, the chain Luby's closed its Oklahoma City location in February 2018, leaving Oklahoma City without a commercial cafeteria for the first time in nearly a century.
As the city's independently owned restaurant scene grows weekly in the Uptown 23rd District, Automobile Alley, Midtown, 16th Street Plaza District and many other neighborhoods, it is the produce section and butcher backroom at Super Cao Nguyen, 2668 N. Military Ave., that is driving innovation among the city's chefs.
In the morning, it is common to see everyone from line cooks to chefs de cuisine in white chef coats picking up produce or checking out the latest selection of seafood at the butcher counter, but even for the city's most prestigious chefs, it can be an overwhelming experience.
"The seafood selection is wonderful and has influenced kitchens all over the city," said chef John Bennett, who was personal friends with luminaries James Beard and Julia Child and operated The Cellar restaurant beginning in 1965, which was considered the best restaurant in Oklahoma at that time.
"You have to watch out on the weekends because you might get run over by these little old ladies that are doing their weekly shopping. You better get what you need and get out of the way," he said. "They will be there pushing, and there is always a line."
Bennett started going to the original Cao Nguyen market in the early 1980s because of its product selection.
"When I first started in Oklahoma City, I couldn't even get a local mushroom," Bennett said. "I had to get everything shipped from Dallas."
Blackburn said the food scene began to change in Oklahoma's oil bust-fueled second great depression that began with the failure of First National Bank in 1985 and continued to 1998. Cattlemen's Steakhouse was the only steakhouse to survive, and downtown restaurants largely vanished.
"We have become a foodie town, and Super Cao Nguyen brought in exotic spices, foods and fish," Blackburn said. "You wash out an entire generation of restaurant owners, including the struggling cafeterias, and this new wave has filled the vacuum once the recovery started in the late '90s and early aughts. They don't want to serve food from the farm because they're not from the farm."
Kurt Fleischfresser, one of four American chefs awarded the Medaille de Merite by L'Academie de Gastronomie Brillat-Savarin, is currently the director of operations at Western Concepts Restaurant Group (Vast, The Hutch on Avondale, Sushi Neko, Musashi's, Will Rogers Theatre and The Lobby Cafe & Bar). Fleischfresser said that while Super Cao Nguyen isn't their only supplier of seafood for places like Sushi Neko, it's where they go to create specials and try new ingredients. He said some of his favorite memories are of eating spiny lobsters imported from Australia to Super Cao Nguyen over a bottle of wine.
"It's inspirational to go in there and walk around to get motivated to cook something new," he said. "I tell my cooking classes to go and learn to shop there. … They have become quite the resource. Who would've thought that you could get fresh, live geoduck clam in Oklahoma City? You can get it thanks to these guys."
Food bonding
Super Cao Nguyen is currently operated by brothers Ba, Hai and Remy Luong, who took over day-to-day operations after Cao Nguyen moved from a red building on the corner of 24th Street and Military Avenue to its current location in 2003. After its move, the store began adding products based on customer feedback, and it has become a true international market.
"Everyone [at other grocery stores] had the same stuff except us, and that's where a lot of chefs get their inspiration," Hai Luong said. "We help them out too. We give them suggestions, and next thing you know, you've got two or three fusion cuisine together, and most of the time, it works."
Hai Luong works with restaurateurs across the metro area through a variety of cuisine. Super Cao Nguyen facilitates the whole suckling pig dinner used for the annual Royal Bavaria anniversary dinner in January. It also stocks the mussels and oysters served at La Baguette, where co-owner Alain Buthion often has after-hours, invitation-only Man Cave dinners for 20 of his friends, including Hai and Ba Luong.
"Food brought us together," Buthion said of his relationship with Super Cao. "I can get lost in all of the products you can get there, from Philippines, Korea, Thailand, Vietnam and all over the place. They have so many plants and pastes, like the curries. The selection of vinegar … oh yeah."
City chefs and the family operate with a symbiotic relationship. Ba Luong said that they are more willing to order exotic seafood because he can contact local chefs and know they will at least want to put it on the menu as a special.
"We're able to offer high-end seafood for consumers to take home, but also restaurants get quality fish that no one had ever heard of," Ba Luong said. "Whole live spiny lobster are $30-$60, and in a few phone calls, we can get rid of half of it while having something exotic in the tanks. Restaurants have one-of-a-kind item, especially in Oklahoma and the Midwest."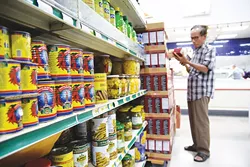 Mark Hancock
Middle Eastern harissa paste became one of the first international items offered at Super Cao Nguyen.
Refugee journey
Ba and Hai's parents Tri and Kim Luong lived in the southern tip of Vietnam, and after the fall of Saigon in 1975 to the communist regime, Ba said that his family wanted to leave because, as business owners, they believed in capitalism.
In late 1977, with communists in power and the threat of being sent to a re-education camp, his family sought refuge in Malaysia because his parents, who are ethnically Chinese, spoke Mandarin and Teochew. After two weeks at sea, they made it to the border only to be told that Malaysia wasn't taking any more refugees.
"Fortunately, they ran into a ship captain off the coast," Ba Luong said. "He told them, 'The next morning, at the crack of dawn, capsize your boat and swim for it.' Not everyone knew how to swim, so they got as close to the shore as they could. The boat sank and Malaysia had to take them as refugees."
His family was sponsored to immigrate to the United States by a Southern Baptist church, and they landed in Washington D.C. July 4, 1978. Tri Luong got a job as a dishwasher at a local hotel, but the family yearned for a warmer climate and decided to relocate to Fort Smith, Arkansas, near Fort Chaffee Maneuver Training Center, which operated as a refugee camp at the time.
Tri and Kim Luong began operating a small grocery in Fort Smith because they missed the products of their home and knew they had a built-in clientele. This meant traveling to Oklahoma City to the original Cao Nguyen market to pick up provisions. After a few months, the owners asked if Tri and Kim wanted to buy the store. They took ownership in late 1979.
Ba Luong was instrumental in establishing the Asian District, working with city and district leaders to establish the boundaries and design codes while he was in college at Baylor University and after taking a post-grad accounting job in Houston.
He came back to OKC full-time when his father asked for his help expanding the store to be modeled after Texas-based H-E-B. After years of eating hummus at a Houston restaurant, it was one of the first international items they added to the new supermarket.
"You can walk down the aisle and hear five or six languages being spoken at one time," Ba Luong said. "To hear all of those and think you're in the Oklahoma City is exciting."
"There are a lot of cultures shopping in here, but the one constant is that everyone's grandmother yells the same way. It doesn't matter if you understand the language; the answer is always, 'Yes, ma'am,'" Hai Luong said with a laugh.
Mark Hancock
Ba Luong tells chef Kurt Fleischfresser about the latest shipment of tiger prawns.
Store tour
Super Cao Nguyen can be an intimidating place to shop for first-time visitors. Ba Luong provided a tour of the store and pointed out a few items to help guests get started.
Produce section
The large produce section is one the first things that put Super Cao Nguyen on the map, but it's not just the selection that gets praise, it's also the prices. It stocks hard-to-find items like bok choy and kohlrabi but also stocks nutrient-rich products like kale (79 cents per bunch) and watercress ($1.39).
"I started eating kale at home, so we brought in our own [to the store]," Ba Luong said. "It's usually at least $1.99 elsewhere."
Super Cao Nguyen also stock 20 varieties of mushrooms, with the newest being organic baby oyster mushrooms.
"Mushrooms are something a lot of chefs requested, and it's usually for a special or for a few nights, but the baby oysters have been on the menu recently at St. Mark's Chop Room [& Bar]," Ba Luong said.
Meat counter
Ba Luong said that many people are surprised to find that the pork behind the meat counter is actually from Oklahoma's own Schwab Meat Co., and it is one of the few counters in town with ground pork readily available.
He is proud of the fish selection, particularly the new shipment of sustainably farm-raised Ora King salmon from New Zealand ($14.99 per pound), which has a much higher level of marbling than the Atlantic salmon ($7.49 per pound). Andrew Murin, executive chef at Chesapeake Energy Arena, added Ora King to the menu at Bricktown Brewery in honor of Oklahoma City Thunder center Steven Adams, who is from New Zealand, Ba Luong said.
"The Ora King is farm-raised without food coloring or antibiotics. We can trace this fish to the beginning. You can put it in a nonstick pan with no cooking oil. Season the fish and put it skin-side down, and it will release natural oil from the skin. When you flip it over to finish cooking, you will have extra oil in the pan."
Cutlery
Super Cao Nguyen's utensil section dates back to its early days when Ba Luong said it had to operate almost as a general store, and the section has become a favorite for chefs, particularly the Kiwi brand of knives, which retail for $5.
"If you ask any chef in town what knives they use on an everyday basis, they will tell you Kiwi knives," Ba Luong said. "Francis Tuttle [School of Culinary Arts] sends their students here and tells them to buy Kiwi knives instead of getting $100 knives. They're fairly sharp, stay sharp and once it's dull you can sharpen it, but it's actually cheaper to get a new one than to have it professionally sharpened. I can't keep them in stock."
Mark Hancock
Ba Luong shows off shirataki noodles, which are gluten- and calorie-free.
Gluten replacements
Shirataki noodles, Japanese noodles made from the konjac yam, are sometimes referred to as "miracle noodles" because they are calorie- and gluten-free. The slippery noodles are packed in water, and Luong said they are an excellent starch replacement for soups and chili.
"Wash them and then let them sweat in a dry pan until the water is gone," he said. "I chop them up and add them to chili as a bean replacement. I let them simmer and eat the chili the next day."