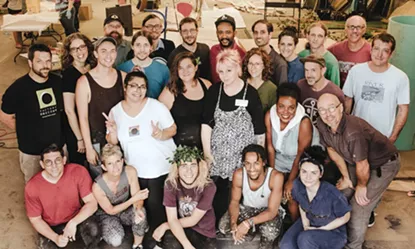 Alexa Ace
A large number of Factory Obscura artists showed up for the artist collective's public volunteer nights.
A multitalented artist is currently seeking a home in Oklahoma City. She has many parents who continue to nurture her, and she overflows with creativity, artistic skill and diplomacy. She excels in networking, logistics and politics. One thing is for sure: She never meets a stranger.
If the collaborative art group Factory Obscura could be personified as one person, this is how cofounders and husband and wife Laura and Laurent Massenat would describe it.
"It takes a lot of different kinds of people coming together to create these exhibits," Laura said of the group's first exhibit, Shift and its latest, Beyond, which will run Sept. 22-Dec. 21 at 1522 S. Robinson Ave.
Beyond, the group's artists said, will turn their temporary studio (which used to be a tire shop), into an immersive artistic experience where visitors will be engulfed by themes of darkness, space and mystery handcrafted by local artists and community volunteers.
If the idea sounds foreign, Laurent said that's because it is.
There are only a handful of art collective experiences in the nation, and Factory Obscura is the first of its kind in Oklahoma.
"To make Factory Obscura work, you have to have entrepreneurs and logical thinkers, networkers and communicators, artists and creators," Laurent said. "You have to have people who will create a magical experience and people who can secure a home and a business for that experience."
With inspiration from their yoga instructor Thomas Thompson, Laura and Laurent initiated the creation of Factory Obscura in early 2017 after visiting highly acclaimed City Museum in St. Louis.
"It was basically a playground for adults," Laura said. "We had so much fun and wondered why Oklahoma didn't have something similar."
Laura was born and raised in Oklahoma and met Laurent, who was born and raised in France, while the two were studying at University of Oklahoma in 1991. Laura was working on a degree in education and studying French while Laurent was a foreign exchange student studying engineering. The two married and lived for a few years in France before returning to Oklahoma.
Nazarene Harris
from left Factory Obscura volunteers Kaalen O'Bannon, Alena Snyder and Kaylyn Cavett work together to create felt art leaves.
"It wasn't our first choice," Laura said. "But my family was here and we knew we could have a solid foundation here."
"You cannot beat the economic opportunity that America has to offer," Laurent added. "The ability to earn a degree and start a business with a minimal amount of money and a connection or two does not happen in France."
"The belief that you can do anything and the reality that you really can … that's very American," Laura said.
The couple returned to Oklahoma for the same reasons Laura's ancestors settled in the state in late 19th century: They saw potential.
The couple admitted that settling down in the Sooner state was an idea that took some getting used to.
"This is a great place to raise kids," Laura said. "But there wasn't much for adults to do when we first started out."
The couple went on to buy a home in Mesta Park, have four children and invest in their community.
Laurent started the OKC-based engineering firm Obelisk Engineering, Laura joined her children's school board and together the couple co-founded Elemental Coffee Roasters in 2011 and then Factory Obscura in 2017.
"We put our hearts and our work into our community, and one day we realized it didn't feel like work," Laurent said. "It felt like home."
Bon vivant
Factory Obscura, Laurent said, is a way to offer Oklahomans
bon vivant
, French for a social and lively way of enjoying life. It's also a way to support the art community in Oklahoma by employing local artists and a way to strengthen the community at large by encouraging volunteers to help artists create exhibit features.
"We want anyone and everyone to come work with us," co-founder Kelsey Karper said. "The idea is for these exhibits to be for the people and from the people of Oklahoma."
Five founders, including the Massenats and Karper, collaborate to produce exhibits created by over three dozen artists and designers. Additional founders include Tammy Greenman and Hugh Meade. While the artists are paid on a contractual basis for now, Karper hopes to offer salary and full-time employment in the future.
"I have always been interested in the business behind art," Karper said. "In order to be economically successful, artists have always been told to create art that is 'sellable.' I am interested in creating a business model for artists that allows for artists to experience creative freedom while still earning a profit."
The first step toward that model, Karper said, is to eliminate the notion of being a nonprofit organization.
Karper helped Factory Obscura become what is known as a "B corporation," or one that is for profit but also contributes to the community at large. The company's status is helping pave the way for its artists to earn decent wages while also contributing to charities of their choice.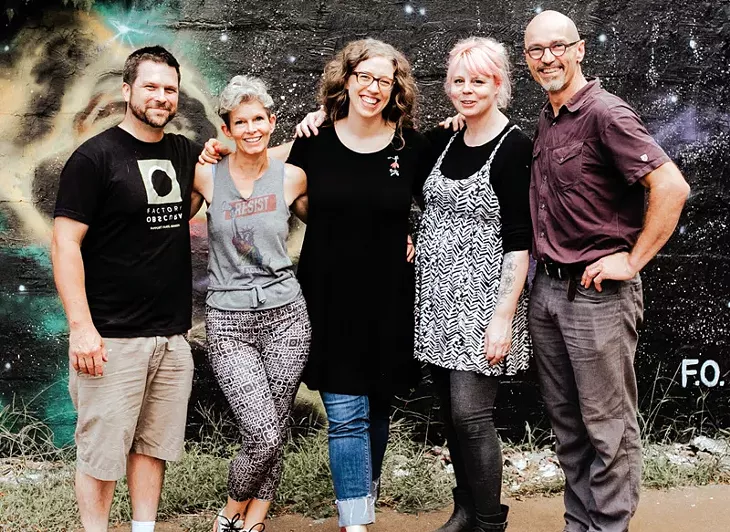 Alexa Ace
from left Hugh Meade, Laura Massenat, Kelsey Karper, Tammy Greenman and Laurent Massenat are the founders of Factory Obscura.
After Shift, Factory Obscura was able to donate $1 thousand to an art mentorship program for Oklahoma City high school students. This year, they hope to create a mobile art experience for younger children who attend Oklahoma City public schools.
"Due to budget constraints, some schools have to choose between offering children music classes or art classes. A lot of people view art as an optional pastime, but we know it's vital," Karper said. "How cool would it be to drive a bus to schools and provide kids with art classes and supplies? That's something we're working on."
Homeschool moms Alena Snyder, Kaylyn Cavett and Kaalen O'Bannon take their children to volunteer at Factory Obscura because they believe in the power of art as well.
One rainy weekday night about two weeks before Beyond's opening night, however, the moms gathered at Factory Obscura to busy their hands while their kids finished schoolwork at home.
"This makes me think of how women used to gather together and knit," Cavett said as she cut out shapes of leaves from green felt. "It just feels good to be in good company and not think about all the stresses of life."
"And you're not with the same people day in and day out," O'Bannon said. "I've met a lot of friends here."
Karper said she has seen volunteers from all walks of life enter the doors of Factory Obscura. Homeschool parents and their children, aspiring artists, professionals who work downtown and motorcycle bike groups have all lent a hand to the art projects that will be a part of Beyond.
Founders are searching for investors and a permanent home for Factory Obscura, Karper said. While Shift was free to attend with donations encouraged, a $10 admission fee is required to attend Beyond. There are four doors to the exhibit, Karper said, with each door providing visitors a different path and experience. Season passes can also be purchased for $25.
Visit factoryobscura.com.
Editor's note: Oklahoma Gazette graphic designer Tiffany McKnight is a member of Factory Obscura.