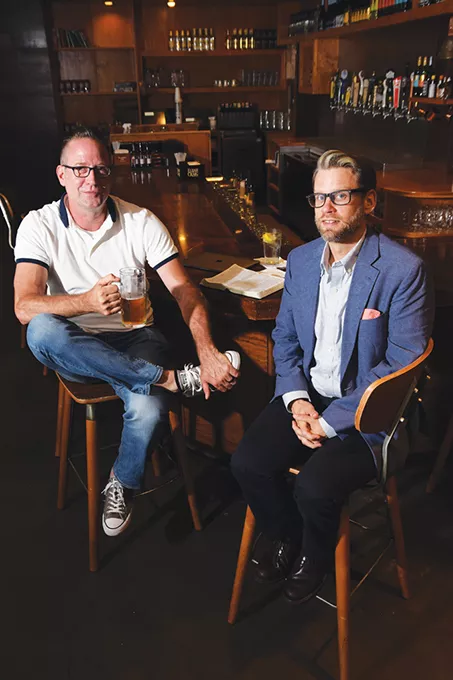 Mark Hancock
Doug Serven and Bobby Griffith of CityPres spend much of their time meeting the public in coffee shops and bars near the church's Midtown location.
Seven years ago, Tim and Christie Mannin had a conviction. God was calling them to start a church.
At first, the husband and wife, who had been involved in Oklahoma City-area churches for years, fought it off. After all, there were plenty of churches in OKC. Following much prayer, they came around to the calling. As they drove and prayed around the city's urban core, the two arrived along NW 23rd Street in a commercial area that had seen better days.
"We felt a strong conviction this was where we needed to be," Tim Mannin said. "From that day forward, we decided this was it. We planted our flag."
In 2012, along NW 23rd Street in the Uptown 23rd District, there were only a couple of restaurants, including longstanding Cheever's Cafe; a well-known junk store; and a lot of empty storefronts and boarded-up buildings. What was unseen from a passing vehicle was satanic and gang graffiti and criminal activity in the alleyways. The Mannins pondered what kind of life they could breathe into a broken part of the city.
"We aren't trying to clean this place up so that it was another suburb," Tim Mannin said. "We actually believe in the diversity, the economic diversity. We often say, 'We want to be at a place where there is need at our doorstep.' We aren't trying to eradicate need and brokenness. We are trying to serve it."
Seeds for revitalization were already being planted around that time by private developers. In the years to follow, a rundown strip shopping center at NW 23rd Street and Walker Avenue was converted into an upscale retail destination. Called The Rise, the space is now home to a happening oyster bar and seafood restaurant, a trendy tearoom and a 24-hour gym, among others. One block west, people flock to recently opened craft doughnut shop Hurts Donut Company. Further west is a string of eateries including Guyutes, Cuppies & Joe, Chick N Beer, Okie Pokie and Noodee. At the heart of the district, long-shuttered Tower Theater's neon sign now shines bright, listing upcoming shows and community events. In the nearby spaces are nascent restaurants, including a Korean bun shop, a deli, biscuit shop and a retro craft cocktail and beer lounge, and OKC Community, home of OKC Community Church.
Since late 2015, OKC Community Church has held weekly services in the former C.R. Anthony's department store building at 421 NW 23rd St.
"Communities and neighborhoods have all sorts of contributors to their fabric," said Tim Mannin, who serves as the church's senior pastor. "In this case, you have a lot. You have education with [Oklahoma City University] and government down the street. You've got arts and entertainment. You've got business with an element of food. There are a lot of cultures. We felt like the one that was deficient was the church. We were the missing the voice."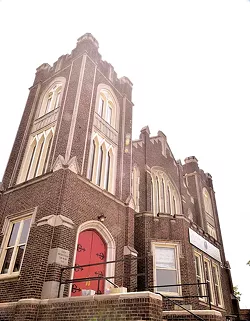 Karson Brooks
CityPres is located in Midtown.
Church roles
The resurgence of OKC's urban districts is not without the church. In hot spots like Uptown 23rd District, Midtown, 16th Street Plaza District, Western Avenue and even Bricktown, churches have planted in recent years, some in rented storefronts and vacant buildings and others in spaces abandoned by congregations of yesteryear.
Some might argue this trend comes as new leaders out of seminary follow the population back into the city's newly thriving inner core neighborhoods, but others see it as a never-ending trend as religious organizations, including churches, always play a role in shaping communities. Often, religious organizations are part of the first wave of development; several OKC churches, including First Presbyterian Church of Oklahoma City and First Church OKC, trace their history back to the days following the Land Run in 1889.
Churches' contributions to up-and-coming urban districts go beyond the beautification and revitalization of single spaces with crowds on Sundays. Contributions to the districts and the nearby residential neighborhoods are unique in ways only faith-based organizations can provide, said pastor Kenny Deason of The Parish Dwelling with Christ and Community, located in the Plaza District at 1757 NW 16th St.
The Parish traces its roots back to 2008 when Deason led a congregation of mostly college students whose ministry took them to McKinley Park, located in the Classen Ten-Penn neighborhood. Over the years, the park ministry has taken on different forms, from mentoring youth and after-school programs to collecting and distributing donated local restaurants' food to families in need. The Parish held its first service in the Plaza District in The Venue in 2012.
"There are things we chose to do in this neighborhood that other businesses wouldn't either have the interest or the capacity to do," Deason said. "With churches, inherently, there are a lot of volunteers and a lot of elbow grease. Your typical business does not consider that part of their purpose."
Like The Parish and OKC Community Church, Midtown's CityPres opens its doors quite often. Think beyond traditional church services and gatherings, AA meetings and the occasional birthday party or wedding. It's common to come across a packed parking lot and a crowded sanctuary for community and neighborhood meetings, graduations, film showings, concerts by local secular artists and visual art shows. Pastors Bobby Griffith and Doug Serven said their Presbyterian congregation has embraced the church as a community space.
"We've always cared about loving the city well and loving people in the city well," Serven said.
After two years of worshipping in fellow Midtown church Frontline Church and downtown's First Church OKC, CityPres moved into its official home at 829 NW 13th St., the former spot of Pilgrim Congregational Church. Looking back, those years without a brick-and-mortar location in ever-changing Midtown were just what the church needed.
"It sounds so funny to say it now, but we mostly officed at Coffee Slingers [Roasters]," Griffith said, referencing the Automobile Alley coffee shop. "We have maintained officing out in the public since then, even with offices. It just feels better. You get to meet people, hang out with people. What came of it was relationships."
Mark Hancock
Tim and Christie Mannin founded OKC Community Church in an effort to serve a diverse population.
Pew unity
In the early days, when OKC Community Church rented one of the bungalows-turned-commercial spaces on the district's west side as a gathering space and office, church services were held in Civic Center Music Hall and the attraction to NW 23rd Street wasn't the promise of redevelopment but the work of community restoration.
"This street," Christie Mannin said while looking out OKC Community Church's storefront windows at NW 23rd, "is a dividing line where you can see rich and poor."
CityPres leaders were also attracted to Midtown in 2011 for the same reasons.
"Cities are great crossroads," Serven said. "We all know that there are parts of a city that are segmented. There are also pockets where the more wealthy and the poor are at the same grocery store, where one can work right next to a bus station. There are cool, hipster coffee shops, and there are social services."
The result for Sunday morning service matches the surrounding neighborhoods. At CityPres, Griffith said, "people from Heritage Hills and the Salvation Army sit together. … We say we are better together when we are learning from one another."
At The Parish, Deason said, "You've got wealthy, poor, uneducated, educated — it is a diverse mix in a small community."
In prayer
At The Parish, the church's mission statement is, "Dwelling with Christ and community." Deason described the church as "Christ-centered" — the life and teachings of Jesus are emphasized and often applied to real-world issues. It's not uncommon to hear preaching on race, economic injustices or the most recent controversial current event, like athletes taking a knee during the national anthem.
"We are not politicking here," Roland said. "[But] we don't know how you preach and teach and avoid speaking to current events. How do you do that? If men beat their wives and children, if people are not being neighbors, if there is corruption in our government, how do we not say it from the pulpit?"
"We place a high value that it is our responsibility to hear the voices of those that are oppressed," Deason said, "to the voices of those that are impoverished, the voices of those that are inflicted."
Church leaders see their work tied closely to the community at CityPres, where the motto is "Love God. Love People. Love the City." Restore OKC, an outreach ministry connected to the church, is serving northeast OKC through various programs designed around "building relationships of reconciliation for restorative justice."
"We want to be pastors for people who live here and work here," Serven said. "We know the business owners. We are members of the community. We want to be a blessing for people in this area and for this city and this state to thrive. That includes not just restaurants, businesses and coffee shops, but city hall, the state Capitol, the bus station, Emerson High School. We want to see everyone do better."
Along NW 23rd Street, the brick building that serves as OKC Community Church's home shares the message, "Bringing Life to Our City." It's the church's promise to its community. Church members' calling is to "bring life to our city by loving God and living the Gospel."
"It breaks down to 'Love your neighbor,'" Tim Mannin said, referencing Matthew 22:36-40 when Jesus answered the question "What is the most important commandment?"
"'Love your neighbor' was the first mantra, purpose or cause we had as a church," Mannin said. "We've tried to zero in on 'What does it look like to love your neighbor?' starting with your literal neighbors, the neighbors that we have in the church body and the neighbors we have in this city."
Call to worship
Nontraditional and frequently nondenominational, district churches attract young worshippers with informal and inclusive services offered in neighborhoods where they live, work and play. This partial list offers examples of this growing segment of the faith community.
8th Street Church
701 NW Eighth St.
8thstreetchurch.org
The Bridge Bricktown
229 E. Sheridan Ave.
bricktown.wearethebridge.church
405-376-4538
CityPres
829 NW 13th St.
citypresokc.com
Crestwood Vineyard
2515 NW 16th St.
crestwoodvineyard.org
405-445-7213
Expressions Church
2245 NW 39th St.
expressionsokc.com
405-778-6384
OKC Community Church
421 NW 23rd St.
okccommunitychurch.com
The Parish
1757 NW 16th St.
theparishokc.com
405-633-0454
The Paseo Apostolic Church
613 NW 23rd St.
paseochurch.com
405-757-7221
Skyline Church
1901 N. Douglas Ave.
skylineokc.com
St. Paul's Cathedral
127 NW Seventh St.
stpaulsokc.org
405-235-3436
The Vine Community Church
3726 N. Western Ave.
thevineokc.com
405-286-9516