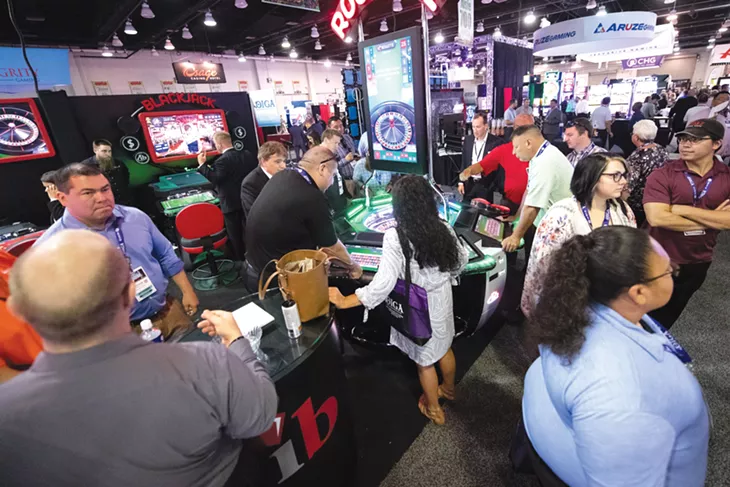 Oklahoma Indian Gaming Association / provided
Last year, the tribes paid $148 million in fees and have paid a total of $1.5 billion since 2006.
Seven months ago, Gov. Kevin Stitt announced his plans to negotiate a new tribal gaming compact through an op-ed in Tulsa World. Since then, despite being a widely unpopular move even with his Republican allies, Stitt has continued fighting for an increase in the fees that the tribes pay to operate their casinos.
But tribal leaders have said they are willing to negotiate their fees with the state, so the main point of contention comes from Stitt's assertion that the gaming compact expired Jan. 1 and the tribes have been operating casino gaming illegally since.
The tribes contend that the agreement automatically renewed, a position backed by Scott Meacham and William Norman Jr., both of whom helped negotiate the compact. To that end, they've continued operating and have already sent money to the state, per the compact.
"I would actually disagree that what Gov. Stitt wants is to talk about rates," said Matthew Morgan, chairman of Oklahoma Indian Gaming Association. "There is a mechanism set forth in order to talk about rates and/or exclusivity. We could've talked about those two items very easily. What Gov. Stitt did was say, 'I want to completely renegotiate completely new compacts and throw these out.' … The issue was trying to sit down and create a brand-new agreement when tribal leaders have said that's not necessary and is against the plain language of our compact. Gov. Stitt has been adamant that he will not talk about anything until we agree to trash our current agreement."
The current dispute feels to many like another example of U.S. governments going back on their word with Native American governments.
"That is the backdrop. That colors a lot of the discussion. It's very fresh on tribal leaders' and tribal citizens' minds," Morgan said. "It's not the conflict that we're dealing with right now, but that history can't be ignored as we go into our current conversation either. … It's disappointing anytime the State of Oklahoma, through any of its elected leaders, especially the governor, does not view tribes as a partner in working towards a better Oklahoma."
Because of the impasse, three of the most powerful tribes in the state filed a federal lawsuit against Stitt on New Year's Eve. The Cherokee, Chickasaw and Choctaw nations asked a federal judge to clarify that the compact renewed.
Cherokee Nation chief Chuck Hoskin, Chickasaw Gov. Bill Anoatubby and Choctaw Nation chief Gary Batton wrote a joint letter to Stitt when the lawsuit was filed.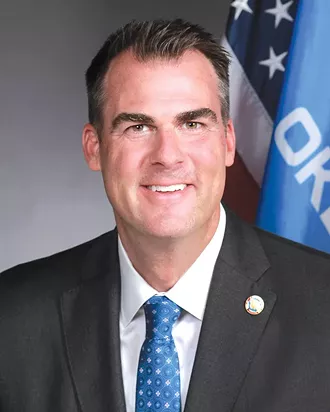 Oklahoma State Legislature / provided
Gov. Kevin Stitt clashed with the state's tribal nations after claiming the gaming compact expired Jan. 1.
"For some time, we have tried to establish meaningful intergovernmental engagement regarding our gaming compacts, but you have continued to reject our compacts' plain terms," the letter read. "Recently, you have gone further, stating allegations against us and threats to our operations."
Stitt hired Seattle-based law firm Perkins Cole to represent the state in early January. According to a legal service agreement, the contract with Perkins Cole caps expenses at $300,000.
Since the initial filing, eight more tribes have joined the lawsuit: the Citizen Potawatomi, Muscogee (Creek), Quapaw, Delaware, Comanche and Seminole nations, Ponca Tribe of Indians of Oklahoma and Otoe-Missouria Tribe.
Most recently, district judge Timothy DeGiusti ordered mediation for the tribes and Stitt. Former U.S. district judge Layn Phillips will serve as mediator to negotiate a settlement. Mediation is to be "completed or substantially completed" by March 31.
Lone ranger
Stitt's team did not respond to multiple requests for interviews. But in his July 2019
Tulsa World
op-ed, he said the easiest thing to do would be to renew the existing compact as is "rather than do the hard work of closely reviewing and negotiating new compacts."
"I believe, however, that voters elected me to look at everything in state government with a fresh eye and, where necessary, make the difficult decisions that are in the best interest of all 4 million Oklahomans," he wrote. "In this case, that means sitting down with our tribal partners to discuss how to bring these 15-year-old compacts to an agreement that reflects market conditions for the gaming industry seen around the nation today. My intent is that any new agreement protects the dynamic success of economic growth and development for our tribal partners while also fairly building the state of Oklahoma to the benefit of every citizen."
As the dispute escalated, Stitt suggested allowing private, out-of-state gaming operators to replace tribal facilities if he couldn't reach a deal with the tribes. Many saw this as a veiled threat.
Shortly after, Lisa Billy, Stitt's main adviser on tribal issues, resigned, saying the governor was creating "unnecessary conflict."
"It has become increasingly clear you are committed to an unnecessary conflict that poses a real risk of lasting damage to the state-tribal relationship and to our economy," Billy wrote. "You have dismissed advice and facts that show the peril of your chosen approach and have remained intent on breaking faith with the tribes, both by refusing to engage with the compact's language and, more recently, by suggesting you would displace our tribal partners with private, out-of-state commercial gaming operators. Your actions have shown that my continuing in service on your cabinet is unnecessary to you and impossible for me. I must accordingly resign, effective immediately."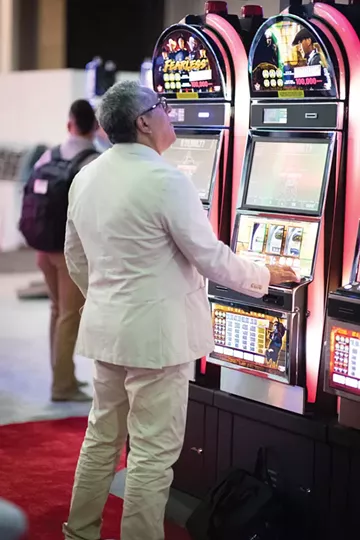 Oklahoma Indian Gaming Association / provided
Most of the money from the tribes' exclusivity fees are earmarked for education.
Tribal leaders of the Five Civilized Tribes recently honored Billy for her service with a medal, a drum and a resolution commending her work.
"We will win. We are the hosts of this land. We are the sovereign nations. We are the leaders. God put us here, and we are here for a purpose and a reason, so let our unity of message be mighty and powerful as we move forward," she said in her acceptance speech. "It was an honor to serve. I wish I could have gotten the job completed, but we will continue to move forward."
Even fellow Republicans have isolated him or sided with the tribes. Billy's resignation came days after Stitt announced that Attorney General Mike Hunter stepped away from negotiations. House Speaker Charles McCall said just last month that after reviewing the documents, he thinks "the compact has renewed for another 15 years."
However, Stitt has maintained his position. In his State of the State speech and in the presence of various tribal leaders, Stitt said the compact has been "a success greater than anyone predicted" before again claiming it was expired.
"After five offers from the state for all stakeholders to come together to modernize the Model Gaming Compact, three tribes instead sued the State on New Year's Eve," he said. "As governor, I remain supportive of the sovereignty of the State of Oklahoma and our right — and your duty as the Legislature — to oversee all industries operating in the State. I also remain confident the state and Oklahoma's tribes can hammer out a compromise that is a win-win for all four million Oklahomans, and we can accomplish this without putting public education in the crosshairs."
Gaming compact
Oklahoma tribes got the exclusive right to operate casinos with a vote of the people in 2004. State-Tribal Gaming Act, or State Question 712, passed with almost 60 percent of the vote and enacted a Model Tribal Gaming Compact.
"Various tribes signed on to accept that agreement throughout the years," Morgan said. "We currently stand at 35 tribal governments with Class III compacts."
The state's main motivation for the gaming compact was to save Oklahoma's horse-racing industry, which was struggling at the time. Horsemen were moving to states that offered Class III casino games at horse racing facilities because it meant higher payouts for winning races.
"Tribal leaders felt like the state had come to them at that time and asked them to participate. The point of the compact was to save horse racing in the state, so they knew they needed to deal with tribal governments because they wanted to offer gaming at the racetracks," Morgan said. "So tribes stepped up and said, 'We'll work with you.'"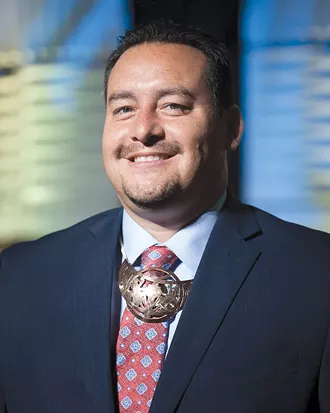 Oklahoma Indian Gaming Association / provided
Matthew Morgan, chairman of Oklahoma Indian Gaming Association, said the tribes continue fulfilling their compact responsibilities.
In the past 15 years, Oklahoma's tribal gaming industry has grown to 130 casinos. With thousands of employees, the tribes are Oklahoma's third-largest employer.
The exclusivity fee rates tribes pay to the state are currently between 4 and 6 percent on Class III gaming machines and 10 percent on table games. Last year, the tribes paid $148 million in fees and have paid a total of $1.5 billion since 2006.
Most of the money is earmarked for Oklahoma's public schools, which are critically underfunded. Despite this, Stitt recently announced a modest $11.7 million increase to public education while raising the cap on a program that sends tax dollars to private schools by $25 million.
"We've actually had really a good working relationship with the state over that time up until Gov. Stitt announced through a public op-ed his intent," Morgan said. "Tribal leaders had always assumed whoever was governor at this time would want to talk about rates, and again, that was never an issue. … Stitt never expressed to any tribal leader prior to the op-ed coming out that he thought the compact terminated if a new compact could not be agreed upon. That was a surprise. There was no government-to-government letter that went out. … I think a lot of tribal leaders felt disrespected by the way he went about that."
Tribal contributions
The tribes launched United for Oklahoma, a campaign that aims to showcase the numerous contributions they have made to the state. They feature various political and business leaders from across the state supporting the tribe's position and highlighting what they do for the state.
"I've heard through this process, 'I knew things got done, but I never really understood how those things got done until we started seeing some of your media releases through United for Oklahoma,'" Morgan said. "Most tribes would prefer not to point that out. They like to perform their responsibilities, be good citizens and go about their day. They feel it comes just as a normal part of their day. … Unfortunately, we found through this process there was a need to highlight some of the things that tribes are doing to make sure people understood all the contributions."
Leaders from various small towns like Anadarko, Canton and Durant speak to the many benefits tribal nations provide. Morgan said tribal nations provide extensive programs and services to its people like any other government does.
"Because of the nature of Oklahoma and the way that Oklahoma history has intermingled among the tribes, there's no way to isolate one group without assisting everyone in that community," he said. "It doesn't matter if we're talking about roads or bridges or water treatment plants or if we're talking about emergency, law enforcement, ambulatory services or anything educational."
In a study looking at the 2017 economic impact of the tribes in Oklahoma, Kyle Dean, director at center for Native American & Urban Studies at Oklahoma City University, found that the tribes provided nearly 100,000 jobs in the state, $4.6 billion in wages and benefits and $12.9 billion in the production of goods and services.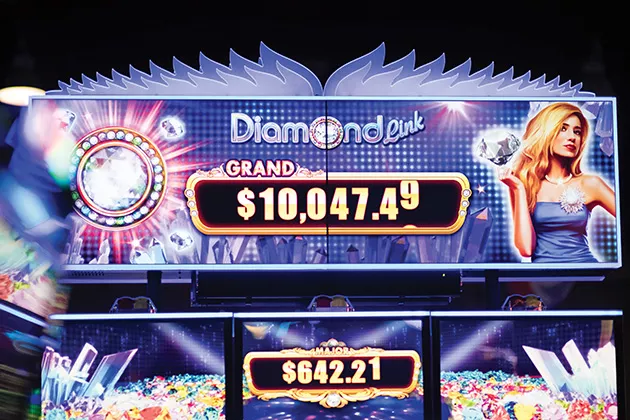 Oklahoma Indian Gaming Association / provided
Gov. Stitt and the tribes have been ordered to mediation, which is to be "completed or substantially completed" by March 31.
Of the more than $1.5 billion provided to Oklahoma in tribal exclusivity fees, $1.3 billion were transferred to support statewide education programs. Tribes have also invested $42.6 million for construction and maintenance of infrastructure.
Morgan said Cherokee Nation chief Hoskin often says, "Oklahoma has no better friend than tribal governments."
"I wholeheartedly agree because we have access and we have attributes that are there and ready to work with willing partners in order better everyone, and I wish Oklahoma did a better job at taking advantage of that," Morgan said. "While we've come a long way, I still think there's a lot of progress we could make if we work together."
The tribes are also responsible for building robust hospitals across the state and investing millions of dollars in public services like firefighters, emergency care, law enforcement and free health care to many in a state that has one of the highest uninsured rates.
As the debate continues to play out, Morgan hopes Gov. Stitt and other state leaders are willing to work on a productive solution that works for all involved.
"I'm hoping that there is an understanding of how this federal law works, what the requirements are from the other side and that Gov. Stitt is ready to really sit down and have a fruitful conversation. … When we get to that point, I think tribal leaders will be very reasonable and are willing to have that conversation, but it is a process, it is going to take us a while to get there, unfortunately," he said. "I hate that the dispute has happened this way. It was never needed. We could have done this entirely differently, but this is the path that Gov. Stitt chose to put us on. And so we'll play this out, but as I've stated several times, tribal leaders want to see the community get better. We will continue to abide by our responsibilities and obligations. We will continue, under our gaming compact, extending our exclusivity fees into the state, and I hope the state continues to utilize those dollars for their intended purpose."
Visit unitedforoklahoma.com.