Gazette / file
The Hamilton Lounge & Supperette opened in a former clothing store on the back side of Shoppes at Northpark.
If Oklahoma City's arrival on the national scene started in 2018 as Bon Appétit recognized Nonesuch as the best new restaurant in the country, 2019 is the year local restaurateurs jumped to strengthen the metro's destination-dining status.
Both anecdotally and according to data, the Oklahoma City metro area has seen an influx of new restaurant openings that serve customers new and exciting options but put a strain on operators who have to navigate a tightening labor pool, which mirrors trends across the country.
"It's my perception, and I think it's shared by other people in the industry, particularly restaurateurs, that there are a heck of a lot of new restaurants opening, an overwhelming amount of new restaurants," said Jim Hopper, president and CEO of Oklahoma Restaurant Association, of the Oklahoma City restaurant market. "I've been in this role for 15 years, and there have been changes at warp speed. You see developments like Chisholm Creek, Midtown, the [16th Street] Plaza District, Automobile Alley, and there are pockets like that all over the city where there are exciting things happening."
Data from Oklahoma City-County Health Department, which licenses all food-selling establishments (restaurants, convenience stores and schools) in Oklahoma County, shows that between Dec. 1, 2018 and Dec. 1, 2019, a net total of 286 food establishments have been added in Oklahoma County.
The department said that a total of 1,073 food establishment licenses were awarded over the 12-month period, and 787 licenses closed or changed ownership, bringing the county's total to 6,087 establishments, representing an overall 4.9 percent growth over the last 12 months, which puts it in the range of national growth in the industry.
U.S. Bureau of Labor Statistics projects a 6 percent growth in the need for restaurant cooks over the next 10 years.
In October 2019, the U.S. restaurant industry added 47,500 jobs to the 128,000 overall jobs added in the country, meaning one out of every 2.7 jobs added that month was in a restaurant, according to Jonathan Maze, executive editor of Restaurant Business Magazine.
Hiring, training and retaining staff is the No. 1 concern for 51 percent of restaurant owners, operators and managers, according to Toast's annual Restaurant Success Report, which is a 14 percent increase to the same question in 2017.
Neighborhood competition

Restaurants aren't just competing against other restaurants when it comes to retaining staff; they also face the lure of another growth industry in Oklahoma, the medical cannabis industry, which became legal in October 2018. Oklahoma City-County Health Department's food establishment licenses include cannabis dispensaries that sell edibles.
Alexa Ace
The patio at Mexican Radio, the newest concept from A Good Egg Dining Group, which opened in August
"We've felt an impact on the labor side," said A Good Egg Dining Group CEO Keith Paul. "It seems like it's gotten a lot better in the last few months, but it started around the opening of the cannabis shops. They're luring a lot of hourly people to that industry because you can work 9-5 five days per week and that's attractive to people working a schedule that is late nights or possibly early mornings."
A Good Egg Dining Group has expanded to 10 concepts over the last year, taking over Museum Café at Oklahoma City Museum of Art and opening Mexican Radio in the space formerly occupied by Empire Slice House before it moved down the street.
"I think that there are probably too many restaurants [in the Oklahoma City market], and we've seen that in markets like Dallas as well, where for every one that closes, two will open up," Paul said. "All we can focus on is guest experience and employee satisfaction. We've placed an emphasis on that over the last six to 12 months, and it's really paid off. We're stabilizing sales and keeping staff happy."
Perhaps no Oklahoma City neighborhood has felt the impact of new restaurant openings quite like the venerable Paseo Arts District where veteran operators Humankind Hospitality added Oso on Paseo and Frida Southwest in addition to its Picasso Cafe and The Other Room bar, which are celebrating their 10-year anniversaries. 84 Hospitality also added Gun Izakaya, Oklahoma's first Japanese-style yakitori grill and alcohol-focused restaurant, and the group will open a brick-and-mortar location of its Burger Punk food truck in the space formerly occupied by The Root. Holey Rollers founder Andrea Koester turned the formerly dingy and cigarette-stained Red Rooster into a bright and natural-light-filled farm-to-table restaurant with craft cocktails.
"The [Paseo] needed it," said Human-kind hospitality president Shaun Fiaccone. "Had it not happened, along with other additions to the neighborhood, we might be laggards [at Picasso Cafe], but we'll be net winners on the whole deal because there are still so many people that don't know about the Paseo. There are also people that would never leave Nichols Hills or Edmond and come down here, and now it happens all of the time."
Humankind culinary director and partner Ryan Parrott said that the increase in restaurants has changed the dynamic for many people in an industry already notorious for high turnover. According to Toast, servers, cooks and dishwashers work about only two months before leaving for another job.
"We've been pretty fortunate, and we might have a lower turnover than other restaurants," Parrott said. "It's a tough market to be in when the employee holds something over the restaurant. It's almost like we need them more than they need us because they know, 'If you're going to tell me to do something I don't want to do, I can just go down the street and get another job.' If you go on Facebook or job forums, someone will post on the job board, 'Anyone hiring servers?' and the first comment will always be, 'Every restaurant is hiring servers.'"
Humankind Hospitality — like a lot of successful restaurant groups — places an emphasis on handling personnel issues face-to-face between upper management and staff, which is not always the case in large, corporate environments. Humankind Hospitality director of hospitality Kindt Myers said management places an emphasis on seven core values when hiring staff and brings them up regularly during meetings.
"It's not just a competition against others; it is with yourself that will improve your own performance," Myers said. "We've placed our own competition on the same street, and we haven't cannibalized on ourselves, and there are enough diners that want to be in the environment."
Happy staff
The most buzzed-about restaurant concepts to open in 2019 in Oklahoma City are The Collective and Parlor food halls, which capitalize on a national trend of combining micro-restaurants around a centralized cocktail program.
Provided
Jim Hopper is president and CEO of Oklahoma Restaurant Association.
The Collective opened in Midtown in July and deviates from other food hall models by not making kitchen operators sign long-term leases, instead taking a share of sales from each kitchen. The Collective owner Truong Le owns Okie Pokie, one of nine operating concepts at the food hall, and Chick N Beer, 715 NW 23rd St.
"We started off amazing, and then in the last month or so, things have slowed down a little bit, but we expected that. We know that there is competition and new restaurants opening up, but overall, we've been very happy with how everything is going. One of the best compliments I continue to hear is, 'I feel like I'm out of town.' It means we're helping Oklahoma City evolve, and it's huge for us and we love that we're part of the growth."
The Collective allows individual restaurant operators to hire their own staff but will help if they ask for intervention. Le said that The Collective has been a testing ground for experimenting in ways to incentivize kitchen staff to stay in one location. The Collective's unique setup, where kitchen staff also serve as front-of-the-house staff, allows kitchen staff to receive tips, a practice typically reserved for front-of-house staff.
"Normally the best you can hope for [in the kitchen] is salary, but most people are hourly," Le said. "Staff members get extra income versus just an hourly rate, and they're taking advantage. We're experimenting adding the model at Chick N Beer, as well. It makes everyone work as a team."
The Collective will announce two additional kitchen concepts in early 2020. One will fill a vacant kitchen slot, and another will fill the space of Oh! Baby, which closed in late November.
"We mutually agreed that [Oh! Baby was] maybe a tad bit ahead of the curve and people didn't quite take to it as quickly as we hoped," Le said. "Oh! Baby decided it would be best to part ways for now and re-evaluate the situation. I'd love to have them if they want to try something else."
When Café 7 Pastaria and Delicatessen opened its original location at May Avenue near Memorial Road in 2008, owner and founder J. Mays said that the pizza-and-pasta concept stood out as locally owned in the sea of national chains.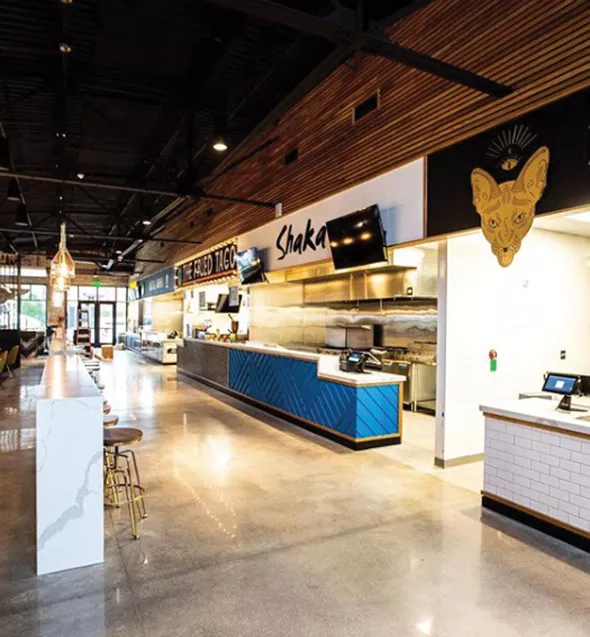 Alexa Ace
The Collective Kitchens + Cocktails features as many as 11 micro-kitchens.
"We were only one of a handful of locally owned businesses in the whole Memorial corridor," Mays said. "I think there were three of us up there then, but that was 11 years ago. It's really started to change."
In addition to operating two restaurants in Tulsa, Mays expanded his Oklahoma City footprint in 2019 with the opening of The Hamilton Supperette & Lounge on the back side of Shoppes at Northpark, taking over a former clothing outlet.
"Because we're smaller and a local brand, we can work with people more than a corporate environment," Mays said. "I've had several staff members tell about their days in a corporate environment, and they just don't feel like they're cared for, and when they come to a smaller group, they're treated like a family."
Mays credited the culinary program at Platt College with staffing the kitchen at Café 7 when it opened, but culinary programs like the ones at Platt College and Francis Tuttle Technology Center have seen a shift in the types of students entering programs and placement rates.
Bill Leib is finishing his third year as the chef instructor for Francis Tuttle's nighttime adult program, after seven years in culinary teaching with Oklahoma State University of Technology in Okmulgee.
"The biggest thing I've noticed since I started in culinary education 10 years ago is now the amount of either people already have jobs in the industry or get a job while they're [in school]," Leib said. "Now so many people are in the industry [already] and want to further their skill set and stand out."
Experienced cooks enter the program to increase their business acumen in addition to cooking skills, potentially laying the groundwork to open their own concepts in the future, but Leib said that everyone who graduates from the 14-month program has a job if they want to stay in the industry.
"I get a lot of calls from chef friends and restaurateurs that say, 'We need people. Who do you have?' Unfortunately because there are so many opportunities, so many students already have jobs. There's still a big employment gap to fill. If there are 200 new restaurants, on the low end, [each restaurant] is three to five employees; that's 1,000 jobs that still need to be filled. Getting the skilled workforce is the problem."
Each 14-month program graduates about 30 people three to four times per year, Leib said.
"It's not that [Oklahoma City] doesn't have the people to work, but it's hard to get skilled labor at the rate it is growing," Leib said. "New York City's workforce could be small if they saw this kind of growth rate."
Leib said that when he travels to national conferences, the biggest concern among operators is how to retain skilled staff.
"People talk about the bubble and when it's going to burst," Leib said. "As long as the market drive is still there … it will slow down, but it won't burst like everyone is talking about. It's not going to be like where every restaurant that opens will be closed within a year."