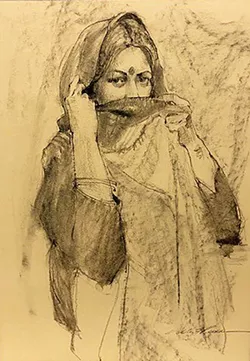 National Cowboy & Western Heritage Museum / provided
"Portrait of a Young Woman in a Sari" by William F. Reese
Inspiration for the art included in National Cowboy & Western Heritage Museum's latest exhibit comes from every direction.
Passport opens Friday and will remain on view through March 2020 at the museum, 1700 NE 63rd St.
"The thing that will surprise people or maybe capture their attention is just the variety on display in Passport," said Kera Newby, the museum's digital and manuscript archivist. "We have everything; we have pieces from every corner of the world and tons of different time periods throughout history as well. You'll be able to see really detailed sketches of German armor from the 1500s next to oil sketches that were done by an artist on a trip to Europe, of trees waving in the wind."
Passport
Friday-March 15, 2020
National Cowboy & Western Heritage Museum
1700 NE 63rd St.
nationalcowboymuseum.org
405-478-2250
Free-$12.50
The museum has never before attempted anything quite like Passport.
"This is the first time that all of these pieces will be on exhibit," Newby said. "They've never been put on exhibit before, and they've definitely never been put on exhibit together. … We are really excited to open it and have the public come in and see all of these different types of art that Western artists create."
Passport's main purpose, Newby said, is highlighting the non-Western works of artists such as Robert K. Abbett, Laura Gardin Fraser and Tom Lovell, whose Western-inspired art is displayed as part of the museum's permanent collection.
"At the Cowboy Museum, we are always showcasing the wonderful Western creations from these artists, but like every artist, they are creative beings and they like to travel and create lots of different art from different perspectives," Newby said. "We have so much of that material in the Dickinson Research Center archive that we wanted to create an exhibit to showcase the different sides of these artists and some of their non-Western-related artwork and to show that art is the ultimate passport, and through their creation, you can also travel through time and around the world."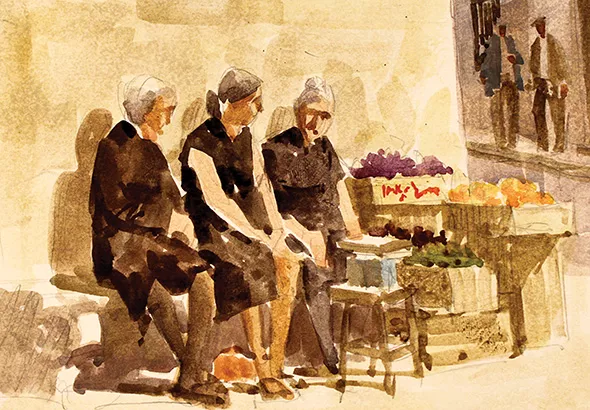 National Cowboy & Western Heritage Museum / provided
"Ladies of Lisbon" by Lowell Ellsworth Smith
Named for philanthropists Donald C. and Elizabeth M. Dickinson, the research center contains tens of thousands of books and photographs along with movie posters, novels, manuscripts and many other items illuminating the history and culture of the American West. Newby — who spent about a year planning the exhibit with Kimberly Roblin, Dickinson Research Center's director and curator of archives — said Passport was inspired by the vast amount of material artists typically associated with the American West have created from other sources of inspiration. The museum's A. Keith Brodkin Contemporary Western Artists Project, collecting the archival records of artists from the 1940s to the present day, has also acquired a large variety of works that show other sides of the artists.
"Whenever we meet with an artist and decide to acquire their collection, we take in everything that they have done over the course of their career as far as archival material, so that's going to be sketches, sketch books, different notes they've taken," Newby said. "A lot of that is compiled in their travels — photography they might have taken on their travels, but also the sketches that they've done, the oils that they've done while they were traveling, watercolors, that kind of thing. Those materials are brought into our research center to better inform the public and researchers who come in about the different aspects of these artists and what they were trying to convey with their Western and non-Western art."
Curating an exhibit with so many possible works to choose from required Newby and Roblin to approach Passport differently from the museum's typical exhibitions, which are usually organized around a more specific theme.
"Essentially, we wanted to ensure that we were representing lots of different time periods throughout history and also just a variety of artistic techniques, so there's watercolors, oil, pencil sketches, pen-and-ink drawings, this kind of thing," Newby said. "And so to arrange the exhibit, we went through several processes: Is it better to do it by artists? Is it better to do it by just hanging them all en masse and seeing what that looks like?"
Ultimately, they decided to organize the exhibit by region; the Americas, Europe and Asia and the South Pacific all have their own sections. The Asian and South Pacific section contains Newby's favorite Passport work — "Siamese Court Dancer Painted from Life" by Carl Link.
"He was a German artist who immigrated to the United States in the 1940s, and he spent a lot of time in New York City," Newby said. "Later in his career, he moved out to the West and was just this prolific, amazing, wonderful Western painter, but in his time in Europe, he did a lot of covers for theatrical playbills, so we have this wonderful piece of a Siamese court dancer. It's a really striking image. It's a really bright blue background, and the costume is bold and red. It just catches your eye and definitely stands out in the exhibit but also in the museum."
Giving visitors the chance to see another side of Link allows for a greater appreciation of his career.
National Cowboy & Western Heritage Museum / provided
Untitled landscape (likely Europe) by Tom Lovell | Image
"That's one of the things that we want to do in the Dickinson Research Center is be able to provide the context for who these artists were as people and why they were deciding to do the art that they did," Newby said. "I think it really humanizes them. I think it better forms a more rounded picture of who they were and are as people and showcases that art, when it is produced, isn't coming from a one-dimensional place. It's coming from a human who has had life experiences and either has traveled or just desperately wants to travel and is interested in these different regions of the world. And I think whenever you're able to approach art from the perspective of, 'This is another person who is like me, creating these different pieces,' it makes art more accessible. … Through this exhibit, especially, we want to show the different sides of these artists, so you're able to go through the galleries and see their Western artwork and then, in the Passport exhibit, you can see their forays outside of the Western art world. So we're showing a different side of the artists and also kind of showing that the West, like art itself, isn't one-dimensional or two-dimensional."
Developing a more well-rounded view of the artists also provides a better perspective on the West itself, Newby said.
"To see these pieces these artists have created and know that their primary interest still remains in the West, I think it's really powerful and speaks a lot to the importance of the American West in these artists' lives," Newby said. "I think it also shows that you can experience lots of different cultures and spaces around the world and still come back to what you know best and be better informed about that, because the American West is ever evolving and cultures all around the world have influenced what the American West is today."
Museum admission is free-$12.50. Visit nationalcowboymuseum.org.