When Jabee, Bowlsey, The So Help Me's and Gabrielle B. take the stage 7 p.m. Thursday at the OKG Music Show at Tower Theatre, 425 NW 23rd St., they will represent some of the best music of the Oklahoma City scene, but there are plenty of extraordinary artists who are on their way up. It's such a strong lineup we started dreaming up a wish list for 2019.
This hot list is by no means complete because there is an OKC area band forming right now that will likely melt our faces off in the coming months, but these are locals who seem on the cusp of starting musical revolutions.
By next year, they might be too big to play our show. We're rooting for that to be true.
Dakota Watson / provided
Lincka
Lincka
lincka.bandcamp.com
The blanket label "Latin artist" is not nearly enough to describe the layered intricacies of Linkca's sound, which is as or more informed by English-language influences as anything else. At the same time, the indie pop vocalist's Mexican-American heritage is front-and-center in the majority of her recordings.
Lincka, whose full name is Lincka Elizondo, gives off shades of Norah Jones and Amy Winehouse in her strong vocals, and an added hint of Jhené Aiko flair and artistry is popping up in her most recent work. Para Ti, Lincka's April 2017 three-song EP, stands out with tremendous, lively production by Dan "Rat Fink" Ashford. Elizondo never shies away from social or political matters in her music, but she also doesn't let doom and gloom overshadow her usually bright tone.
Lincka performs with Me Oh My and Johnny Manchild 8 p.m. April 18 at Tower Theatre as part of the COOP Showcase.
provided
Vonna Pearl
Vonna Pearl
facebook.com/vonnapearl
A sound nearly as perfect as a pearl itself, Vonna Pearl's self-titled debut album arrived in early 2018 boasting the twin lead vocals of singer-songwriter Chelsey Cope and The Wurly Birds' Taylor Johnson. That combination suggests a melding of thoughtful folk and Kinks-inflected power-pop, yet Vonna Pearl extends beyond those borders and invites organic R&B, art-pop, swamp rock and disco rhythms to the party. Rounded out by bassist Taylor Overholser, guitarist Chavez Soliz, drummer Billy Reid and a horn section including saxophonist Adam Ray and trumpeter Garrison Brown, Vonna Pearl feels ready to explode from the energy behind songs like "Marigolds" and "Arvada" but finds an emotional directness on quieter tracks "Alone" and "People." Hear the full range of Vonna Pearl's abilities 4:30 p.m. April 28 at Norman Music Festival's Sooner Theatre stage.
provided
The Lost End
The Lost End
thelostend.bandcamp.com
Vocalist Ryan Taylor uses the bleaker tones of post-punk alt rockers The Lost End to show off his impressive vocal depth.
The Lost End — which includes guitarist Scott Jones, bassist Brian Daniel and drummer Trevor Helm in addition to Taylor — released its impressive self-titled, seven-song debut in mid-February. Songs like "Self Control" and "Viking Attack" are equal parts dark melancholy and post-apocalyptic vigor. Taylor's previously mentioned howl, perhaps comparable in sound to the Oklahoma equivalent of Ian Curtis, perfectly complements the instrumental urgency.
The band is already in the process of recording its next album and is scheduled to play 1:30 p.m. April 28 at NMF's outdoor Lyft Opolis Stage.
Gazette / file
Sativa Prophets
Sativa Prophets
sativaprophets.com
In the same tradition as nationally known collectives like Odd Future and Brockhampton, Sativa Prophets is an evolving group of individually talented rappers, producers, musicians, visual artists and visionaries culminating in adventurous and illuminating hip-hop. Their name suggests deep inhalations of sticky herb, and it's not just a suggestion, but last year's Into the Clouds displayed sharply focused tracks like "Cloud Dancer," the paean to happy little trees "Bob Ross" and the raging "Encyclopedia Brown." It's all necessarily stoned and beautiful, and Sativa Prophets will prove they're not just blowing smoke when they play 1:15 a.m. April 28 at NMF's Main Street Events Center stage.
provided
Mallory Eagle
Mallory Eagle
malloryeagle.com
Mallory Eagle blends traditional country sensibilities with a fresh millennial perspective on her debut album Red Dirt Home, released in February. As the name suggests, the seven-song project gives proper tribute to Oklahoma's open fields and well-stocked lakes, particularly on the opening title track. But Eagle really shines with songwriting that is as frequently fun ("No Cash," "Cheers to the Bottle") as it is daring and personal ("Dark Shell," "Beauty or Beast").
Red Dirt Home finally gets an official album release show May 10 at Tower Theatre. Eagle can also be spotted making live appearances Memorial Day weekend at Paseo Arts Festival and National Cowboy & Western Heritage Museum's annual Chuck Wagon Festival.
provided
LCG & the X
LCG & the X
lcgandthex.bandcamp.com

A local supergroup that earns its title and might fight you if you think otherwise, LCG & the X boasts two formidable leaders in Feathered Rabbit's Morgan Hartman on Moog and The Wurly Birds guitarist Pilar Guarddon Pueyo, with Caitlin and Alyssa Lindsey holding down the rhythm. Everything about the band's first four singles — "Shark Week," "Peach Boyz," "Lil' Peaches" and "Runaway" — displays equal parts ferocity and skill. As the band continues to build its repertoire, expect nothing but full commitment to fury. Bet against LCG & the X at your peril. Instead, go watch them raise blisters 5:30 p.m. April 28 at NMF's Lyft Opolis Stage.
Nathan Poppe / provided
Net
Net puts out the kind of songs that make dads say things like, "Are you sure this is even music?" — that is, unless the dad in question is also a lover of Kraftwerk and the eccentric avant-garde, in which case please remember to buy that man something extra nice come Father's Day.
The united talents of guitarist and vocalist Kyle Vasquez, keyboardist John Baber, bassist and synth player Tommy McKenzie and drummer Andy Escobar produce a mind-bending swirl of guitar and spacey effects with a digitized feel that culminates on February's impressive debut Memory Swipe.
Net is in the process of writing and recording its second album and finalizing details of a late-summer tour across the Midwest. The band can be seen 9 p.m. April 28 at NMF's outdoor Lyft Opolis Stage.
provided
Annie Oakley
Annie Oakley
theannieoakley.com
Twin sisters Sophia and Grace Babb and violinist Nia Personette of Annie Oakley play mostly acoustic instruments and root their sound in Appalachian traditions, but their music feels more classic than old-timey. On 2015's Thought of You a God and last year's Lunar Manor Sessions EPs, Annie Oakley steeps its songs in Southern Gothic finery, particularly on richly harmonic standout tracks like "Abraham" and "No One Else." Every note feels true and earned.
The trio is currently recording a full-length debut, one that could trigger national interest in the band. Catch Annie Oakley 9 p.m. April 27 at Sooner Theatre during NMF.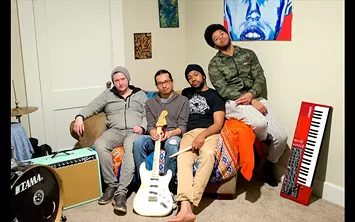 Pattila Balazs / provided
Original Flow & The Fervent Route
Original Flow & The Fervent Route
theflowmentality.com
Whatever Post Malone's understanding of hip-hop music is, count Original Flow and the rapper's frequent collaborators The Fervent Route as the opposite. With music given vibrant life through the band's live instrumentation, the emcee shines with technical craftsmanship and emotive lyrics that easily dispel misguided notions of rap's hollow subject matter. Born Christopher Acoff, Original Flow is joined in The Fervent Route by percussionist Josh "Soulful" Carpenter, keyboardist Andrew Wood and guitarist Daniel "DanYoSon" Acuna.
Be on the lookout for the release of Original Flow's Flowmentality Volume 5 in the next few months and a Fervent Route EP before the end of the year. The group makes its NMF Fowler Automotive Main Stage debut 3 p.m. April 28.
provided
Husbands
Husbands
husbandsokc.bandcamp.com
Led by Wil Norton (formerly of The Non) and Danny Davis, Husbands creates exquisite dream-pop of the highest order. Formed while Norton completed his Master of Arts degree at Georgetown University in Washington, D.C., and Davis was in Oklahoma City, Husbands built tight harmonies across the distance and released a slew of gorgeous singles before bringing it all together for the 2015 full-length album Golden Year. At the top of 2018, the band released two new songs, the spacey synth ballad "No One's Dreaming" and "Amazon," an ebullient jangler that could be their creative high water mark — for now. Husbands plays 7:30 p.m. April 27 on the Winston Gray Street Stage at NMF.