Garett Fisbeck
B&R Finance is one of the metro's 185 supervised lenders.
Tina Pollard hears all sorts of stories of desperate moments that led Oklahomans to alternative financial services, a broad term that includes payday loans, "signature" loans, pawnshops, auto title loans and rent-to-own products.
Marketed as being helpful for financial emergencies, the quick cash granted to credit- and cash-strapped borrowers too often leaves Oklahomans with ruined credit, unmanageable debt and internal anguish over what all began with a car accident, illness or another unexpected expense. While the loans start small with payment due over two-month or two-week periods, the high interest rates and heavy fees make repaying extremely difficult. For some, it is nearly impossible.
"I've seen everyone from directors to housekeepers that are deeply in debt with these lenders," Pollard told Oklahoma Gazette from inside Shawnee's Citizen Potawatomi Community Development Center, where financial programs and counseling services are offered to Citizen Potawatomi Nation members and employees.
It's fairly common knowledge that payday loans are expensive and dangerous. In Oklahoma, where a payday lender can charge $15 for every $100 borrowed on a two-week $300 loan, the annual percentage rate is 391 percent. Payday lenders require either a post-dated check or banking information to enter into a loan agreement. At storefront lenders where small signature loans are peddled to people in need of fast cash or looking to build credit, a $200 loan can come with interest and fees in the range of $150. Unlike payday lenders, supervised lenders do not require a post-dated check or banking information, just proof of a source of income. In the Oklahoma City metro area, the state's Department of Consumer Credit currently licenses 185 supervised lenders and 48 payday loan shops, which outnumber the metro's Sonic Drive-In restaurants and Braum's Ice Cream Shop and Burger Restaurants combined.
Payday lenders and supervised lenders have garnered the nation's attention thanks to the likes of entertainers Sarah Silverman and John Oliver as well as the federal Consumer Finance Protection Bureau (CFPB). Earlier this month, the agency issued the first federal rule on payday lending, which seeks to prevent loans from being issued unless borrowers have the ability to repay. The rule is slated to go into effect in 2019; however, U.S. Congressional leaders could roll it back. Until now, payday lending has been monitored and regulated by states, with some states outlawing payday lending altogether.
The issues surrounding payday and signature loans are hotly discussed in Oklahoma, where payday lenders serve about one in every eight adults – the nation's highest usage rate, according to the Pew Charitable Trust, an independent organization that analyzes data and determines trends in lending. Further, the payday loan industry collected more than $52 million in fees and interest from Oklahoma borrowers in 2014, according to the Center for Responsible Lending.
Locally, a coalition of faith and nonprofit leaders have raised opposition to what they view as predatory lending hurting vulnerable Oklahomans. In recent years, a majority of Oklahoma lawmakers have supported legislative efforts to grow the industry with new loan products, which they say will increase options for Oklahomans with poor credit ratings.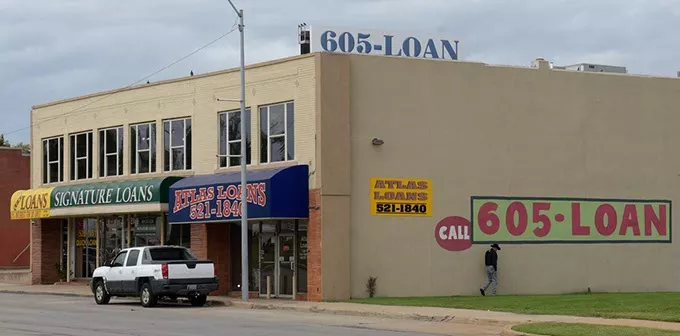 Garett Fisbeck
Quick Loans, Signature Loans and Atlas Loans operate along NW 23rd Street near Broadway Exchange.
Help or hinder?
For those not living close to the edge, or living paycheck-to-paycheck like an estimated 76 percent of Americans, it's hard to understand why a person would borrow a relatively small amount of money at such a high-interest rate. For that reason, Rev. Tim Luschen of northwest Oklahoma City's St. Charles Borromeo Catholic Church often asks people to imagine needing a couple hundred dollars to cover a financial emergency. With no savings, no credit cards and no family or friends to help, where does one turn?
"Some people think, 'I will go get a payday loan. It's money and it's available. I will pay it off in two weeks when my situation changes,'" said Luschen, who is a leader in Voices Organized in Civic Engagement (VOICE), a coalition of congregations and nonprofits in the Oklahoma City metro advocating for tighter lending regulations. "Unfortunately, for many people who are in a payday-to-payday situation, their situation doesn't change in two weeks. Their funds are tight and they can't pay the loan back."
At the state Capitol, where Rep. Mickey Dollens, D-Oklahoma City, proposed legislation to cap the interest rates on payday loans, he hears that same scenario from the industry's leaders and its supporters, but with a different ending.
"They make the argument that it helps people — giving people money when they need it most," Dollens said. "In reality, they are taking advantage of people's financial situation."
The industry insists its services are intended only for short-term emergency use. For example, Advance America, one of the leading payday loan lenders in the nation with 14 metro locations, touts its loans as "money solutions to keep you on track." Supervised lenders, who offer "signature" loans, market their product as not only bridging financial gaps but also putting "extra cash" in hands for holiday shopping.
Signature loans, which also are referred to as B-loans, trap borrowers into repeat borrowing and keep them in debt for longer than the advertisement first suggests, explained Pollard.
"You can have as many of these as you want," Pollard explained. "They don't have to prove that you can afford these loans. They are made just because you asked. They are signature loans. If you sign your name, you can have a loan."
State law
Almost a half-century ago, in 1969, Oklahoma lawmakers enacted the state's Uniform Consumer Credit Code, which outlined regulations for providing credit to consumers. The code gave rise to supervised lenders, who are licensed by the state and permitted to make loans following a fee schedule set by the state. Lenders charge a monthly account handling fee for each loan, which is paid in installments over 60 days. State law does not limit the number of loans a lender can enter into with a borrower.
Of the metro's current licensed supervised lenders, a majority received their licenses after 2008, which coincides with the lending industry's national growth during the financial crisis of 2008. The "great recession" resulted in a large number of Americans being shut off from traditional forms of borrowing and credit became harder to obtain. Of the metro's 185 licensed supervised lenders, out-of-state companies operate 83.
Payday loans, where lenders dole out small cash loans secured by personal checks with the lender agreeing not to deposit until the loan is due, typically after a two-week period, debuted following legislation legalizing the loan product on Sept. 1, 2003.
State law allows payday lenders, officially known as deferred deposit lenders, to lend no more than two loans of $500 to a borrower at a time. All lenders report those loans to a state database. When a borrower seeks its fifth consecutive payday loan, a lender must wait 48 hours before lending to the borrower.
Of the 48 payday loan businesses operating in the Oklahoma City metro, 33 received their license in 2003, according to the department's records. Out-of-state owners control all but one payday loan business.
Solutions
"It's so important to help people get back on their feet, but not at the expense of taking advantage of someone's financial status," said Dollens, who was drawn to the issue after hearing his constituents experiences with the industry. In his district, which includes ZIP codes 73109 and 73119, there are 22 signature lenders and one payday lender in operation — far more than any other district in the metro.
This past session, as state lawmakers' debated adding another loan product, Dollens proposed capping interest rates on payday loans. The legislation never earned a committee meeting, but Dollens is not discouraged. He plans to continue to push legislation for regulating the industry in hopes to eliminate the scenarios where people fall into the debt trap.
"Regulating the payday industry isn't the end-all," he said. "It's not the solution. The solution is helping people become financially stable, financially literate and preventing people from these desperate situations in the first place."
Like Dollens, VOICE leaders also agree a key aspect to the state's lending issues are the conditions that lead people to seek the small and expensive loans.
"People are struggling financially," Luschen said. "We've seen that the state has cut its budget on social support, meaning that people, especially the most vulnerable, are really under pressure."
New regulations would help, but Pollard argues that lack of financial education plays a large role in borrowers turning to alternative financial services. She incorporates education into counseling sessions by revisiting her clients' initial loan agreement, reading the fine print and going fee by fee to illustrate how a couple hundred-dollar loan ballooned into unmanageable debt.
"The first step is to open their eyes," Pollard said. "Once I open their eyes, they get angry."
Garett Fisbeck
As a state representative, Mickey Dollens has proposed tightening legislation on the payday loan industry to eliminate debt traps.
Print headline: 391 percent loans; In Oklahoma, where one in eight adults turns to payday loans, are alternative financial services the best deal for Oklahomans?