Alexa Ace
In 2017, 45 percent of University of Oklahoma graduates had a combined average debt of about $29,000.
When Evie Simons signed the dotted lines for student loans at age 18, she did not fully grasp how much of a burden she would have to shoulder.
Simons, 24, has a bachelor's degree in political science from Oklahoma City University and a master's degree in public administration from University of Oklahoma, and she is returning to school for a master's in criminal justice.
"When you're 18 years old, especially for me and some other students, you have your parents take care of you," she said. "You can't understand or grasp the concept of having a $2,000 loan, let alone, when you get your diploma, you have a $150,000 loan. I was very naive when I was entering college. … It never sunk in of, 'This is the burden, and this is the cost I'm taking on.'"
Simons is one of more than 44 million people who owe a collective $1.52 trillion in student loan debt in the United States, according to Make Lemonade. The Institute for College Access & Success' (TICAS) Project on Student Debt reported 65 percent of college seniors who graduated in 2017 had student loan debt. The average debt was $28,650 — a 1 percent increase from 2016. Forbes reports student loan debt is now higher than both credit cards and auto loan debt and has become the second-highest consumer debt category after mortgage debt.
The numbers illustrate how serious student loan debt is, and many now consider it a national crisis — so much so that several Democratic presidential candidates have announced proposals on how to address the issue. Many candidates released plans for free or affordable college, but three candidates' specific plans on student debt have captured national attention.
National conversation
Sen. Elizabeth Warren was one of the first candidates to release a plan addressing student loan debt.
"The first step in addressing this crisis is to deal head-on with the outstanding debt that is weighing down millions of families and should never have been required in the first place," she wrote on Medium. "That's why I'm calling for something truly transformational — the cancellation of up to $50,000 in student loan debt for 42 million Americans."
Her plan cancels $50,000 in loan debt for every person with household income under $100,000, and it would provide "substantial debt cancellation" for every person with household incomes between $100,000 and $250,000; it does not offer debt cancellation for people whose household income is above that.
Sen. Bernie Sanders also released a bill that would cancel all student debt entirely. He has said that it would cost about $2.2 trillion to do so and would make all public colleges free.
Sen. Kamala Harris's plan is quite different. Under her proposal, borrowers with a Pell Grant will get up to $20,000 of their debt forgiven if they start a business that operates for at least three years in a disadvantaged community.
Harris's plan has mostly been met with backlash. While Warren and Sanders's proposals to eliminate student loan debt have been well received by some, others say their plans are unfair to those who already worked to pay their own loans.
Rep. Melissa Provenzano, D-Tulsa, said the plans sound attractive but believes there should be more balance rather than just eliminating student debt completely.
"That sounds very attractive to someone who's carrying student loan debt," Provenzano said. "I do think that students who sign up to take a loan should make every attempt to pay off their debt. … I think there's some personal responsibility. Like, I know I signed up for that. I have a career that I was able to facilitate because I had that student loan debt, so there's perhaps a balance."
A Bankrate survey from March revealed that 73 percent of respondents delayed "at least one major life milestone because of their student loan debt." More than ever, people with student loan debt are putting off buying a house, saving for retirement, saving for emergencies and paying off other debt.
In order to save money to pay off her debt, Simons lives with her mother and has even tried mapping out when the best time would be for those major milestone expenses. So for her, plans to reduce or eliminate student debt seem reasonable. Simons said student loan debt forgiveness would be a proactive way to use taxpayer dollars that could help prepare a more educated workforce and stimulate the economy.
"If we're able to have forgiveness, it's going to open a lot of doors for our generation to either have more kids or continue to pursue education or whatever we want to do, and it's just going to be a better environment," she said. "My fiancé and I — you can only plan so much — but we try to map out when we're going to have kids. … It's just much cheaper to have a dog at this point."
Oklahoma debt
TICAS Project on Student Debt reported that Oklahoma's average debt is about $26,000 with 49 percent of students with debt — both figures lower than the national average. TICAS ranked Oklahoma 38th for average debt and 43rd for percentage with debt.
In 2017, University of Oklahoma, the state's largest university in terms of enrollment, reported 45 percent of graduates had an average debt of about $29,000. Oklahoma State University, the second-largest university, reported 49 percent of graduates had an average debt of nearly $24,000.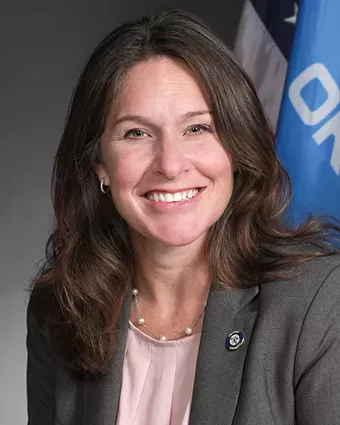 Oklahoma House of Representatives / provided
Rep. Melissa Provenzano, D-Tulsa, is working on an interim study to address the student loan debt crisis.
In an email statement to Oklahoma Gazette, Glen Johnson, Oklahoma State System of Higher Education chancellor, said it is important to note that Oklahoma's student debt story differs from the national landscape.
"The nationally recognized Project on Student Debt reports that Oklahoma ranks among the 12 states with the lowest student debt level, and more than half of students at our public universities graduate with no student loan debt," Johnson wrote. "U.S. News & World Report ranks Oklahoma tuition and fees as 12th-lowest in the nation and our student debt level at graduation as 13th-lowest in the nation.
"The State Regents and our public colleges and universities have long recognized the critical importance of family financial aid planning and debt management education. Helping our students and their parents navigate the financial aid process is a key initiative of the Oklahoma College Assistance Program (OCAP). … OCAP's student loan management initiative, Ready Set Repay, empowers borrowers in every stage of the loan lifecycle — in school, in repayment, facing repayment challenges or in loan default status — to make smart borrowing choices, successfully navigate repayment, avoid loan default and, if needed, overcome loan default and get back on track."
Visit readysetrepay.org.
Dotted line
Rep. Provenzano, who is working on a student loan debt interim study, echoed the idea that many people don't fully grasp the amount of debt they take on.
"You have a lot of papers to sign rather quickly, and often, you don't have all of the information that you need to know about, 'Here's the interest rate, and here's what it's going to cost you,'" she said. "There's so many ways that it can go awry, I believe."
Provenzano has student loan debt she has been paying off for more than a decade. She pays almost $500 each month and often thinks of the ways she could better invest that money in the local economy.
"Most people are just kind of like, 'I'm going to die with this debt. There's no way,'" she said. "The end is hard to see in sight. … I think about how much I pay every single month and just barely make a dent in the interest. It's like your own personal home mortgage. I think about the types of things that I would be able to do with that money and what's not being invested in our state."
People across the country recount the difficulty keeping up with debt, especially as interest accrues over time, leading to a snowball effect that is hard to manage.
"I think on the highest student loan I have, which is $10,000, I have a 6.06 interest rate, and even then, the last time I made a payment was May 1st on the interest. From May 1st to today, I have accrued $531.14 in interest," Simons said. "The interest on my car is .9 percent. I think I have a student loan that's like 6.5 percent."
Provenzano said she was approached by many constituents urging her that something needed to be done about student debt. She said they are looking at what other states have done to address the issue.
"There's confusion when you're signing up for a student loan and what you're getting yourself into," she said. "One of the things we're looking at in particular is a borrower's Bill of Rights, so very similar to when you get a home mortgage or when you sign up for a credit card. You turn that piece of paper over, your application over, and you know exactly what your interest rate is going to be, exactly how much it's going to cost you and those sorts of pieces. Maybe we need to think about better educating our students going into college — what you're in for when you sign on that dotted line."
While Provenzano's interim study is still in its infancy, it is assigned to the banking committee and is set to be heard in November.