Katie Murray / provided
Maddie Razook plays 3:30 p.m. Saturday at Opolis.
Norman Music Festival (NMF) offers a chance to check out touring acts such as Beach Fossils, Big Business and Sailor Poon for free and an opportunity to catch up on the local scene. And while we would always advise you to see hometown heroes Beau Jennings & the Tigers, Flock of Pigs, Sativa Prophets, The Annie Oakley, et al., you can also find new favorites simply by wandering around with open ears. With that in mind, we have highlighted a few acts we have not given as much coverage to in the past but still highly recommend.
Mt. Terror
Frontman Brennan Barnes' previous band Deerpeople is a familiar name to local music fans, but when Mt. Terror takes the indoor stage 10:30 p.m. Thursday at Opolis, 113 N. Crawford Ave., in Norman, it will be the band's first appearance at NMF. Mt. Terror played its first show, which filled Blue Note Lounge to capacity, last year, "the weekend after Norman Music Fest or something like that" Barnes said. The band played "like six shows total, eight shows, maybe" and released a double A-side single containing "How to Be a Bomb" and "Future Coast" before "things just collapsed," but now the supercharged synthwave band is back together and planning to release more music.
At the time of this interview, Barnes was still trying to find his sustain pedal before the band's first rehearsal since it reunited. The Opolis show is currently Mt. Terror's first scheduled gig since last year.
"I kind of like the idea of our first show back being kind of a bigger deal," Barnes said, "but I can't say that I would turn down a practice show."
Maddie Razook
Singer/songwriter Maddie Razook is playing NMF for her second year, and she will be appearing three times, all at Opolis. Razook will play solo 3:30 p.m. Saturday on the indoor stage, fronting her "other band" Pigments 7 p.m. Thursday outdoors and her "other, other band" Lust 1 a.m. (late Thursday or early Friday) indoors.
Razook said she writes the lyrics and vocal melodies for all three projects. Her solo work is typically "a little more confessional, a little more vulnerable" while electronic Lust is "usually very dance-y, very fun." Pigments tends toward dreamy pop. Live, her solo setup is just a microphone and a Roland Juno synthesizer with a built-in drum machine.
"It's been really essential to me recently, especially with spending all this time doing these other projects, just to keep my project that I do alone just me, so it ends up being pretty minimal, very intimate, but that's how I like it," Razook said. "I would say my favorite places to play my solo set would be, like, a small area because I just love the idea of people being close to me while I'm doing it. I feel like I'm sharing things with friends, even if I'm in a room of complete strangers."
Razook released the single "Spinning" April 9, Lust released a self-titled EP in March and Pigments has a new album coming soon.
Anne Marie Gray / provided
Naturalist plays 2:30 p.m. Saturday at Winston West Stage.
Naturalist
Naturalist, playing 2:30 p.m. Saturday on the Winston West Stage, has released two EPs and an album in its six years of existence, but band members still struggle to explain what the music sounds like.
"I've got to say, man, that's the hardest question everyone always asks," said bassist Joseph Tassinari. "The immortal question. … You ask 10 times and you'll get 10 different answers."
While Tassinari describes Naturalist's music as a "dark room, weird light kind of introspective-type thing," he said he thinks the band will have no problem playing outside in the afternoon. Two new songs on the band's set list suggest a sunnier state of mind inspired by recent life changes. Vocalist Ashton Prescott had a child, and Schatzer got married.
"It's, I don't want to say 'softer,' but it definitely has what feels like to me, a more positive vibe," Tassinari said. "We've all been making life changes, bigger ones for a while now, so I think that that kind of reflects itself tonally and kind of changes the vibe a little bit."
Guitarist Nathan Schatzer agreed.
"I think it's good for that to kind of reflect in the music," he said. "We have been doing this for so long, and the last thing you want to do is kind of get stuck doing the same thing over and over again."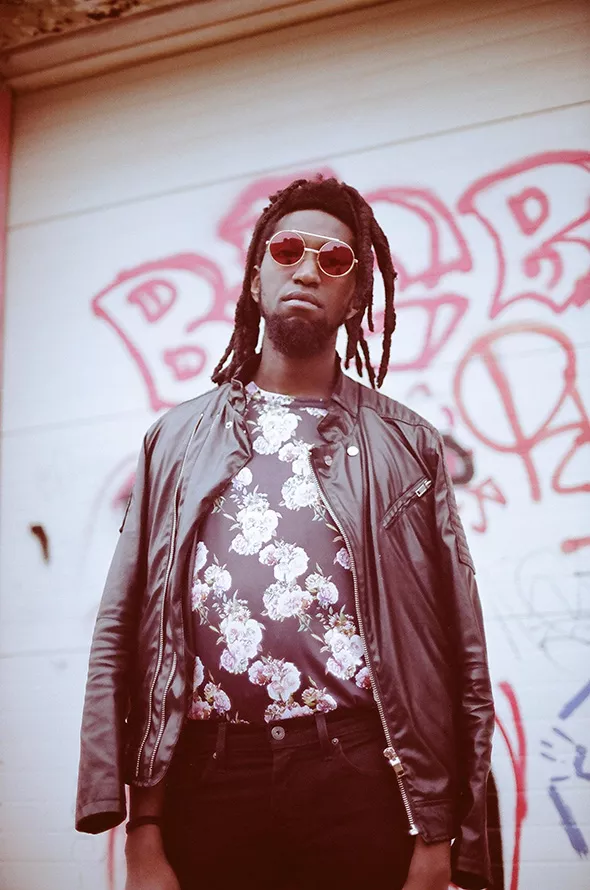 Grand National / provided
Teflo $ plays 7:20 p.m. Friday at The Brewhouse.
Teflo $
Released in January, Delusionally Beautiful combines hip-hop with elements of R&B, electronica and Jamaican dancehall, and, other than contributions from The Fervent Route guitarist Daniel Acuna ("Magic"), a feature spot from Rodrick Malone ("Fear," which Malone co-produces) and producer Benzo El Toro ("Gospel"), the widely varied vocals, verses and production are all credited to Teflo $ (pronounced "dollar"). But he is not necessarily happy about that.
"I'm a one-man band, and it sucks … but I don't have a choice," Teflo, who older OKC hip-hop fans know as Methotrexate from Purple Mouth Bandits, said. "That's how I started producing because at the time, I didn't really have money to buy beats, and the producers I did work with, they didn't have the same work ethic I do because I'd be wanting to do a song every day and they could only meet up, like, two times a week. So I was, like, 'Dude, fuck this. I'm going to get a Mac. I'm going to learn things.'"
His restless creative energy means he cannot stay satisfied with the finished product, even if it represents the culmination of several years of work.
"I've been experimenting with my sound since, like, 2013, and I feel like with Delusionally Beautiful, I actually kind of executed what I've always been going for for the last four or five years," he said. "Now I've got to find a cool new way to reinvent."
Teflo $ takes the stage 7:20 p.m. Friday at The Brewhouse, 110 W. Main St.
Admission to all shows is free. Visit normanmusicfestival.com.