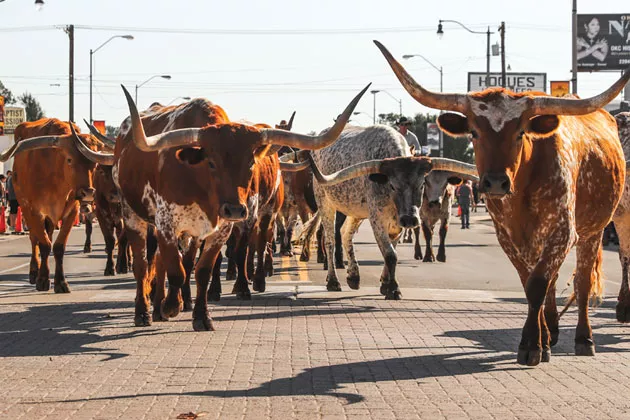 Provided
The annual Stockyards Stampede will be held Oct. 20.
On the grounds of the Oklahoma National Stockyards — the nation's largest livestock market — Stockyards board president Kelli Payne is walking through the auction room and over the catwalk overlooking 14,000 cattle with the skyline of downtown Oklahoma City in the not-too-distant background.
It's a particularly busy sale day, which happens every Monday and Tuesday between 8 a.m. and noon, and Payne is trying to make sure she introduces herself to every tourist who has stopped by to see agriculture in action.
"I counted tourists from 17 different countries," Payne said. "We're not advertising 'Come to the stockyards sale'; they're just here to see it. We're the last stockyards of this size directly tied to an historic district."
Inside the auction house, the action is fast-paced, and a slight movement is the difference between thousands of dollars. A buzzer sounds and a collection of cattle burst through a gate and onto the dirt floor surrounded by auctioneer and buyers seated in stadium-style chairs. The weight of the cattle flashes on the screen, and the auctioneer's words blend together so quickly that it sounds like a completely different language.
Blessed also with eagle-eye vision, the auctioneer is able to spot every subtle hand gesture from a potential buyer, and within a few minutes, the sale is complete without any grand notification because there are more and more transactions to make. National Stockyards is on pace to sell over 400,000 head of cattle this year, which Payne said sell for nearly $1,000 per cow. Since 1910, more than 100 million cattle have passed through Oklahoma National Stockyards Livestock Exchange.
"You'd be hard-pressed to find an industry in Oklahoma that can get that much business done in one day," Payne said, noting that ranchers come from neighboring states and others have cattle shipped to the sale from as far away as Florida. "Truckers are buying fuel, they're getting hotels; it all has an [economic] impact."
For the first time in decades, tourists and residents of Oklahoma City have something beyond the lure of Cattlemen's — the longest continually open restaurant in the state — and shopping for Western wear when visiting the Stockyards City district.
Lindsay Ocker operated a boot store at the 2227 Exchange Ave. location for decades before restaurateur Michel Buthion (La Baguette) burst in there with a grand idea to turn it into a saloon.
McClintock Saloon & Chop House opened at the end of 2017. The completely remodeled space with ornate woodwork, European paintings and crushed red velvet seats is a modern interpretation of a classic Western saloon where tourists can feel comfortable donning full Western wear.
"People who come from other countries — especially Germany and Japan — like to come to the Stockyards dressed for the part, but for a long time, dressing for the part meant just to go out to eat [at Cattlemen's] versus other aspects like immersion into culture and the significance of what agricultural heritage has brought forth," said Rhona Hooper, chair of Oklahoma City Chamber and president of Horse Equine Experiences, a group helping spearhead a public-private partnership to create River Park Equestrian Trail.
Equine trail
The equine park project began about six years ago after a conversation between Hooper and friends during a city chamber retreat. The next thing Hooper knew, a casual conversation brought back childhood memories of renting a horse for an hour at Liberty Stables, and others were in on helping the idea come to fruition.
The entrance to the equestrian park, which is in the early phases of operation, is located at 800 S. Agnew Ave., just a few hundred yards from the start of the Stockyards City business district. The city has run water and sewer lines to the location, and Hooper said construction on a landing connection to the Oklahoma River for river cruiser and waterway transit will begin in October with hopes of completion by January.
Visitors with their own horses are currently able to use the 20-acre park with trail loop and open riding space, but Hooper said there are plans to open a livery stable, where guests will be able to ride a horse and take it east to the American Indian Heritage Museum or west to Crystal Lake.
"The ability to ride a horse in the middle of a metro city area is almost unheard of," said Todd Branson, director of Stockyards City Main Street. "It allows us to better tell the story and history of the Stockyards. My ultimate goal is that people are reminded of the work farmers and ranchers do."
"Envision this: You're on a Western saddle on horseback silhouetted with the horizon of cosmopolitan Oklahoma City. You're bridging our heritage and our future, and that's what is so exciting," Hooper said.
Cowboy Cinema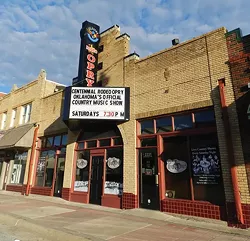 Provided
The Rodeo Opry building is now home to the nonprofit independent Rodeo Cinema theater.
The old and new combine at another recent addition to Stockyards City: Rodeo Cinema, a nonprofit independent movie theater located in the Centennial Rodeo Opry building at 2221 Exchange Ave., and works in conjunction with its sister theater, Tulsa's Circle Cinema.
Rodeo Cinema held its soft opening in late August and is showing independent movies in the renovated space 365 days per year except Saturdays between 7 p.m. and 9 p.m. when the Opry performs its stage show.
In early 2019, Rodeo Cinema will open two additional screens in a new building being constructed at the corner of SW 13th Street and Agnew Avenue.
"The soft opening was incredibly steady for us, and attendance was better than expected," said Kim Haywood, Rodeo Cinema's executive director. "It's been fun to see older people who used to come to this theater come back to see it and talk about the memories they have of growing up here or the hotel down the street."
The building underwent a modest renovation that added a copper-plated tin ceiling and a chandelier to the entryway and installed digital projection and surround sound to the theater room.
"It is an interesting combination with the history of the Stockyards of cowboy and independent film, and you don't necessarily think of the two blending," Haywood said. "That's a goal for us that when you open the door, it is fitting to be here within the Stockyards and have an independent aesthetic, which is why we have local art on the wall. It's not full cowboy theme, but we want to push boundaries."
In addition to showing independent films from studio wings such as Fox Searchlight and Sony Pictures Classics, Haywood said Rodeo Cinema is embracing its connection to history. The building that houses the theater was built in 1924 to show silent movies. Haywood said Rodeo Cinema will put on showings of Western classics, but also when a refurbished organ arrives next year, they will begin showing silent movies with live music accompaniment, just as the building was originally designed to do.
Haywood, who previously worked for deadCenter Film Festival for 14 years, said the Opry building represented the best place to open a theater in a historic space in the city that only needed minimal renovation. She also said the momentum of business growth in Stockyards City was an attraction for the nonprofit.
"I have a lot of friends and people in general who are coming down here saying, 'I haven't been here in forever.' 'I didn't think of it outside of the standard reasons you come to Stockyards, which is awesome, but you're giving new life,'" Haywood said.
Exchange Avenue in the Stockyards District is one of the city's five Business Improvement Districts (BID), meaning property owners pay a special assessment for the maintenance, development and promotion of their district through a public/private partnership.
Kim Cooper-Hart, senior planner in the city's Planning Department, said Stockyards City is scheduled to receive upgrades through the Better Streets, Safer City program funded through the temporary penny sales tax extension.
After funding is expected to be approved after Labor Day, Cooper-Hart said the money will go to district improvements south on Agnew Avenue, where new attractions like the Rattlesnake Museum have opened in recent weeks. The Rattlesnake Museum sits across from Panaderia La Herradura and Los Comales taqueria. Stockyards Sarsaparilla now sells designer candy and soda next door to Cattlemen's.
"If you look at the area in general, a lot of people think about it as hats and boots and things like that," Haywood said. "If you come here and walk around, you realize that there is so much more happening here. There is art and culture, things outside of cowboy aesthetic, which we love and want to honor, but there is a lot more happening."