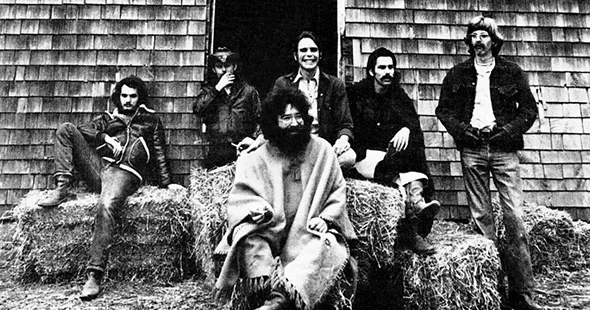 Wikimedia Commons / provided
The Grateful Dead has played a handful of legendary shows in Oklahoma City over the years.
Hey, hey. My, my. Of all the concerts Brian Beuchaw has attended in his decades as a music fan in Oklahoma City, one memory in particular stands out.
"I got to see Johnny Rotten's asshole," Beuchaw said, recalling the time the former Sex Pistol's band Public Image Ltd played the State Fairgrounds in 1992 on MTV's 120 Minutes Tour. "Being just the total jerk that he is, he was like, 'Who the hell are you people? You're not even clapping. Come on!' So I guess we weren't sufficiently rousing enough for him, so he actually pulled down his pants, spread his butt cheeks, and mooned us. I'm just like, 'Oh god. I never needed to see that,' but it was a really good show."
Oklahoma City is increasingly being included in A-list tour itineraries, with the likes of Chris Stapleton, Megan Thee Stallion, The Raconteurs, Guns N' Roses and Young Thug scheduled to stop by in coming months, but OKC has never exactly been a concert dead zone. Elvis Presley, Pink Floyd, Queen, Nirvana, The White Stripes and many other rock gods have graced its stages over the years. The Replacements' The Shit Hits the Fans — which Rolling Stone listed as one of the 50 Greatest Live Albums of All Time, proclaiming it "a lubricated mix of blues, metal, soul and spilled-beer wankery" (it was 50th on the list for a reason) — was recorded at now-closed Bowery, which also hosted R.E.M., Red Hot Chili Peppers and Bo Diddley.
In an attempt to revisit those glory days, we spoke to a few longtime OKC music fans about some of the biggest concerts they have seen here. There's little drugs or sex but plenty of rock 'n' roll and — we promise — no more references to aging punks' anuses.


Wikimedia Commons / provided
Jimmy Page and Robert Plant of Led Zeppelin in 1977
Led Zeppelin
April 3, 1977
Myriad Convention Center
A few days after Jimmy Carter was sworn in as the 39th president of the United States, 16-year-old Wayne Coyne set up camp at the State Fair Park box office. Coyne and his brother Mark were massive Led Zeppelin fans, and with tickets going on sale for a Myriad Convention Center show that spring, the Coynes skipped school with an eye toward nabbing the best seats in the house.
For what was probably his first interview, Coyne talked to Gene Triplett of Oklahoma Journal and posed for photos with Mark and a friend, and his efforts were memorialized on the Jan. 30, 1977 front page of the Journal. This would have been a nice tipoff to his teachers at Classen High School, but Coyne had already given them the heads-up.
"I remember telling them, 'I'm going to do this, and I'll make up my work — don't worry about it,'" Coyne said in a phone interview with Oklahoma Gazette. "My teachers were very forgiving at the time. I don't think any of them knew what Led Zeppelin was."
This was 18 years before Ticketmaster launched its online ticketing platform, a time when true dedication meant schlepping portable heaters and sleeping bags to a box office at the fairgrounds or on NW 23rd Street and setting up camp. For Led Zeppelin's Presence tour, Coyne camped out for three days, but he had racked up experience sidewalk surfing for Jethro Tull, Billy Joel and Eagles tickets, so he was a veteran of this particular operation and saw combat.
"We were really good at knowing how to camp and secure your spot," he said. "There were a couple of times when people would try to bum-rush the front of the line and there would be fights. One guy pulled a knife one time."
Ultimately, Coyne said, the experience of waiting in line and building a makeshift hut out of barriers from the nearby speedway to fend off the bitter cold made the concert pale by comparison. Coyne was on the front row on April 3, 1977 at Myriad, and while he was present for Presence, he said Led Zeppelin was completely checked out. The set list started with "The Song Remains the Same" and finished with "Trampled Underfoot," but it seemed Led Zeppelin could not be bothered with putting on a great show, much less a comprehensible one.
"We literally could not tell what song they were playing," he said. "You'd be halfway through a song and you'd be like, 'OK, I think I know what this is.' But in Led Zeppelin's defense, I should have just done a handful of Quaaludes and had a great time like everybody else."
provided
Kiss played at Myriad Convention Center in 1977.
Kiss
Nov. 15, 1977
Myriad Convention Center
Beuchaw went to the first of many, many concerts at the age of 12 with his 9-year-old brother and his less-than-thrilled father.
"We dressed up as Kiss for Halloween and had, like, a little play concert in the backyard with smoke bombs and stuff," Beuchaw said. "You know, you could buy that stuff at, like, Eckerd Drugs back then, or Rexall. So we did that, and my dad's like, 'OK, fine. Stop bugging me. We'll go.' So he went with us. He took earplugs. We got tickets over on the left side of the stage, the first level up, and we were close enough to feel the heat from the flames. So that was pretty cool. Then they had the massive, huge stage show. After they finish the show, but before the encore, my dad, like all dads, said, 'Hey, if we leave now, we can beat the traffic.' Since we were so young, we didn't really know about encores and all that stuff. … Later on, after hearing from other kids that went, we were like, 'Oh, man! We missed that.'"
Online set list repository Setlist.fm suggests the songs Beuchaw missed might have been "Detroit Rock City," "Beth" and "Black Diamond."
"After that, we were like 'Dad, you're going to take us, but you're going to drop us off,'" Beuchaw said. "Of course, with his first kid concert being Kiss, he's like, 'Sure. I am not going back into one of those.' From then on, we just did that. … That's kind of the way it was back in the '70s and early '80s with us. … There weren't a lot of parents at these concerts, either. It was just a whole bunch of kids, pretty well behaved. It was better, I think, than today's deal where the kids go to these nice little safe concerts with their parents. It was just a whole different atmosphere, and I guess I'm old enough to have one of those 'Yeah, back in my days' … but it was different. That was one of the really good memories, the very first one."
provided
Brian Beuchaw has attended many classic concerts in Oklahoma City.
The Grateful Dead
October 11, 1977
Lloyd Noble Center, Norman
July 5, 1981 and Aug. 1, 1982
The Zoo Amphitheatre
Mark Lyon, guitarist and vocalist for Electric Okie Test and 13 Seeds, first saw The Grateful Dead on the band's fourth Oklahoma stop, but he said the 1977 show still felt intimate in comparison to the large stadium tours the band would begin playing after "Touch of Grey" hit the Billboard Top 40 a decade later and "changed everything a lot."
"It was kind of a cultish thing back in those days," Lyon said, "not quite a household word yet, for sure. … They opened up with a medley of 'Help on the Way,' which is an incredibly complicated piece of music. They were showing, 'Hey, guys, you know, we're more than a party band. We know how to play,' and so that definitely impressed me that they could come out and start up a show with probably, to date, the hardest piece of music that they did. And I liked the whole scene. I was born in '57, so a little young to be a first-generation hippie, but at the same time, that's really what I was attracted to. … There really wasn't that much of a scene for things like that back then. … Oklahoma, we're late on everything. The whole hippie thing hit California in the '60s, and it hit Oklahoma in the '70s. That's kind of been my take on it. I'm sure some people would disagree that yes, there were hippies in Oklahoma before that, but seeing their shows then, it was a unique thing. There was no one else traveling around playing anything like that or bringing this kind of circus along with them."
While Lyon enjoyed the Lloyd Noble show, he said the later shows he saw were more memorable because he had a better view of the circus.
"The outdoor shows like the Zoo Amphitheatre, those were special," Lyon said. "You could kind of see the audience a little bit better, get a little bit better vibe of who was there. Probably anyone who was there was probably anyone in Oklahoma who wanted to see them because they just didn't come around here very often. But then there would be the traveling Deadheads going with them, and they were kind of unlike people we had seen around here in Oklahoma before, especially at the amphitheater. Off to the sides by the cedar trees … you'd get the spinners out there, the girls just spinning in circles. Then you'd always get some guy with white pants and no shirt out there practicing his tai chi moves in front of everyone. It was quite a scene. It was just a real togetherness kind of thing."
Beuchaw, who also attended the 1981 show, recalled one audience member in particular.
"The only thing I really remember about that is a woman walking around in a bikini and a tie-dyed skirt with a big, like, 10 foot-long boa constrictor around her neck," Beuchaw said. "Grateful Dead — that's just kind of what they do."
Wikimedia Commons / provided
Red Hot Chili Peppers played Cox Convention Center on March 12, 2007.
Red Hot Chili Peppers
March 12, 2007
Cox Convention Center
Red Hot Chili Peppers (RHCP) were supposed to play Cox Convention Center Jan. 12, 2007 as part of the band's Stadium Arcadium tour, but a snowstorm blanketed Oklahoma City earlier that day, and the crawl at the bottom of television screens announced both the cancelation of Oklahoma City Public Schools and of Anthony Kiedis giving it away that night.
Gnarls Barkley, the duo made up of Danger Mouse and CeeLo Green, were arguably red-hotter than the Chili Peppers at the moment, having released 2006's St. Elsewhere to critical acclaim and scoring a hit with "Crazy," so much of the ensuing disappointment over the postponed show was centered on missing Gnarls. When RHCP announced a rescheduled gig two months to the day after the original date, there was a faint hope that Gnarls Barkley would be there as well.
Instead, Oklahoma City got something much gnarlier. As the house lights went down at Cox, Mickey Avalon, a former street hustler turned rapper, took the stage with two female dancers and DJ Kev-E-Kev cutting between Toni Basil's "Mickey" and Roxy Music's "Avalon" on the ones and twos to introduce the new opening act.
Beyond Avalon being atrocious to the point of easily being mistaken for a prank, his stage production accentuated how outsized Cox Convention Center was for such a sparse and unpolished act. As this reporter wrote in The Oklahoman the next day, "The audience smelled the flop sweat and went in for the kill, and the booing only got louder as Avalon ran through his set of art-sleaze hip-hop, including 'So Rich, So Pretty' and 'Jane Fonda.' His final song, on which he was joined by the duo Dyslexic Speedreaders (featuring former MTV VJ Simon Rex), could not end fast enough for the crowd, which then settled in for a one-hour break before the Red Hot Chili Peppers took the stage."
When RHCP finally arrived onstage, guitarist John Frusciante gave the crowd a tongue-lashing over its treatment of Avalon, telling the audience they would "be bragging about it five years from now." He later wrote an armchair psychiatry-filled open letter to OKC, "in the case of a great man such as Mickey Avalon, you only make him stronger."
Avalon continues to record. His latest single is "I'm Better Than You," but that is only an opinion.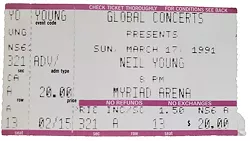 provided
Neil Young played at Myriad Convention Center in 1991.
Neil Young & Crazy Horse
March 17, 1991
Myriad Convention Center
When Neil Young's Smell the Horse tour stopped in OKC, Beuchaw said the audience was also memorable, but mostly for its hostility toward the opening acts, Sonic Youth and Social Distortion.
"That pissed a lot of people off," Beuchaw said. "Oh, man. They were just unhappy with those two bands, and in the meantime, I'm loving it. Sonic Youth around '91? That's just ideal. … They didn't really boo them, but … basically there was just a big mass exodus to go get drinks, look at the merch booth and go to the bathroom. So they're all like, 'Who the hell? OK, well, time to go take a pee.' … You'd see other people just shaking their heads. They kind of tried to ignore them, but you don't ignore Sonic Youth very easily."
The Replacements
Nov. 11, 1984
The Bowery
In the band's halcyon days, The Replacements were known for being perma-drunk, but when they arrived to play for about three dozen people during an ice storm at the second location of The Bowery, a now-demolished former church on Classen Boulevard, it was a wonder there was any booze left in Oklahoma City that day.
"They were more drunk than usual," said artist and writer Stephen Kovash, who was the bartender at The Bowery. "We had to bail one of them out of jail."
The late Ross Shoemaker, the DJ at The Bowery, asked singer-guitarist Paul Westerberg if he could record the set. Westerberg reportedly told Shoemaker, "Why? We suck!"
Fortunately for the world, a Replacements crewmember stole the tape and gave it to the band, which then released 10,000 copies on cassette as The Shit Hits the Fans. It features some of the worst/most wonderful versions of Black Sabbath's "Iron Man," Thin Lizzy's "Jailbreak" and The Jackson 5's "I'll Be There" ever committed to tape.
Public Image Ltd
March 19, 1992
State Fair Park
The king is gone, but he's not forgotten.