There is a new arrival this summer to coolers on their way to Lake Murray or accompanying floaters down the Illinois River near Tahlequah: alcoholic seltzer water. It has been two years since The New York Times wrote a glowing review of sugar-free LaCroix sparkling water, which a Vox report referenced as the line of demarcation for the subtly flavored drink in the ostentatious cans to reach the zeitgeist.
Colorful LaCroix cans have become a popular addition to Instagram feeds for teens and millennials, many of whom have ditched high-calorie soda. Daily soda consumption among teens dropped 24 percent between 2007 and 2013, compared to 20 percent for the rest of the country, according the Centers for Disease Control and Prevention.
According to The Washington Post in 2016, LaCroix's sales have tripled since 2009 and another brand, Sparkling Ice, expanded from $27 million in 2010 to nearly $550 million by 2015.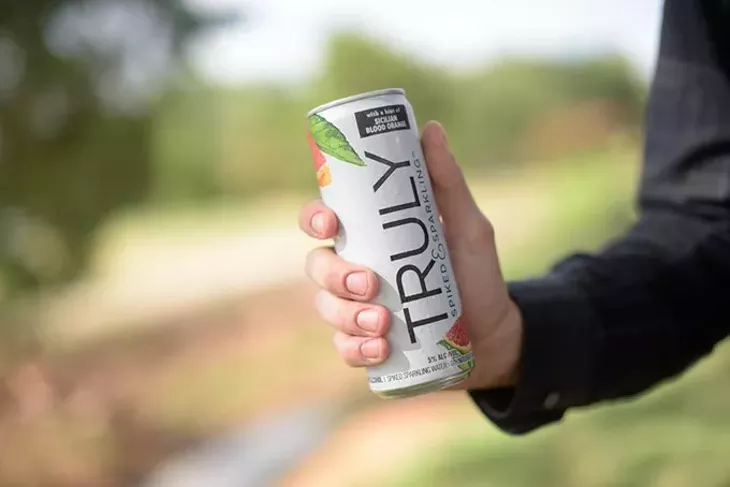 Garett Fisbeck
Alternative summer drinks, Friday, July 28, 2017.
Sparkling twist
As new-age sparkling water drinkers age into cocktail happy hours, the decision to enter the realm of hard seltzer is similar to the boom of hard soda like Not Your Father's Root Beer, which peaked two years ago, but it might have a more loyal audience because its low-calorie and gluten-free appeal is on the upswing. The United States' consumption of soda has fallen for 12 consecutive years.
Hard seltzer, like beer, is also made through fermentation but uses cane sugar instead of malted barley. It relies on essence of real fruit for a lightly flavored beverage. On average, hard seltzers contain about 100 calories per can and fewer than five grams of sugar and carbohydrates.
Companies began expanding into the alcoholic sparkling water market late last year. Sam Adams brewer Boston Beer, which is the market leader in the gluten-free cider category with its Angry Orchard line, launched Truly Spiked & Sparkling. Mike's Hard Lemonade parent company Mark Anthony Brands entered the space with its line of White Claw Hard Seltzer. Even venerable giant Anheuser-Busch InBev threw its hat into the ring in September when it acquired SpikedSelzter, which was the first alcohol-infused seltzer on the market in 2013.
Market expands
This is the first summer the alcoholic seltzer has received a full onslaught from distributors to retailers and restaurants. Grand Cru Wine & Spirits manager Cameron Mathis said he first heard of the products from a distributor representative last winter, who pitched it for coveted space on "the stack" reserved for the most popular items.
"I didn't think it was anything we wanted to stack," Mathis frankly admitted. "Jump to a couple of months ago, and I'm scrambling online to buy as much as I can and get stacks up because sales are skyrocketing."
Mathis said Truly, White Claw, Smirnoff's Spiked Sparkling Seltzer and A-B InBev's SpikedSeltzer are the most popular brands.
"It's people that love LaCroix but also like to have fun too," Mathis said. "I think [hard seltzers] have hit their stride, especially with it being summer. People want something they can drink around the pool but isn't too sweet like a cider."
He said it has been popular for drinkers looking for a different gluten-free option other than cider and a few market leaders like Omission Pale Ale.
"We have several gluten-free beers, but those seltzers really hit the mark," he said.
At Guyutes, 730 NW 23rd St., bartender Katie Wicks said Truly sales have picked up this summer because it's a new gluten-free alternative and it provides her good up-sale potential.
"I can use it in place of regular tonic to give the drink an extra kick," Wicks said. "We used to have alcoholic ginger beer for Moscow Mules, and this is similar."
Boston's Truly packs a decent alcohol punch at 5 percent alcohol by volume and only has one gram of sugar per container, which retails at $10 per six-pack. Mainstream light beers average 4.2 percent ABV, according to Advertising Age. Oklahoma's current low-point beer, which will continue to dominate at retail until State Question 792 becomes law in October 2018, comes in at 3.2 percent ABV.
Boston Beer is the biggest player in the non-beer markets. Its Angry Orchard cider totaled nearly $470 million in sales the past year, according to Fortune. Angry Orchard's numbers have slightly softened as hard soda has carved out a $289 million market niche across all brands, but Boston Beer also has Coney Island Brewing Company, which props up its hard soda brand.
The hard seltzer market is only a $52 million drop in the bucket compared to the $108 billion beer market, according to Fortune, but it's still in its infancy. There is not even a consensus on what to call the product. It is referred to as everything from hard seltzer to spiked water and spiked seltzer, according to Nielsen's beverage alcohol division.
"It's all about how people sell it," Wicks said of the hard seltzers. "It's a low-calorie option that can also appeal to people looking for more gluten-free options. I don't like stuff that's really sweet and I like vodka, which is good mixer [for the alcoholic seltzers]."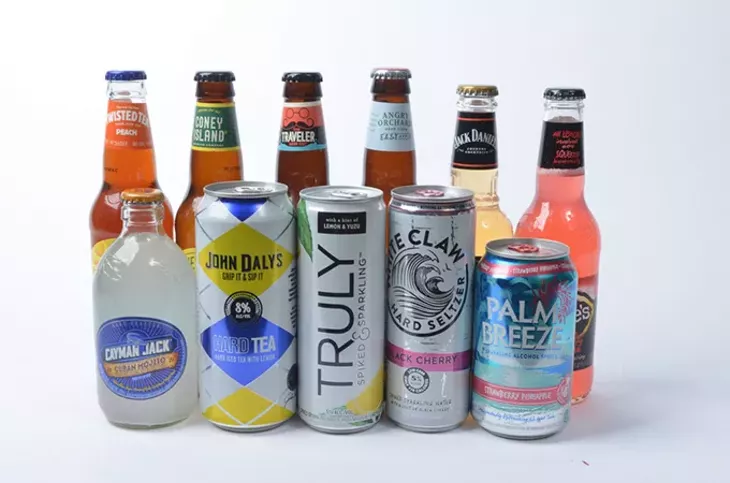 Taste test
In the service of true participatory journalism, Oklahoma Gazette held an after-work taste test with friends and colleagues comparing hard seltzer brand leaders Truly and White Claw to other alternative summer drinks, which include other recent trends hard sodas and teas.
John Daly's Grip It & Sip It
Overall: • (out of four)
Phusion Projects, the makers of infa
mous Four Loko, released a hard iced tea with a likeness of hard-drinking and smoking golfer John Daly to retailers this past July. Checking in at 8 percent ABV with a hard iced tea and lemonade and a hard tea with a splash of lemon, it was the heaviest drink of the group.
"Plenty of beers have 8 percent, but they don't make you feel like you're being sanitized," said one reviewer. "It tastes like you've been drinking and smoking on a golf course."
Overall, the drinks received unfavorable comments for their high sugar content, stale tea flavor and syrupy consistency.
"I could drink it if it was super hot outside," said the most favorable review. "Maybe if you cut it with some ice. You could make Long Islands with it and it would be alright."
Cayman Jack Margarita and Cuban Mojito
Overall: •• •
Made by Seattle's American Vintage Beverage, Cayman Jack Margarita and Cuban Mojito have earned points by national reviewers for standing out from other premixed malt beverages that mimic cocktails because of their use of organic ingredients and cane sugar.
Our reviewers tended to agree, preferring the mojito, with its fresh-tasting mint, to the margarita.
"It doesn't taste like there
is any tequila or rum, and there isn't, but it's nice and fresh," commented one.
The Cayman Jack Margarita and Cuban Mojito check in at 5.9 and 5.8 ABV respectively and have 220 calories per serving.
Truly Spiked & Sparkling
Overall: ••
Reviewers tried four flavors of Truly: Sicilian blood orange, grapefruit and pomelo, lemon and yuzu and Colima lime. A consensus formed that Truly missed its mark with grapefruit flavors that "taste like rind" but did much better on the lemon and lime flavors.
"The lime is drinkable on its own, but the (grapefruit and blood orange) need to be mixed with something. If you added fruit, it would be like a nice spa water," said one.
"The lemon one isn't bad, and you have to be careful with lemon-flavored drinks. Remember Diet Coke with lemon? It was like drinking Pledge," said another.
Although Truly missed the mark with a few of its flavors, it also has less sugar (1 gram compared to 4 grams) than its competitor White Claw.
White Claw Hard Seltzer
Overall: •••
Produced by the same company that makes Mike's Hard Lemonade, White Claw has made an aggressive play into the hard seltzer market. We tried three flavors: grapefruit, lime and black cherry. While the Truly grapefruit might fizzle, the White Claw Ruby Grapefruit earned two votes as its favorite seltzer flavor among reviewers, as did the black cherry.
"It's amazing there is such a difference in what is basically the same thing [compared to Truly], but [White Claw] does have more sugar content."
Palm Breeze sparkling alcohol spritz
Overall: ••
Also made by Mike's owner Mark Anthony Brands, Palm Breeze takes the sparkling name with none of the healthy benefits. The average serving has 220 calories and 33 grams of sugar, more than most hard sodas on the market. It also cannot be verified as gluten-free.
With such a Frankenstein's monster of mashed-up flavors like key lime cherry and strawberry pineapple, Palm Breeze blew over our heads a little bit. If we were going to drink that many calories, these panelists agreed they should also taste natural.
"I expect the Kool-Aid Man to jump through the wall," said one. Which is just fine if you like Kool-Aid.
Coney Island Brewing Company
Overall: •••
Boston Beer and Sam Adams' answer to the hard soda trend comes in the form of Coney Island Brewing. We tried newest additions Orange Cream Ale and Citrus Ale with a lemon-lime twist. Although the drinks suffered from some marketing missteps, their flavor profile is strong.
The citrus ale pours clear and is light on the twist but tastes like cream soda. One reviewer said the Orange Cream Ale, despite having more of a root beer flavor, was their favorite of the entire testing.
"It tastes like something those hipsters in Portland [Oregon] would drink with their wax-tipped mustaches," said one reviewer in the affirmative.
Twisted Tea
Overall: ••••
Another Boston Beer product, Twisted Tea scored much higher than the John Daly brand of hard tea for its freshness. The brand earned the highest mark from two reviewers, who gave it their best of the tasting.
"I could drink it thinking that it's regular iced tea and then get a nice buzz," said one reviewer with a nice buzz. "My compliments to the chemist."
Angry Orchard
Overall: •••
The market leader in cider released an "easy" version of its brand last August that is less sweet than the "crisp" counterpart and has 40 fewer calories. We tried them side by side and came to a consensus that the sweeter crisp variety won the battle.
"Easy tastes more watered-down. Crisp has more flavor and roundness. Maybe 'crisp' is the new light beer," one reviewer said.
Jack Daniels Southern Peach
Overall: ••
New in the product line from Jack Daniels, Southern Peach suffered in comparison to Cayman Jack's because its cloyingly peach flavor had an artificial finish. It also didn't fare well when compared to the Twisted Tea peach flavor. Overall, it was drinkable.
"It's not overly syrupy, and it reminds me of the fat-bottled sodas I drank as a kid, Original New York Seltzers," commented a reviewer.
Print headline: Summer spritz : New hard seltzers aim to change warm-weather drinking habits.