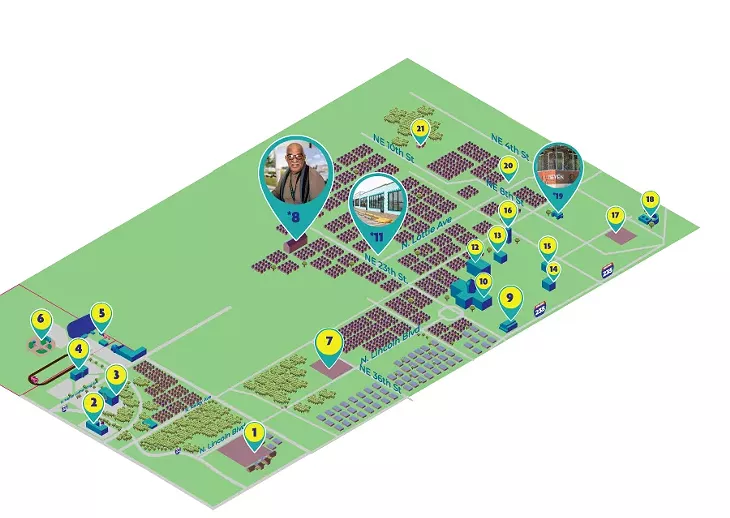 Image by Phillip Danner
Northeast renewal projects
Project map key
1. A tentative concept for 134 acres at NE 50th Street and N. Lincoln Boulevard envisions a hotel, residences, office, retail, parks and trail. Officials are currently seeking developers to contract projects throughout the property.
2. National Cowboy & Western Heritage Museum is currently building Liichokoshkomo' – a multimillion dollar educational expansion.
3. Oklahoma City Council approved Cinemark Tinseltown's special permit to serve alcohol on Nov. 5.
4. Just west of Remington Park, work has started on Remington Town Center, a proposal that includes a restaurant, retail, hotel and multifamily housing.
5. Oklahoma City Zoo and Botanical Garden is getting new additions, including an approximately $700,000 expansion for a modern Galapagos tortoises habitat.
6. The Softball Hall of Fame Stadium is receiving $21 million in enhancements as part of a contractual obligation to keep the Women's College World Series in town through 2035.
7. The third senior center from MAPS 3 will be at NE 36th Street and Lincoln Boulevard, and it will be operated by Langston University once its completed in 2020.
8. The Freedom Center will be restored and a Clara Luper Civil Rights Center created if voters approve MAPS 4 in December, which would provide $25 million in funding.
9. COOP Ale Works secured the 23rd Street Armory, which it will convert into its new brewery with hotel villas in the neighboring building that would be connected through a pool and outdoor area.
10. Oklahoma State Capitol is undergoing a massive restoration project.
11. The EastPoint development is nearing completion as 80 percent of tenants are secured. Developers hope it will help spur more investment in northeast OKC and make banks and other developers view that part of town more favorably.
12. Lincoln Terrace is a historic neighborhood situated on either side of N. Lincoln Blvd south of the Capitol.
13. A new 4-plex
14. The historic Walcourt building is being restored for office use.
15. A proposal for an office building with rooftop terrace was approved by city council Nov. 5 after a contentious conversation.
16. OU Medical Center is building a new medical tower to meet increasing demand.
17. Oklahoma City's Innovation District is growing and set to receive more money through MAPS 4.
18. The proposed Lincoln Square would allow for housing, offices and retail.
19. The Page Woodson development restored Douglass High School into housing units, created The Douglass Next Door and The Seven and is set to usher in more rental units and amenities for the area.
20. Construction finished early last month on Dunbar Commons, 52 senior housing units in the restored Dunbar Elementary.
21. The new Douglass Recreation Center will have youth facilities equitable to the ones that would be created if MAPS 4 passes.
After suffering from decades of redlining, disinvestment and neglect, northeast Oklahoma City is beginning to see an increase in development.
Though Gary Royal is careful about calling it a "renaissance," he admits it's an exciting time for the area's community.
"I wouldn't call it a renaissance because that would be much more of an organized kind of movement across the board," he said. "Now, it may amount to that at some point because our vision is actually in little pieces. We're trying to get the community to understand what this vision is that can happen here in five to six or seven years."
Royal is the project manager for the Freedom Center renovation and the creation of Clara Luper Civil Rights Center, a MAPS 4 project that would receive $25 million in funding if approved by voters in December. The vision Royal describes is a cultural hub that spurs additional investments and increases development in the area.
"This will be a catalyst for more development," he said. "When you create this kind of environment, it attracts investment. One hundred thousand folks coming in here would place a demand for restaurants and other kind of consumer services. It's never happened here before, so it's time. We've got to take advantage of this, as the stars are aligned. They don't align very often."
MAPS 4 also includes millions more dollars for northeast Oklahoma City, like funding for Booker T. Washington Park renovations, Northeast Community Center enhancements, an entirely new park in the area, Henrietta B. Foster Center for Northeast Small Business Development and Entrepreneurship, Innovation Hall and beautification for NE 23rd Street.
"This represents the largest investment in the history of the MAPS program [in northeast Oklahoma City]," Royal said. "There's already been over $2 billion invested, but we don't show anything here, so this really represents a once-in-a-generation kind of development for our community."
Another important project aiming to spur even more investment and development is Pivot Project's EastPoint, a retail-driven project nearing completion. One of the tenants — Intentional Fitness by Emmanuel Sonsanya — has actually already opened.
"We're 70 to 80 percent leased, and they're all minority tenants, and they all have [15 percent] ownership in the real estate," said Pivot Project partner Jonathan Dodson. "If you sign a lease, you become an owner. The whole goal was trying to keep them from being gentrified out of an area that they actually create the value for. The tenants themselves will reflect the community that's here, but they're also doing things that will pull people from the west side of town to spend money. … There's been like no private development in like 30 years over here. It's great that MAPS is doing their thing, but we need to bring it on this side of the freeway."
Looking back
Through the EastPoint development, Dodson said they want to create opportunities for a community that has been starved of investments due of systemic racism. Pivot Project partnered with Sandino Thompson, a community developer who grew up in northeast Oklahoma City.
"Because of the historic redlining that's occurred, the black community hasn't been able to redevelop their own community because of all the financing that has been pulled out," Dodson said. "We reached out to over 25 banks, and we've been told, 'No,' because it's on the black side of town. And me [and my partners] are three white dudes in an office sitting above a craft beer bar, so there's no way a black kid who is 18 could have gotten a loan. We're hoping now this will start to loosen up people's ideas … so if Sandino wants to go do his own development or Sandino's daughter wants to do development in 10 years, she can go get the funds and there's not this systematic redlining going on."
Jabee Williams, who's opening a Ground House Burger in EastPoint with a business partner from California, said racism decimated the community's previous businesses and homes and remains ingrained in people's minds.
"Back then, if a business wanted to take out a loan for a business or even take out a loan for a house, banks won't loan money. Why? Because they're black. You don't give money to black people because of racism," he said. "You deal with that for 50 to 60 years and you get to today where people might say racism doesn't exist. But if you go to get money from a bank for a house or for a business, you still can't get it. Not because the bank is saying, 'I'm racist. We don't give to black folks,' but by that point, after those conditions have been set in place for 50 to 60 years, that's just something you don't do. … [EastPoint] was an opportunity, in a lot of ways, for people to right their wrongs and also to be an example for other groups that want to come in and do the same things."
Systemic racism, he said, not only pigeonholed them to a particular area of town but also displaced them from their communities.
"Whenever people or a certain community can't afford to finance their homes or their businesses or things like that, then you have a few things that happen. One of the things that happens is you have [Oklahoma City Urban Renewal Authority] coming in and saying, 'We'll buy it up. We'll fix it,'" he said. "Not only that, what they would do back then is they would come in your house and literally encourage people to move. … So you have a group of white people telling you where you should live after 50 years of them telling you where you can't."
For Royal, who said OU Health Sciences Center is not truly part of the northeast Oklahoma City community because black families were displaced from the area, new developments like EastPoint and the MAPS investment present a way for the community to find a sense of place again.
"All of our communities used to be located where the OU Health Sciences Center is and where the Innovation District is proposed. That was the heart of the black community some decades ago, but we were displaced," Royal said. "We're still trying to find a sense of place. Folks say 'northeast' now, so you think maybe we're where we are now because this is where we have [always been], but it wasn't like that."
Thompson, who has been securing tenants for EastPoint, said the northeast community is skeptical of developers coming in, as they have been taken advantage of, exploited and lied to repeatedly in the past. There's a reputational risk for people from the community who work with white developers, but Thompson said the benefits are worth the risk, particularly because he trusts the Pivot Project team.
Part of their its steps in the EastPoint development was getting Centennial Health, formerly Oklahoma City Clinic, to relocate to NE 23rd Street, essentially becoming the first tenant to buy into the developers' goal of revitalizing the community.
Thompson said that was especially poignant for him because he remembers his grandmother, along with four other women, spearheading an effort to establish Mary Mahoney Memorial Health Center in Spencer, Oklahoma.
"So two generations later, the opportunity for me to bring a medical facility right here to 23rd Street that's going to target all of these neighborhoods, it's worth the risk," Thompson said. "There's a lot of distrust, a lot of skepticism and then a lot of examples of exploitation in developments, so you actually have to be willing to take some of those risks on."
Forging ahead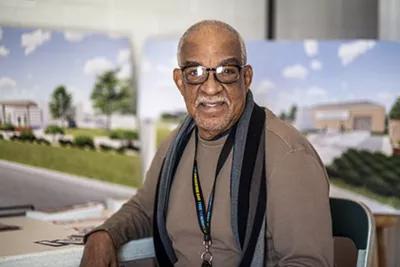 Miguel Rios
Gary Royal, project manager for Freedom Center and Clara Luper Civil Rights Center, said the centers could transform the area into a cultural hub that spurs more developments.
Apart from the EastPoint and MAPS projects, a slew of other developments and enhancements are happening in northeast OKC.
The Adventure District is seeing improvements to many of its attractions like an expansion at National Cowboy & Western Heritage Museum, new additions at Oklahoma City Zoological Park and Botanical Garden and a nearly $30 million improvements for USA Softball Hall of Fame Complex, which will ensure the Women's College Softball World Series stays in OKC through 2035.
Historic properties are being restored, like 23rd Street Armory, which is now owned by COOP Ale Works and will become its new brewery with hotel villas in the neighboring building that will be connected through a large pool and outdoor event area. The Walcourt at NE 13 Street and Walnut Avenue is also being redeveloped for offices.
Just east of The Walcourt at 301 NE 13th St. is a proposal for an office building with a rooftop terrace. The project made it through the Planning Commission and was approved by the city council Nov. 5 after a contentious conversation in which motions to deny and to defer failed. Most people who live in the neighborhood protested the building because it would be 70-feet tall. Ward 7 councilwoman Nikki Nice and a resident of the neighborhood said almost 75 percent of the occupied homes signed a petition against the development.
Near University of Oklahoma Health Sciences Center (OUHSC), the Page Woodson development continues moving forward. Developers already redeveloped the former Douglass High School building into 60 housing units as The Douglass at Page Woodson. Construction of an adjacent building, The Douglass Next Door, provides an additional 68 units. Developers also built The Seven at Page Woodson — 14 buildings with about 80 more rental units — which developers previously told Oklahoma Gazette was named after seven important black historical figures.
Construction is also underway on a "state-of-the-art" medical tower at OUHSC to meet demand. The patient tower will provide 450,000 square feet of additional space, eight floors, 144 added beds, 32 new operating rooms and new amenities. It's set to be completed in 2020.
Earlier last month, construction ended at Dunbar Commons, 52 senior housing units in the redeveloped historic Dunbar Elementary at 1432 NE Seventh St.
While some developments evoke mixed reactions from a community wary of gentrification and additional displacement, Williams said he is cautiously optimistic.
"That's the hard part, trying to balance the ownership that you feel or the pride that you feel with opening your doors and letting people come in and help you," he said. "That's hard because there have been so many broken promises. There have been so many lies and so many projects that were halted, so many people that came in and were doing it for God or whatever and ended up doing it for money or didn't do it at all. So yeah, it makes you cautious about all that because up to this point, we did it all on our own for the most part. But I think it's good. My goal is to get as many people who grew up on the east side to move back, to move their businesses back, to stay, to buy a house. Me, my mom and my sister live on the east side. We all live within a few blocks of each other. That's important."
And though Royal agrees that the developments are positive, he is more focused on where the black community is located now and the future of the area.
"[Many developments] are over into the Health Sciences Center, the OU medical school and the Innovation District. I wouldn't say anything negative about it, but I will say that that's still not the northeast community," he said. "We support the Innovation District, but we were displaced from that area. … We just say now that we have identified where the heart of our community is. Now help us develop it. We won't even be looking back because we'll be looking forward."
Community developments
The EastPoint development has only a few outstanding leases under negotiations. Secured tenants include Williams's burger joint, Intentional Fitness by Emmanuel Sonsanya, the headquarters for Oklahomans for Criminal Justice Reform, a bar, an optometrist, a travel agency and an art gallery and studio. Pending tenants are a restaurant and a juice shop.
The development has already drawn people who moved out of the area or had their businesses outside northeast OKC back to their own community.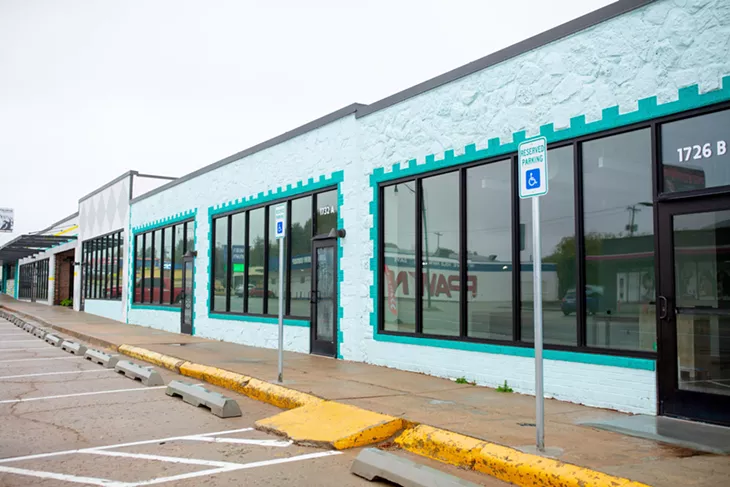 Alexa Ace
Pivot Project's EastPoint development gives 15 percent ownerships to tenants, which are currently 100 percent business owners of color and 50 percent female.
"Emmanuel's spot is a great example," Thompson said. "He's somebody that's done fitness stuff all over the city and was just waiting for an opportunity, looking for an opportunity to do something over here. That's why he's the first person over here because he's been ready for a year."
Freedom Center and Clara Luper Civil Rights Center is designed to be a state-of-the-art museum with exhibit space and an event center for the community. Royal said that, along with EastPoint development and prospective investments from MAPS 4, could completely transform what he now calls the heart of the community.
"When this happens, it will put some more demand in that people are coming here. So it's cultural, but it also has an economic component to it. We haven't had this kind of opportunity before. … We've got something we can embrace as ours, and it will become the cultural hub of northeast Oklahoma City," Royal said. "The Washington Park and the Henrietta B. Foster Center and all of these kinds of things within another five years will come into focus. The citizens get excited when they can see that vision. This is part of it. [Councilwoman Nice] is sharing the vision for some other projects in MAPS 4. They will all come together, and so then you might say that we went through a renaissance."