The path to getting and staying fit can often lack creativity. Those looking to get more active often limit themselves to a small sampling of the same tried-and-true options.
For one, there are always traditional gyms and fitness centers. Weight machines, dumbbells and StairMasters work wonders for many, but not everyone enjoys that kind of environment. It can be intimidating for beginners and sometimes lacks a fun angle that keeps things fresh and engaging.
Those who don't go to the gym often look for do-it-yourself alternatives like home workouts, bike rides and neighborhood jogs. These can be great as well but are sometimes distraction-prone and weather-dependent.
Still, there are plenty of ways to increase one's activity outside the usual go-tos. Oklahoma Gazette profiles five metro-area facilities that get locals moving in ways outside the usual box.
Teaze Dance & Fitness
1112 N. Broadway Ave.
405-232-7653
It might be great cardio, but the only sultry thing about jogging on a treadmill for 30 minutes is the runner's sweaty, steamy armpits. If you're going to sweat, it might as well be on a pole. Teaze Dance & Fitness offers pole and aerial dance classes for all levels. A team of highly trained instructors, including owner Lynn Crowe, help lead workouts that leave people feeling comfortable and confident. Those who would like to try pole dancing for a night without dedicating themselves to regular classes should consider gathering a group of friends for a private event. Teaze offers a number of pole, aerial hammock and other party packages for weddings, bachelorette parties or nearly any other kind of gathering.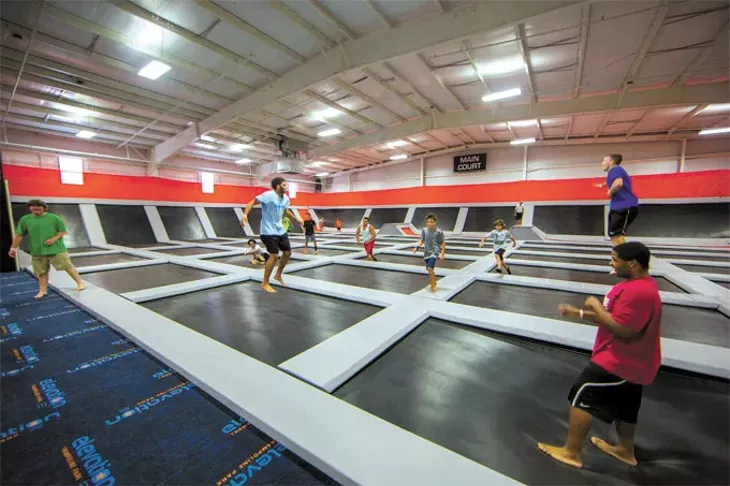 Adults and children as young as 7 years old can enjoy jumping in Elevation Trampoline Park's massive indoor facility. | Photo Elevation Trampoline Park / provided
Threshold Climbing Fitness & Yoga
6024 Westlake Memorial Parkway
405-470-3611
The thing about fitness is that it's never a quick and simple journey. To be metaphorical (and maybe a little cheesy), the path to wellness is often more like a climb, with each milestone and methodical step toward one's goal an accomplishment in itself. Threshold Climbing, Fitness & Yoga is prepared to help anyone hoping to engage in a more active lifestyle, perhaps even conquering a few fears along the way. Memberships can be purchased for prepaid terms or by month and include unlimited access to climbing and yoga classes, a free guest pass each month and a variety of retail and service discounts. Those who show up at Threshold have a number of options in the beautiful facility, including bouldering, auto-belays, top-rope and lead climbing. It is recommended that first-timers go through orientation first to learn which ways they would like to utilize the gym.
Elevation Trampoline Park
14402 N. Lincoln Blvd., Edmond
405-463-3335
Many people have fond childhood memories of bouncing on a backyard trampoline. But one thing becomes abundantly clear to the adults looking to recapture a bit of nostalgia by stepping out onto Elevation Trampoline Park's massive indoor bounce gym: Jumping is a more significant workout than it seemed as a youth. Sure, maybe we have accumulated a bit more body mass since we were 6 years old, but trying to break a personal bounce record on a giant trampoline never gets less fun. Elevation is the perfect way for parents and children to stay active together. The gym is open to jumpers ages 7 and up with trampoline dodgeball and basketball areas paired with a large, free jump space. The best thing about the facility is the many steps it takes to keep jumpers safe. Everything is well padded, and a vigilant staff keeps people from doing anything that could lead to injury. Families that live closer to the metro area's south side should visit Elevation's Moore location at 1431 N. Moore Ave.
Threshold Climbing's gym offers training courses in bouldering, auto-belays, top-rope and lead climbing. | Photo Threshold Climbing, Fitness & Yoga / provided
Phamily Fun & Fitness
404 Wimbledon Drive, Edmond
405-285-5688
Frequent Gazette readers might remember Phamily Fun & Fitness from our September 2017 cover story on the Edmond-area obstacle training gym worthy of the acrobatic marvels who compete on NBC's American Ninja Warrior. The show has been a smash hit with a large nationwide audience. In May 2016, American Ninja Warrior even taped a show outside the Oklahoma State Capitol. Phamily Fun & Fitness offers classes for adults and children as young as 4 years old. Owner Dominic Pham is passionate about obstacle training and has been a certified trainer for several years. The adapted warehouse space includes a cargo net, ledge climbing, a 14-and-half-foot-tall quarter-pipe warped wall and many other unconventional obstacles designed to test balance, agility and all-around strength.
Western Avenue Boxing Gym
4408 N. Western Ave.
405-532-3204
A serious head injury forced owner Travis Hoffman to retire from competitive boxing, but it has not stopped him from opening a training gym along Western Avenue with wife Rebecca. They offer several traditional boxing basics and conditioning classes each week. After a few months of experience, students can move on to light sparring if they choose. Aside from boxing, Western Avenue offers courses in close combat defense and systema — a Russian martial art that emphasizes breathing, control and effortless movement. The gym is one of few, if any, other state gyms certified to teach systema. A day pass for boxing or any other training session is available for purchase, but the gym also offers 10-class and monthly unlimited membership packages. Equipment is provided, and the first class is free with no advance registration required. Members and nonmembers can also purchase private training sessions.
Print headline: Active alternatives; Is a traditional gym membership not for you? Check out these fun and engaging paths to increased fitness.