Photo Jacob Threadgill
Beet greens provide twice as many nutrients as kale, and beet root is an excellent pre-workout snack.
A popular interesting fact on the internet is that before 2013, Pizza Hut was the largest purchaser of kale in the United States, but only as a garnish for its salad bar.
The idea that the most nutrient-rich item in the salad bar was not even intended to be eaten sounds too good to be true, and there is some nuance there. The fact has spread across the internet thanks to an uncited statistic in a Medium.com blog post.
Pizza Hut has not confirmed the statistic even as national media sources like National Public Radio (NPR) have asked. Pizza Hut certainly used kale as a garnish, but was it the largest purchaser?
It's one of those statistics that seems plausible, given kale's rise as the star of the leafy green superfoods, and only highlights the ever-changing nature of nutrition science and trends.
Are you one of those people who can't get over the bitter taste and chewiness of kale? Consuming vegetables or fruit raw is the only way to gain all of their nutrients, but for many, that can be a nonstarter with kale, even after a healthy massage.
If you're looking for a replacement, especially a green that is easier to eat raw, look no further than watercress, which tops a study done at William Patterson University ranking 17 vital nutrients on a nutrition density score.
Used as a topping for tacos or in a salad, watercress can provide a boost, but it can be hard to find in the Oklahoma City metro. It is available year-round at Whole Foods Market and Sprouts Farmers Market, while Crest Fresh Market offers it in the spring.
Beet greens are more readily available than watercress and nearly as nutrient-dense.
"They are more nutrient-dense than the beets themselves, so we should all be eating them rather than throwing them away," said Jessica Cox, nutritional health coach at Natural Grocers, 7013 N. May Ave.
The beetroot itself has many benefits. It is an excellent pre-workout snack because it is high in nitrates that the body converts to nitric oxide, which relaxes blood vessels and provides more blood and oxygen to extremities for better endurance, Cox said.
Kale isn't the only superfood that has gone from obscurity to ubiquity over the last decade. Look no further than quinoa, which is touted as a protein-rich alternative to traditional grains, but a cup of quinoa (8 grams) has less than half the protein of a cup of lentils (18 grams.) Quinoa's explosion in popularity has put a tremendous ecological strain on the crops of Peru and Bolivia because the plant needs specific altitude and environmental conditions to survive.
If you're looking to acquire protein from grain, consider ancient ones like amaranth or spelt.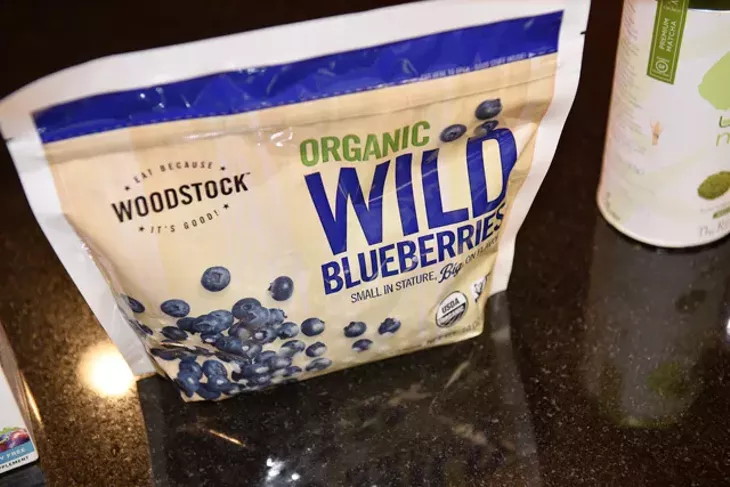 Photo Jacob Threadgill
Wild blueberries have twice as many nutrients as farm-raised blackberries.
Radical scavengers
The term "antioxidant" has become a catch-all for the nutrients that eliminate harmful free radicals that cause damage to cells, protein and DNA, but the FDA only considers beta-carotene, selenium and vitamins C and E as true antioxidants, Cox said. Everything else is a free radical scavenger.
One of the most potent free radical scavengers is cacao, the seed from which cocoa and chocolate are made. This doesn't mean eating a box of Hershey's is a great health choice. Chocolate must be at least 70 percent cacao to provide any benefits.
"When it's lower, there is more other stuff like sugar and milk, which isn't as beneficial," Cox said. "Real cacao is actually bitter… it's great for healthy blood pressure, the brain and mood. There are studies that show it increases the production of feel-good brain chemicals, like serotonin."
Another emerging free-radical scavenger is black seed oil, which is made from cumin, caraway, sesame, onion and coriander seeds. Fat-soluble nutrients help regulate immune systems, and it's great for nutrient absorption and kidney and cell membrane health, Cox said.
Immune system boosting has been important during the influenza season. Cox said the elderberry section of the natural products section was wiped clean over the winter.
"People are becoming more open to natural products," Cox said. "We always tell them to check with your doctor first to make sure nothing you're already taking interacts with (the natural product). People don't realize that more people die of prescribed opioids every year in America than of illegal drugs. Doing the natural route should be first step."
High in Vitamin C
Camu camu
is a berry from the Amazon rain forest, and it packs 600 milligrams of vitamin C in one teaspoon of powder, 10 times as much as an orange and more than 700 percent of the FDA's daily needed value.
Wild blueberries have twice as many nutrients than the much larger farm-raised blackberries, and they're now more available in frozen packages during the off-season.
"They have to defend themselves in the wild, so they have to resist disease and elements by producing extra nutrients to protect themselves," Cox said.
Photos Jacob Threadgill
Chocolate is a great source of free radical scavengers if it is at least 70 percent pure cacao.
Coffee alternative
Thanks to the amino acid L-theanine, green tea releases caffeine slowly, compared to the rush and inevitable crash of coffee. The average person loses the benefits of fiber and additional flavonoids when green tea is steeped, Cox said.
Matcha powder is the best way to get the added benefits of fiber because the entire leaf is consumed after the powder is whisked into hot water.
"Matcha lattes are the best," Cox said. "I can't do coffee because of the jitters and the crash."
Print headline: Beyond kale; Oklahoma Gazette separates fact from fiction in the ever-changing world of nutrition science.