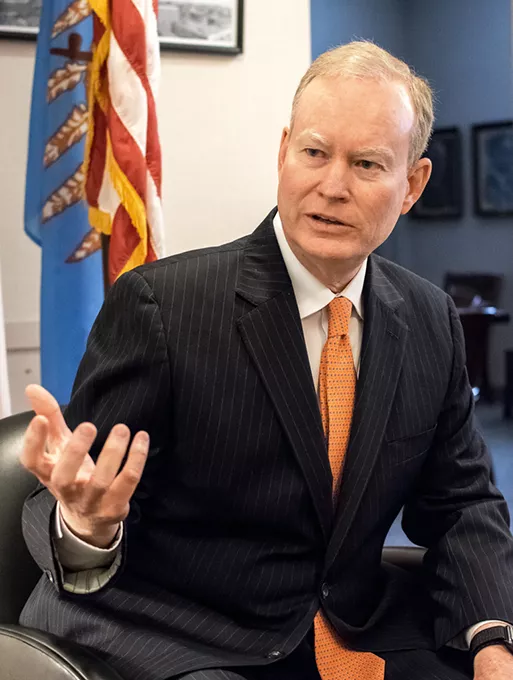 Photo Mark Hancock
Mick Cornett marked 14 years of serving Oklahoma City as mayor last week. The popular mayor who has overseen an economic resurgence in Oklahoma City leaves office next month.
When Mick Cornett took office as Oklahoma City's mayor on March 2, 2004, there was no Devon Energy Center dominating the city's skyline, nor was there a National Basketball Association (NBA) team playing to sold-out crowds in a newly minted downtown arena. There was water in the Oklahoma River, but no developments of note lined its banks. No one was envisioning swapping the Crosstown Expressway for an urban park and convention center and ultimately attracting luxury hotelier Omni.
From the early days, Cornett aspired to lead differently from his predecessors. He inherited a public works program reviving a city that suffered an oil market crash in the 1980s and an act of domestic terrorism in 1995. The city's self-esteem was riding high on the success of the original Metropolitan Area Projects (MAPS) Plan and its second-installment, MAPS for Kids, was beginning to bring massive infrastructure repairs to more than 70 schools in Oklahoma City.
These seeds of resiliency blossomed in a city newly confident in dreaming big. As mayor, Cornett's job was to cultivate those seeds' growth. He began on an early March morning 14 years ago.
"MAPS got it all started. No question," Cornett said in his office at City Hall. "Since the vote in 1993, we've never stopped planting seeds. … We kept doing things that we thought would help later. We haven't been focused on, 'What do we do now, and how fast can we do it?' We have always been about, 'Let's do it right, invest for the future and invest in ourselves.'"
Few could have ever imagined the economic resurgence Cornett would oversee during his four terms in office. Multimillions invested by the municipal government paved the way for private development to grow a booming downtown. Economic incentives poured 100,000 additional jobs into the city's economy. The city's population ticked upward as people of all ages were attracted by low-cost living and the city's vibrant arts and culture scene. The addition of a professional sports team brought a sense of community and overflowing pride.
"I know the last five years have been pretty good, and the last 10 years have been extraordinary," Cornett said. "The next five, the next 10 are probably going to be better. You look at the streetcar and the convention center, and then you get into the private-sector development, the millennials continuing to move into this city, the businesses getting started. There is every reason to believe that it is going to get better. That's because we kept planting seeds."
Passionate voice
Cornett, known affectionately as Mayor Mick to constituents, frequently tells luncheon crowds in Oklahoma City, reporters from national publications and mayors from other cities, "No city has come further faster than Oklahoma City." It's a statement that goes unchallenged for good reason.
Next month, Cornett leaves office with a legacy that has been heavily shaped by his efforts to land an NBA team, which was later named the Oklahoma City Thunder, and his focus on promoting healthy lifestyles. He once challenged citizens to join him in dieting, and they responded by losing a cumulative 1 million pounds. He has spent plenty of time in the national limelight, sharing Oklahoma City's renaissance story, highlighting the Thunder, the city's health initiatives or its signature MAPS program.
His name appears on a number of lists, including Politico's 50-person list of "thinkers, doers and visionaries transforming American politics in 2015." Newsweek named him one of the five most innovative mayors in the country. Oklahoma Gazette readers selected Cornett as Best Community Leader in 2016. As president of the U.S. Conference of Mayors, Cornett showcased the city to some of America's most renowned mayors. In late 2016, Cornett had a sit-down with President-elect Donald Trump on the needs and desires of America's cities.
"If you had to sum up Mick Cornett in three words," Ward 3 Councilman Larry McAtee said, "it would be character, confidence and the chemistry to get others alongside him and helping out."
And he pairs those qualities with a "passionate voice for Oklahoma City," said Roy Williams, president and CEO of the Greater Oklahoma City Chamber. "He is willing to listen; he is willing to change his mind. Once the vision is clear, his leadership style is very strong. You want to listen to him. You want to follow him."
Humble beginnings
Cornett emerged from a crowded field in Oklahoma City's mayoral race in 2004 to succeed Kirk Humphreys. His name recognition rose as a first-term Ward 1 council member but also from his 20-year career in local sports and news journalism. He once wrote a sports column for
Oklahoma Gazette.
To transition from councilman to mayor, Cornett researched what mayors in America and beyond were facing and how they were creatively tackling issues.
"Every day, I Googled the word 'mayor,'" Cornett said. "I would spend sometimes 30 minutes, sometimes three minutes to get an idea of what every mayor in the world was dealing with. … You can't allow yourself to get caught up in what you are doing or what you are building in your city. The way our system works, the city manager and staff are running the day-to-day operation. The mayor and the council are able to look out for the long-term agenda and vision of what the city can become. I spent a lot of time looking forward."
His passion for public service was inspired the first day he entered the Oklahoma City Council chambers as a reporter for KOCO in the late 1990s. He was covering the council after his boss turned down his pitch to cover the Legislature. Before departing the station, Cornett had to ask for directions to City Hall. Any hard feelings toward his boss for the council assignment were soon dissolved as the meeting was called to order.
"What I saw from city government was relevant," Cornett said. "They were talking about parks and streets, all of these things with substance. I knew where they all were because I had grown up here. I thought it was fascinating."
Public service was a good fit for Cornett. He joined the council dedicated, passionate and engaged, demonstrating a commitment exceeding the traditional view of a council member as a "part-time job." Oklahoma City has a long-established council-manager form of government, where the city manager oversees the day-to-day operations and the nonpartisan mayor and council have weaker powers based on the municipal charter.
However, Williams said, no one in Oklahoma City ever viewed Cornett's commitment to the city as part-time.
"He was always ready to go and do what needed to be done," Williams said. "He never used the excuse, 'I don't have time.' He totally committed to the job. He was the mayor 24/7."
Powering down
About a year ago, Cornett announced he would not seek another term. He leaves office next month, passing the gavel to mayor-elect David Holt, a state senator and Cornett's former chief of staff.
"He has given us more of his life than anyone else ever has in this city," Holt told Oklahoma Gazette in a January interview as he campaigned for mayor. "We should be eternally grateful for him. I certainly am. I think he has been an integral part of building a city that I would be happy to spend my life in and building my family in."
In his last year in office, Cornett has pushed an ambitious to-do list, sending three proposals, which included investing over $1 billion into the city's infrastructure, to voters who responded favorably. Meanwhile, progress continued on the voter-endorsed MAPS 3 projects and the council approved a public financing agreement with Omni as the future convention center hotel. There are lesser-known projects, like Cornett's efforts to gather the mayors of Warr Acres, Bethany and Yukon to discuss the beautification of Route 66.
In late May 2017, Cornett announced his intention to seek the Republican nomination for governor.
To keep Oklahoma City on track, his advice for the next mayor and those to follow is simple: Keep planting seeds. Look for the next opportunity in what's beginning to bloom.
"I was able to grow an idea based on what others had accomplished," Cornett said. "I think the Omni Hotel is an example. If you don't have MAPS 3, you don't have a convention center and you don't have Omni Hotels and the $150 million coming into this city. Be thinking about where we go from here. You should always be asking, 'Now what?'"
Print headline: Leaving a legacy, Oklahoma Gazette sizes up the 35th mayor of Oklahoma City's 14 years in office.