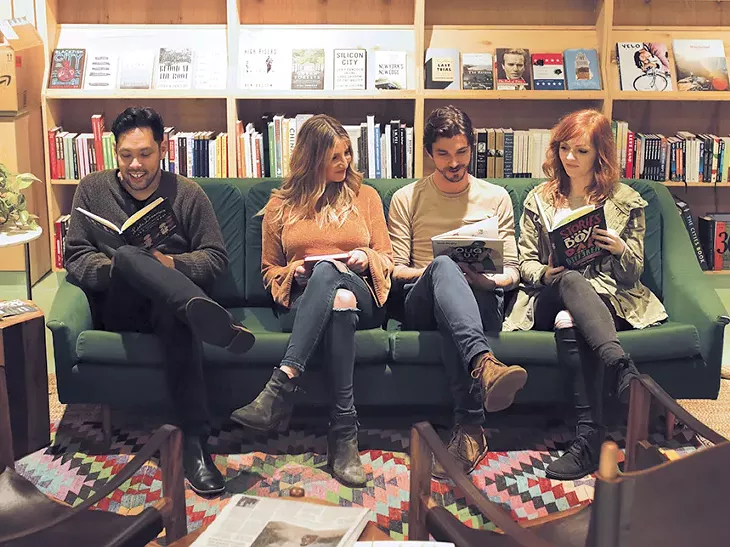 Alexa Ace
Jose Hernandez, Chelsey Cope, Chase Kerby and Kinsey Charles perform at a book drive at Commonplace Books 6 p.m. Saturday.
One evening, at a bar on 23rd Street, local musician Chase Kerby is bent over his laptop, scrutinizing a series of his recent photographs. He's trying to figure out which pieces would be appropriate for a silent art auction.
Kerby is preparing for the big closing event of a book drive he has been organizing for months.
The drive is being held to benefit Positive Tomorrows, an Oklahoma City nonprofit private elementary school that serves children experiencing homelessness.
Kerby invites donors to bring new or gently used books appropriate for young readers age 6-12 to Commonplace Books, 1325 N. Walker Ave., Suite 138, through Saturday.
The drive will conclude with a concert and silent art auction at Commonplace Books, where Kerby will perform with several other Oklahoma musicians.
Positive Tomorrows was founded in 1989, the result of a coalition between Oklahoma City Public Schools, Oklahoma State Department of Education, Camp Fire youth development organization, Neighborhood Services Organization and YWCA.
Alexa Ace
Chase Kerby
Since then, Positive Tomorrows has helped children receive various health checkups and obtain documentation to attend public schools. The organization has also worked to educate children and their families, with the ultimate goal being an end to the cycle of homelessness. They have now become a full-time tuition-free elementary school.
"Positive Tomorrows is thrilled that Chase and Commonplace Books have rallied behind our cause and our students in this generous and impactful way," said Susan Agel, president of Positive Tomorrows, via email. "As Oklahoma's only elementary school specifically for children and families experiencing homelessness, and as a private nonprofit, we rely on volunteers and donors to keep our doors open to little ones in need."
Agel emphasized the importance of volunteer work to the continued success of the organization and its goals, particularly during the holidays.
"Events like this not only raise much-needed supplies and funds for our students but also help to spread the word about who we are and what we do," she said. "Homeless children and families can often feel forgotten, and this event is a reminder that our community remembers them and supports them, especially during this season of giving."
In addition to the book drive at Commonplace Books, Positive Tomorrows will have a Merry Market event Tuesday-Dec. 20. Gift items are needed to stock the market, and volunteers will be on-site to wrap them. Those interested in volunteering can visit positivetomorrows.org for more information.
Driven by a passion for giving and a desire to serve the Oklahoma City community, Kerby began planning the book drive back in October.


Alexa Ace
Chelsey Cope
"I love Positive Tomorrows," he said. "I love their mission and helping the kids and their families. And it was one of those deals where it's like, one year we did pajamas because these kids didn't have pajamas. And then this year, it was like, 'Let's try to focus on something that's a little more centered on a "Teach a man to fish" kind of mentality.' And I feel like literacy is that."Kerby previously held a pajama drive with Positive Tomorrows and a canned food drive before that. He said he picked books this time because they have the unique power to inspire children and perhaps change their lives forever.
"I don't think that a financial burden or deficit that a family is currently stuck in should ever be the thing that puts out the fire of imagination," he said. "Because that imagination is what leads to ideas."
Kerby said he would like to reach a goal of 200 donated books. He hopes for more, but he also will consider the event a success if one child is positively impacted.
"At the end of the day, it's about the kids and their families," Kerby said.
Silent art
Kerby urges volunteers who might be interested in helping an organization like Positive Tomorrows but don't know where to begin to simply start cold-calling. In his experience, nonprofits are usually receptive.
Everything for this year's book drive fell into place almost serendipitously. Ben Nockels at Commonplace Books was immediately on board to provide the space and helped him set a date.
Kerby knew he also wanted to pair music with the event and started phoning local artists.
In addition to his extensive experience as an active performer and songwriter (and a former participant in season 9 of The Voice), Kerby works as director of the Art Moves initiative at Arts Council Oklahoma City. It has only deepened his connections to Oklahoma City's art and music scene.
Alexa Ace
Jose Hernandez
Within just a few days, he had commitments from fellow musicians for the book drive. The evening's performers will include Kerby, Chelsey Cope, Jose Hernandez and Kinsey Charles. They will each perform 30-minute sets.
"I'm really excited for this event!" Hernandez said via email. "Positive Tomorrows is an amazing organization, and I'm honored to be a part of this fundraiser. It will be fun, great music, and [help] out the children. Can't wait!"Cope agreed, pointing to reading as a formative interest.
"As an artist, reading helped me articulate how to explain myself and my individuality early on," she said via email. "It helped me question things and think for myself. I think it's very important for kids to be exposed to a good book and a wild imagination."
Kerby wanted to also incorporate visual art into the event, which is where the idea for the silent auction came into play.
The artwork up for auction will include two original photographs by Kerby and additional donated pieces from Plaza Walls curator and muralist Kris Kanaly and local artist Lauren Wright. All proceeds will go to Positive Tomorrows.
For those who do not have books available for donation, Commonplace will have books on sale that can be purchased and immediately donated.
The Kitchen at Commonplace will serve food and drinks, and craft beer from Anthem Brewing will be available. The beer is provided for free, but donations are also welcome.
Alexa Ace
Kinsey Charles
Book donations are currently being accepted at Commonplace Books through Dec. 15.
"Or they can find me on Facebook," Kerby said. "Send me a message, and I will come and pick the books up myself."
The book drive's closing concert is 6-9 p.m. Saturday. Admission is free, and all ages are welcome.
"I think that when you can bring people together for something that is bigger than just an individual, there tends to be this feeling in the air," Kerby said. "There's an atmosphere that lends [itself to] good spirits and kindness and love."
Visit facebook.com/chasekerby-music.