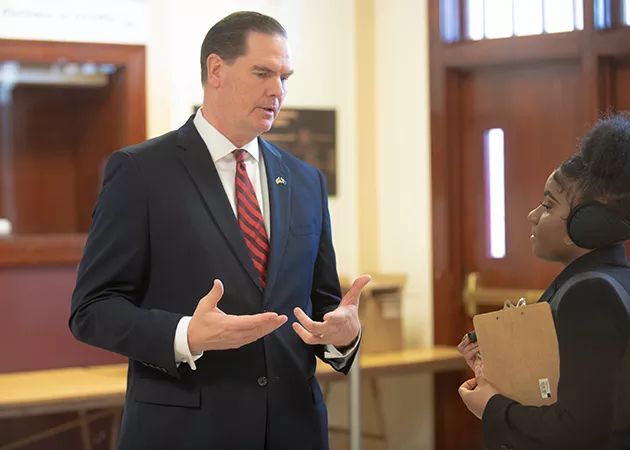 Miguel Rios
OKCPS superintendent Sean McDaniel speaks with a Northeast Academy student journalist ahead of his final recommendation Feb. 21.
The Oklahoma City Public Schools (OKCPS) board of education voted March 4 to adopt a plan that will shut down 15 schools and reconfigure 17 others. Education officials say the plan will provide equity, increase efficiency and better serve all students across the district. Now, all hands are on deck working to make important changes before school starts Aug. 12.
"The conversation with this particular board of education started about a year and a half ago," OKCPS superintendent Sean McDaniel told Oklahoma Gazette. "But for years and years and years prior to that, this school district has been talking about serving all of our kids at a higher level. … This board decided that they were going to stop talking about it and do something about it."
District 2 board member Rebecca Budd said Pathway to Greatness (P2G) started as a 2017 strategic initiative from the operations committee.
"Our committee recognized that we could not continue doing the things that we were doing," she said. "It started with committee work on a long-term facilities plan with [District 3 board member Carrie Coppernoll Jacobs]. It was a recognition that we could not continue putting our resources into buildings that are past their useful life or half empty or just inefficient for whatever reason. … And given that every penny counts today in education, the status quo was unacceptable."
The vote
McDaniel presented three possible paths in January, which led to a series of community engagement meetings. At the end of February, McDaniel made his recommendation to the board, which was Path B (with some changes based on community input) and Path A for the Spencer area. The board approved the plan unanimously.
Budd, whose district will see four closures, was part of the process from its inception. She said she supported the plan because she believed in the founding premise. Other board members acknowledged the pain families and school communities will go through but emphasized that changes were needed.
"Inaction is immoral; inaction says that these things are all okay and they are not okay," Coppernoll Jacobs said before the vote. "One question I've heard often in the past several months is, 'Why can't we wait? Why can't you slow down?' Because students get one shot. They have one chance at third grade, one chance at eighth grade, one senior year. We cannot wait. We've been waiting for decades."
District 5 board member Ruth Veales said during the vote that she received a call from a parent who actually helped her realize equity trade-ups are worth the closures, three of which are in her district. She also encouraged the community to hold board members and McDaniel accountable for their promises.
"We must change things because we don't want to continue to live in the past. This is what this is for, in order to move us to the future," she said, "to make sure that every student has an opportunity for whatever it is they chose for their lives."
District 1 board member Charles Henry voiced his opposition to a portion of the plan before the vote but ultimately voted in favor. One school will close in his district.
"I didn't think it was fair to vote against it because there's things that I like, but I thought it was very important that I make my objection with other matters so that that can be on the record," Henry told Oklahoma Gazette. "Because if things don't go accordingly, I want them to know that I objected to that. … I didn't go through everything I objected; I just said it that I had objections with the plan."
Henry liked the equity portion of the plan because in the past, resources were allocated based on enrollment numbers.
"So a lot of schools with low enrollment numbers were not able to get those resources," he said. "With an equity policy, I think it makes things more fair, so then a lot of the low performing schools will be able to get the resources they need."
The changes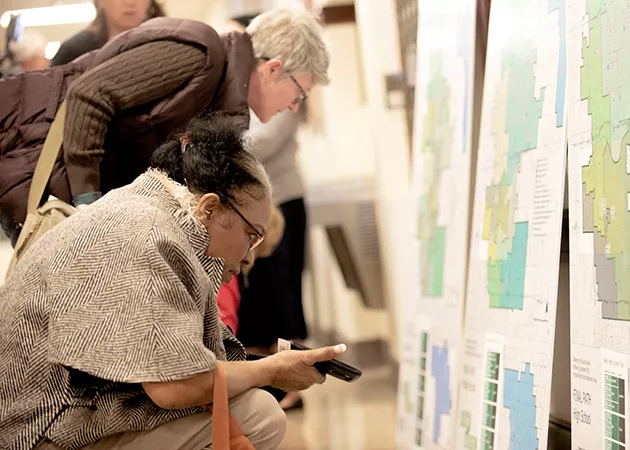 Miguel Rios
Community members examine the final district path map after the final recommendation was made Feb. 21.
Some of the equity trade-ups for school closures include every elementary school getting a STEM makerspace and full-time art, music and physical education teachers and at least one counselor. In addition to school closures and reconfigurations, P2G will also adjust grade bands and feeder paths; some school names will change due to reconfigurations.
McDaniel and board members said they have received many questions from concerned parents who want to know details like what the bus routes will be. They said uncertainty and change causes anxiety for parents.
"We knew it going in that there were going to be uncomfortable people until they know the answers to all these questions," McDaniel said. "So we're trying to go through this checklist right now to bring answers. The vote was on [March 4]; the next day, by the end of the day, we had named principals for every school. The Thursday of that week, we had put our school locator up online; so I can go in and type in my address, and I know exactly what school I'm going to. By the end of this month … we'll have all our assistant principals named. By the time they go home from school, they will know where their bus stop is, they'll know what bus number, they'll know how far it is to their school and they'll know their teacher. We're trying now to go through this checklist, and every time we can check something off, we're hopeful that it will bring some anxiety down."
In closing schools, the district projects it will save more than $4 million annually in operational and staffing expenses. However, the district also projects it will pay more than $11 million in one-time implementation costs for things like athletic fields, room remodels, equipment movement and any additions. Some of that work is already underway for changes considered high priority, which are scheduled to be implemented by the first day of classes.
"We know exactly how many sinks and water fountains and toilets in these elementaries need to be raised to accommodate larger, bigger kids," he said. "Project teams are in place. We know exactly where they are, how many each school needs; that'll be done. A school like [Northeast Academy] where we'll bring in Classen School of Advanced Studies over here, well, they need the same things here that they had at the other building. At the other building, they have dance studios; we don't have a single dance studio here. So we've got to convert classrooms into dance studio. So mirrors and wood floors and all those things that they need; we've got a project in place to do that. So we feel really, really good about what we're calling Day One Ready."
In terms of repurposing schools that will close, McDaniel said they have a list of community partners who are interested in occupying those buildings.
"We have said to our community, 'We don't want to board them up and devalue the neighborhood. We want to bring partners into the schools.' We've got about 40 potential partners," he said. "Right now, we're working on finalizing the contracts so our partners know exactly what the terms are. As many of those 15 as humanly possible, we hope to have people in those buildings so that they remain open."
Some of those buildings will be occupied by district charter schools that are being relocated under P2G. McDaniel said they have been in conversations with school leaders about potential locations, most of which have been generally agreed on but not finalized.
"We've got KIPP, and we intend for them to go to North Highland; we've got Harding Charter Prep, and we intend for them to go to Centennial; we've got Seeworth, and Seeworth is going to Edwards," he said. "[Harding Fine Arts Academy's] idea right now is that they don't think that the schools we've toured them through meet the needs of their high school. … They sent out a letter suggesting that they would like to purchase the Harding building. … So we're looking with our legal department at our options and what we need to be able to do to entertain that."
Some changes will be completed after schools open, but those focus more on improving spaces that can already accommodate students like auditoriums and STEM areas.
"That will be kind of work in progress but probably won't be ready [by Aug. 12]. We don't have to have that to have school, but those are things that are important to us," McDaniel said. "We have designated a classroom in every elementary school as a STEM or STEAM space where, by the first day, we may not have it fully equipped, but we'll have the room designated. And then we have partners that are coming on board, saying, 'We'll outfit it with equipment and software programming.' … So some of those things are just building out the spaces and then equipping those spaces."
Other changes still need to be ironed out, but McDaniel said they have a comprehensive list of all things that need to be done. Budd is also confident that they are on the right track and have even exceeded some of their early goals.
"There's a difference between doing a great job and being perfect," she said. "There's still going to be a bus driver that's new that's late; there's still going to be families that for whatever reason go to the wrong school. … People forget that it's never perfect the first day of school before Pathway to Greatness so we definitely shouldn't expect it to be perfect."
The reaction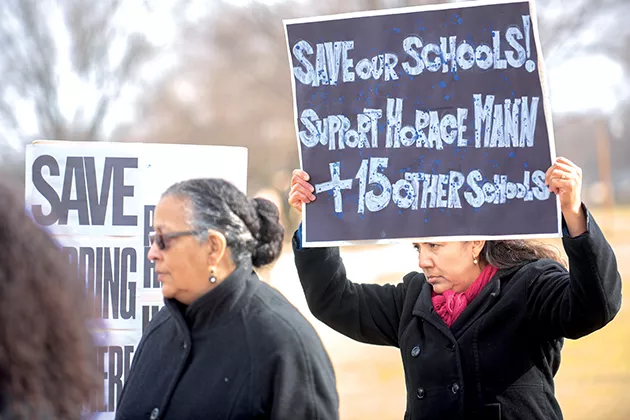 Miguel Rios
Horace Mann teacher Maria Ramirez holds a sign during Alliance for Better Community Schools press conference March 1.
Some of the community engagement meetings following the announcement of the three paths lasted upward of four hours. Parents, teachers and students attended the meetings to provide feedback on the plans. McDaniel said they talked to more than 6,000 people collectively throughout the meetings and stayed until people had no more to say, but Henry does not feel like they answered everyone's questions adequately.
"We did not answer their questions like we should have, even though there were community meetings. … So for some parents, it seems like it's being rushed. They feel like they're not being heard, and I wanted to emphasize that we as a board were voted to this position by the public," he said. "We should make sure that those questions are answered."
The Friday before the final vote, Alliance for Better Community Schools held a press conference outside Northeast Academy to "demand a time-out." About 20 parents, teachers and community members attended with signs asking education officials to save schools.
T. Sheri Dickerson, head of the organization, said the school board made decisions without actually listening to the community. She said they knew changes had to happen but wanted more time.
"We sat until sometimes after midnight in schools," she said at the conference, "listening to the pleas of the parents and the community members saying, 'We need more time. We don't understand. We don't agree with some of the choices. Aren't there other options?' And it didn't seem like there were any other options besides those three presented. … This is going to deplete and defeat the successes that we've already made."
Some parents at the press conference expressed concern with their children riding school buses, which they feel can be unsafe.
"I'm so passionate about this because I'm a byproduct of OKCPS. I am MAPS 1," said Christina Simmons, who has five children in public schools. "I moved to a specific location so my kids could walk two blocks to their schools. As a single parent, that's a luxury. Now they're telling me that they're going to have to take a bus and go all the way, two or three miles. That's absurd."
Pela Calderon, a mother with children in high school and elementary school, told Oklahoma Gazette she thinks McDaniel's heart is in the right place but also feels like officials went about the plan in the wrong way.
"In my opinion, it's affecting more of the low-income families, the ones who might not have vehicles," she said. "I think that what hurts the most to most parents is not only the distance and how it will be affecting them every day of their lives, but another factor to this is just that neighborhood schools served a lot of functions and that's what really kept communities together. … We really have to watch out to be able to hold [education officials] accountable for all these promises that were made."
Jose Sanchez, a longtime OKCPS volunteer and community activist, felt the community meetings were a waste of time and education officials were moving too fast. His interview is translated from Spanish.
"What I didn't like was all the wasted time of us going to meetings, giving suggestions and asking them not to close schools, for them to go ahead and do it anyway. … If people were opposed to it, why did they do it?" he said in an interview with Oklahoma Gazette. "They didn't listen to the community. … I attended three meetings and 99.9 percent of people who spoke opposed the superintendent's plan."
OKCPS hosts a districtwide open house at all schools May 4 so students, parents and teachers can meet their new school communities and familiarize themselves with the facilities.
"The kids are gonna be absolutely fine. On the first day of school, you will walk into any school in the district and kids are going to be playing and laughing and making new friends and going to class," McDaniel said. "It's the adults who are really struggling with this right now, and fairly so. I get it. We're trying to bring as many answers as quickly as we can to help our families."
Visit okcps.org.


---
Closures to be repurposed

• Andrew Johnson (Elementary
1810 Sheffield Road)
• Edgemere Elementary
 (3200 N. Walker Ave.)
• Edwards Elementary
 (1123 NE Grand Blvd.)
• Gatewood Elementary
 (1821 NW 21st St.)
• Green Pastures Elementary
 (4300 N. Post Road)
• Horace Mann Elementary
 (1105 NW 45th St.)
• Linwood Elementary (
3416 NW 17th St.)
• North Highland Elementary
 (8400 N. Robinson Ave.)
• Oakridge Elementary
 (4200 Leonhardt Drive)
• Oklahoma Centennial Mid-High 
(1301 NE 101st St.)
• Pierce Elementary
 (2701 S. Tulsa Ave.)
• Putnam Heights Elementary
 (1601 NW 36th St.)
• Sequoyah Elementary (
2400 NW 36th St.)
• Telstar Elementary (
9521 NE 16th St.)
• Westwood Elementary (1701 Exchange Ave.)
Reconfigure to middle schools

• Capitol Hill Elementary
 (2717 S. Robinson Ave.)
• Classen School of Advanced Studies Mid-High
 (1901 N. Ellison Ave.)
• Greystone Elementary
 (2401 NW 115th Terrace)
• F.D. Moon Elementary
 (1900 NE 13th St.)
• Mary Golda Ross Elementary (2601 S. Villa Ave.)
• Parmelee Elementary
 (6700 S. Hudson Ave.)
• Wheeler Elementary (501 SE 25th St.)
Reconfigure to 
high schools

• Frederick Douglass Mid-High
 (900 N. Martin Luther King Ave.)
• John Marshall Mid-High
 (12201 Portland Ave.)
Other reconfigurations

• West Nichols Hills will house Belle Isle 5-6 grades
• Rancho Village will house Emerson South
• Northeast Academy, 3100 N. Kelley Ave., will house Classen SAS High School