provided
Julie Porter Scott is the Yelp community manager for Oklahoma City.
Whether the platform is Google, Yelp, Facebook or Travel Advisor, the public-facing digital billboard for businesses is now its rating out of five stars.
The influence of online reviews is growing. Yelp, which was founded in 2004, crossed its 100 millionth review in 2016 and is already currently over 190 million reviews, according to Julie Porter Scott, Yelp's Oklahoma City community manager.
While retail shopping encompasses the largest portion of Yelp reviews, the service's relationship with restaurants — where service, taste and the interpretation of culinary arts collide — is the most publicized and volatile, with some restaurants owing their livelihood to Yelp's algorithm and recommendation software.
"We've gotten a lot of flak for that over the years from businesses because we don't explain the algorithm because it's our secret sauce," Scott said.
She said there are dozens of factors that go into the digital algorithm that lead to about 75 percent of submitted reviews factoring into a business's overall rating. Yelp was accused of suppressing positive reviews for pages that didn't purchase advertising on the site, but independent investigations by Harvard Business School and Federal Trade Commission cleared the company of manipulating scores for profit by 2015.
"There's no amount of money that anybody could ever pay to suppress or promote Yelp reviews," Scott said after noting that if the algorithm wasn't in place, a large corporation like Starbucks could afford to provide a gift card in exchange for a five-star review. "It would be the top-ranked business on Yelp in every metro in the United States, and you would never find an Elemental [Coffee Roasters], Coffee Slingers [Roasters] or Stella Nova."
Beyond digital safeguards, Yelp also provides human review for consumer protection alerts for things that violate its terms of service, like reviews from business owners, restaurants that offer reviews in exchange for discounts or potentially biased reviewers.
"If Facebook had the same protections in place, we wouldn't be wondering if there was [foreign] interference in our elections, or if YouTube had the same protections in place, I'd be able to let my kids watch YouTube," Scott said.
Community building
Scott is Oklahoma City's only Yelp community manager, taking the position when it expanded into the market in 2012. She is charged with meeting with business owners to make sure they know the tools the service provides and building the metro's community of Elites, the most trusted and active users on the app.
She plans regular RSVP Elite meetings at new restaurants that promote an eatery as well as networking among like-minded people.
Kristina Song moved to the Oklahoma City area a few years ago to work at Tinker Air Force Base.
"I found out about Yelp Elite, and after I got involved, I was able to extend networking to people that also enjoy trying new places," Song said. "I've met friends that aren't military, and it's a great opportunity that anyone can take on with meeting people outside their immediate social life."
Elite member Katie Goldbach moved to Oklahoma City from Buffalo, New York, two years ago.
"I was bored, and I didn't know anyone in Oklahoma because I moved here for work and I didn't know anything about the city," Goldbach said. "I like to eat and write reviews. I started posting, and it became a thing. Now, friends rely on me to be their restaurant person. … Without Yelp, I don't know that I would've made as many friends and met as many really cool people, business and restaurant owners. It's pushed me to experience the city. Being an outsider, it's easy to feel left out because everyone knows each other here, but Yelp helps you feel like part of a community."
5-star status
Owners have the ability to claim their business on Yelp, which unlocks a webpage that gives them access to analytics and the ability to communicate with users who have left reviews.
Of the more than 1,300 restaurants in Oklahoma City alone, only two retain a perfect 5-star rating across all major platforms: Yummy Mummy (two locations) and Four J's Diner, 2920 S. Agnew Ave., Suite 3.
Yummy Mummy co-owner Mohamed Hussein moved to Oklahoma City from Egypt to work for Halliburton in 2011. During the energy downturn around 2016, Hussein watched as his colleagues were laid off, so he developed the concept of Yummy Mummy as a contingency plan if he was next. He kept his daytime job but went full-speed-ahead with Yummy Mummy as his wife and co-owner Nesrine ran the kitchen with a menu based on Egyptian recipes with wraps, platters and salads.
Alexa Ace
Mohamed Hussein is the owner of Yummy Mummy.
Hussein built the restaurant's tenets into its sleek branding that includes green to represent fresh and healthy options, white for cleanliness and gray to represent the fact the menu is comprised of ancient recipes.
Even while working a full-time job that requires travel, Hussein takes time to respond privately to every Yelp review, thanking people for 5-star reviews and asking them to spread the word to friends and family. If they're anything less, he wants to know how the restaurant can improve, even offering them to try items again.
"It's a lot of work," he said. "I respond even when I'm visiting Egypt."
When the couple opened Yummy Mummy in a strip mall at 1315 N. Pennsylvania Ave., Hussein said the reviews were a driving factor for customer service and cleanliness. He asked every new customer how they heard about the restaurant and began to notice that many of them said it was through online reviews.
They opened a second location downtown in the food court at 119 N. Robinson Ave. in late 2017, which is only open 11 a.m.-1:30 p.m. Monday-Friday. Both locations have 5-star ratings on Yelp, but the downtown location is three times as popular, despite the shorter operational hours.
"At [the Penn and Memorial] location, you don't see it translated to sales," Hussein said. "For every six customers, five are from out of state. What's making us survive, unfortunately, is not locals. It's people driving through Oklahoma or visiting from another state and checked it online."
The sterling online rating and high-level branding has attracted attention from investors, including Fransmart, the company that helped Five Guys Burgers and Fries and The Halal Guys go national. Hussein said the downtown Yummy Mummy location meets Fransmart's standards for sales per square foot needed for expansion, and they told him once he hits the target at the original location, to give them a call.
Hussein has also signed a franchise agreement for Yummy Mummy with an operator in Katy, Texas, outside Houston that could yield as many as four locations in the area if the first one does well.
"What I've felt with my family — my wife and kids — from the Oklahoma people is more than you can imagine," Hussein said. "I consider everyone family. … We feel that when we're away from home. My wife and I go to Egypt for a week, and we miss Oklahoma. When we open the store in Houston, I want to give a 25 percent discount if any customer shows an Oklahoma I.D."
Alex and Bouakham Panhguay moved to Oklahoma City from Seattle about 20 years ago. After cooking food from their native Laos for friends, they were encouraged to open Four J's Diner, where they've serve Laotian and Thai food since 2015. It is the highest overall rated restaurant on Yelp in Oklahoma City.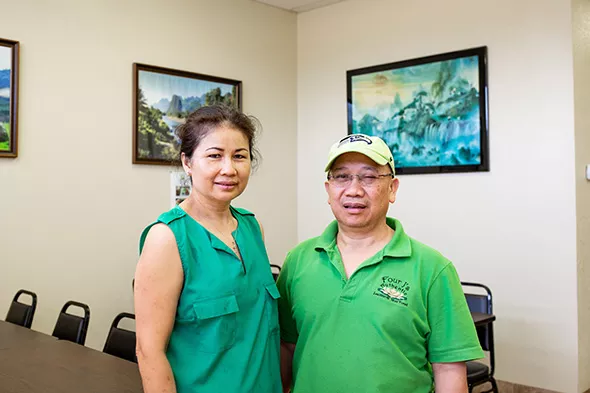 Alexa Ace
Bouakham and Alex Panhguay are the owners of Four J's Diner, the highest overall rated restaurant on Yelp.
"A lot of [customers] found us from Yelp, Google and some Travel Advisor," Alex Panhguay said. "I would say that we benefit a lot from social media. Otherwise, we wouldn't make it. Now people like the food and people find out just by searching best Thai food in the area."
In the small restaurant, located in a strip mall about a mile south of Stockyards City, placards, photos and descriptions of Laotian specialties also ask customers to leave Google and Yelp reviews if they like the food.
"First, we got a call from Google [to confirm address and phone number], and then after about a year, more people started coming and we figured out they found us on Yelp," Panhguay said. "We don't have money to advertise, so it's made a big difference."
The Panhguays purchased a new space a block east and are looking to move into the new building in early 2020. They want to expand the menu with more specials at the new location.
"It's exciting because we'll have more room for the kitchen," Panhguay said. "It is body-to-body in there."
"I look forward to having a walk-in cooler," Bouakham Panhguay, who runs the kitchen at Four J's said. "It's so packed right now that we're only able to keep the most popular items on the menu."
Review tracking
At A Good Egg Dining Group (Cheever's Cafe, RedPrime Steakhouse, Iron Star Urban Barbeque, Mexican Radio, Tucker's Onion Burgers, The Drake Seafood & Oysterette, Republic Gastropub, Barrios Fine Mexican Dishes, Museum Cafe and Kitchen No. 324), founder Keith Paul said management looks over an aggregate of weekly reviews from four to five sites compiled by the service Review Trackers.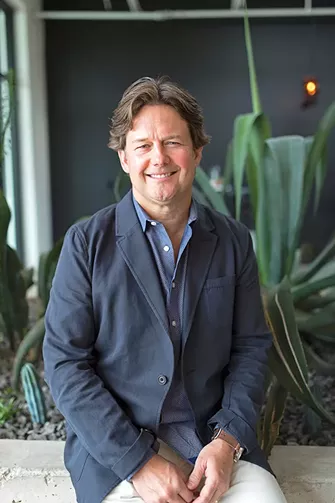 provided
Keith Paul is the co-founder of A Good Egg Dining Group.
"We read the reviews and answer 90 percent of them privately. It's something we have to pay attention to, but we don't live and die by what those reviewers say," Paul said, noting that hard-working employees shouldn't get down over one service and the company also uses secret shoppers to gauge performance.
At Ludivine, 320 NW 10th St., general manager Andy Bowen has heard from several out-of-town visitors that they found the restaurant through its Yelp page.
"It's definitely a double-edged sword, though," Bowen said. "Online reviews are a useful tool, both for consumers and businesses, but some people seem to like to play at being experts or journalists in a way that is often irritating and always irrelevant."
He said management tracks reviews seriously and carefully, adding that management staff holds a meeting after any review less than four stars.
"We examine that guest's complaints, talk about what we could have done better, talk about whether that situation represented a failure of policy or execution or whether it represented a failure at all," Bowen said. "As obnoxious as bad reviews can be, it's difficult to think of a more effective tool to push us to improve. Twenty years ago, restaurants spent thousands of dollars a year on feedback cards and surveys and demographic research. Now all we have to do is pull up Yelp or Google and be willing to be accountable for what it says about us."
At 84 Hospitality Group (Empire Slice House, Gorō Ramen, ¡Revolución!, Gun Izakaya, Burger Punk), founder and CEO Rachel Cope said the company doesn't track reviews but does monitor them on a regular basis.
"After reading them for so many years, we're able to pick out the pieces of some reviews that may be real problems," Cope said. "In the case of a problematic review, we gather information from the restaurant staff and make corrections when necessary. Sometimes, I'll track down the reviewer via Facebook and reach out to them personally to make amends — gift cards, refunds or sometimes all they want is to be heard. As much as we restaurant people like to bag on Yelp, out-of-towners definitely use it. A lot of the reviews I read are from non-local folks. It is frustrating when Yelpers try to use it to their advantage — 'You should comp (discount) my food/I want special service I'm an Elite on Yelp.' Come on. Be cool."
provided
Rachel Cope is the founder and CEO of 84 Hospitality Group.
Chef Marc Dunham is operating partner at Iguana and owner of Nashbird, 1 NW Ninth St., which has locations planned for Edmond this fall and Norman in 2020. Dunham trained at Culinary Institute of America and balances his perspective as chef and business owner when reading reviews, to which he said he responds personally on Yelp and Google.
"It's hard to listen to feedback sometimes when you're in that creative state of mind sometimes," Dunham said, speaking of the chef community. "I grew up in an era and training in restaurants where customers had to have critical conversations at the time of their visit. We were taught to have those conversations and solve the problem. Part of the challenge now is that youngerish people don't know how to have hard conversations and feel timid or might have anxiety about having them, and it's easier to go home and get on their keyboard because there's no external threat."
He trains his staff to aim for perfect service but realizes that isn't always a reality. When a problem occurs in the restaurant, they take the meal off the bill and do whatever it takes for the customer.
"I like that people have a voice, and the reality is that it gives us a lot of data in real time. … It's critical for me to have a calm state of mind when I read feedback to get to the truth of it and get through all the emotions of it. The human in me also looks at it and thinks, 'Do they really know more than me?'" Dunham said with a laugh.