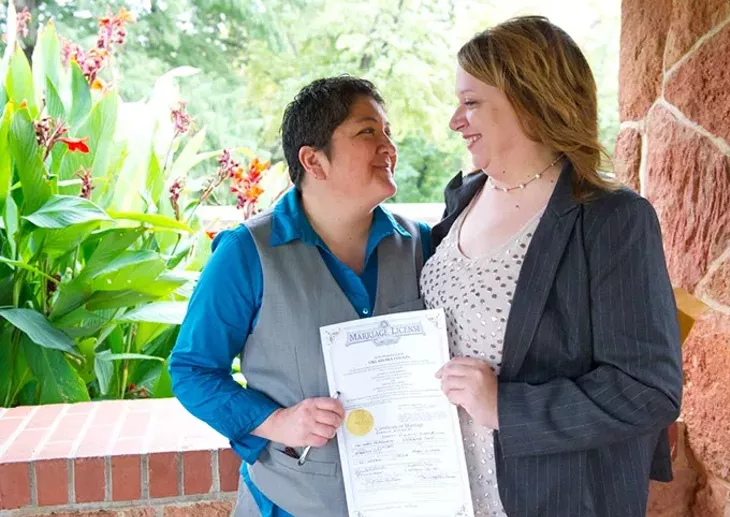 Shannon Cornman
Jennifer Anne Allen-Barron and Bonnie Kay Allen-Barron are united in marriage at The Rose Garden in Will Roger's Park.
Saturday, under an overcast sky with a handful of family and friends gathered around, Jennifer and Bonnie Allen-Barron exchanged vows, placed rings on each other's finger and ended the ceremony with a kiss.
Two years earlier, the couple had done the same thing, except in front of a much larger crowd and with maybe a bit more nervousness. However, the one thing Saturday's ceremony included that the previous one didn't was a chance to sign a marriage license officially recognizing the marriage in the eyes of the state.
"Whenever I would go to fill out any form, I felt so dumb to have to check single even though we have been together for more than 10 years and we had a [wedding] ceremony a few years ago," Jennifer said.
Last week's decision by the U.S. Supreme Court not to hear one of several same-sex marriage cases triggered the immediate legalization of marriage equality across Oklahoma, where 10 years earlier, more than three quarters of voters said they wanted to outlaw same- sex marriages through a constitutional amendment.
Shannon Cornman
Jennifer Anne Allen-Barron and Bonnie Kay Allen-Barron celebrate their marriage at The Rose Garden in Will Roger's Park.Photo/Shannon Cornman
An open door
Over the past year, marriage equality appeared to be a possibility in Oklahoma before it was suddenly declared law last week, opening the door to dozens of marriage licenses for couples like Jennifer and Bonnie, who have always considered themselves married, even if Oklahoma didn't recognize it.
"I still feel like the first ceremony [two years ago] was our wedding," Jennifer said.
Opponents to same-sex marriage have lost the fight to keep gay and lesbian couples from enjoying tax breaks, insurance benefits and other legal perks of being legally married. But even before same-sex couples were allowed to legally marry, many of those couples had already started families, raised kids and experienced the same family issues heterosexual couples deal with.
More than marriage
"This does change things," said Rob Howard, whose marriage in Iowa will now be recognized in Oklahoma. "We now have the right to get married in Oklahoma, but we don't have the right to not get fired for being gay. It's not over yet."
Nine years earlier, Howard was profiled in an Oklahoma Gazette article with his partner, Art Christensen, and their son, Nate, an example that well before this year's legalization of same-sex marriage, there were same-sex couples building a life together and raising a family.
Howard and Christensen are no longer together, but Howard is now married to a person he wishes not to name because he fears the impact it could have on his job.
"Our current state government is hostile to gay people," Howard said. "But we have been living our lives for many years, and now we are recognized through the government."
Legal issues
Howard's son is grown and living in another state, but Kim McDonald and Rebeka Radcliff are early in their journey as parents with a 19-month-old at home.
"I didn't believe it," McDonald said about first hearing the news last week. "I was checking my Facebook and was looking for it to be from The Onion (a satirical news site)."
McDonald and Radcliff were married in Canada in 2010, a marriage that is now recognized in Oklahoma.
"We wanted to change our last name, and it's really expensive to do that unless you get married," McDonald said. "We own a home together, we have a kid together; it was always really frustrating to do our taxes separately."
By most definitions, McDonald and Radcliff, along with their son, Jordan, are a family and have been for several years. But that doesn't mean last week's legal victory isn't special.
"It brought tears to my mother's eyes," McDonald said. "We are both lifelong Oklahomans, and to be recognized by our home state is amazing."
Challenges remain
Although the Supreme Court has ruled Oklahoma's gay marriage ban unconstitutional, there is now confusion over current state law and how inconsistencies between state and federal decisions will hash out over coming weeks, months and perhaps years to come.
As Howard referenced, there is still a fear over state law, which allows employers to fire gay and lesbian workers.
But last week was a bellwether moment for same-sex rights in Oklahoma, even as same-sex couples have built families for decades across the Sooner State.
Print headline: They did! // Marriage equality is now law, but many gay and lesbian couples have been families for years. Also, the Supreme Court decision forces closer examination of other state laws.