Deferred Action for Childhood Arrivals (DACA) opened doors for me that had been locked for a long time. It gave me and 800,000 other Dreamers a two-year work permit, a social security number, relief from the threat of deportation and the opportunity to get a driver's license. With all that, it also opened the door for Dreamers to pursue a higher education and jobs we never thought we could get.
But the program's future is uncertain. President Donald Trump's administration tried to end DACA in 2017, but federal judges ordered that renewal applications continue to be processed. However, new applications are not granted and the program as we know it is still in jeopardy. Though I still have a work permit and protection from deportation, it feels like those things could end at any time. It does not feel like we can adequately plan our futures because we do not know where we will be five years from now. Fear and uncertainty are perpetual realities of being undocumented.
I was 2 years old the first time I was brought to the United States. That is why my first memories are from Denver, Colorado. My family and I lived there on and off when I was between 2 and 6 years old. I loved it. When we moved to Juarez, Mexico, I could not stop talking about Denver. I would ask my mom when we were "going back home," and she would tell me we were already there.I was born in Juarez, but I do not really know Juarez. I remember the neighborhood I lived in for two years before we moved to Oklahoma, but I never had the chance to truly feel like it was my home. I was 7 when I was brought to Oklahoma. I still wondered when we would make it back to Denver, but I learned to appreciate this state and eventually started telling people I was "from Oklahoma."
provided
Miguel's parents and godparents.
I found out I was undocumented in middle school, after thinking I was born in Denver for a good part of my life. Learning that made me question everything I did. It felt like a cloud constantly hanging over me. I never wanted to get in trouble in school. I thought that if I did, somehow my undocumented status would get out and my family would get deported. Of course, that is not how things typically work, but that is what I worried about.
Life before DACA was constant stress, and to an extent, everything I did felt like a waste of time. I loved making my parents proud with how well I did in school, so my grades were typically good. But I did not think I would get to go to college, and I even worried about going to high school. Often, I would question why I was trying so hard in this country when I would almost surely have to start over. But my parents' unwavering support and encouragement kept me motivated.
provided
Miguel poses for a picture with his brother after graduating kindergarten.
The whole reason we came to the U.S. was to have a better life. My parents wanted me to have opportunities they never had. They wanted me to pursue higher education like they never could. So I kept going, fighting to make sure my parents' sacrifices were not in vain and to prove that I was just as smart and had as much potential as anyone born on the other side of the border.
But living as an undocumented teenager was scary. It is hard to live in Oklahoma without a car, so I started driving without a license. Anytime I drove anywhere, the thought of being pulled over for something minor and getting deported was there. Anytime I was at any school or community event with police officers, the thought of getting deported was there. Even when I was not actively thinking about it, the thought of deportation was there. It was exhausting to carry that fear and anxiety day in and day out.
Out of the shadows
Then there was some relief. On June 15, 2012, former president Barack Obama stood in the Rose Garden and announced DACA. In his speech, Obama called for Americans to put themselves in our shoes.
"Imagine you've done everything right your entire life — studied hard, worked hard, maybe even graduated at the top of your class — only to suddenly face the threat of deportation to a country that you know nothing about, with a language that you may not even speak," he said. "It makes no sense to expel talented young people, who, for all intents and purposes, are Americans."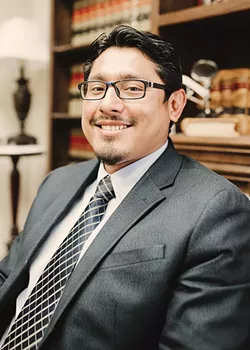 Alexa Ace
Javier Hernandez is the first DACA recipient admitted to Oklahoma Bar Association. He is an immigration attorney at Lambert Dunn & Associates.
Obama's speech spoke to immigrants all over the country — documented or not. It felt like our hard work was being rewarded. All of a sudden, that exhaustion built from cycles of anxiety, fear and uncertainty felt lighter.
The initial DACA application was tedious. We had to provide a lot of evidence, including proof of continuous residency from 2007-2012. School records helped, but filling the gaps of summer was more difficult. I did not attend any summer programs, so I resorted to using anything I could, like monthly receipts from my contact lens provider. It worked.
As Obama put it in later speeches, DACA allowed Dreamers to "come out of the shadows and get right with the law." Personally, DACA filled me with hope that I would be able to attend college and go on to live a "normal" life without worrying that one misstep would mean game over. I knew DACA was a temporary fix. It was not perfect, but it was the most Dreamers had received in a long time. That is why it was so hard to wrestle with the fact that the program, which basically opened up a world of possibilities, could come to an end.
In many ways, it feels like we are back at square one. Dreamers can still work and live without worrying about deportation, but we know this protection, now more than ever, is just temporary. We are back to worrying about our future in this country and about the possibility of having to start from scratch in a place we do not know.
As of Feb. 28, nearly 700,000 people are protected through DACA, according to U.S. Citizenship and Immigration Services (USCIS). Though most DACA recipients are from Mexico, there are also many from counties like Peru, South Korea, Philippines, India and Poland.
I spoke with five local Dreamers who shared their stories in hopes of educating more people and allowing others to see the human aspect of a program like DACA.
Tasneem "Taz" Al-Michael was 9 months old when he came to the United States. Javier Hernandez and Brisa Ledezma were 1. Miriam Ortega was 7, and Yovana Medina was 8. Today, they are professionals with careers in politics, law, education, marketing and social work, but before DACA allowed them to pursue those careers, they struggled with their undocumented status.
In the dark
Al-Michael, Hernandez and Ledezma found out they were undocumented when they were 16 years old because they were unable to go on school trips, fill out scholarship applications and get their driver's licenses.
"I didn't find out, like I said, until I was 16, and so this entire time, I was just like, 'You know, college is going to be easy, getting a driver's license was going to be easy, getting a job was going to be easy.' I mean, not easy per se, but at least more accessible," Al-Michael said. "As a DACA recipient, you have all these obstacles that come in your path that prevent you from being able to … have the same level of access. Dreamers — undocumented people — don't have welfare. They don't qualify for food stamps. They don't quality for FAFSA or federal student aid. They can't take out student loans. They do all of this out-of-pocket. They work two or three jobs at the same time as going to school."
Paying for college is one of the biggest obstacles for undocumented students because we do not quality for state or federal financial aid, even with DACA.
"The big difficulty really came when I started applying for colleges and trying to get scholarships," Hernandez said. "I graduated high school and I had some scholarships and all from a few schools; I had a couple full-ride scholarships to [Oklahoma State University] and [University of Science and Arts of Oklahoma]."
Alexa Ace
Brisa Ledezma, a middle school social studies teacher, worries about what the future of DACA could mean for her husband and baby son.
Hernandez said he went to both schools to explain his situation, but a few months before he started college, OSU officials called and said they could not fulfill the scholarship commitment they had made.
"As an undocumented student, I couldn't accept any state or federal money, so at that time, they retracted all the scholarship money that they had offered me," he said. "The same thing kind of happened at USAO. I don't blame the schools. I think it was more of a lack of knowledge on how to handle the situation."
Ledezma never thought college was accessible for her. She was encouraged by teachers in high school to pursue a higher education but discouraged when she had trouble receiving financial aid. Eventually, she found a private scholarship and was able to attend college, but then driving and working became bigger issues before DACA.
"Commuting to college and back, I would always think, 'If I get pulled over right now, I'm over 18, I don't have a driver's license, I am undocumented.' My crime would have been going to school," she said. "I struggled with not being able to get a job. Internships and stuff like that, I couldn't get none of that."
Because of DACA, they were able to attend college, drive and work legally and pursue careers where they could give back to their communities. Al-Michael is now a legislative assistant for House Reps. Merleyn Bell and Chelsey Branham. Ledezma is a sixth-grade social studies teacher at Santa Fe South Public Schools. And just last month, Hernandez became the first DACA recipient admitted to Oklahoma Bar Association.
Miriam Ortega, promotions coordinator at Historic Capitol Hill, and Yovana Medina, director of YWCA's domestic violence assistance program, were always aware of their undocumented status. Both their parents brought them to the U.S. out of necessity.
"I was diagnosed with something that pretty much told my parents that I only had a couple months left to live," Ortega said. "When I think about this, it really makes me think of that reason and how much it took my parents to make the decision to leave their own family behind and ... the world that we knew."
Ortega refused to let her undocumented status stand in the way of attending college, so she found a private scholarship.
"I didn't want that to stop me from my dreams, which were to go to college and achieve a higher education, but it did cause me to reflect on my life and what my options were," she said. "There were a lot of closed doors that, you know, were just one after another, one after another. I wasn't able to get this, I wasn't able to participate in that."
Medina crossed the border with her parents and grew up accepting there were things she would not be able to do.
"I was born in Jalisco, Mexico, in a super small, rural community of maybe about 30 people; it was almost like a village," she said. "[My parents] decided to come to this country because it was the right choice for our family; otherwise, we would have starved to death or a number of things could've happened."
Medina received DACA benefits from 2012 to 2017, when she got married. She is currently a green card holder, and she will get to send her citizenship application next year. But DACA allowed her to drive legally, begin working at a bank and develop skills she thought she would never have.
DACA's future
Now, with uncertainty of what will happen to DACA, Dreamers feel like they are back to square one with the nagging uncertainty that was there before the program offered relief.
"I remember when it was announced [DACA was ending] that I was so angry because I felt like for the first time in such a long time, I was able to have a little bit more certainty about what was going to happen to my life, and at that moment, it went back to square one; you didn't know. And that's how my whole life has been; you don't know what's going to happen tomorrow, you don't know if your parent's going to come home or not or what can happen," Ortega said. "That anger just motivated me to do something about it. … It just made you want to do more. To do more of what you were doing and not lose hope because once you lose hope, everything just disappears and it minimizes who you are and what you've done to get to where you're at."
Waiting has become common for Dreamers, but they encourage people to take the opportunity to learn more about DACA or get involved with local advocacy organizations like Dream Action Oklahoma.
Alexa Ace
Miriam Ortega, promotions coordinator at Historic Capitol Hill, shared her story as a DACA recipient to grow personally and bring more awareness.
"We're in limbo; that's the easy way to say it," Hernandez said. "We're all just kind of waiting to see what happens, and we're just kind of waiting for Congress hopefully to take the next step on that. If we've kind of paid attention to the news, immigration and DACA has kind of gone out the window and we've talked about other things, and so it's important to keep in mind that DACA is still an issue, that immigration is still an issue and that we're still waiting. As DACA recipients, we don't know what's going to happen tomorrow. It's important to keep in mind that every day, we're still in limbo, still trying to figure out what we're going to do. And that was one of the issues I've had, you know, kind of growing up and trying to become a professional in what I do. I don't know how much I can create and have because it can just be taken from me tomorrow."
Every person I interviewed said the best thing you can do to make things better for Dreamers is to just get to know them and learn their stories and learn about the positive effect DACA has on the country's economy.
"How many cars did they buy? How many homes did they buy if they could buy homes? How did that impact the economy? How much did we contribute? What was our impact?" Medina said. "I will never be removed from the human part of it because no one should ever feel what it's like for your parent to be taken by immigration. … We need to talk about this and we need to be sensitive to it because people's stories are important and they're just as important as the data."
If DACA recipients are allowed to remain in the U.S. and work, it is estimated they would add $350 billion to the economy, resulting in $90 billion of tax revenue for the federal government, according to a senior fellow at CATO Institute. Nearly 100,000 Dreamers graduate from high school annually, according to Migration Policy Institute.
A bill has been introduced that offers further relief from the threat of deportation. The American Dream and Promise Act of 2019 would put Dreamers who meet a certain criteria on a path toward permanent resident status. It will be heard by the subcommittee on immigration and citizenship.