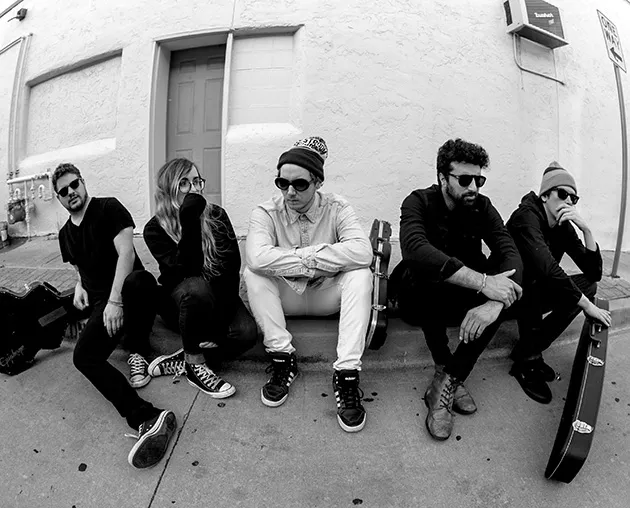 Dylan Johnson Photography / provided
My So Called Band formed in 2010, only intending to play one show.
In our ongoing effort to follow the money — and lack thereof — in the local music scene (see "Broke Music," Nov. 1, and "Bank Notes," Nov. 28, 2019) we've heard a recurring chorus: Playing covers pays. Whether it's weddings, restaurants and casinos or corporate gigs, the opportunities for paying gigs increase significantly for musicians playing songs made famous by somebody else.
To get a better idea of the different realities for cover bands and original bands, we talked to the members of My So Called Band, who fill Tower Theatre and Tulsa's The Vanguard playing hits from the 1990s and early 2000s but have also spent years struggling to get people to pay attention to their original projects. In addition to My So Called Band (which members often refer to as a "'90s band"), Carly Gwin fronts The Sin; drummer Zach Nedbalek plays in The Sin as well as Applied Music Program and Bungalouski; Ricky Salthouse plays with Lawrence, Kansas-based bands The Anniversary and Berwanger; Arash Davari previously played in Ivy Mike; and Kyle Davis played with Evangelicals.
My So Called Band formed in 2010 after Salthouse told Davis he wanted to "play Nirvana songs and bunch of grunge shit" and Davis suggested adding pop favorites by bands such as Ace of Base. They asked Gwin to join because, she said, "they needed someone to sing the girl songs."
Oklahoma Gazette: So you just started the band for fun, not because you thought you would make more money doing covers?
Davis: I don't know that we planned to do more than one Deli show.
Salthouse: I had no idea that it would make money.
Gwin: But then we did, and it was like, "OK. We can have fun, and we can make money?" Everyone in the band made more money than we'd ever made at any show before.
Davis: We were like, "We should do this again, learn some different songs." We had to learn 30 songs to do that because we were intent on not having any openers and just playing all night.
Salthouse: Three sets in a night, your whole body will be sore the next day.
Davari: I remember seeing pictures of that show too, and everybody was drenched in sweat. It must have been a hot night.
Nedbalek: It's an endurance test at first.
OKG: How do you rehearse that many songs?
Nedbalek: You have to push some stuff that you learned in high school out of your brain or whatever. Forget all your social studies and replace them with Smash Mouth.
Davis: I forgot my mom's birthday. It was an unfortunate casualty, but somebody's got to know the lyrics to "I'm Too Sexy."
Dylan Johnson Photography / provided
Carly Gwin & the Sin also features Gwin and Zach Nedbalek.
OKG: Is the audience response at a My So Called Band show different than for your original bands?
Nedbalek: I think people go to a '90s band show and they know what to expect and they are ready to hear songs they've heard before. Then they go see an original band play and they're kind of just like up for whatever. Maybe they like it; maybe they don't. Also, we play a lot of different genres in '90s band, whereas our original shows are kind of a set thing.
Davis: With an original band, your first show, you might be a little secretive about it. You might not try to get everybody out to it. Also, your friends will burn out pretty quickly if you're playing the exact same set in an original band and they've seen you three times. It's a harder ask. … People just like to hear songs they know. They know the words to them. … None of our original bands could just, like, headline a show at Tower.
OKG: Do you ever get frustrated that your original bands don't get the same level of enthusiasm?
Gwin: It's hard to not let that affect you sometimes when The Sin play a really great show at The Deli for, like, 20 people, and they like it and I think we did good, but then they come to the '90s show and they love Smash Mouth. No shade, but yeah, it can be disappointing, for sure.
Salthouse: We do get a lot of people that come to see My So Called Band and say, 'You guys should play original music.' We have for a long time, but you didn't come to that.
OKG: Do you ever think about playing some of your original songs at a My So Called Band show?
Davis: We've definitely made a conscious decision not to do that because we want people to get into the headspace of nostalgia and songs they like, and it's not fun to watch everybody walk away from the stage and go to the bar.
Gwin: That is what would happen, for sure.
OKG: Have any of you been able to support yourselves solely with the money from My So Called Band shows?
Salthouse: [Carly and I] both have jobs, but that pays more than the jobs.
Nedbalek: I've lived off just '90s band for a year or two, but you kind of have to have something else. It's not steady. We play a lot, but it's not something that you can rely on every week. You don't get paid if you don't play … so it's pretty bare-bones.
OKG: Does My So Called Band take away time and energy from your other creative projects?
Salthouse: I think it definitely has for me. … I don't always want to pick up the guitar to write a song because I'm doing it all the time.
Nedbalek: I feel the opposite. I think it keeps me practicing and fresh. I practice more with this band than I ever do with any of my original bands, and it gives me a reason to constantly be playing. … Maybe I'm not focusing all my energy on writing or something, but it keeps me playing, which is most of the battle.
Davis: Especially when you're not playing in an original band. It keeps the chops up.
Davari: It keeps the chops up, but for me, it's scheduling. … I just don't have the time.
Gwin: I think the benefits of getting better technically and learning how to perform and stuff will forever be great. I feel like I have become such a better singer and performer in this band, which has helped in my original band. I used to have really, really bad stage fright, like so bad I almost would not play the show for the first three years that I played music, and then I joined '90s band and now I'm comfortable onstage. … Not necessarily singing my own songs makes it a little easier to really go wild, but now I feel comfortable as a singer, which makes it better.
Nedbalek: There are times that I'll be learning a song for '90s band that I might not like or even give any credit to, but then I'll find myself in original bands using something … a weird thing will pop into my head I remember learning for a '90s band song that will make it into the way I play.
OKG: Do you have any advice for anyone considering starting a cover band?
Gwin: You're going to have to practice all the time. We still practice once a week. You've got to keep up with it.
Davis: Don't play '90s or we'll fuck you up.
My So Called Band plays 10 p.m. Friday at The Deli, 309 White St., in Norman and 9 p.m. Feb. 8 at Tower Theatre, 425 NW 23rd St. Bungalouski plays Jan. 23 at The Deli. Carly Gwin & the Sin plays 10 p.m. Jan. 25 at 51st Street Speakeasy, 1114 NW 51st St.