Faith is kind of like family, it's fine to make fun of it as long as it's yours.
Well, usually.
Award-winning musical The Book of Mormon breaks that taboo — in cringe-inducing yet hilariously relatable ways — with the help of equal-opportunity offenders and writers Trey Parker and Matt Stone (South Park, Team America: World Police) and Robert Lopez (Avenue Q).
With those credentials, however, it's no shock that one of the most successful Broadway musicals of the last decade is about religion. The Book of Mormon focuses on The Church of Jesus Christ of Latter-day Saints (LDS Church).
You know, Mormonism. And it's screamingly funny.
Since launching in New York City in 2011, it has earned nine Tony Awards, including best musical, best book of a musical, best original score, best direction of a musical, best featured actress in a musical, best orchestrations and best lighting, scenic and sound design.
Odd couple
The musical is about two Mormon missionaries, elders Price and Cunningham, a mismatched pair a la The Odd Couple. Price is a by-the-book believer with a capital "B." However, Cunningham has trouble remembering the book, and he's a friend-deficient dork who is terrible at selling anything, let alone a faith.
The duo is sent on a mission to Uganda to convert people who are, in short, too caught up in trying to survive to be concerned about two foreigners in dress pants and white button-down tops peddling eternal life.
What's brilliant about the musical, is, well, a lot.
In an interview with Oklahoma Gazette, Alexandra Ncube, who plays the unfailingly optimistic Nabulungi, said it wasn't so much her character that drew her in as the play itself.
From an outsider's perspective, Mormons, with their ever-polite ways and sometimes strange beliefs, often get the side-eye from people not familiar with their faith.
"I had been listening to the original Broadway recording, and I was like, 'You can do that on Broadway? That's amazing!'" Ncube said.
She fell in love with the subversive nature of the production and its universal message. At the time, she was on tour with a local children's theater company in Arizona but sent in an audition tape anyway.
She waited.
And then she waited some more.
"A year later, I was in a band and I got this email titled 'The Book of Mormon.' I assumed the show was coming to Arizona and they wanted to sell tickets," she said.
But it was more than that.
"Then everything started happening really fast," she said. "I went to New York and LA for auditions."
Soon, Ncube won a big role as Nabulungi in the national tour.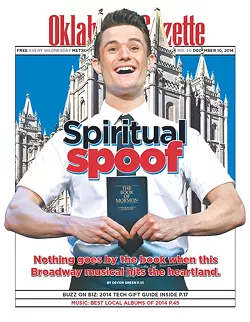 Photo: Joan Marcus / Cover design: Christopher Street
Singing satire
How does one build an entire production around missionaries in Uganda and not have the cast draped in cliché, National Geographic-like garb — or worse — at curtain call? Sly masters of satire Parker and Stone, the creators of some of the most satirically off-color humor in modern history, teamed up with Lopez, whose Avenue Q was a Broadway hit that featured a neighborhood populated with foul-mouthed puppets and overtly adult themes.
What was created was a parody that's relatable to almost any faith. In the tradition of unconventional comedy hits like the unfettered race-baiting satire in the movie Blazing Saddles or Broadway's mockery of the legal system in Urinetown: The Musical, only this creative trio could make The Book of Mormon successful.
In fact, few today but Parker and Stone could pull off this theme. For decades, the duo has ridiculed everything and everyone via their crudely animated television show South Park and their movie Cannibal! The Musical (which also became a popular stage production).
Indeed, almost everything the two do has a musical bent, which is no accident.
In recent press notes, Parker said he grew up loving musical theater team Rodgers and Hammerstein and studied music through high school and college. South Park and Parker and Stone's films are filled with nimble wit and sophisticated satirical and political statements. You'll also notice humor that makes a broader statement about the world we all occupy. This also is precisely the place you'll find the genesis of The Book of Mormon.
Chance meeting
While in New York, Parker and Stone caught a performance of Avenue Q. Lopez thanked Parker and Stone in the playbill. Then, one day, he looked out to see them in the audience.
When the three got to talk after the show, it was kismet; all three loved musical theater and nurtured dreams of creating something about the story of Mormonism.
In numerous interviews, Parker said that Mormonism was an obvious topic for a classic musical, simply because of its dizzying optimism and positivity. Mormons are always cheerful, helpful and nice, and Parker said that he has expected Mormons to burst into song at any moment.
It was too much of a coincidence to not pursue, but it took seven years and a lot of frequent flyer miles to make it happen. The Book of Mormon debuted in 2011 at Eugene O'Neill Theatre in New York City. At the 2011 Tony Awards, the play swept up its accolades. Its first national tour kicked off a successful run in 2012. This year, its second tour comes to Oklahoma City just in time for the New Year.
Commonalities v. differences
In Uganda, in a village devastated by AIDS, famine and war, there is a prevailing sentiment of dread and hopelessness. Enter two unfailingly cheerful and incredibly naïve characters who might be different in their approach but quickly realize they are in an untenable battle to redeem these villagers. Still, they attempt to convert a community that has very little to hold on to, especially faith.
Wackiness ensues on levels that only Parker, Stone and Lopez could conceive.
Ncube summed up the challenges and perks of working on this tour.
"It's my first Broadway experience and the chance to work with people who have been on Broadway for decades, and there's just so much to learn," Ncube said. "I really am going to value this, even if it's just a short part of my life. When you get down to brass tacks, it's not a bad gig to have."
Her character, Nabulungi, is the daughter of the chief and is desperate to find a glimmer of hope for the people of her community.
"She is the embodiment of optimism, and she finds these two Mormon missionaries who seem to represent what she can't come through with, but she ultimately has to get the village out of this turmoil with their help," Ncube said.
She admitted that on the surface, the play might seem like a way to poke fun at something people don't understand, but the production emphasizes commonalities, not differences.
"The beauty of the show is that they aren't just crude jokes to be crude, and the characters — they all have meaning and depth and they're all so well-rounded. They're very likable, even the villains. If they had made the show all about meanness and making fun, then no one would want to see the show," she said.
Reception
Ncube is eager to see what Oklahoma audiences think of The Book of Mormon, considering the religious conservatism our state is known for. She heard about the controversy surrounding last year's The Most Fabulous Story Ever Told and is hopeful that audiences here will not skip the show altogether or give up halfway through.
Also, this is the first time the tour will do a stop in Salt Lake City, Utah, considered to be the center of LDS cultural influence. (It's noteworthy that the LDS took out an ad in the Broadway show's playbill.)
When asked about viewers in other cities, Ncube said some surprise her and the cast with their delight — or their disappointment — and it's fun for her and the cast to try to gauge which audience will be conservative, permissive or something in between. Each is unique in its own way.
One of the show's co-creators echoed this sentiment in an interview with the show's creators.
"There's a catharsis about being able to laugh at some of the goofier ideas of religion without necessarily laughing at the people practicing them," Stone said in a media statement sent to Oklahoma Gazette.
And in case you're wondering, Ncube's band Instant Classics still rocks on in Arizona without her — no hard feelings. In fact, her fiancé is in the band, and they manage the distance like everyone — with patience. She knows that this is a once-in-a lifetime opportunity.
Print headline: Like the Good Book says, Tony Award-winning The Book of Mormon twists the meaning of faith and teaches us that satire is good for the soul.