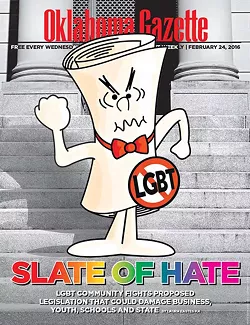 Family helped shape Austin Sims' view that every Oklahoman has a unique purpose in life, no matter their situation.
Oklahomans are known throughout the United States for their compassion and commitment to the Oklahoma Standard, which encompasses the spirit of resilience in the face of adversity.
Raised in Moore, Sims grew up learning this valuable lesson but also witnessed the actions of his grandfather, who gave back to the community. In his 28 years, Sims has pursued a life of kindness and generosity. He is the youth program coordinator at Be the Change, an Oklahoma City nonprofit working with homeless youth.
"I believe the Oklahoma Standard is about lifting each other up in our communities, especially in times of difficulty," Sims said. "With the $1.3 billion budget shortfall, the Legislature is acting more divisive than working to bring the community together."
Sims sees the lesbian, gay, bisexual and transgender communities targeted in numerous bills filed for the second regular session of the 55th Oklahoma State Legislature.
He anticipated some backlash toward the LGBT community following marriage equality, but never to "this degree."
The bleak budget situation didn't stop a handful of lawmakers from pushing more than two-dozen bills viewed as dangerous to the state's LGBT population.
As a transgender man, Sims is concerned by many of the bills, but is particularly troubled by religious freedom bills that would allow businesses to opt out of providing services to members of the LGBT community. Bathroom bills are equally disturbing.
"I'm alarmed by this legislation," Sims said when discussing anti-LGBT bills. "This legislation does not live up to the values that I grew up with, and it does not live up to the Oklahoma Standard."
Garett Fisbeck
Paula Sophia and Troy Stevenson
Nationwide threats
Earlier this month, Oklahoma made national headlines as media reported on the numerous anti-LGBT bills and their direct or indirect discrimination against the state's LGBT community.
Eight months earlier, the U.S. Supreme Court affirmed the right for same-sex couples to marry. In the Sooner State, same-sex marriage was legalized Oct. 6, 2014.
The Supreme Court decision was a pinnacle moment in gay rights; however, the movement took a hit as more than 150 anti-LGBT bills in 31 states were filed in the first two months of 2016, according to the Human Rights Campaign (HRC), a national civil rights organization.
Twenty-seven of the bills were filed at the Oklahoma State Capitol, including one promoting conversion therapy, a treatment to change a person's sexual orientation that has been banned by a United Nations panel.
Last year, Oregon became the third state to ban conversion therapy on minors. In Oklahoma, House Bill 1598, which makes it illegal to ban conversion therapy, passed the House's Children, Youth, and Family Services Committee in 2015.
Oklahoma is the only state considering pro-conversion therapy legislation, according to HRC.
"Oklahoma is regrettably leading the nation in the number of bills attacking LGBT people, their families and visitors in the 2016 legislative session," Sarah Warbelow, HRC legal director, said in a press statement. "These vile attacks are shameful, far-reaching and would no doubt be incredibly destructive to this great state — resulting in multiple, expensive legal challenges and a greatly damaged reputation."
Some proposed Oklahoma legislation mimics bills considered in other states, such as South Dakota. Recently, lawmakers there passed a bill requiring every public school restroom to be "designated for and used only by students of the same biological sex."
The bill is one step from becoming law as the measure moves to the South Dakota governor's desk.
Oklahoma's House Bill 3049, authored by Rep. Sally Kern, R-Oklahoma City, includes similar language. It would ban transgender students from using sex-segregated facilities.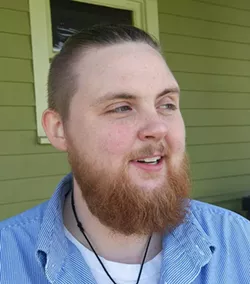 Mark Hancock
Austin Sims
Oklahoma bills
There is a reason many bills feature similar language, said Troy Stevenson, executive director of Freedom Oklahoma, a statewide political LGBT rights advocacy group.
National interest groups sponsor, or write, legislation that is handed down to state lawmakers to introduce.
"A lot of these bills are not written by local lawmakers," Stevenson said.
Freedom Oklahoma launched last year after Cimarron Alliance Equality Center and The Equality Network merged to create the nonprofit and social welfare organization that emphasizes LGBT public education and advocacy.
In 2015, the group witnessed 18 bills they viewed as detrimental to the LGBT community go nowhere at the state Capitol. The majority of the 2016 bills are, essentially, dead on arrival, Stevenson said.
While the bills were assigned official bill numbers, few will reach committee hearings.
"I think some lawmakers have no intention of having their bills heard," Stevenson said. "This is aimed at starting a conversation in public and marginalizing a group of people. They know it is not going to become law, but if they keep this conversation going, the (LGBT) community is going to be hurt."
Recently, Paula Sophia, a transgender Oklahoma City woman, created VisAbility, a transgender-specific advocacy group. The organization also works to share the stories of the state's transgender residents.
Sophia and others in the transgender community believe the anti-transgender bills send a direct message.
"'We will deny you access to accommodations because we want you to go away,'" Sophia said. "'Go back in the closet. Leave the state.' … I see these measures as threats."
In the first three weeks of session, three bills received committee hearings. Only one received a "do pass." House Bill 2428, authored by Kern, would allow the state to work with child welfare and adoption agencies that reject applicants due to their religious beliefs or moral convictions. After a 5-to-2 committee vote, the bill moved to the House floor for consideration. The bill could potentially impact gay couples as well as minority and interracial couples.
Religious freedom
Senate Bill 1328, known as the Oklahoma Right of Conscience Act, failed a Senate Judiciary Committee on a 4-to-5 vote. Authored by Sen. Joseph Silk, R-Broken Bow, the bill would allow individuals — defined in the bill as "a natural person, a privately-held business, or a church or recognized religious organization" — to refuse service based on religious beliefs or "conscience concerning marriage, lifestyle or behavior."
A similar piece of legislation remains active. Freedom Oklahoma staff called House Joint Resolution 1059 "alarming."
As a proposed ballot initiative, the proposed legislation skips the committee process and the governor's office. Instead, it goes straight to the voters, who could vote in favor of the constitutional amendment.
Rep. Mark McCullough, R-Sapulpa, proposed the resolution, which would allow "entities and individuals" to refuse services to people they believe violate their religious beliefs.
In addition to HJR 1059, six other bills reference religious freedom or conscience as the basis for inequality.
"One of the things I find most deeply concerning about this legislation is they are calling it religious freedom or a deeply held religious belief, but they are redefining what that means," Stevenson said. "It is no longer the conviction of an entire religious community. They are allowing an individual to call their opinion a religious belief, which is dangerous. It puts the individual over society."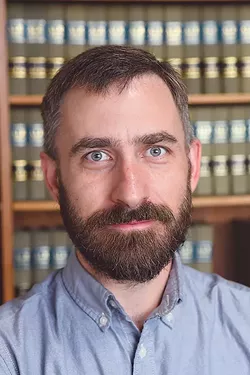 Mark Hancock / File
Ryan Kiesel
Unconstitutional laws
Jan. 26, just six days before this year's legislative session started, executive director Ryan Kiesel announced the American Civil Liberties Union of Oklahoma (ACLU) was joining the fight against "hateful pieces of legislation."
"We have crises in health care, education. Yet some lawmakers continue to insist that we spend our time and energy on using religious as a weapon to discriminate against our fellow Oklahomans," said Kiesel, who served three terms in the Oklahoma House of Representatives before joining ACLU. "I think it is not only reprehensible, but given the circumstance that Oklahoma currently finds itself in, this type of behavior is simply reckless."
The majority of the bills are vaguely worded and give little detail on directly discriminating against any individual or the LGBT community. LGBT advocates describe the ploy as a tactical move to disguise the legislation's true intent.
If any of the bills are signed into law, the state can expect litigation from Freedom Oklahoma, Stevenson said.
"They try to make it constitutional," Stevenson said. "In order to make it constitutional, you make it as broad as possible. It's not discrimination if everyone is affected. Everyone is equally harmed by the legislation. That is a horrible way to legislate. We are going to put the entire community in harm because we want to hurt this one class of people."
The future
Thursday and Friday are the final days for Senate and House bills to be heard in committees; however, there are a few exceptions.
Five days before the deadline, Sims felt relieved certain bills hadn't received committee hearings, such as Silk's bathroom bill. The one-page bill calls on the Oklahoma Department of Health to regulate public bathroom use and ensure people visit facilities matching the biological gender listed on their birth certificates.
At Be the Change, Sims teaches youth, including members of the LGBT community, how to advocate for themselves and understand the legislative process at the state and local levels.
He would like to see the state and the City of Oklahoma City explore employment and public accommodation protections for the LGBT community.
"Stay positive," Sims said as advice to other LGBT community members. "We are going to win this thing eventually, especially with younger generations reaching voting age."
Like Sims, Stevenson said he looks forward to future sessions when Freedom Oklahoma can work closely with lawmakers to propose measures to help the LGBT community and all Oklahomans.
Like many in the state, Freedom Oklahoma's concerns include the $1.3 billion budget hole and cuts to core government services.
Sophia remembers the end of the first regular session of the 55th Oklahoma State Legislator. No anti-LGBT legislation passed in 2015.
"I envision we will have defeated all the legislation that has targeted us and the larger LGBT community," Sophia said. "I hope we can celebrate that by the end of May."
Print Headline: Slate of hate, Members of Oklahoma's LGBT community discuss proposed legislation that could be bad for business, youth, schools, minorities and the state.