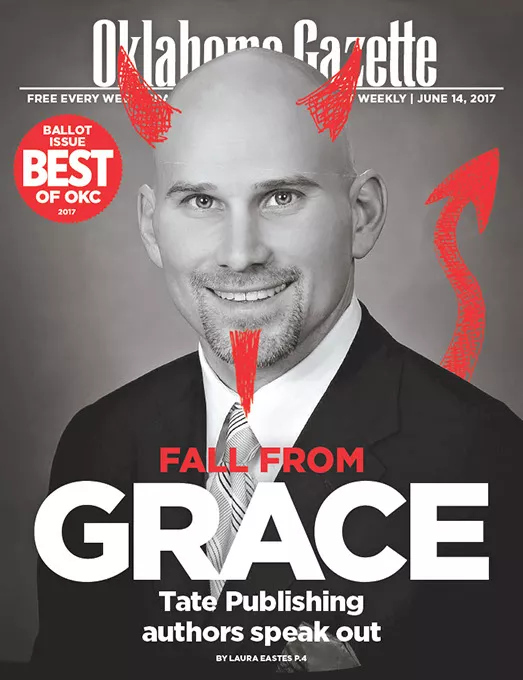 Cover illustration by Christopher Street / Oklahoma Gazette
The chant started slowly.
A Tate Publishing and Enterprises employee rattled off the four-word phrase and then demanded the 60-person crowd join her. "I am an author!" they repeated. The cry grew more insistent as it pulsed louder.
That was the moment Paul Bortolazzo decided he was done with the Christian-based, family-owned publishing company.
"They wanted us to feel like we were real authors," Bortolazzo, a credentialed minister of the Assemblies of God,told Oklahoma Gazette. "They were preying upon people's dreams."
It was 2008, and the seven-year-old vanity press publishing company was entertaining Tate authors at the National Christian Booksellers Convention in Atlanta. Only those with personal invitations, like Bortolazzo, author of Tate-published The Coming of the Son of Man: After the Tribulation of Those Days, earned a spot in the meeting room.
The Montgomery, Alabama, man was different from the individuals he mingled with over coffee and doughnuts before the Tate presentation. While he shared a connection by publishing works at Tate, Bortolazzo didn't view himself as an author; he was a pastor who published a biblical message. Others were aspiring authors who wanted their work widely known and appearing on bookshelves across the country.
As the chants ended with the crowd erupting into applause, several people made their way to nearby tables to sign new contracts. Tate was often called a vanity press, meaning authors paid the company to have their books published. The acquisition of a manuscript was a sale that guaranteed clients services such as editing, design and production, publicity, royalties and more.
Tate Publishing's sales strategy discomfited Bortolazzo, who believed the company was playing off emotion to lure people to commit thousands of dollars to book projects.
Such a strategic hook had at least worked to get him to publish a 400-page book with the company. After receiving 70 rejection letters from other publishing houses, Bortolazzo received a personal letter from Richard Tate in 2007. Tate Publishing wanted his project, and more importantly, the co-founder had chosen it from the many submissions received. Of those hundreds, only a small percentage of authors were offered contracts.
Nearly a decade later, Bortolazzo still has that letter and his own analysis of how Tate Publishing signed more than 35,000 clients during its nearly 17 years as a company.
"The sobering reality is the vast majority would never sell enough books to make a living. ... The Tates knew this. Most books they produce sold less than 200 copies. Richard Tate also knew he could make millions preying on the dreams of those desperately wanting to be full-time authors. All in the name of our Lord, Jesus Christ," Bortolazzo told the Gazette.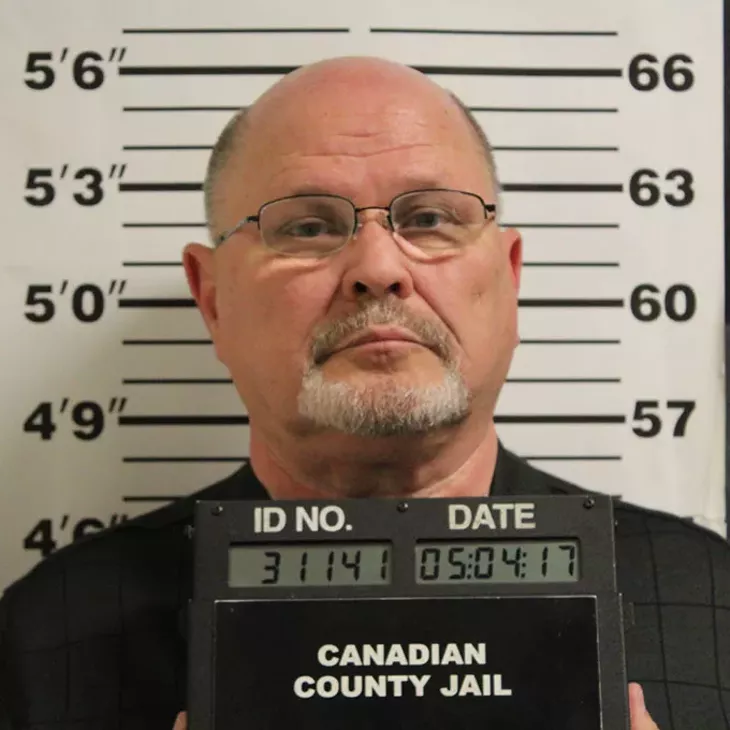 Provided
Richard Tate
Provided
Ryan Tate
'God-ordained
and God-maintained'
Husband and wife Richard and Rita Tate traveled across the country presenting their marriage and family counseling ministries to church congregations.
When the couple decided to turn their ministry into a book, they did so through the publishing industry. Through it all, they watched and learned.
In 2001, Richard and Rita Tate co-founded a publishing company, hiring their son Ryan Tate as president and daughter Trinity Tate as an editor. Billing itself as a Christian-based company working with aspiring authors, Tate Publishing management used their experience with a mainstream publisher to mold their business to serve authors by providing an array of services to produce and promote high-quality books. Each contract guaranteed the highest royalties "in the business."
"We simply want to create the best environment and opportunity for you to have success," Ryan Tate stated in the company's 2013 promotional video, The Story of Tate Publishing. "If you are willing to work, we are willing to work hard."
With a sales pitch that included authors, or clients, receiving as much of their earnings back as possible, the Tate Publishing model fathered a flourishing company. As a Christian business, the Tate family incorporated the spirit of faith into their work. The family referred to their business as "God-ordained and God-maintained."
After a decade in business, Tate employed hundreds at its Mustang corporate headquarters and boasted a catalogue of thousands of books and music recordings.
Honors, including being listed in the Best Places to Work in Oklahoma, published by okc BIZ magazine, stacked up.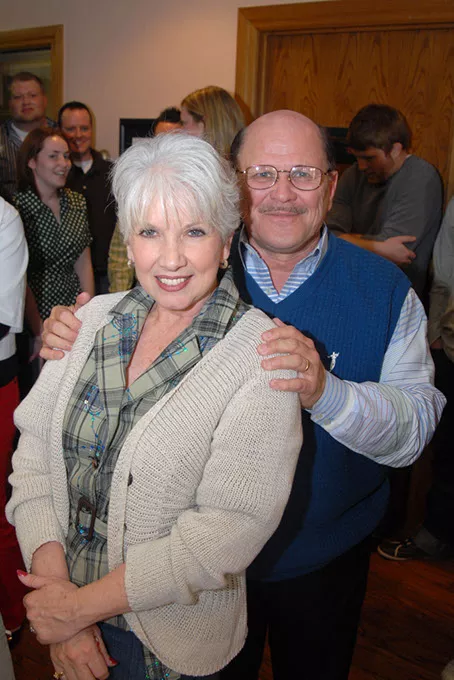 Gazette / file
Rita and Richard Tate during "Fast Cash Friday" at Tate Publishing in 2008.
Gazette file
Ryan Tate (center) with coworkers in 2009.
Growing business
While the company continued to attract more clients, Tate executives preached that its authors were part of an exclusive club in which only "a single-digit percentage of authors who submitted manuscripts for publication" were offered contracts.
Employees doubted such a claim, said Marisa Mohi, who joined the editing department in 2011. Neither literary merit nor strong storylines were required to land a Tate contract, she said. The only real requirement was money.
"It was not uncommon to hear someone on the phone explaining to an author why they needed commas," said Mohi, who was a ghostwriter at Tate and edited a book with an author about Hezbollah stealing a child from the scene of a car wreck.
"I don't think the Tates intended for us to be editors or adhere to the ideals of editing," said Mohi, who began searching for a new job six months after being hired for Tate Publishing and Enterprises because of what she believed were unrealistic workloads and an increasing number of manuscripts and assignments. "Us doing our jobs was a wrench in the system."
In Mohi's final weeks with Tate, rumors began to brew that the company had plans to outsource work. In June 2012, Ryan Tate called a company meeting to address the rumors and an anonymous email received by all employees. After issuing insults and threats to employees, the meeting ended with a warning that 25 employees would be fired later that week if nobody confessed to sending the email.
An audio file of the meeting was leaked to the press, setting off an international media storm with coverage on a Christian company who bullied and belittled employees before issuing pink slips. Additionally, the rumors proved to be true: The company opened an office in the Philippines in 2012.
Following negative media coverage and an exodus of employees from the Mustang headquarters as jobs were shipped overseas, Tate Publishing's next four years were without much outside attention. No longer did local media list Tate among Oklahoma's top businesses to work for.
As new titles pumped from its 24-hour print operations, it appeared evident that Tate was continuing to deliver on its mission to discover, market and assist unknown authors.
Did Tate Publishing and Enterprises meet contractual obligations?
Consumer complaints led the Oklahoma Office of the Attorney General to launch an investigation in 2015. A year later, Xerox Corporation filed a lawsuit against Tate Publishing seeking $2 million in unpaid printing services. In September 2016, the U.S. Department of Labor's Wage and Hour Division confirmed it was investigating the business.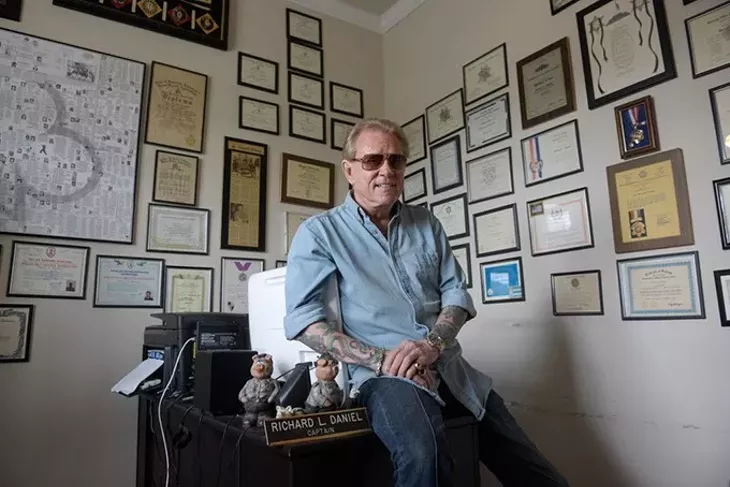 Garett Fisbeck
Edmond resident Richard Daniel published Momma Loved Us This I Know with Tate Publishing and Enterprises in 2014. Daniel said the company assured him his memoir would be sold at bookstores across the country. That never happened.
Unhappy customer
Richard Daniel's memoir Momma Loved Us This I Know wasn't written for an audience. Instead, the retired law enforcement officer who has also worked in the entertainment industry recorded his memories of his mother raising him and his siblings in Oklahoma and Texas in the 1940s and 1950s.
The children spent their childhood in an abusive home but were encouraged by the love of their mother, who was abused by multiple husbands.
After publishing his manuscript online, he was encouraged to seek a publisher.
"The book is about Oklahoma, about my mother raising us in Oklahoma. It would be good to publish a book in Oklahoma," said Daniel, who resides in Edmond after spending decades in southern California. "I asked Tate what they could do for me, and they responded they would put my book in all the bookstores [and] I would be on TV. I believed them."
When his book was printed, Daniel was ready to start publicity. Phone calls to Tate were rarely returned. When they were, the company encouraged him to buy more books, which would be required for a book signing event. Daniel said employees also pushed additional services, like building a website and setting up a Facebook page. He did agree to pay $300 for the production of a 16-second commercial to promote his memoir. More than three years later, Daniel has yet to see copies of his book in a major bookstore.
Press coverage included one story by a single local media outlet.
He said he couldn't access the commercial to share it.
"It only hurt me here," Daniel said as he placed his right fist over his heart. "I don't like that. I trusted them. It hurt me here in Oklahoma. Their name hurt me."
Past connections in the entertainment industry led to interest in his memoir, which is in pre-production as a film by a German company.
No more victims
"The public needs to know about this," Oklahoma Attorney General Mike Hunter said as he ended the May press conference announcing that criminal charges had been filed against Richard and Ryan Tate.
Consumer complaints, including Tate failing to deliver products and services or pay royalty earnings, led the agency to launch an investigation in June 2015. When the company ceased operations Jan. 17, complaints mounted at the AG's office. Between Jan. 17 and May 4, 849 complaints were lodged against Tate Publishing and Enterprises.
The investigation paused following the Tates' May announcement to reopen their publishing company.
Hunter's office responded with four felony embezzlement charges, a misdemeanor embezzlement charge, three felony extortion by threat charges and a felony racketeering charge against the father-and-son operators of Tate Publishing.
AG office agents had uncovered financial documents showing transfers from company accounts into the personal accounts of Richard and and his wife Rita Tate and Ryan and his wife Christy Tate. Additionally, charges are based on evidence that Tate Publishing did not fulfill contract obligations, including book production, book orders and royalty payments.
"We don't need any more victims," Hunter said during the press conference. "Folks, we are going to do everything we can to make these people held accountable for what they've done. We also are going to do everything we can to get your money back."
The Tates' attorney, Thomas Adler of Atkins & Markoff law firm, said that neither he nor his clients would be commenting on the criminal complaints.
"The Tate family is committed to working together with the State of Oklahoma to address each and every complaint filed against them on a case by case basis," Adler wrote to the Gazette.
A pretrial conference for the criminal charges faced by Richard and Ryan Tate was scheduled for June 14 before Canadian County District Court Special Judge Jack McCurdy II. A spokesperson with the AG's office said the hearing could be postponed.
No answers
Around the first of the year, Betty Marinello was worried. Six months earlier, she sent her second manuscript and a $4,000 check to the publishing house after receiving a phone call from an elated Richard Tate. The Wisconsin resident was expecting a production update for her second book and a shipment of copies of Miracles, her first book published by Tate.
The update came Jan. 17. Marinello opened an email sent to Tate Publishing clients announcing it was no longer in business. Authors and musicians had two options: pay a $50 processing fee to recover files "or not to pay the fee and have their files deleted/destroyed by Tate," shows the AG's office affidavit of probable cause, filed May 4 in the district court of Canadian County.
The email left so many questions for Marinello and other authors. Should she pay the fee? Would she actually receive the files? Could she take her manuscripts to another publisher? Nearly six months later, after hours spent on the internet, seeking advice and hearing from other Tate authors, Marinello still has no answers. It's not so much about the money as it is the manuscript. Marinello would like to see it published but admitted she lost interest and faith in the project after her experience with Tate Publishing.
"It's unbelievable, and I am still in awe," Marinello said. "It took years for me to get brave enough to send it out to somebody. … I am at a crossroads where I don't know where to turn."
Editor's note: For journalistic transparency's sake, Gazette assistant editor Brittany Pickering is a former Tate Publishing and Enterprises book copy editor and one of the 25 employees fired by the company in June 2012. Her role in this news report included fact-checking and copy editing. She has worked at the Gazette since late 2012.
Print headline: Blurred lines; In 2001, Mustang's Tate Publishing set out to discover and market unknown authors. That's what it did, but not all customers are happy with the services provided by the now-closed company. As Richard and Ryan Tate face criminal charges, authors and a former employees share their Tate experiences.