Do not ask Insane Clown Posse to stay in one place for an extended period of time. After years grinding tour schedules, Detroit-based horror rap duo Violent J and Shaggy 2 Dope sometimes are not even sure in which city they're applying their trademark clown makeup.
"For us, the years sort of start to blend together Groundhog Day style," Shaggy said during a recent Oklahoma Gazette phone interview. "It's just time to move on to a different place."
This is part of the reason the Posse — commonly known by its initials ICP — decided to move The Gathering of the Juggalos, its official music festival and fan convention, from Legend Valley, Ohio, to Oklahoma City's Lost Lakes Amphitheater and Waterpark, 3501 NE 10th St.
In addition to several ICP shows, the four-day fest, which runs July 26-29, offers a lineup with everything from rap and rock performers Waka Flaka Flame, Vanilla Ice, Mushroomhead and Dope to comedy, professional wrestling, sideshows, parties, carnival rides, movie screenings and more. Juggalos and juggalettes — the preferred masculine and feminine monikers for intensely loyal, idiom-speaking, makeup-donning fans of ICP and its Psychopathic Records label — can also enjoy Lost Lakes' giant WaterSlide, Wake Zone Water Park and other park amenities.
The Gathering has bounced between several sites over the years, but this is the first time for it to happen west of the Mississippi River. Shaggy, who released his third solo album, F.T.F.O.M.F. (Fuck the Fuck Off, Motherfucker), in May, said the move will help some fans who haven't yet been able to experience the festival.
"It's easily one of the most memorable and fun times of your life," he said. "You can come with basically no money and you're going to have a full belly. It's, like, 24 hours, so whether you're a night person or a day person, you're straight."
Over its close to two decades in existence, The Gathering has become one of the world's most famous — and, to some, infamous — music festivals. ICP has been ridiculed and criticized by outsiders for its sometimes violent and sexually graphic lyrical content and perceived lack of musical taste and the lower economic status of some of its fans. The Federal Bureau of Investigation has labeled juggalos as a loosely organized "gang," a label most juggalos find inaccurate and offensive.
A key concept in juggalo subculture is the importance of "family" — specifically the relationships forged through their shared interests. Despite the music's sometimes-violent song lyrics and themes, many juggalos emphasize the overall subculture embraces and endorses openness and friendship. The Gathering was created to reflect those key values.
"Even if you've got a gimp arm with fucking four thumbs on one hand, nobody gives a fuck because it's all love," Shaggy. "You get accepted as you come because of who you are."
Dustin "Hazin" Lane / Cherry Bomb / provided
Up to 8,000 people are expected to attend this year's Gathering of the Juggalos each day of its four-day stay in Oklahoma.
Soda launch
Brad White, part owner of Lost Lakes, said the story behind the venue's Gathering booking is fairly straightforward. ICP first performed at the venue (then known as Wake Zone Cable Park) in October 2015. While it was in town, the band toured the property with members of the Psychopathic Records management team.
"It was really that the guys came and liked the property and said they would like to get closer to the rest of their fans," White said.
He said organizers expect up to 8,000 attendees each day of this year's event.
This year's festival move to the central United States is great for juggalos like Scottie D, based in Dallas, Texas. He is president and chief operator of popular juggalo fansite faygoluvers.net, named as a nod to ICP's affection for Faygo brand soda. Scottie has attended every festival since the event's inception. Last year, he drove 20 hours (each way) with his family while towing a recreational vehicle (RV) to get to the 2017 festival near Columbus, Ohio.
Scottie recently visited Lost Lakes to preview the outdoor entertainment complex.
"I think it's going to be as good a venue for a Gathering as any other outdoor one that we've had, especially with all the water activities," he said. "The big slide is a big deal."
Scottie said he would expect The Gathering to revisit for another year or two, although ICP has expressed interest in hosting it in Colorado at some point.
He hopes fans bond with Oklahoma City like they did with Ohio.
"The Columbus area loved us," he said. "They hated that we were leaving."
White admitted that the park's management team was a little nervous about hosting its first ICP show back in 2015. The band has performed many times in OKC, but usually in indoor venues like Diamond Ballroom. (It is one of two acts to be banned from historic Cain's Ballroom in Tulsa "because of the use of Faygo," which is sprayed on fans from the stage — fans also shake open bottles like champagne during shows — venue box office manager told
The Tulsa Voice
in 2015. The other act was David Allen Coe.)
And music fans in general tend to be less inhibited at open-air events.
However, through the show, White discovered venue managers' concerns were allayed and ICP is an amazing live act to witness.
"I will say [ICP] had a great time because one thing they were able to do in our venue that they maybe weren't in some others is launch about 2,000 bottles of Faygo," he said. "It was incredible."
White said the park smelled like root beer for several weeks after the 2015 concert.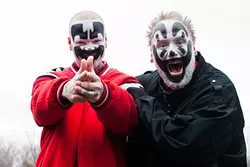 Nicole Robertson / Psychopathic Records / provided
Insane Clown Posse
Some concerns
White said Lost Lakes transitioned from Wake Zone into a multi-entertainment venue and amphitheater with encouragement from the city to develop a festival grounds within city limits, which makes it all the more surprising to him that an Oklahoma City councilman would consider an ordinance to limit it to three concerts a year due to noise complaints.
"This came out of left field for us," he said about the proposal, which was made earlier this year. "It was like, 'Wow! This makes absolutely no sense.' Everybody here is looking for the motivation there."
In May, Ward 7 Councilman John Pettis Jr. proposed to rezone the public park and limit the number of live music events it could hold each year. That proposal was later rescinded, but Pettis has continued to voice concerns about noise and park safety in subsequent council meetings. Lost Lakes leases part of its property from Oklahoma City, and Pettis has said he would be in favor of the city ending its lease with the waterpark and festival grounds.
Pettis did not return Gazette's requests for comment by press time.
White said Lost Lakes will comply with all required ordinances but he views the proposed restrictions as unfair and pointed out that Frontier City and The Zoo Amphitheatre are also in Ward 7 and there have been no proposals to limit concerts in those venues.
White started organizing concerts in 1987 and co-founded Rocklahoma, the popular annual music and camping festival in Pryor.
The Gathering specifically brings with it a past and reputation that would seem to encourage enhanced security. Rumors of drug selling and use have long followed the fest. In a few instances, performers reportedly have been hit with crowd-thrown rocks, bottles or even feces.
Oklahoma City Police Department media relations officer MSgt. Gary Knight said police know about the festival but declined to elaborate any further.
"It's certainly something we are aware of," Knight told Gazette. "We will have an appropriate response for it."
White said Lost Lakes did its homework before agreeing to host The Gathering and contacted previous festival hosts and related law enforcement agencies.
"After fleshing all of that out, we were able to determine that these guys — despite all of the hype — are very organized in terms of how they put on a festival," he said.
White said Psychopathic Records hired a local security company, which will work in cooperation with local law enforcement agencies. Lost Lakes requires all security teams to be licensed and state-certified.
Dustin "Hazin" Lane / Cherry Bomb / provided
Insane Clown Posse's Violent J launches over a wrestling ring at a past Gathering of the Juggalos. The Gathering features many sideshows, including wrestling events.
'Don't judge'
Heading into his third Gathering, local comic and KATT-FM radio personality Cameron Buchholtz said one aspect in particular about this year's event piqued his curiosity.
"It will be interesting to see how well the clown makeup holds up to the waterslide," he said.
Buchholtz performed his first Gathering gig in 2014 after emailing Psychopathic and requesting to be added to the comedy bill. He has since built a relationship with the festival and was invited to return in 2015 before making his homecoming appearance at The Gathering's Lost Lakes debut.
"Every time, it's always fun," he said. "I think both times I've done it, I've ended up taking pulls from a handle of whiskey that people passed up."
The comedian was nervous during his initiatory Gathering experience. He knew he did not look like a stereotypical juggalo and felt out of place at an event packed with ICP fans.
Very quickly, however, Buchholtz saw The Gathering for what it is: a group of music fans looking to have a good time with people who share mutual interests.
"I go to a lot of hard rock and metal stuff, and [The Gathering] is not that far removed from going to a metal show," he said. "It's just a few degrees more extreme."
Buchholtz, who frequently attends rock concerts and music festivals, called ICP a "legitimately great" live act. The band's trademark Faygo shower, he said, is a genuine spectacle.
He said he knows many non-juggalo/juggalette locals who plan to attend The Gathering, either out of curiosity or as a joke. Buchholtz encourages everyone to attend and respect ICP fandom while they're there.
"Go and just have fun," he said. "Don't judge them or anything. Just go in with an open mind and you'll probably have a blast."
Dustin "Hazin" Lane / Cherry Bomb / provided
Up to 8,000 people are expected to attend this year's Gathering of the Juggalos each day of its four-day stay in Oklahoma.
Being heard
Scottie said juggalos and The Gathering have been unfairly targeted because ICP is almost universally hated and misunderstood. Simply put, it's a phenomenon people love to hate.
"There's not a single music festival without any illegal substances or heavy drinking, whether it be country, rock or rap," he said. "Probably even Christian, though I've never been to one."
Juggalos have more than an image problem, he added. The fan group's rights are regularly ignored and violated.
Sept. 16, ICP fans from across the nation will gather on the National Mall in Washington, D.C., for the Juggalo March on Washington event to bring awareness to fans' rights and to protest the group's classification by some state and federal law enforcement agencies as a "criminal street gang." He will also be one of the event's featured speakers.
Indeed, Scottie said, identifying as a juggalo is about more than being a fan of a certain type of music. It is about the comforting togetherness found within a group. ICP offers a sense of belonging some fans might not feel anywhere else.
"There's no gang mentality," Scottie said. "We're just music fans with similar interests, and that's it."
Visit juggalogathering.com.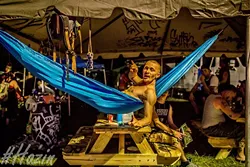 Dustin "Hazin" Lane / Cherry Bomb / provided
Up to 8,000 people are expected to attend this year's Gathering of the Juggalos each day of its four-day stay in Oklahoma.
Print Headline: Gather 'round, Oklahoma City becomes the new home of Insane Clown Posse's four-day Gathering of the Juggalos festival.