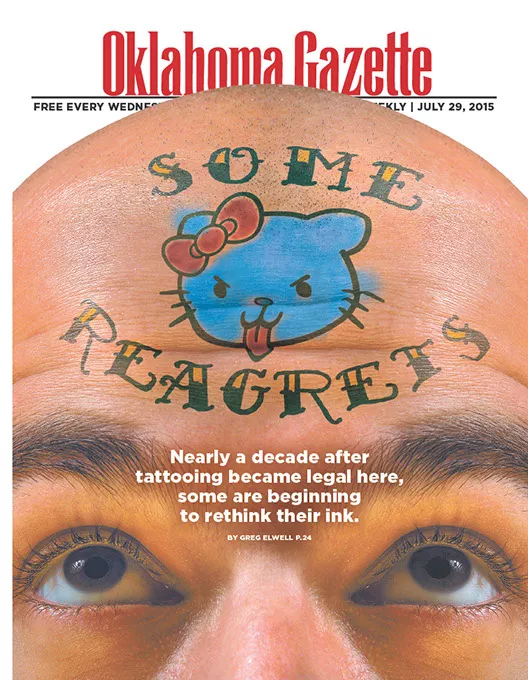 "You get the tattoo you deserve," said Think Ink Tattoos owner Josh Crain.
As one of the artists at the Norman-based tattoo parlor, Crain has seen people from all walks of life come into his shop, from lawyers and Devon Energy employees to college kids who are just ready to get some ink.
"If you do the research, you'll never regret your tattoo," he said.
Some people, though, do not do the research.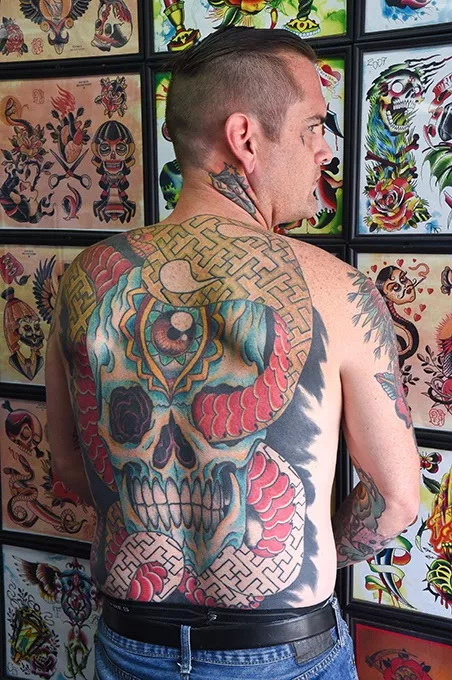 Mark Hancock
Artist Josh Crain knows a thing or two about regrettable tattoos from personal experience and his work as owner at Think Ink Tattoos.
Awful objects
Jenny Heinrichs, co-owner of gift and decor shop Awful Objects, has two tattoos she wishes she didn't get, and they came a decade apart.
"I have a tattoo on my lower back, the classic tramp stamp," said Heinrichs. "I got it when I was 19, chose it off the wall of a tattoo shop in Deep Ellum. It's not cute."
And the man who put the ink on her was not the thoughtful artist type, either.
"He was a big guy with long hair, covered in tattoos," she said. "He told me he'd just bought a Mustang and asked me out."
At 19, she said, she was too young to be choosing a tattoo that would live forever above her butt.
She was 29 when she chose a black, angular phoenix for her upper back.
"It's not pretty," Heinrichs said. "I didn't choose wisely."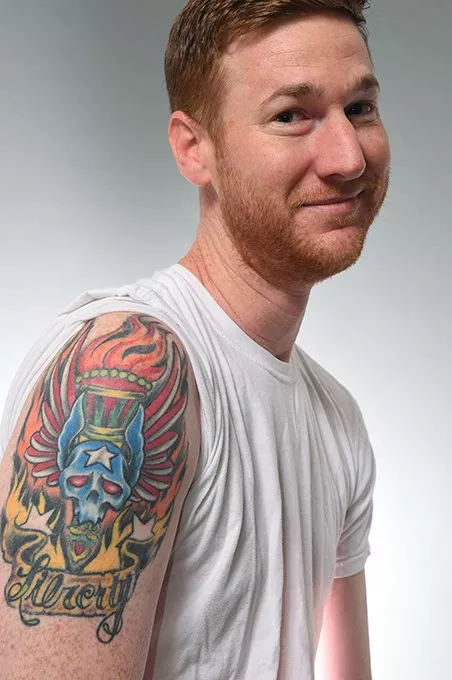 Mark Hancock
Comedian Spencer Hicks with his misspelled (then "fixed") tattoo.
"Libery," death
Comedian Spencer Hicks makes Oklahoma Gazette frequently for his standup routine (including a feature in last week's issue), but he's also in possession of a priceless tattoo story.
Whenever he visits a new state with his wife Carri, Hicks gets a new tattoo — like collecting snow globes, but with needles in his flesh.
On his shoulder is a cross from a stop in Texas. On the inside of his arm sits the word "Love" from a trip to Hawaii.
Coming back from exotic Montana, he had chosen an American skull with victory wings coming off its head.
But then he strayed from tradition. After winning a gift certificate to Lead Sled Devils Tattoo Shop in Oklahoma City, he decided to turn his winged skull into a sleeve tattoo replete with the word "Liberty" underneath.
"We took a break after he finished the outline, and I went to check it out in the bathroom mirror," Hicks said. "That's when I noticed he'd left the 't' out of 'Liberty.' I said, 'I hate to be a stickler, but...'"
The artist inserted the letter during the coloring process, but Hicks said it still looks wonky.
"It's on there for good," he said.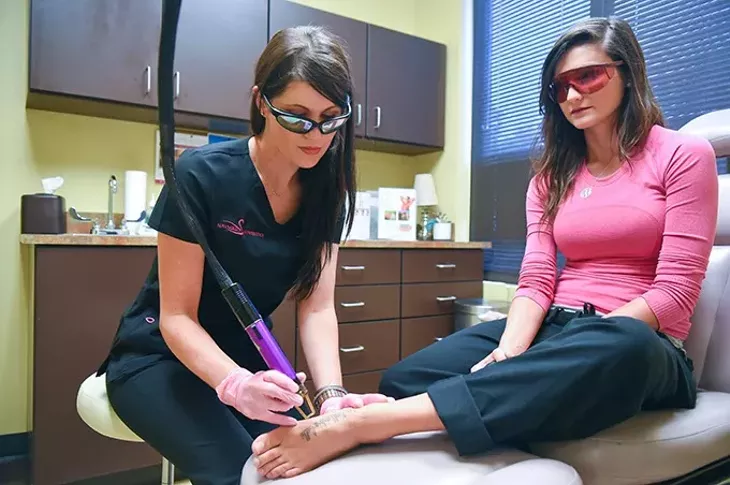 Mark Hancock
Lyric Mallow, an RN at Advanced Aesthetics, demonstrates how she uses a laser for the tattoo removal process with a fellow RN Amber Watson.
Permanent solution
Lyric Mallow, a nurse at Advanced Aesthetics, 14001 McAuley Blvd., Suite 150, said it doesn't have to be, though. Her job is tattoo removal, and business is booming.
Using an Alex TriVantage laser, she blasts tattoos off over an average of 10 sessions.
"Depending on the size of it, the treatments can go quite fast," she said. "If it's larger, we break it down into sections so we don't risk swelling around an extremity."
The top reason for removing a tattoo is to get rid of an ex, Mallow said, but they also do it for charitable reasons.
"We do free tattoo removal for victims of human trafficking. Those tattoos marked them as property," she said. "They're so grateful to have it gone. It's very rewarding to help them."
Those are her favorites to laser away, but coming in second are people who got tattooed as part of a bet.
"We also get a lot of lower back tattoos and neck tattoos," she said, "even more recently. You'd be amazed at the things we see. I thought I had seen some very interesting tattoos working in the operating room, but I was amazed to see some of these."
When it comes to getting inked, Mallow said people are endlessly inventive. Luckily, the pain of tattoo removal, while intense, doesn't last nearly as long.
"It's very painful, but it's fast," Mallow said. "Tattoos that take three hours to go on, we can knock it out in 5 minutes."
Some get lidocaine shots for the pain, and she said others bear down on little squeeze balls.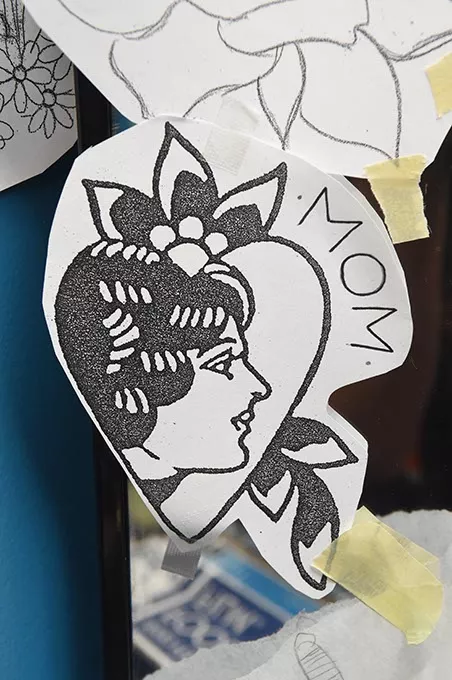 Mark Hancock
You can't go wrong with a "Mom" tattoo, right? Wrong. Experts recommend against name or relationship-based tats, for good reasons.
Joyful pain
Crain said he works hard with those who come into Think Ink to make sure they won't need Mallow's services.
"There's always a lot of counseling on a bigger project," he said. "I'm not going to tattoo 'Drake' on somebody's forehead. That's the responsibility of the artist."
It's actually illegal to get face or hand tattoos in Oklahoma, Crain said. But aside from breaking the law, he also advises against relationship tattoos.
"Someone's name is an age-old mistake," he said. "Don't just wing it. Do your research. I do a ton of research before I'll tattoo someone."
When giving someone a tattoo related to their religion, it's the details that make a big difference. By the time he has the needle in his hand, he often knows more about the person's religion than they do. But it's rewarding to give someone a tattoo they'll love forever.
"We had someone come from Australia. That says a lot," Crain said. "This woman was a tattooist who liked our work. She flew from Australia to San Francisco to Oklahoma. I tattooed the whole back of her calves, and after half a day of laying there in pain, she flew back to San Francisco and back to Australia."
Heinrichs said that even though she regrets her tattoos, she's considering getting another one.
"I would get another tattoo, which is hilarious," she said. "I've got a whole Pinterest board of tattoos. It's magical thinking, obviously."
Print headline: Semi-permanent, Nine years after tattooing became legal in Oklahoma, some are beginning to rethink their ink.