Illustration: Anna Shilling
Q: How do you tell if someone's vegan?
A: Oh, don't worry; they'll tell you.
Frankly, vegans get a bad rap. If you did something as difficult as cut all animal products out of your diet, you'd want to talk about it, too.
Do you think the fourth man to walk on the moon (astronaut Alan Bean) goes a single conversation without talking about space? You'd walk into every room yelling, "I'm one of only 12 people who ever walked on the moon!" and pointing at your T-shirt that says, "Please ask me about the moon."
And anyone who thinks going vegan is easy is someone who has never tried to be a vegan. Saying goodbye to products containing eggs, milk, gelatin or butter is difficult at best, but we should at least start by eating a vegetable.
Crappy meal
Oklahoma ranks 44th in the nation for vegetable consumption and 50th for fruit consumption.
2014 State of the State's Health Report is full of sobering statistics about how poor the average Oklahoman's diet is.
More than half the men in Oklahoma did not eat at least one vegetable a day.
Half of Oklahoma adults don't eat even one piece of fruit a day.
Forty percent or more of Oklahoma youth said they don't eat a fruit or a vegetable daily.
Oklahoma is the sixth most obese state in the nation.
Whatever issues one might have with veganism, those statistics are startling. Vegan personal chef Nicole Diaz said they're easy to fix. People are wary of the price of vegan diets and the ability of the food to satisfy them, but that's largely a perception problem.
"They think vegan food is only vegetables, but there's a whole slew of things you can eat that aren't vegetables," she said. "As a cook, my job is getting people to be open to new foods and make it approachable."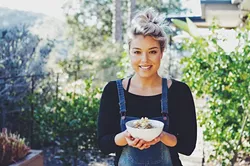 Copyright 2016. All rights reserved.
Processed with VSCOcam with f2 preset
Provided
Buffalo cauliflower wings, cashew ranch
Provided
Vanilla bean cheesecake with persimmon filling
Provided
Nacho salad
When she helps people interested in vegan eating get started, she focuses on what you can have versus what's off-limits.
"I make them pumpkin pie or burgers — anything they can relate to," she said. "But if you name some crazy foreign dish, they'll be too scared to try it."
Diaz said Oklahoma City is on the cusp of being ready for a change. Residents' poor health has moved from gene
rality into fact. As study after study ranks the state at or near the bottom, people realize things have to change.
"People are sick and tired, and they don't know why," she said. "They're questioning things."
But Diaz isn't a vegan evangelist. She's just hoping to move the needle a little farther into the green.
"Veganism isn't a quick fix," she said. "I want people to add things into their diets and see how they feel."
To run a marathon, one must train. Switching to an all-vegan diet is the same — you're not going to prepare for that marathon in one day. And when you slip up and eat some cheese or have a steak, Diaz said, that's okay.
"It really is about feeling better," she said.
Garett Fisbeck
Caren Yust
Gut feeling
Good luck being a vegan Thunder fan, said Oklahoma City nurse Caren Yust. Finding a bite to eat at sporting events is nearly impossible; Yust said venues rarely consider dietary restrictions. Still, it's easier now than when she started. At 22, Yust was driven by animal rights to give up meat and animal byproducts.
"I was living on french fries and bean burritos," she said. "As I got older, I realized you have to plan it out. You've always got to be a little more conscious of what you're eating."
And while she still believes in animal rights, the last 15 years also have shown her the health benefits to her lifestyle.
"Red meat is also linked to heart disease, cancer and diabetes," she said.
All are major threats to mortality.
In fact, obesity is a risk factor for all causes of death, according to the United States Centers for Disease Control and Prevention. And even if you're living, it's no fun. Obesity is associated with arthritis, trouble sleeping and mental illness.
Diaz said meat is also hard on the gut. Digestion isn't something most of us think about, but it's a difficult process made even more difficult by red meat.
For Diaz, the change in diet brought some welcome body changes. Her skin cleared up. Her brain is "not so foggy."
But getting away from meat, eggs and dairy isn't easy in a city whose history seems to be branded on the side of a cow.
Garett Fisbeck
Tra Coffey makes quinoa tacos at Picasso Cafe.
Garett Fisbeck
Picasso Cafe's quinoa tacos
Eating out
It's easy to be a vegan at home, Yust said, but going out is still a challenge.
"Most restaurants, all they have for you is a salad or something super-heavy, like pasta," she said. "It's hard to find a nice in-between meal."
Diaz said vegan culture in Oklahoma City is virtually nonexistent.
After the close of 105 Degrees/Matthew Kenney OKC/Tamazul, the strictly vegan restaurant disappeared from the city. Vegetarian mainstay The Red Cup has continued, though it's no longer open for dinner.
Food is an integral part of how we relate to one another, Diaz said. That's why restaurants serving food that appeals to everybody is so important.
At Picasso Cafe, 3009 Paseo St., chef Ryan Parrott came into a kitchen that was already well-established in the vegan and vegetarian world. The menu still has beef and chicken and cheese, but it has long featured dishes like quinoa tacos and chicken fried portobello as well.
"With the latest menu change, we put a lot more focus on it," he said. "There's always been a vegetarian section, but now the vegetarian options outweigh the rest of the menu."
He said almost anything that's vegetarian can be made vegan.
Parrott is not a vegetarian, but that's what makes his meatless dishes so good — he concentrates on what's there rather than what isn't.
"I still approach it the same way. I cook food that I want to eat," he said. "Sometimes it's as easy as saying, 'If we take the meat out, it's still good.' Whether you're a vegetarian or a vegan or a meat eater, the food needs to be satisfying enough that you want more."
The restaurant also is fortunate because it built trust with that community.
"They know they can come here and we'll be cognizant of cross-contamination issues," Parrott said. "We're not going to cook your food right where we just finished a hamburger on the flat-top."
Maybe the best feature, he said, is it's a place where vegans don't have to worry that they won't find something to eat.
That's why Picasso is, by far, Yust's favorite restaurant.
"They have eight or nine vegan options every day," she said.
And her options always are expanding. More restaurants are making room for at least one or two entrees that cater to vegans. Guernsey Park and Panang 2 have Asian vegan options. Smokey's BBQ has vegetarian sides. And Yust said West's vegan nachos with red peppers and black beans are great comfort food.
Better still, as OKC chefs grow more comfortable cooking vegan foods, it's becoming easier to make special requests.
The cost
Good meat isn't cheap, but neither are good vegetables.
"If you go into an organic plant-based diet, it's more expensive," Diaz said. "Organic produce is how it should be, not sprayed with pesticides."
It's hard to convince people to buy more expensive apples over a bag of chips, but it's a cost savings in the long run.
"You actually eat less because the foods are more nutrient-dense," Diaz said. "A bowl of kale will fill you up."
And if that doesn't sound satisfying, she said people should remember all the heavier foods that are vegan: grains, beans, brown rice, tofu.
Seasoning and cooking them correctly is the true art of the vegan diet, but with the right spices, almost anything tastes good. The more restaurants that embrace that kind of food, the more people will eat it and the less expensive it's going to be over time.
Parrott said that's the fun of Picasso's monthly vegetarian dinners — finding ways to transform the ingredients.
"It's the third Tuesday of every month, and we have several vegans come in," he said. "There's a different theme every month. Sometimes it's a cuisine. This month, it's Hungarian food. In March, we're going to do 'Oscar-nominated' food."
That's how you can tell if someone is a vegan at Picasso Cafe — look for the person with the big smile on his face.
Print headline: Giving up; It's not easy being green in a red meat state, but it's not as hard as it used to be.