Three and a half years ago, in a much different time, the Federal Communications Commission (FCC) issued a public notice for a new regulation, one that was designed to maintain an even playing field for ownership of local television stations. The rule was in response to "an increasing number of proposed broadcast television transactions involving both agreements to share facilities, employees and/or services."
Concerned that media corporations were engaging in anti-competitive practices at the local level, the FCC stated in the notice that whenever a company tried to accumulate multiple stations in any given market and consolidate their operations, it would "closely scrutinize any application that proposes that two (or more) stations in the same market" would share facilities and employees or use its marketplace power to sell joint advertising.
This was a pro-consumer ruling by the FCC that also received strenuous objections from media conglomerates, which saw the regulation as a barrier to increased growth. It was also unpopular with one of its commissioners. Ajit Pai, a conservative commissioner with strong pro-business, deregulatory views, was outspoken about his opposition to the rule.
According to The New York Times, Pai met with David Smith, chairman of Sinclair Broadcast Group Inc., on the eve of President Donald Trump's inauguration, just days before Pai became the new FCC chair. Two weeks later, Pai rescinded the rule, and three months later, on May 8, Sinclair announced plans to purchase Tribune Media Co. The sale of Tribune's 42 local stations in 33 markets is expected to go through by the end of 2017, pending approval by Tribune stockholders, the FCC and the antitrust wing of the Department of Justice (DoJ).
While this feels like yet another tale of D.C-based palace intrigue far removed from the television studios on the east side of Oklahoma City's Broadway Extension, it hits close to home. Oklahoma City could soon find out what it's like when one company owns half the TV stations in town.
Federal Communications Commission / provided
Federal Communications Commission Chairman Ajit Pai rolled back regulations on television station ownership.
Potential shakeup
As the homepage launches for Baltimore, Maryland-based Sinclair Broadcast Group, a graphic illustrating the company's foothold in the country's broadcasting market ticks up to the number 173. The company currently owns or operates 173 television stations across 81 markets, almost three times the number it had in 2010.
Should Sinclair's $3.9 billion bid to buy Tribune Media Co. win the approval of the FCC, Tribune stockholders and the DoJ, the television empire would gain two stations in the 41st largest TV market, Oklahoma City.
In 1998, Sinclair bought Oklahoma City's Fox affiliate, KOKH-TV Channel 25 — two years after it purchased its WB (now CW) station, KOCB-TV Channel 34. If the Tribune deal goes through, Sinclair would acquire NBC affiliate KFOR-TV, "Oklahoma's News 4," which recently completed an extensive rebuild of its studio and weather center, as well as its sister station, KAUT-TV, "Freedom 43."
Plenty of questions have surfaced on both a national and local level since the Sinclair-Tribune deal became public. Opponents believe the deal could hurt media competition and consumers. Specifically, the expansion of Sinclair has led to speculation that the company could consolidate newsrooms in markets with more than one station. Consolidation often results in less local news coverage. Additionally, Sinclair could gain advantages over its competitors by owning more stations in a single market. Advertisers could get airtime on KOKH and KFOR as well as Freedom 43 and CW 34 with a single ad purchase.
Across the country, local television news is big business, as the public has an appetite for local news, weather, sports and entertainment programing.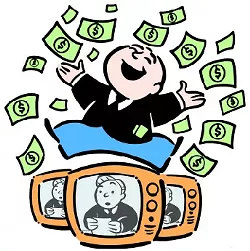 "The majority of news viewing is local news," David Griffin, president of Griffin Communications, told Oklahoma Gazette. "Fox News, which is the No. 1 cable news channel, doesn't even come close to the local broadcast stations, even the No. 4 local broadcast station. People realize we cover their communities. People want to be involved in their communities. They want to know what the weather will be and with OU playing Ohio State this weekend — they want to know what's going to happen. It is relevant, local content. "
Griffin Communications, which owns Oklahoma City's CBS affiliate KWTV Channel 9 and KOTV Channel 6 in Tulsa, is among a few privately held media companies in the country. Oklahoma City's television media landscape is also home to ABC affiliate KOCO, which is under the ownership of New York-based Hearst.
The Sinclair-Tribune deal also raises the question on local television ownership rules, which limit station owners from owning more than one of the top four television licenses in a market.
"The question is, will Sinclair, if the purchase goes through, find a way or be allowed to keep two of the big four networks," Griffin said. "If they can find a way around it or get approval to own an NBC and a Fox, they will obviously be merging the two stations together and running them basically as one station or one group of people running two different networks."
Under a filing to the FCC, Sinclair officials acknowledged they might need to divest in 10 markets where Sinclair and Tribune both own local TV stations. Oklahoma City is one of the markets the company might be forced to sell to comply with FCC rules. Earlier this year, FCC's Pai also reinstated the UHF discount to allow broadcasters to discount by 50 percent the reach of local stations that use ultra-high-frequency (UHF) TV signals — basically, any broadcast station using channel 14 or higher.
Sinclair consistently dismisses opponents' concerns. The company said in a media statement that the "proposed merger will advance the public interest by helping shore up an industry buffeted by well-known economic challenges." Sinclair said it would invest in local news, sports and entertainment programming and increase viewers' access to reports from the U.S. Capitol through its Connect to Congress segments.
A company spokesperson did not return Oklahoma Gazette's request for comment.
At News 9, Griffin and his staff are mostly unfazed by the potential Sinclair-Tribune merger. No matter the outcome, the station remains the only locally owned and operated station. Griffin said that is an advantage is a highly competitive market.
"Our strategy is to serve Oklahoma, and that's it," Griffin said. "All of our competitors are big national companies. At the end of the day, they just don't really care about Oklahoma, except for how much money is being made here."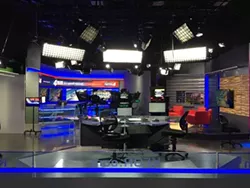 Local focus?
As part of its on-air programming, Sinclair produces content such as its Terrorism Alert Desk, a segment focusing on terrorism throughout the world, and Bottom Line with Boris, a commentary featuring former Trump campaign spokesperson Boris Epshteyn, who left his White House position as assistant communications director in March to become Sinclair's chief political analyst. These national conservative-leaning packages are considered "must-run" features; Sinclair requires its local stations to run the segments within 24 to 48 hours. Each of Epshteyn's segments lasts two minutes, or the amount of time that would otherwise be given to one or two local stories.
So what happens when a long-trusted local news station can no longer be counted on as purely local? That's a question viewers across the country will have to answer for themselves if the Sinclair merger gets approved.
Yosef Getachew is one of the people actively resisting the transaction. Getachew is a policy fellow at Public Knowledge, a nonprofit consumer advocacy organization that focuses on open and affordable access to all communications technologies.
Public Knowledge is petitioning the FCC to deny Sinclair's merger with Tribune. The organization is concerned about the potential merger for a number of reasons, including what it fears would be the company's excessive hold on local news markets across the country and correlated concerns about the effect it would have on the price of cable subscriptions.
Getachew said Sinclair's "must-run" national programming packages dilute the primarily local focus most broadcast stations currently hold. At a time when changes in the print journalism industry are straining hyper-local coverage of school board and city council meetings, broadcast news is left with an even larger role as public watchdog.
"Now more than ever, consumers really rely on local broadcast stations to get news — whether it's local news, politics, sports or weather," he said. "They're really tailored to the needs of that community and what they need to have a well-informed community."
Getachew said by requiring national news packages to receive airtime on these local stations, Sinclair has the leverage to push aside local viewpoints, which might not be in the best interest of maintaining a locally informed viewership.
Others argue that all news carries an inherent slant. Columnist Kyle Smith wrote in a National Review piece responding to a Sinclair-themed segment on HBO series Last Week Tonight with John Oliver that "the left still owns and operates Hollywood, ABC, NBC, CBS, PBS, CNN, MSNBC, nearly every major newspaper and virtually every glossy magazine from Time to Teen Vogue." Sinclair, he argues, is part of the right's reaction to the existing news landscape.
Getachew said that local broadcasters should be held to a different standard than national bodies that do not have a bind to any one particular constituency.
"This is a local issue," he said, "and those local stations should be focused on what the community needs."
The average news viewer might not know much about who owns their local news station, but Getachew said viewers are sure to notice a difference in the tone and content of news broadcasts after Sinclair takes over.
Added national perspectives and commentaries could also taint viewers' perceptions of a station's existing local coverage to a degree. Getachew encourages those who disagree with the merger to leave comments on the Sinclair and Tribune merger docket, which can be found on fcc.gov, and contact their local and national legislators.
"I think a lot of people will notice these must-carry segments that are being run and wonder why their local broadcaster is talking about this national issue that they've never talked about before or giving me this strong viewpoint that he or she has never given before," he said.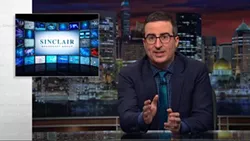 Anatomy of a takeover
Seattle has become a flashpoint in the discourse over the proposed Sinclair acquisition of Tribune, which would add the city's second-largest station, Fox affiliate KCPQ-TV, in addition to the city's most-watched channel, ABC affiliate KOMO-TV, which Sinclair purchased in 2013.
Sinclair's involvement in Seattle has become the subject of pieces on the aforementioned Last Week Tonight with John Oliver and The New York Times, the latter of which cited multiple KOMO employees who said they enacted their own form of rebellion against their parent company by airing the "must-run" segments at times with low viewership or leading into an advertisement.
The proposed Sinclair takeover has an impact on the workforce producing new content and the affected stations' advertising clout.
"One owner with four stations might be able to drive a bargain; advertise on all four with one rate and it becomes something that resembles a one-stop shop," said Patrick Meirick, director of University of Oklahoma's Political Communication Center. "You might encounter increasing sharing and less original content being developed, which would mean less overall public service to the market."
The Seattle Times reports that KOMO laid off nearly 20 employees after Sinclair's purchase in 2013. In January of this year, KOMO eliminated its investigative team.
KOMO photographers are union-represented and have yet to sign a contract in the four years since Sinclair took over the station, according to Crosscut, a nonprofit media organization based in Seattle.
Crosscut reports that Sinclair offered its photographers a 1.5 percent raise while competing stations in the area gave photographers a 2 percent raise. The dynamic of union and non-union photographers comes into question with pending acquisition of KCPQ, which staffs non-union employees.
It remains unclear if Sinclair will try to bust the union by only retaining non-union photographers or if they will work together.
"The concentration of media under a handful of owners allows stations to save money by pooling resources," said Tyler Johnson, an associate political science professor at the University of Oklahoma.
Johnson said Sinclair's consolidation allows stations to cut back on local news, like Seattle's loss of an investigative team, which goes against the local news trend of leaving national and international stories to cable and national nightly broadcasts.
"It will be fascinating to see if their formula changes, if longtime viewers are repelled from (a more national format) or if competing stations try to leverage this takeover in terms of attracting viewers," Johnson said. "There is a claim to be made that 'we're more local than someone else.'"
Conservative media outlets have downplayed the Tribune acquisition. A column on National Review said that Sinclair's reach, which would top 2.2 million viewers, wasn't a lot because it's less than 1 percent of the population of the United States.
However, national midterm elections average about 30 million people for turnout, and Johnson said there is a positive correlation between media consumption and voter participation.
"It is a counter-narrative to the conservative viewpoint that the media are the liberal media because Sinclair is not," Meirick said. "For that matter, when conservatives are talking about crooked media, they're talking about MSNBC and New York Times — national organizations — and not talking about who gives them their sports and weather at night."
Both Johnson and Meirick said that local television news consumption is higher among viewers over the age of 50, which also have the highest turnout at the voting booth.
"The potential implication in the concentration of ownership and the diversity of voices further declining is potentially quite problematic," Meirick said. "If you combine that with Sinclair demonstrating willingness to push a political viewpoint with its stations, it should raise some concerns."
Time will tell if these actions come to pass in Oklahoma City. But on Nov. 9, the day after Trump's election victory, Sinclair chairman David Smith expressed his hopes at an investors' meeting. As reported by TheStreet.com, Smith said Trump's win presented a "really serious opportunity to seek complete deregulation in the broadcast industry."
"If Donald Trump is as deregulatory as he suggests he is, to wipe away regulations, we're going to be the first industry in line to say, 'We are the most over-regulated industry that exists in the United States,'" he said.
Within a few weeks, it was a lot less regulated.
Print headline: Cornering the market, If Sinclair Broadcast Group's planned purchase of Tribune Media goes through, it will own half the commercial television stations in OKC.