Photo by Mark Hancock / Design by Christopher Street
---
Editor's note:
Tyson Meade
, a longtime local musician and Oklahoma's "godfather of alternative rock" recently spoke to many of his friends — also fellow musicians — about their favorite moments, music and feats of 2014.
Meade also shares his "love letter" to this exceptional year, which covers his whirlwind re-entry into the local music scene after a stint in China, the release of his long-awaited solo album Tomorrow in Progress and his admiration for, well, almost everything (except Toledo). — Jennifer Chancellor, editor-in-chief
---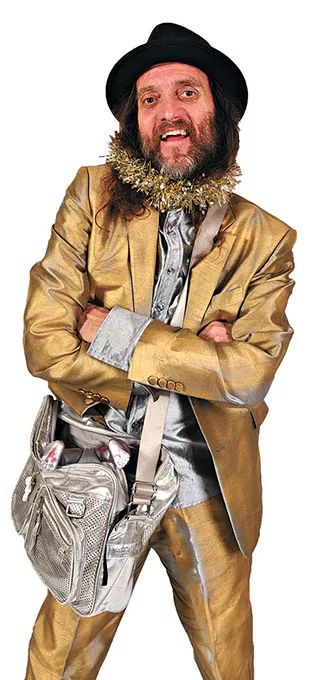 Mark Hancock
Tyson Meade
Good tidings!
Sometimes, life is great.
My year started with me fronting a live Stardeath and White Dwarfs performance of David Bowie's The Rise and Fall of Ziggy Stardust and the Spiders from Mars. This year ends with me doing a Q&A with some of my favorite Oklahoma musicians.
The 12 months in between these two events was magnificent.
In no particular order, I played with an idol from my youth, put out my first record in 10 years, made a few videos and spent a month or two on the beach in San Diego. Most importantly, I connected with a whole lot of great, up-and-coming musicians in a state that I am proud to be from and to call my home: Oklahoma.
Yes, life can be great, and surprisingly surprising.
I'll tell you about why I love the artists in a bit. First, let me explain why my return to Oklahoma after years abroad in Saudi Arabia and China actually catapulted me into new and unexpected places, thanks to a community of artists here that are overwhelmingly supportive of each other. (Beware! There are a lot of pop culture references and dropped names ahead.)
Rock 'n' roll past
Anyone who has been around me for any length of time knows that Punk Priestess
Patti Smith
left an indelible impression on me as a youngster. Although I love her debut album
Horses
,
Easter
is my go-to album. On that album, she fired on all cylinders and, at the same time, went against the grain of the '70s rock establishment:
Styx
,
Doobie Brothers
,
Steve Miller Band
,
Eagles
, the list goes on. She and
Ted Nugent
sparred frequently. Nugent referred to her as the Sperm Queen. She retaliated by plastering his limousine in Patti Smith stickers.
While recording Easter, Richard Sohl, who played with the Patti Smith Group on Horses and Radio Ethiopia, became ill. Thus, Smith needed a keyboardist. Bruce Brody, John Cale's keyboardist, stepped in. With that, his sound became synonymous with the sound of that record, particularly on such standout tracks as "Til Victory," "Privilege (Set me Free)," and, of course, the Bruce Springsteen-penned "Because the Night."
During my tenure with alt-rock band Chainsaw Kittens, Bruce came to a show and we discussed working together in the future. That point came in late spring 2014, on the cusp of releasing Tomorrow in Progress, my first album in 10 years. (Although, my album Kitchens and Bathrooms was released on iTunes in 2008, it first dropped on CD in 2004.)
While Bruce backed me during a webcast in New York City, I felt Patti's spirit enter the room. Oh, I know she's not dead. She is very much alive, drifting through Jean Luc Godard films and being her Punk Priestess self.
During that time with Bruce, however, I chided him for his Patti stories. Looking back, it was like when Eric Clapton or Mick Jagger met Muddy Waters or Howling Wolf; Brody was the equivalent of my old bluesman. I asked about vocalist Nico (vocalist for The Velvet Underground, solo musician, model, composer and Andy Warhol muse), who was in the last few years of her life when he met her. He just shook his head at the wreckage the hard living had done to her once-beautiful body, a body about which both Bob Dylan and Jackson Browne wrote songs.
During the Patti Smith Group's tour of Europe, Bruce said that Patti bought Nico a harmonium because Nico pawned hers.
Time travel
While in New York, I walked along First Avenue with my friend Ray, a former music editor for
Interview
Magazine
. Someone behind me said, "Tyson Meade?
Chainsaw Kittens?
"
There stood my friend, Counting Crows' guitarist David Immerglück, whom I hadn't seen in over a decade. In fact, the last time I saw Immy (his name to his friends) was when I vomited and passed out (in my vomit) on his tour bus.
I have gotten sober since then.
Anyway, there stood my often-thought-about rock 'n' roll compadre, quizzically staring at me.
"The last I heard, you interviewed Dolly Parton for some magazine," he said.
"Yeah, that was, like, 14 years ago," I replied. "For Interview Magazine. This is Ray Rogers, the music editor. He assigned it."
Small world, right?
"Ray Rogers?"
Immy scratched his head and then turned to Ray.
"You're friends with my friend Mary Ellen. Tyson, you need to have Mary Ellen shoot you," Immy said.
Ray frequently talks about Mary Ellen Matthews. She is the official photographer for Saturday Night Live.
"Let's make that happen," I said. "We'll call each other's people."
We all laughed. And, no, I didn't end up doing a photo shoot with her.
Immy asked where I'm living these days.
"I bought a house across the street from Wayne Coyne in Oklahoma City," I said.
"Really? We're playing in Oklahoma this summer," he said.
Indeed, I saw a couple of Counting Crows concerts in Oklahoma this year, too. After one of these shows, Immy taught me how to properly play blackjack. (If I hadn't lost all of my friend Makala's money, I would have won.)
Godfather of Alt Rock
Regarding my album, I was thrilled by a warm Oklahoma reception from print media and radio. I listened in near-disbelief as
KOSU
/
TheSpyFM
played my new record in its entirety. It also kept several songs in heavy rotation.
This year, Spin proclaimed me the Godfather of Alternative Rock. Perhaps now I need a jumpsuit like James Brown's. (Let me know if anyone finds one at a local thrift store.) The A.V. Club, the totally legit entertainment hub for The Onion, previewed my video "Nihilists Need Love Too," a video imagined by Kentucky-based film and performance art group The Play Babies, who I met on Instagram. In possibly an artist's highest praise, The A.V. Club summarized it as "chock full of cross-dressing actors, awkward dancing and various John Waters-ian methods of performance art. It's one of those clips that has to be seen to really be believed."
Let's backtrack a bit. Before all that, during the harsh February, I escaped the Oklahoma cold and I put the final touches on my record in Los Angeles with Kerry Brown (producer for Smashing Pumpkins and Courtney Love) at the helm. Kerry had just put the finishing touches on another friend's record — a New Orleans hotel and bar owner named Greg Dulli, who has a band called The Afghan Whigs.
Kerry and I are old friends who rekindled our friendship when I lived in China. He and his wife, Stacey Sher, produced a Steven Soderbergh film, Contagion, there. Our friendship began in the dawn of the '90s when Kerry was married to Smashing Pumpkins bassist D'arcy Wretzky.
The house they rented while their home was being renovated was rented to them by their friends on the production team of The Matrix. Katy Perry lived next door as a kid. It was bathed in Hollywood glamour, a mission-style casa with guest quarters, a pool and a small lemon orchard. One day, while Kerry was painstakingly mixing my song "Buddy Dash," his 10-year-old daughter Maggie and I picked lemons and made lemonade while an ice storm hit Oklahoma.
Kerry is a magical person. I never know who I'm going to meet when I'm with him. Forest Whitaker greeted me at Kerry's home when I went there this summer so Kerry could direct the "Buddy Dash" video. Kerry was producing songs for Forest's daughter. I told Forest that I loved Last King of Scotland but that I really loved him in Fast Times at Ridgemont High. He told me that movie made a lot of people stars and then gave me a hug in appreciation. He's a big guy.
During this same visit, Kerry introduced me to Roger Rabbit, or rather the man behind the voice, Charles Fleischer. He starred in my video, and we became immediate friends. He's one of the brainiest people I've ever met, a mathematician actor who gives TED talks. He even discovered a shape. Who discovers shapes? Charles Fleischer; that's who.
His birthday fell a few days after the video shoot, so I took him out to dinner. I'm surprised we weren't thrown out of the restaurant, especially since Charles went into his Roger Rabbit routine, which is brash and rude and hilarious, not to mention full of jive. I didn't know whether to laugh or hide under the table.
All of this was glamorous and great, but really one of the favorite things about this last year was getting to know some of the up-and-coming local artists.
Next stop, Gazette Q&A.
---
Mark Hancock
From left, Clarissa "Cid" Castillo (in white shawl), "The Reverend" Justin Hogan (in knit beard) and Taylor "Shraz" Mercier (tan fedora) are Bowley having a ball at Oklahoma Gazette's most recent cover shoot.
Bowlsey
Folk-infused hip-hop, neo-soul and chillpop from Cidward St. Cler, Shraz, Rev. Hogon and Donald Eisenberg
How we met: Adam & Kizzie and Bowlsey I had not met until I approached both acts about contributing to this Q&A. Nevertheless, tongues are wagging about both. The Oklahoma Gazette photo shoot for this piece brought us face-to-face for the first time, and I am excited to get to know them and to be a part of their orbits. Thus, I'll start the Q&A with them. — Tyson Meade
What was your funniest or most absurd moment? The most absurd moment was when we played a house show somewhere in the Shawnee of Houston-ish, Texas, in which we saw some "Bro, what up my n***a?" white kids pull out a military, blacked-out, pump-action shotgun. We were like "Oh hell no" but were assured [when] they put it in their trunk. Then someone asked "Yo, where the heroin at?" like that's how people talk about it around there. After we played, a guy heavily under the influence of some form of opiates gave me the coldest, wettest handshake of my life and I'm like, "I'm in Texas ... Ebola! Ebola!" So, I ran to the bathroom and washed my hands repeatedly. We all survived.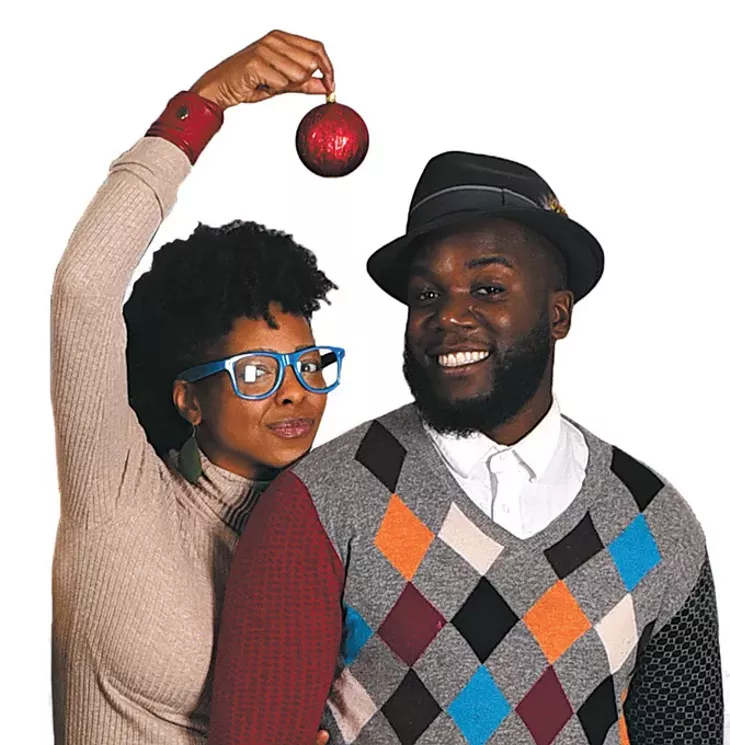 Mark Hancock
Adam and Kizzie
Adam & Kizzie
Urban soul, rap and pop from Adam and Kizzie Ledbetter
What was the best moment for you this year? We were on tour in Texas in September, our first ever, and we watched our album reach No. 23 on the iTunes jazz charts from the road. That was an intense moment for us, for sure.
Did you have any time-travel moments in 2014? We got our van stuck in some mud in the middle of nowhere in Illinois just last month and, I swear, we were on the set of The Color Purple. It was like the surface of the moon in the middle of monsoon season in the Deep South in a Ralph Ellison novel. All because Google Maps promised to save me 37 minutes! Do not trust robots!
Regg
Pop and rock from Troy Cheshier
How we met: I met Troy Cheshier a few years ago through Trent. At that time, Trent introduced him to me as a bass player. I had not heard his voice. [Flash] forward to this last spring, [and] I heard his voice for the first time when he came in to sing backing vocals on a song at Bell Labs. The strength, pitch and timbre of it is that of a great singer waiting to happen. I very much look forward to seeing what is in store for this 21-year-old. — TM
What was your funniest or most absurd moment? Hitting a turkey with my car on the way to my grandmother's house two days before Thanksgiving. (My car still has a fairly large dent on the hood.) It may have been a very small man with wings, but for the sake of the story, let's just say it was a turkey.
Did you have any time-travel moments in 2014? Time travel? Like Marty McFly? I've been wearing a jean jacket a lot, if that counts.
Matt Duckworth
The Flaming Lips, Stardeath and White Dwarfs, Brainwashwer
How we met: Grammy winner Trent Bell introduced me to Matt Duckworth when he played in The Neighborhood who opened for Chainsaw Kittens at the first Norman Music Festival. Actually, Trent introduced me to quite a few of the musicians that I know. When I needed a drummer to replace the drum machine on Tomorrow in Progress, Trent suggested Matt. I agreed. When he played my songs, I got chills. He also now drums for the Flaming Lips. With the trajectory his life has taken, I had to include him in this. — TM
What was your funniest or most absurd moment? Dressing up as Glenda the Good Witch on Jimmy Kimmel Live!
Did you have any time-travel moments in 2014? My friend Zac Cox's birthday literally disappeared somewhere over the Pacific on the way to China.
When do you think we'll finally get those long-awaited jetpacks? Have you guys heard of the MonoRover?! The future is now!
Trent Bell
Owner of Bell Labs Recording Studio, formerly of Chainsaw Kittens
How we met: I've known him decades. He's mentioned all through this piece. He's integral to the unity of our music community. — TM
Did you have any time-travel moments in 2014? Playing Chainsaw Kittens songs live for the first time in many years definitely takes me back a few years.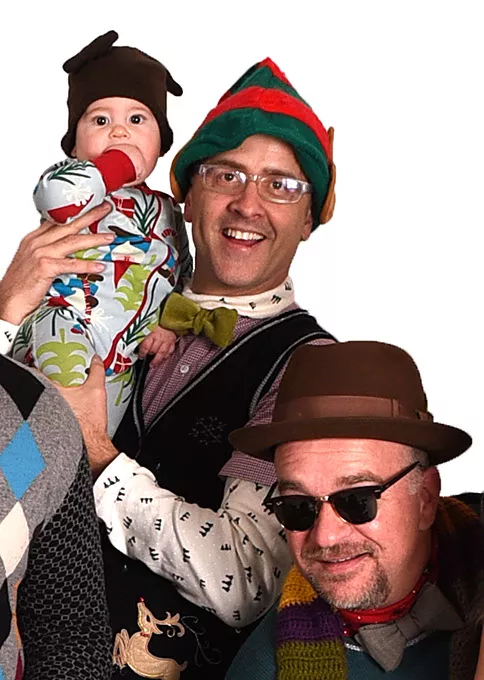 Mark Hancock
Sugar Free Allstars
Sugar Free Allstars
Grammy-winning children's music by vocalist-keyboardist Chris Wiser and drummer Rob Martin
How we met: I've known half of Grammy winners Sugar Free Allstars since the mid-'80s. Rob "Dr. Rock" Martin and I cut our teeth playing shows at the American Legion in Norman. The other half of this duo, Chris "Boom!" Wiser, I have not known that long. However, I do love their approach to making music for the pre-tween set. They are stars at libraries around the country. — TM
What was your funniest or most absurd moment? Showing up 12 hours late to an interview at The Spy. (Slight miscommunication.) Needless to say, I didn't make it on the radio.
Did you have any time-travel moments in 2014? Some college friends have been posting video footage of Dr. Rock and I in the Southwestern Oklahoma State University Jazz Band performing on the Butch and Ben McCain show [The McCain Brothers] circa 1989-ish, an instant time travel back to the days of mullets and tight-rolled jeans.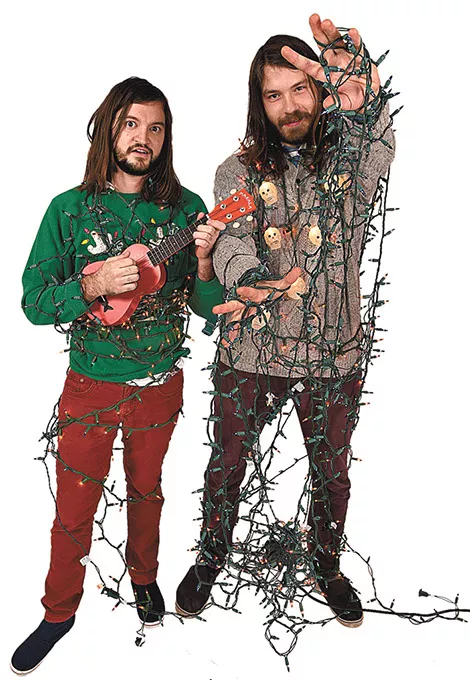 Mark Hancock
Tim Gregory and Eli Wimmer
Helen Kelter Skelter
Rock 'n' roll from Eli Wimmer, Cody Clifton, Nathan Harwell, Jay Jamison and Tim Gregory
How we met: Speaking of Trent, he's repeatedly mentioned his new favorite band. This piqued my interested because Trent records a plethora of bands at his Bell Labs Recording Studio. In March, I got to hear this mystery band when I DJ'd a St. Patrick's event at Opolis. That night, Helen Kelter Skelter was magical, with elements of everyone from Television to Nick Drake, UFO and early U2. Their audience was just as diverse. They also became part of my album release show, and then later, when Tim DeLaughter asked me to open for his band The Polyphonic Spree, I called on them to be my backing band. That night was a highlight of my 30-plus-year career. Thus, Helen Kelter Skelter had to be part of this Q&A as well. — TM
What was your funniest or most absurd moment? We had to make a pit stop in a small town in south Oklahoma to take refuge from the relentless August heat and lack of A/C in (guitarist) Tim's '77 VW Bus by way of a walk-in beer cooler at a gas station. No purchases were made; strictly chillin.'
What was your most embarrassing moment? After a show at Lola's in Fort Worth, a couple of us struck up conversation with a middle-aged guy, interested primarily in his much-younger lady friend, conversing mainly about ourselves and the set we just played. Shortly after, we found out said guy was the singer for Toadies. Oops! We gave him an EP.
What is your favorite album or albums of 2014? You can talk about why you like them if you want. Collectively, we've been diggin' new albums from Temples, King Gizzard & The Lizard Wizard, Liars, Perfume Genius, Alt-J and Primus, to name a few. As far as local acts, Gum's new record has been a huge hit within HKS. It delivers on so many fronts: incredible songwriting and lyrical content, impeccable quality, great tones and a ridiculous attention to detail. Great album. Great dudes. Tyson Meade's Tomorrow in Progress has been a staple this year, too. And, of course, Broncho's latest gem.
Did you have any time-travel moments in 2014? Any time we travel/tour in Tim's bus, we're taken back to the '70s, a time when the success rate of a seatbelt was questionable and air conditioning came via open window.
Mark Hancock
Peyton Bighorse and Kelly Mayo
Skating Polly
Ugly pop from Kelli Mayo and Peyton Bighorse
How we met: At the end of 2013, I met Peyton Bighorse and Kelli Mayo (Skating Polly) at a Womb party where naked women were splattered with paint. I met Peyton through drummer Kliph Scurlock. She was nice but somewhat shy. However, she told me that I should meet her stepsister Kelli. She was nice, too, but a bit shy. There were a lot of awkward silences during that first meeting.
This year, they played in my album release show. Their song "Alabama Movies" is my favorite song this year. We are now great friends — with no awkward silences. Peyton's mom even invited me to their house for a belated birthday dinner to mark my 52nd year.
How Kelli can write the way she writes as a 14-year-old is beyond me. Already, she writes hits. And though Peyton is older at 18, her writing is beyond her years as well. And I'm in good company. Viggo Mortensen, Exene Cervenka and Calvin Johnson of K Records are just a few of their fans. Henry Mortensen, son to Exene and Viggo, is shooting a Skating Polly documentary. Naturally, I wanted to include them in this Q&A. — TM
What was the best moment for you this year? I met Jeff Mangum at a Neutral Milk Hotel concert, and it was definitely the best moment of the year. I saw him and I immediately started crying. I could barely get anything out when I was talking to him, but I managed to tell him my name and my band name, and he said "Oh, cool. You guys are awesome." After that, talking was just impossible. — Peyton
What was your funniest or most absurd moment? On our last tour, the gearshift in our van stopped working, so we had to change gears by lifting up the hood and moving something around under it. You really don't realize how often you go in reverse until you have to get out of the car every time. And Henry filmed it anytime he could and made a montage video. — Peyton
What was your most embarrassing moment? I have a countless amount of embarrassing moments from this year. One memory that still stings me with humiliation is misusing the word "gaudy," thinking it was "goddy" and meant "godlike." Nope! The interview was on camera too, and it was for a super deep question. (facepalm) — Kelli
What is your favorite album or albums of 2014? You can talk about why you like them if you want. St. Vincent — St. Vincent When I first played this album (on my terrible laptop speakers), I wasn't that into it. The only song I really got into was "Digital Witness." Then I went to visit my friends ShiSho in Ohio and they were playing it a lot, and I realized how absolutely perfect this record is. St. Vincent is one of my favorite musicians, and I believe this is her best album yet. My favorites from it are "I Prefer Your Love," "Rattlesnake," "Prince Johnny" and, of course, "Digital Witness."
Tyson Meade — Tomorrow in Progress (Not too be a suck-up.) I fell in love with this record the second I clicked on the SoundCloud link. Once Tyson gave us the CD and vinyl, it was the only music our family listened to for months straight. This is one of my favorite albums that I've heard in a long time. I haven't grown tired of it, and every time I play one song off of it, I have to play the rest of the album. Each song is so great by itself, but as a whole the album, it just gives me chills.
Gruff Rhys — American Interior One of my favorite albums and movies of the year! Gruff is just absolutely brilliant. This album puts me in the best mood, a great blend of charming and catchy.
Perfume Genius — Too Bright I knew for a while that this album was going to be epic, ever since SXSW when they played "My Body." Then, a few weeks before releasing the album, they put out "Queen" and I was hooked. It's different then the other two Perfume Genius records, but it's just as awesome. Perfume Genius has put on some of the greatest shows in my life. I've seen them three times now. The first two concerts were seated and very intimate. No one made a peep. The third was after Too Bright came out, and they just completely kicked ass.
Deerhoof — La Isla Bonita They did it again. Is it possible for Deerhoof not to blow everyone's mind? This record is the type of record that makes you want to drop everything you're doing, turn your stereo all the way up and just melt into to the awesomeness that is Deerhoof (and maybe watch some of their hilarious promotional videos).
Courtney Barnett — A Sea of Split Peas This girl is seriously inspiring, a great role model for everyone, but especially young girls who make music! I love her deadpan vocals. She has clever lyrics and great melodies! — Kelli
What is Santa (or the devil or Cloris Leachman) bringing you for Christmas? Hopefully a tour van with the gearshift attached to the transmission! — Kelli
When do you think we'll finally get those long-awaited jetpacks? Wait. You didn't get yours yet? What the heck? I guess we really can't rely on UPS for anything. — Kelli
Provided
Samantha Crain
Samantha Crain
Singer-songwriter
How we met: Samantha Crain has made a global splash. I love reading about her in British magazines, hearing that she is playing festivals and clubs the world over. She loves Skating Polly as much as I do, and she was the only one who directly responded to the Cloris Leachman question. — TM
What was the best moment for you this year? My favorite moment this year was recording my new album with John Vanderslice and the Magik*Magik Orchestra, which I just finished. And when same-sex marriage became legal in Oklahoma.
What was your funniest or most absurd moment? The most absurd thing that happened this year happened in the wee morning hours of New Years Day, when I fell through Ben King's (of Broncho) porch and got my leg stuck between the wood planks.
What was your most embarrassing moment? I don't get embarrassed very often, but I did fall down a dark staircase at a Thai massage place in London and had to go in an ambulance to the hospital.
What is Santa (or the devil or Cloris Leachman) bringing you for Christmas? Santa is bringing me new socks, Satan is bringing me a chunk of ice from Antarctica and Cloris is bringing me a Smothers Brothers show box set on DVD.
Provided
John Calvin Abney
John Calvin Abney
Singer-songwriter
How we met: John Calvin Abney is the Billy Preston of our area. He plays with everyone but still has his own identity. Hear his latest work on Samantha Crain's new record, made in San Francisco with John Vanderslice (Tiny Telephone recording studio) at its helm. — TM
Where do you see yourself in 2015? I see myself on a highway, in a forest and somewhere calm in 2015.
Photo by Mark Hancock / Design by Christopher Street
Tyson Meade
After all that, I invited my friends — both new and old — to ask me anything. And they did, though I reminded them I would rather not talk about that time in Toledo.
Troy Cheshier: I know how much you travel, and I'm sure you consider yourself a transplant of sorts. That being said, what was your favorite destination in 2014, and what is your craziest travel story? Tyson Meade: By now, everyone knows about when I had to leave China within 24 hours, so I will tell a story involving the Middle East that actually didn't happen in 2014 but is crazy. When I was living in Saudi Arabia, a student and his father took me and two other teachers on a several-day trip through the desert, in which we would sometimes have to stop to let herds of camels cross the road. When we stopped at a hubble bubble (water pipe) rest stop in the mountains, a large pack of baboons came tearing through. They had no interest in us, but just to be safe, since we were out in the open, I was trying to figure out where I might go for safety. I was several feet from an outhouse. That would have been my stinky safe house.
Skating Polly: What is the true meaning of Xmas? TM: Giving of yourself to make someone's life a little better.
Skating Polly: What's the coolest Christmas present you've ever gotten? TM: My mom — who I miss every minute of every day — always made Christmas magical when I was a kid. That is the best Christmas present anyone could give anyone.
Skating Polly: What's the strangest Xmas you've ever had? TM: In Saudi Arabia, Christmas isn't recognized. We worked that day and then had a pointless seminar after work. Some of the cool teachers invited me to a potluck dinner that night. Hashish was smoked in a hubble bubble water pipe.
John Calvin Abney: Would you go to space tomorrow? TM: If I can listen to David Bowie's "V-2 Schneider" during takeoff, yes, I would.
Sugar Free Allstars: Tell us the most interesting time you acted and barked like a dog. TM: As I stated earlier, I would rather not talk about that time in Toledo.
Bowsley: You tryna smoke a bowlsey? TM: I don't know. What's he look like?
Looking back, I can't believe all of the great things that happened for my friends and me. There's no doubt this was a banner year. However, I predict that 2015 will be even better.