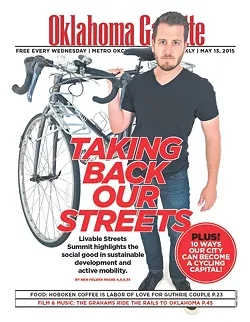 Jonathan Dodson's bike ride along Broadway Avenue was disrupted by the sound of hate.
"You goddamn n-----," Dodson recalled hearing before turning to see a white man yelling at a black pedestrian walking along the street.
After calling the police, Dodson met a woman who said she witnessed the incident, but she did not share Dodson's concern for the pedestrian. She said she was afraid for the driver's safety.
Dodson eventually found the man who was verbally assaulted.
"He was at peace. He was calm. It seemed as if this was not the first time for him," Dodson said. "I will never forget the moment, and it was not even me that was accosted or defamed."
One of Oklahoma City's central streets served as the stage for racism as Dodson also realized that the quest to build better streets for pedestrians and cyclists can not only be geared to the city's affluent majority.
Mark Hancock
OKC will create 62 miles of new bike lanes.
Getting real
"This week, where the theme is about bicycles and livable streets, [I want] us to set aside the notion of spandex, whistles and water bottles," said Dodson, an organizer behind this week's first Livable Streets Summit in Oklahoma City, which runs Thursday-Saturday. "A lot of times, cyclists are viewed as 30-something white guys, and I'm guilty as charged. But biking in our city has taught me a lot about my own whiteness and the insulators I have that do not allow me to experience solidarity with the poor and the marginalized."
Demographics on cyclists in Oklahoma City do not exist, but national studies indicate that many African-American and Hispanic cyclists who ride a bike to work do so out of necessity and they live in neighborhoods where pedestrian and cycling infrastructure is lacking, according to People for Bikes.
"As we share space, we realize the things that divide us racially and socially are really material conditions that lead us to dehumanize the other," Dodson said. "Biking and walking inherently humanize the transportation experience, leading us to humanize those we did not previously understand."
As city leaders discuss building more cycling infrastructure, such as bike lanes and bike repair stations, the geographic location for biking framework in America is often in more affluent neighborhoods, where cycling might be a choice rather than a necessity for getting to work.
"I don't really use the bike lanes [in downtown]," said Michael Ray, an African-American who was waiting for a bus with his bike at the downtown transit center. "In my [northeast OKC] neighborhood, I ride on the sidewalk or on the street … It would be nice to have the kind of bike lanes they have here in my own neighborhood."
The Community Cycling Center in Portland, Oregon, conducted a series of surveys in 2012 that found potential African-American cyclists expressed a fear that drivers would be hostile to them. The research showed that it is a fear that no other ethnic group expressed.
The same report also showed that many minority groups in Portland viewed bikes as a symbol of gentrification.
Understanding these perceptions is an important step in creating livable streets for all, said Jeff Risom of Danish firm Gehl Architects, who will talk about the relationship between social science and design during his keynote speech at the summit.
"We also have to think about ... the culture, about appealing to people's comfort, appealing to safety, appealing to understanding some of the barriers that keep people from getting on their bike and then addressing them," said Risom in a 2014 interview for the Emerging and Sustainable Cities Initiative. "It's actually a culture issue, it's a sociological one, it's one about decisions and behavior more than any type of engineering."
Mark Hancock
A man breezes through Mesta Park on Shartel Avenue recently.
Equity infrastructure
Surveys might show a cycling class divide in Portland, where 6.1 percent of commuters are cyclists, according to the Census Bureau's American Community Survey.
In OKC, only 0.2 percent of commuters are on a bike. While other cities might have a discrepancy between bike infrastructure between affluent and low-income neighborhoods, OKC lacks significant infrastructure in both.
Recent efforts by the city to expand the use of bike lanes seems to indicate an equitable distribution. Last year, the Oklahoma City Council approved a plan to build 62 miles of bike lanes that will be located in nearly every section of the city.
The highest concentration of new lanes will be in Midtown and downtown, which are affluent communities, but also in the central business district, a destination for many of the city's cycling commuters.
New bike lanes in the northeast and south — areas with high minority populations — could help improve many streets that the city rated as "extremely poor" bike routes in a 2008 study by the city, the most recent data available.
Another challenge for OKC is that the prominent African-American and Hispanic communities in the south and northeast are separated from the central business district by highways, railroads and the Oklahoma River.
"It's a pretty significant barrier," said Jessica Scott, who crosses railroad tracks and an interstate on her commute from Midtown to the Capitol complex.
It would be quicker for Scott to take 23rd Street from one side of Interstate 235 to the other, but that route is not bike friendly.
"I kind of meander my way through Heritage Hills and Mesta Park and cross (I-235) at 16th Street," Scott said. "I had to really make the conscious decision to want to ride to work and find the safest route to work."
Bottom line
Dodson said he hopes this week's conference is not just a get-together for the city's growing cycling community, but also an opportunity to explore ways to make local streets and public spaces truly livable for all people.
He also hopes the more inviting streets are, the more interaction the community will have with one another, especially those who might come from different sides of the track.
"If Gil Penalosa, who recently spoke at the University of Oklahoma's [Institute for Quality Communities] Conference, is right and 20 percent of OKC is public space and 70 percent to 90 percent of the public space is streets, we have to rethink the public realm and include streets as shared space," Dodson said.
Print headline: Robust roads, As roadways dominate more and more of our shared city space, the community and its developers must think about how to make them safe and friendly for everyone.