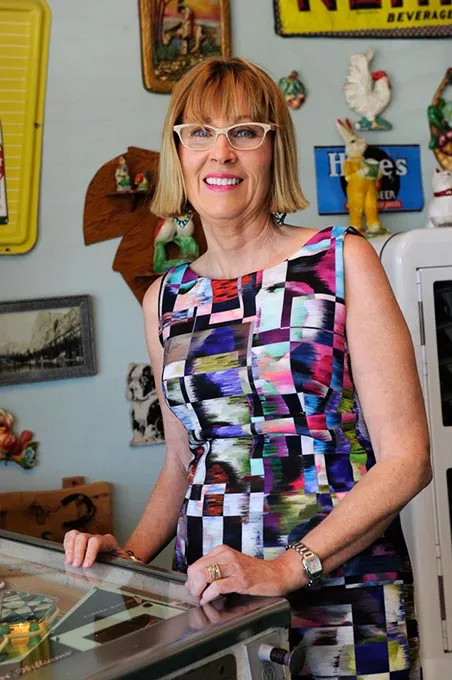 Garett Fisbeck
Leslie Blair poses for a photo at her business in Oklahoma City, Wednesday, June 10, 2015.
Ten years ago, Oklahoma voters approved a ban on gay marriage. Almost every year since, the state Legislature earns national media attention when it repeatedly proposes what many see as anti-LGBT legislation.
Last year, the confusion and pushback experienced throughout the state after the U.S. Supreme Court ordered same-sex marriage was legal exemplified the reason Oklahoma is often branded as a state with a reputation of intolerance.
However, local LGBT events and organizations, including the nonprofit group OKC Pride, which organizes OKC Pride Week each year, are finding increased support from the business community.
"You have seen growing support from the larger corporations like Pepsi and Anheuser-Busch for awhile," said Kindt Steven Myers, a Pride Week volunteer and local business owner. "It's a trickle-down effect from those larger corporations to the small businesses."
National support
National corporations like Anheuser-Busch, State Farm and AT&T are sponsors of OKC Pride Week.
"They realize all dollars are green," Myers said.
While some businesses might make a specific effort to support LGBT causes and events, most national companies view it as good business, especially as majority support for same-sex relationships continues to grow. Fifty-seven percent of Americans now support same-sex marriage, a 2015 Pew Research Center poll shows.
Myers, creative director and owner of Kindt Events, said the legalization of same-sex marriage in Oklahoma and growing public dialogue related to LGBT issues can also impact a business' customer base.
"There is a learning curve for business, and many are trying to adapt not just in [advertising] but also customer service," he said. "The wedding industry is not a bridal market anymore; it's a wedding market as you see same-sex couples planning weddings."
Similarly, flipping through the pages of OKC Pride Guide, a glossy, magazine-like publication highlighting this week's myriad pride events, one can't help but notice the healthy combination of local and national companies openly marketing their support of the LGBT community.
The Skirvin Hotel echoes OKC Pride Week's mantra: "Together, Equal, Proud." Scott Cleaners tells readers to "wear it with pride." The Oklahoma City Police Department seeks new recruits by stating that "serving a diverse community requires a diverse police department."
Leslie Blair is active in the Diversity Business Association, a local organization that seeks LGBT support from the business community. She's also a State Farm agent who supported Pride Week with a paid placement in OKC Pride's publication.
"It's important to support the cause," she said.
It's also good for her bottom line. Blair said she believes more businesses in Oklahoma City are willing to be openly supportive, or at least view the LGBT community as a market worth advertising to.
Employment discrimination
Growth in corporate support for LGBT issues in Oklahoma follows a nationwide trend, including traditionally conservative states. This year, Indiana's governor dropped a law that allowed retailers to refuse service to same-sex customers, and companies like GAP and Subaru threatened to pull their businesses from the state.
Oklahoma is an "at-will" employment state, meaning employees can be fired for any or no reason, but anti-discrimination laws prohibit terminations based on race, color, national origin, citizenship status, mental or physical disability, age (over 40), sex, genetic history or military service. Employees also can't be let go if they smoke or don't smoke or use tobacco off the clock.
However, it isn't illegal to terminate employment due to sexual orientation or gender identity.
Even so, LGBT civil rights advocacy group Equality Forum studies Fortune 500 companies to determine which ones include sexual orientation or gender identity discrimination prohibitions in their employment policies. A 2012 report shows 484 (96.8 percent) of that year's Fortune 500 companies had adopted such prohibitions, including Oklahoma firms Chesapeake Energy Corporation, Devon Energy and ONEOK.
In 2004, when the forum first starting tracking the data, only 323 (64.6 percent) had such rules.
"As is often the case, private employers adapt more quickly than state government when it comes to protecting employees," Troy Stevenson, executive director of Freedom Oklahoma, wrote in an Oklahoma Gazette guest commentary in February. "Being inclusive is good for business."
Myers said there is room for improvement.
"I have had shoppers who say they just don't want to be rejected again," he said. "My goal in producing the wedding show and as an event planner and wedding producer is to highlight the businesses that are supportive and want the business from the LGBT community."
OKC Pride Week runs through Sunday.
Print headline: Dignity dollars, More local and national businesses of all sizes support LGBT civil rights as they discover it also improves their bottom line.