Mark Hancock
TAXI light atop a Thunder Cab.
Jaffar Najam, the president of Thunder Cab in Oklahoma City, has no problem with Uber.
"I love it," Najam said of the rideshare company that has forced cities to review how they regulate taxicabs and this app-based ride service. "I just wish I was allowed to do what they are doing."
Najam said the presence of companies like Uber and Lyft have little impact on his business. Instead, he has grown frustrated that while he has to follow a long list of regulations, Uber and Lyft do not.
"I could operate like [Uber] tomorrow if I wanted," Najam said. "And it would reduce my costs by 36 to 40 percent."
Companies like Uber and Lyft operate mobile applications that allow riders to call a driver with the push of a button. The app collects payment for the ride through a pre-entered credit card, and Uber or Lyft pays the driver. However, the companies say they don't directly employ drivers or own the cars, excluding them from the normal insurance and permit requirements of taxis.
Taxicabs are required to carry higher levels of insurance, operate cars that are clearly marked and must give a 30-day notice before changing fares.
Christopher Street/Paul Fell
Going mobile
Like Najam, Pam Thompson of Yellow Cab in Oklahoma City said her company uses mobile apps that are similar to Uber and Lyft.
"This is a great service that these guys have," Thompson said. "And we had it first."
Uber and Lyft have operated in Oklahoma City since last October, and city government has spent the last 10 months drafting an ordinance that would require rideshare companies to meet certain regulations, such as conducting physicals and background checks on all drivers, obtaining a basic level of insurance and following nondiscrimination guidelines. The proposed ordinance, which city officials admit neither cab or rideshare companies completely like, is currently being considered by the Oklahoma City Council, and a final vote could come as early as next week.
"This is a new phenomenon," Ward 2 Councilman Ed Shadid said of the rideshare debate that is taking place in hundreds of cities around the world. "No two cities have done this the same."
Lyft drivers including James Keenean, center, and Meghan Clontz, pay attention during OKC Council meeting proceedings, 8-26-14. mh
Three options
The city council really has three options. It could require rideshare drivers to meet the same strict regulations of taxi drivers, force rideshare drivers to operate under some standards — as the ordinance before the council proposes — or do away with all regulations for taxi and rideshare drivers.
"Uber doesn't have to follow the rules, so let me not have to follow the rules," Najam said.
At least one or two members of the council seemed intrigued by the idea, but even in a conservative city where free market principals typically dominate, the idea of relaxing rules for taxis seemed too far-fetched for most.
Trent England with conservative think tank the Oklahoma Council of Public Affairs told the council during a meeting last week that it should leave things as they are and let the market decide.
"The most humble thing to do is to do nothing and see how this thing plays out," England said.
Ward 1 Councilman James Greiner said he was against increased regulation but felt doing nothing was not an option because Uber and Lyft currently operate in the city without regulations.
"The assumption that we shouldn't do anything is faulty because right now, we have an industry that is operating unregulated," he said. "At the very least, what we should do is get rid of all the regulations on the taxicabs."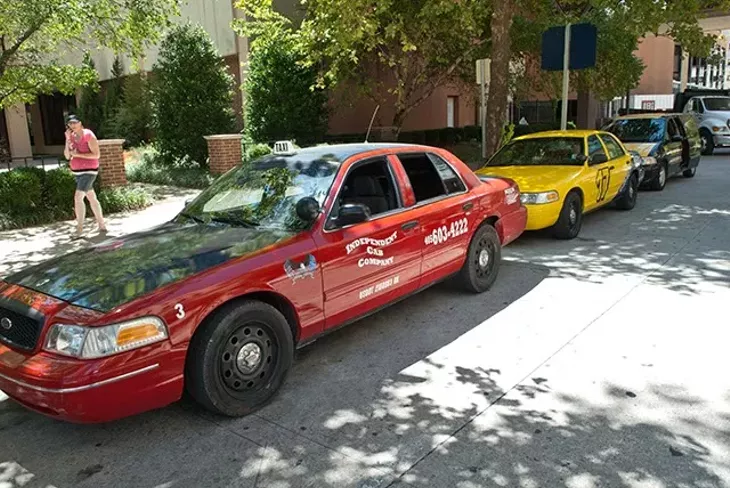 Mark Hancock
Cabs lined up waiting for rides along Main Street in Downtown OKC.
The rideshare fight
The rideshare issue is one the city has dealt with delicately; it has essentially left Uber and Lyft alone for the past year. However, Uber has said it has been unfairly targeted in cities across the country.
"There's choice words I've had at times for the taxi industry," Uber co-founder Travis Kalanick told Bloomberg Television in July. "In many ways, they don't provide choice for consumers, and they've often lobbied city governments to restrict choice and restrict supply and restrict convenience for people who live in those cities."
Uber has been the target of lawsuits in cities including Boston and San Francisco, and some cities have enforced their transportation ordinances by ticketing Uber and Lyft drivers. But that's not to say the rideshare companies are mom-and-pop operations getting pushed around.
Uber is valued between $10 and $17 billion, according to Bloomberg, and it has hired lobbyists across the country, including local firm Fried, Kilpatrick and Guinn (FKG) Consulting.
Some taxi operators say the city has created a mess by not enforcing the regulations already in place out of fear of a lawsuit or public relations battle.
"Uber might be a good idea, but you have to get approval first," Najam said. "The city won't do anything about this."
For taxicab operators, the issue is simple: City Hall has given Uber and Lyft a competitive advantage.
"The (insurance) policy limits should be the same," Collin Walke, an attorney representing a local limousine company, told the city council last week. "You are giving them a competitive advantage for no reason. It should be a level playing field."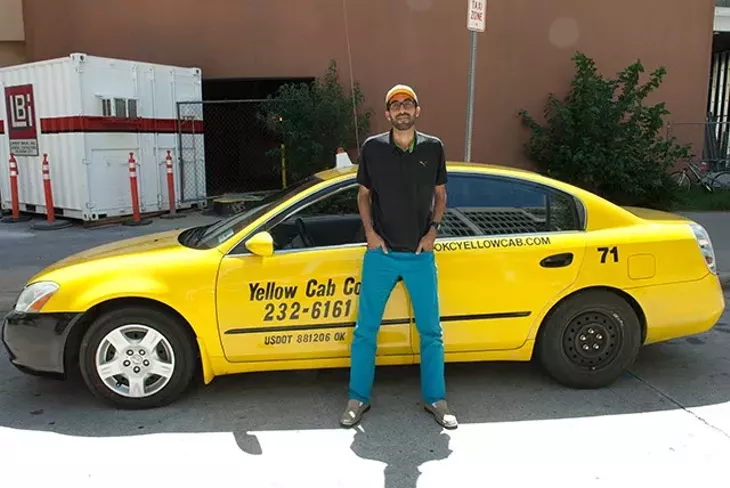 Mark Hancock
Yellow Cab driver, Abdul Nachi, poses in his waiting spot in downtown OKC.
Protecting riders
Taxi services say regulations are in place to protect riders, while Uber and Lyft say they are giving riders the service they want but can't find from traditional cab companies.
Part of the city's proposed ordinance would prevent Uber and Lyft drivers from passenger discrimination. While there have been no documented complaints by passengers, Ward 7 Councilman John Pettis Jr. worries that without regulations, an Uber driver might avoid certain Oklahoma City neighborhoods.
"What if someone who lives in a low-income area ... they are signed up for Uber, have the app, but no [drivers] want to go there?" Pettis asked. "To my understanding, taxicabs have to go, but Uber and Lyft don't have to go."
Taxi operators say there is no way to know if an Uber driver ignores a passenger request.
"How would we ever know that Uber or Lyft denied rides because of a person's location?" Walke asked. "They have a specific exemption that their documents and records only be produced due to court order."
The proposed ordinance would prevent rideshare drivers from not picking up a passenger due to race or gender. Shadid pointed out that sexual orientation was not included, and city staff said they would add it to the final ordinance presented next month.
At issue is also the level of insurance drivers are required to have and whether Uber or Lyft are responsible when there is an accident. In January, an Uber driver struck and killed six-year-old Sophia Liu in San Francisco when he was reported to be looking at his smartphone. The family has filed a lawsuit against Uber, but Uber says it is not responsible because the driver is not an employee and Uber does not own the car.
It's unlikely the city council can find a solution that both sides agree with, unless it chooses to allow taxicabs to operate without any regulations. Oklahoma City is far from the only city involved in this debate, as it has sparked lawsuits, elections and even riots around the world.
On Tuesday, the city council will have a chance to take a final vote on the proposed ordinance, finally offering a decision on a local debate that is nearly a year old.
Print headline: The race to ride: Uber and Lyft are in a heated debate with the city and local cab companies about proposed regulation that goes to a city council vote Tuesday.