In 2007, Amanda and Dylan Bradway were among the second wave of pioneers to own property in Plaza District. In those days, the neighborhood's Plaza District Festival was "very grassroots" and she remembers the eclectic and sometimes seemingly incongruous artists and entertainers featured.
"The festival was a smorgasbord of stuff," she said.
Since the event's launch in 1998, attendance rocketed from several hundred to over 5,000 just three years ago. In 2014, an estimated 18,000 visitors packed the corridor for the party.
Organizers expect around 30,000 guests at this year's Plaza District Festival, which runs noon-10 p.m. Saturday.
Its growth, as well as the district's, is by design.
Mark Hancock
Lindsay Zodrow
'Blank slate'
The Bradways opened DNA Galleries in 2008.
Theirs was not the first establishment to open in the newly renovated area, but it was the first to take advantage of mixed-use zoning that enabled the couple to create a living space in the back of the shop.
The couple moved to Plaza from The Paseo Arts District.
"We were in our mid-20s at the time," Amanda Bradway said. "We were looking to purchase a house and settle down. The mixed-zoning made it affordable, because we only had to [find] one place for work and home."
Dylan Bradway saw Plaza as a "blank slate," and the opportunity to help rediscover and re-establish the locale appealed to him.
"We could see it becoming an area of relationships between creative business owners and [a place] for the city and tourists to visit and enjoy," he said.
Before that, in 2008, Lindsay Zodrow, owner of Collected Thread, opened her shop. She also created a living space at the rear of her store. The zoning change attracted career-minded artists to the district, and was one of many changes that allowed a group of committed residents to repurpose an historic but neglected sector.
Zodrow and the Bradways are the type of people the Plaza District Association needs: young, creative and entrepreneurial.
Susan Hogan, the association's executive director from 2003-2008, said a diverse district best enables the area's long-term development.
In 1997, Plaza District did not resemble the upwardly mobile, eclectic community it is today. In the 1970s, as desegregation remapped metros across the nation, "white flight" also put many city neighborhoods onto a downward path of neglect, falling tax revenues and incomes.
The homeowners association of the Gatewood Historic District, adjacent to Plaza, took a leap toward revival in 1997 when it created a 501(c)3 nonprofit.
"We thought it was our neighborhood, and it could either go up or go down," Hogan said. "We agreed to do something about it."
Development ideas included transforming the area into a "campus corner" for Oklahoma City University (OCU), Hogan said. In fact, OCU Meinders School of Business eventually helped with revitalization efforts, although Plaza isn't exactly a student hub.
It became more. Today, nearly three-dozen eateries, galleries, retail shops, studios, theaters and other businesses fill the area along 16th Street between Classen Boulevard and Pennsylvania Avenue.
Mark Hancock
Susan Hogan
Mark Hancock / File
PhotoArt Studios
'Full circle'
From 1997-2006, several major changes laid the foundation for what Plaza is today.
During that time, Jeff Struble, owner of Struble Construction Inc., began purchasing structures along the corridor.
"The Strubles did a lot of the heavy lifting," Hogan said of Struble and his wife Aimee. "Those buildings … sat vacant for a long time, and there was so much cleaning to be done in those years. They cleaned the buildings out and got them ready for renovation."
Keith Rinearson, a commercial photographer, said he worked on a magazine story about a district street improvement project that started in 2002.
"I thought the neighborhood would begin to show growth as a result," he said. "Three years later, there was still no one new in the neighborhood. People just didn't see any investment money flowing into the district."
Rinearson and Kevin Creel bought the property at 1738 NW 16th St. and opened PhotoArt Studios. They said its distinctive red-and-blue sign became a "beacon of hope."
"There was no neon down there," Rinearson said. "We didn't need the neon, but we thought it might inspire people to invest in the area."
With help from Oklahoma City Councilwoman Ann Simank, Plaza Theatre, opened in 1935 and closed in 1979, was sold to Lyric Theatre of Oklahoma. Familiar with development happening around the country, she approached the Lyric board and convinced it that the purchase was a smart investment, Hogan said.
"We needed businesses and organizations with the financial wherewithal to renovate," Hogan said. "The Lyric was a definite turning point."
Similarly, a 2000 general bond issue brought about the streetscape project and provided $2.75 million to improve infrastructure and aesthetics, said Aimee Ahpeatone, who worked more than 10 years with the Plaza District Association.
The association also participated in a Main Street program, a national initiative to improve historic downtowns by teaching businesses and communities about revitalization practices.
"The program was really designed to help small towns, and Plaza was too urban for it to be very useful for us," Ahpeatone said.
It showed less impact than organizers hoped, but streetscape efforts were successful in drawing positive attention to the district.
The Bradways were early settlers in what became a land rush of tenants that went on to reshape Plaza into one of the city's most energetic neighborhood commercial districts.
"Artists are more accustomed to mixed-income districts than suburbs. They recognize the potential for inspiration in mixed areas," Hogan said. "We were looking for young artists and creative types when we brought Kristen Vails in."
In 2008, Vails became Plaza District Association's first full-time executive director. The Main Street initiative had just ended, and her role was to recruit even more young visionaries to the area.
"To do that, we had to convince the property owners to be even more patient," Hogan said. "They had already invested a great deal of … money — the kind you have to wait for years to see a return on — but they agreed."
Her first few years, she convinced property owners and association members to work together at a grassroots level, which ended up as one of the district's strengths. The unity served the area well and helped bring in two restaurants.
"Saints was first and that was important," Vails said. The Mule followed in 2012. "They gave us a second option in the neighborhood."
Amanda Bradway also remembers the additions as a big deal, especially The Mule.
"The concept was groundbreaking for Oklahoma City," she said. "They were always on a wait, and the overflow crowd would come see us or Lindsay [Zodrow]. You don't always need a shirt, but you always need food."
Businesses rushed into the area. Before Vails left her post earlier this year, however, she had another goal to reach.
"I saw a picture of the district from the 1930s, and there was an ice cream shop on the street," Vails said. "When Roxy's Ice Cream Social opened, it was … a sign that we had come full circle."
Mark Hancock
Roxy's Ice Cream Social
'Hard-working people'
The district no longer needs to wheedle prospects or reassure entrepreneurs, as growth has nearly filled the district.
"In the near future, the Plaza should be at full business capacity," Dylan Bradway said. "I like to think it will allow for new planning and developments to take place, which can help the district continue to move forward."
Cayla Lewis, previously the association's community relations coordinator, is now its executive director. She oversees growth, Live! on the Plaza events and the Plaza District Festival.
"As the district has grown so has the festival. Not everyone is coming just for the music or just for the children's activities," Lewis said. "It is a chance to come be with family and friends."
Altogether, Plaza District drew an estimated $15 million in investments from property and business owners, Lewis said. Most of the area's businesses are locally owned, and two more are expected to join the district by the end of this year.
Amanda Bradway said she is stunned by the growth. She feels that the district and DNA Galleries have bright futures ahead of them.
"Last year, I was finally able to walk the district during Live! [on the Plaza]," she said. "I'm usually behind the counter, but I had a chance to get out and see the Plaza during an event. I was amazed at the number of people."
Saturday's family-friendly festival features around 20 music and dance acts, including Tallows, Kierston White and the Dirty Dishes, Sardashhh, Gregory Jerome, Quil, Kyle Reid and The Low Swingin' Chariots, Gum and Lyric Academy. Close to three dozen artists and retailers join the mix in booths and shops throughout the district as studios host organized art exhibits.
District restaurants and bars will serve eats and drinks, as will food vendors such as Klemm's Smoke Haus, Taste of Soul Egg Roll and Bayside Coneys N Cones.
Also, children can participate in story time, beginner art classes, yoga and other activities.
Today's event isn't what Ahpeatone or the Bradways experienced when they arrived in the district. In those early days, Ahpeatone said it was a struggle to convince people it was safe to just walk down the street.
Hogan agreed, and expanded on her thought.
"One of the things that made Plaza great is that the property owners, residents and business owners have done something that is … rare in business," she said. "They worked together to make changes that benefited everyone and not just themselves. You almost never see that anymore."
Lewis also believes district members have grown into a family, exemplified in the ways they support and encourage each other, especially during festival season.
"There is [an] … aspect about this district that I have noticed here over other places," Lewis said. "I work with people who genuinely care about what they are doing and the products they are making — a lot of strong and hard-working people. It is inspiring every single day."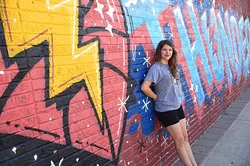 Mark Hancock
Cayla Lewis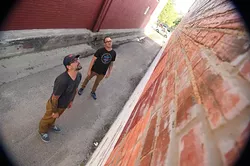 Mark Hancock
As part of their Plaza Walls project, artists Kris Kanaly (left) and Dylan Bradway survey the blank brick wall on the west side of the alley dividing Lyric Theatre and other Plaza District businesses.
Moving pictures
Kris Kanaly and Dylan Bradway started a Plaza District mural project based on simple principles: Public art is good for a neighborhood's morale and aesthetic. It's also good for business.
Kanaly, born and raised in Oklahoma City, spent much of the past decade traveling around the country. In cities like San Francisco and Baltimore, as well as along Route 66, he encountered what he called "permission-based mural areas."
"There are traveling street artists and muralists who like to take advantage of these areas to create public art," Kanaly said.
Saturday at Plaza District Festival, the pair will launch Plaza Walls, a rotating community art project.
Locations include seven "underutilized" spaces, Bradway said. "High profile" pieces will face Indiana Avenue and Lyric Theatre.
"Since we'll stack their work, we can probably get 12-20 artists' work there simultaneously," he said.
They will curate local and traveling muralists, as well as create works themselves. Pieces will be added and viewed, then removed and replaced with new pieces. The application process is easy: Email proposals to plazawalls@gmail.com.
People can follow the #PlazaWalls hashtag across social media platforms as the project develops, Kanaly said.
Added Bradway, "We don't have a line-up set yet. There will probably be a little bit of work done prior to Plaza Festival, but we're using that event as the kick-off point."
The two gained project approval through the city's Arts and Urban Design commissions, as well as Oklahoma City's Planning and Arts & Cultural Affairs departments, they said.
"Public art screams, 'Hey, look at this!'" Bradway said. "It says that creative energy is in this place, and it uplifts the district and the culture. That's very important as this city grows."
Print Headline: Family, extended, The Plaza District reaches its pinnacle at Saturday's festival as an expected 30,000 guests pack the arts and entertainment corridor.