Cover design: Christopher Street / Oklahoma Gazette
Elvis Howard can't remember the first time he walked into Love Link Ministries.
That doesn't matter now. He has found his lifesaver. Each month, Howard makes the more than 2-mile walk to the Love Link building at the corner of NW Fourth Street and Linwood Boulevard. It takes him time. Once there, he finds a seat with other clients in the waiting room. A verse from the Bible's book of Luke is painted on the wall: "For with God nothing shall be impossible."
"I leave with groceries and the Lord," he said. "I come when they tell me to come back."
Howard is matched with a volunteer and a shopping list for two. He lives with his nephew. Volunteers help guide him through the grocery store-style food pantry as he chooses between juice and milk and asks about kiwis, onions, potatoes and breads.
After selecting his frozen meats, Howard has enough groceries for the next 22 days. He then begins his trek home as he pushes a small grocery cart along Western Avenue.
Elvis lives in the 73106 ZIP code, one of 11 ZIP codes with the highest poverty rates in the state, according to an August U.S. Department of Health & Human Services report. At least 33 percent of residents in these areas live below the federal poverty level, earning $24,300 or less for a family of four. Seven of those 11 ZIP codes are in Oklahoma City.
Love Link Ministries, founded by OKC teenagers in 1991, moved into the 73106 ZIP code in 2012. Many food pantry visitors live nearby, but many travel from northeast OKC, another high poverty ZIP code.
As program director, Sarah Green knows many people who live at or below the poverty line. Many are destitute. Others find themselves at life's edge, facing unaffordable rent, ended marriages, ballooning health bills and lost hours at work. The list is neverending.
"I've heard people say poverty is relative, and I think that can be said about Oklahoma City," said Green, who has worked in the nonprofit sector since 2010. "People tend to think people in poverty are homeless, lazy and need to get a job. It's not the case."
Each month, Love Link Ministries provides 22-day grocery allotments to 350 local families. The aid frees the working poor's limited resources to help pay for rent, childcare, prescriptions, utilities, diapers, transportation and other necessary costs. For the elderly, it bridges gaps that social security and food stamps, now known as Supplemental Nutrition Assistance Program (SNAP), miss.
People visit Love Link's food pantry and thrift store because they truly need help.
What Green and others at Love Link Ministries see daily is not a mild or scattered phenomenon. In 2015, nearly one out of every six central Oklahomans earned less than the federal poverty rate before taxes. Specifically, 133,519 people in Oklahoma's Fifth Congressional District — which includes the majority of Oklahoma County and all of Seminole and Pottawatomie counties — lived in extreme poverty, according to the most recently available U.S. Census Bureau data.
Nationally, 14.7 percent of Americans earn income below the federal poverty level, Census data shows.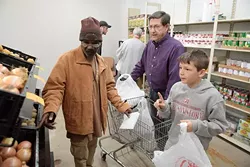 Garett Fisbeck
Elvis Howard shops for groceries with assistance from volunteers Les Wright and his grandson, Kaden Jacobs, 11, at Love Link Ministries.
Poverty cycles
"When we are talking poverty, we are talking about chaos," Adrienne Elder said as she sketched an equal sign in between the words "chaos" and "poverty."
Elder's page is filled with black ink illustrating the well-known concept of the "poverty cycle." She draws together poverty's perennial traits: lack of basic needs, child neglect, mental illness, poor school outcomes, substance abuse, teen pregnancy, incarceration and low-wage employment. Each element feeds off of and is fed by the others, and absent some interventions, the cycle never ends. In the middle of the page, Elder writes "Cycle of Chaos."
With a background tied closely to the nonprofit sector, Elder can speak at great length about the cycle in which poor families find themselves. As an example, Elder describes a family struggling to afford basic needs like food, shelter, clothing and health. As a result, children are malnourished and unhealthy and sometimes encounter neglect or abuse. As a result, those childhood traumas contribute to mental health issues and difficulties in school. From there, poor school outcomes can sweep youth toward substance abuse, risky behavior, dropping out of school, pregnancy, incarceration and fewer employment opportunities. The continuum is seemingly endless as impoverishment then passes to the next generation.
Earlier this year, Elder co-facilitated Oklahoma City's first class of Getting Ahead, part of the Bridge the Gap initiative. The 20-week program assisted parents tackling issues of poverty. Offered by nonprofit ReMerge, the program provides participants a solution-oriented strategy. The first class graduated 13 participants.
Each participant's poverty cycle is fed in different ways. Even so, Elder noticed two common recurring barricades. First, most have untreated traumatizing events in their pasts. Second, many participants began their families early without any family planning.
Elder said families locked into the cycle of generational poverty must be connected to programs supported by two-generational, evidence-based methods. An increasing number of reports show that two-generation approaches can disrupt the cycle. Often, those programs meet the needs of children through early childhood development or youth services and provide parents with parenting education, employment training and resources to help secure basic needs.
OKC provides some two-generational evidence-based programs, but Elder said more are urgently needed. On her paper, she inscribes interventions: mental health counseling; employment training, tutoring and mentor programs; substance abuse treatment; sex education and access to contraceptives; and others. She circles "two-generational evidence-based programs." They are the most effective route out.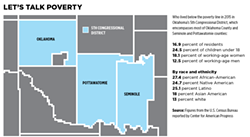 Lawmaker's perspective
The word "poverty" is often avoided, but its chaos provides the backdrop for more than half the queries U.S. Sen. James Lankford receives about education, jobs, race relations, health and more as the lawmaker travels across Oklahoma to visit with constituents.
"People don't typically ask about poverty, but they ask about the symptoms of the issues around it," said the Republican leader from Oklahoma City. "We've been a country where you've been able to climb out of poverty."
In September, Lankford joined four other Republican senators as members of the Senate Opportunity Coalition, an initiative aimed at reducing poverty by developing "strong conservative solutions" to help American families. The coalition is focused on listening in relation to poverty issues in their communities.Lankford, who spent 22 years in youth ministry before serving as representative of Oklahoma's Fifth Congressional District, said nonprofits, not governments, hold the potential to lift families out of poverty.
"Government might be good at providing a safety net, but [it] is terrible at providing mentoring and helping people to escape," Lankford said.
Education and quality jobs are the surest pathways out of poverty, said Lankford, who also believes graduating from school, securing full-time work and waiting to have children are the most direct ways out of poverty.
For those who want to rise above, Lankford said, there are programs — offered by the government, nonprofits or religious organizations — that can help.
"For the individuals who are in poverty right now, I don't want them to feel alone," Lankford said. "I want them to have a basic sense of 'Here is how to escape it.'"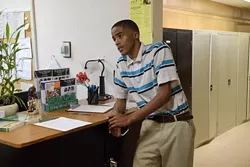 Garett Fisbeck
Savon Knight, a Douglass High School student, benefits from Oklahoma City Public Schools' homeless program, which has provided him with uniforms, supplies, backpacks and bus passes.
Poverty in schools
Eighteen-year-old Savon Knight admits he wasn't the easiest kid to raise. He was a troublemaker with a behavior problem, and he repeatedly clashed with his father.
"Things went left when they should've gone right," Knight said as he recalled his home life while growing up in Luther.
As a teen, Knight moved in with his grandmother. Things were good overall until the troublemaking surfaced again. Knight's next option was sleeping on family members' couches. Eventually, a friend's family took him in for several months. The Douglass High School student was homeless.
"I was 17 and on my own. That's a young age," he said. "I think there should be a solution out there to help the next person from becoming homeless."
Knight is one of nearly 4,400 Oklahoma City Public Schools (OKCPS) students identified as homeless. OKCPS is the state's largest district with 41,00 students enrolled in prekindergarten through 12th grades.
During the 2006-07 school year, when Kathy Brown began as OKCPS' homeless education coordinator, 1,365 students were enrolled in homeless services. Last year, she worked with 3,200 students.
Not every student or family that visits the OKCPS Homeless Outreach in Public Education (HOPE) office is considered homeless in the strict sense of the word. A majority live in homes shared with other families after experiencing an economic hardship, like job loss. Others live in shelters, substandard housing, motels, cars or public spaces like parks.
Fliers offering services from nonprofits like Urban League, Sisu Youth and health organizations are displayed in the office. A HOPE brochure shares contact information for disaster services, shelters, legal aid, food pantries and other key nonprofits.
"We work with the families to find out what their needs might be outside of education," Brown said. "Families are hesitant. They don't want to tell us about living out of a car or living in a park. They fear they will lose their kids."
The increase in the numbers of homeless students is staggering. Additionally, 80 percent of OKCPS students are eligible to receive free or reduced lunches, which is often used as a proxy measure for the percentage of students living in poverty.
"People are shocked, and frankly, I was shocked too," said Mary Mélon, president/CEO of The Foundation for Oklahoma City Public Schools, which operates independently of the district and plays a significant role in supporting and providing opportunities for students and teachers.
"You know there is poverty in the community, but you just don't see it," she said. "I am confronting it and seeing it on a daily basis. You can't go into any of our schools without having it right in front of you."
Foundation programs like Partners in Action get the community into the schools for service. Businesses and organizations have hosted teacher appreciation events or committed to visiting the schools for reading buddy or mentioning partnerships.
"If we aren't willing to confront that we have suffering right under our noses, we are doing a huge disservice to our fellow citizens," Mélon said.
Knight, a member of the Class 4A state championship basketball team, now lives in an apartment. He pays bills with earnings from his job as a host at a local restaurant. He also earns a small monthly stipend from leading a mentoring program at Douglass. Additionally, he coaches youth basketball and football at the YMCA.
"I think every adult has hard times, and that's what it is for me right now," Knight said. "I will bounce out of it."
Knight's advice for anyone — teen or adult in extreme poverty and homelessness — is to find help. About a month ago, Knight received his acceptance letter from Langston University. He wants to study education and become a classroom teacher and coach.
"No longer is there a question mark at the end of graduation," Knight said. "I actually know what the next chapter is."
Serving the south
An hour before sunrise on an unseasonably warm November morning, a few people congregate outside a converted two-story church building. More men and women make their way to the parking lot of Skyline Urban Ministry at 500 SE 15th St. The nonprofit is situated in OKC's southeast quadrant, one of the ZIP codes where community members endure high levels of poverty.
The doors of the ministry, which offers a food resource center, clothing closet, eye clinic and hot meals for seniors, open at 9 a.m. Those gathered are the first served through its food program. It opens at 1 p.m.
"There is a fear of scarcity," said executive director Rev. Deborah Ingraham. "So many think, 'If I am not first, there wouldn't be enough.' It just breaks my heart."
The food resource center, with Regional Food Bank of Oklahoma support, provides groceries to about 100 families six days a week. In one day, staff estimated about 160 received fresh fruits, frozen meats, cereals and canned goods. By the end of September, 43,000 people were served in 2016, a surge from 33,000 people in all of 2015.
"We are talking about people that are hard working," said Ingraham, who is known as Pastor Debbie around the ministry. "About 60 percent of the people we serve are disabled or elderly. The other 40 percent is working."
The stories of the impoverished are told at Skyline Urban Ministry. Some are told voluntarily and others when a family applies for services for the first time. All are asked to write down an income amount.
A downturn in the oil and gas industry ties into many of their stories where jobs were lost and new paychecks don't cover living costs. Seniors discuss monthly $700 social security checks followed by monthly $15 placed on SNAP cards. That's not enough, either, and breakfasts and lunches allow seniors to afford other vital needs.
Ingraham knows her clients make choices and hard decisions. Many ask about assistance for housing, utilities and transportation, services the ministry does not provide. They sometimes speak of helplessness and desperation, like a family that uses dish soap to wash dishes and clothes and also to bathe. Shampoo and bar soap are luxuries. In the waiting room, murmuring voices halt as a Skyline employee calls numbers and begins helping clients. To pass time, a mother asks her preschool-aged daughter to identify the food pictured on the grocery list. More numbers are called. Any number under 162 can head into the food pantry. A man stands up, but re-checks his number: 163.
"It wouldn't be that long," he said.
"We want to make effective change," Ingraham said. "We realize we are just filling gaps, which is important. We want to find ways to help people move out of the system."
Print Headline: In plain sight, Poverty impacts a disproportionate number of OKC residents, including our employed, disabled, seniors and youth.