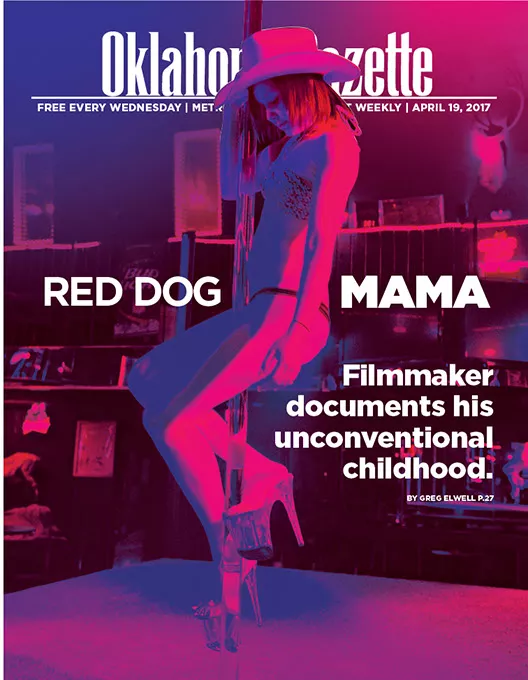 Luke Dick is one of those multi-hyphenates who seems adept at everything he tries. The Oklahoma native was an adjunct philosophy professor in New York. He wrote jingles that ended up in ads for Hilton hotels and HBO's Boardwalk Empire. He's a member of new wave punk band Republican Hair.
He's also one of the hottest songwriters in Nashville, turning out songs recorded by Eric Church, Miranda Lambert and Dierks Bentley. Dick was featured in Rolling Stone in January.
But his latest venture goes back a good deal further. Red Dog is the documentary Dick and director Casey Pinkston are making about Dick's unconventional childhood in the early 1980s, when his mother Kim was a dancer at Red Dog Cafe, 6417 NW 10th St.
"I was back in Oklahoma, working on producing an artist, and I had my sound recording gear," he told Oklahoma Gazette. "My mother, I was staying with her; it was no secret she worked at the Red Dog," he said. "So I asked her to tell me stories."
Dick had no idea what to do with the recordings, so he edited them down to a couple of minutes, put them to music and sent them to his friends.
They went crazy for it, so Dick went to get a camera.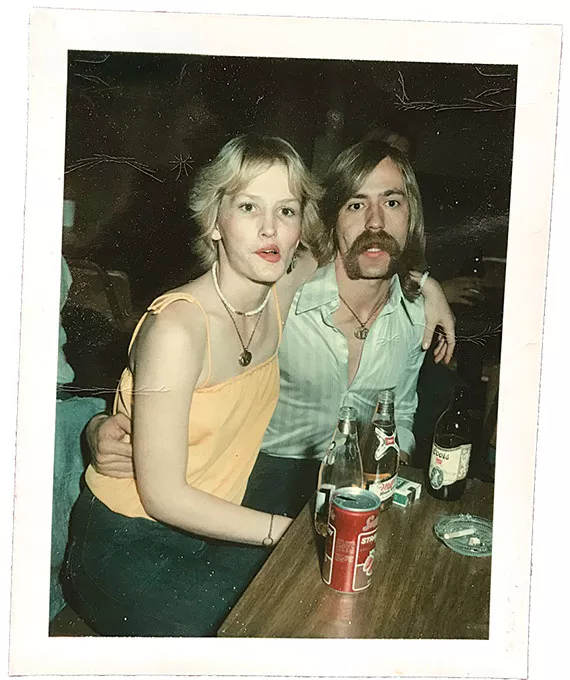 Red Dog / provided
Luke Dick's parents in 1977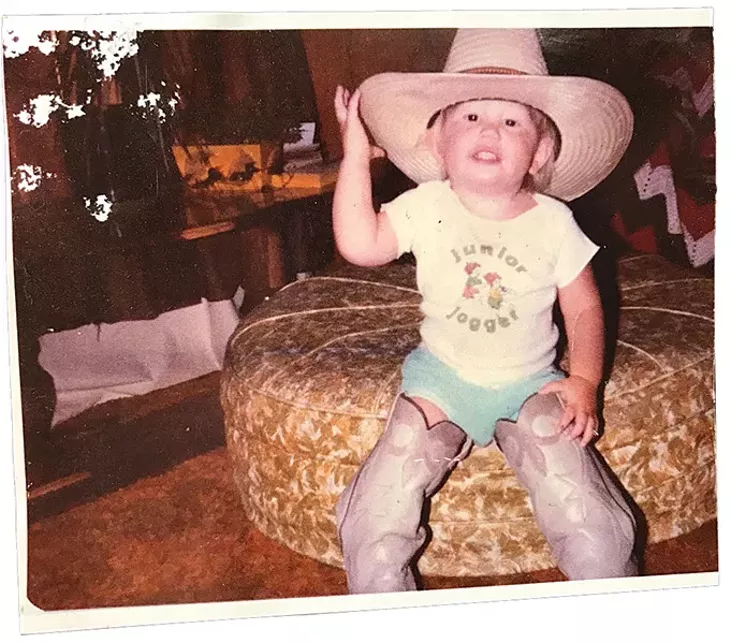 Red Dog / provided
Songwriter and filmmaker Luke Dick at age 2.
Origin story
"Mom moved to Oklahoma City, got married at 15 and was divorced and dancing at the Red Dog by 16," Dick said.
Then she met Luke's father, Charles, who was a regular at the popular strip club.
"They split up shortly after I was born, so she was back there again," he said.
That's the short version of how he came to spend his toddler years in one of the metro's most popular strip clubs.
"I started having memories going back to 2 or 3 [years old]," he said. "There's no emotional hang-ups from being a toddler being around the Red Dog. What I remember is being a little kid and interacting with the people in my family circle."
That group includes his mother's best friend, an addict nicknamed "Nasty Cathy," and a man Dick called Uncle Rick, who was also known affectionately to others as "Rick the Spic."
Rick was a bouncer and drug dealer who had so many epileptic seizures that 4-year-old Dick learned to roll him over and put a pill in his mouth.
"I remember these people the way you piece together the images you remember in your head," he said. "I remember the game machines. We would go in there at night. Being able to play all the video games for free was a serious draw for a toddler."
The staff would project cartoons on the wall to keep Dick entertained on nights he slept there. But the more he remembers about his early life, the more he learns about his mom.
"It becomes more of a discovery of your parents and their lives and when they were young and free," Dick said. "They were youngsters trying to find their life and livelihood."
He said it's a story about his roots.
"The short-lived love that they had that resulted in me. Everyone wants to know their origin story," he said. "If a strip club in Oklahoma City didn't exist, then I wouldn't exist."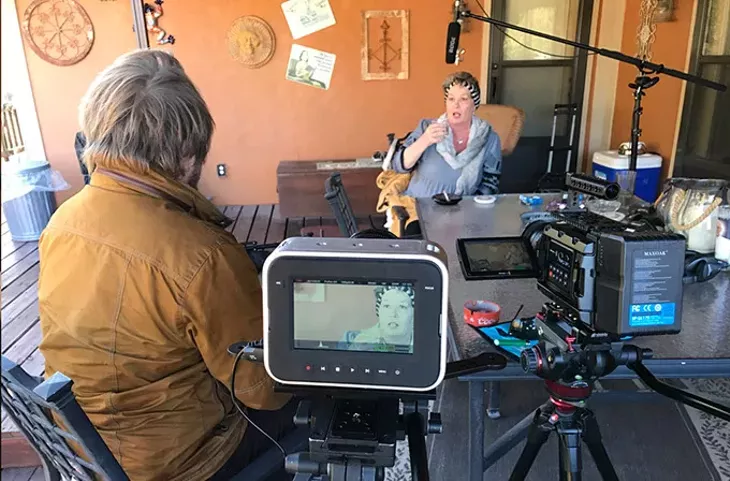 Red Dog / provided
Luke Dick interviews his mom, Kim, for the documentary Red Dog.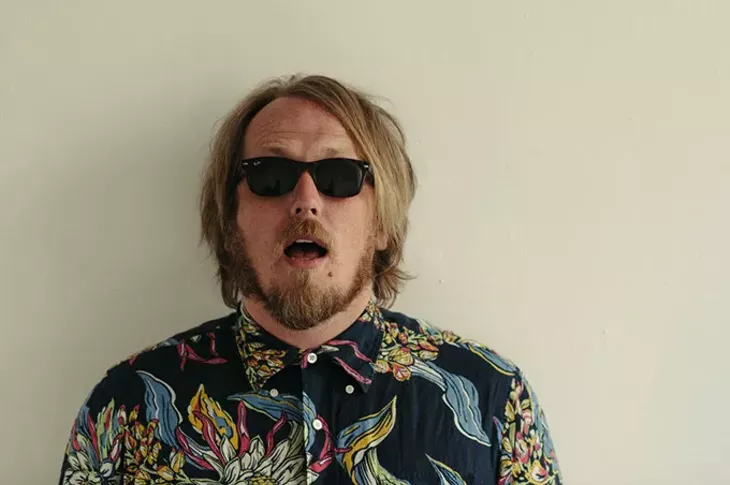 Suzanne Strong / provided
Songwriter and filmmaker Luke Dick
Crowdfunding success
Making a movie isn't cheap, Dick said. Though the project began small, he has since been back to Oklahoma several times to interview people he and his mother knew from Red Dog. In an effort to make the movie the best it can be, he turned to Kickstarter for crowdfunding.
He said the film will be finished regardless of the fundraising efforts. The $14,000 he's asking from backers will pay for editing, animation and polish.
"The plan is to finish the film, have private screenings with the backers and enter it into film festivals," he said. "We'd like to see if we can get into Sundance. Maybe we'll reach back out and see if This American Life wants to do an audio piece on it once it's out."
Dick didn't stay at the strip club long. Before he started kindergarten, his mom — by then married to the club's manager — decided Red Dog was no place to raise a son.
The movie isn't about condemning that lifestyle, but it will show the humanity of the people who live it. That's one reason his mom is happy to see Red Dog being made.
"No one wants to be devalued or scorned in their current lives based on things that happened 40 years ago," Dick said. "But the message of the film is hope and the value of all these people we loved and still love, and my mom knows that."
That's what current Red Dog Cafe general manager Louis Garcia hopes will come from the documentary.
"These people have families. They're human beings," he said. "People think because they're strippers they can be disrespected or taken advantage of."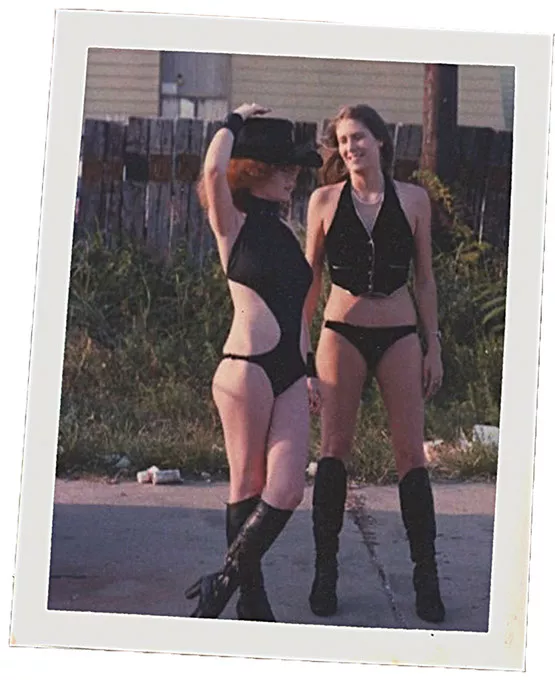 Red Dog / provided
Connie, a former Red Dog dancer, talking with a coworker outside the club.
Despite the club's long history in the city, Garcia said, many people stigmatize it. It's easy to find customers, but when the roof needs work or the plumbing breaks, it's much harder to hire people to repair them.
"Some people will refuse our business. They say, 'We don't do work for places like this,'" he said.
He's looking forward to seeing Red Dog humanize the people who work at and patronize the club.
"[Dick] started calling us four years ago, asking if we knew his mother," Garcia said. "He came in from New York and hung out for three or four days. He got a lot of good stories."
For Dick, it's an opportunity to learn more about his past and the woman who would do anything to raise him right.
"How else can someone else without an education make a middle-class living?" he said. "They were people living lives and going to the lake and having cookouts. There are drugs involved and sexualized culture and some wilder stories that come out of it as well, but it's also this beautifully mundane story."
Dick said it has been an opportunity to hear all of these stories straight from the people who lived them, especially his mother.
"I want to hear my mom tell it from the start. I want to go see if all these people we called family made it out too or if some of them just never could crawl out of the Red Dog," he wrote on Kickstarter. "I want to see if there are some lessons I learned somewhere in all this insanity. Really, I just find out what my old 'family' is up to now, some 30 years later. Or at least find somebody who can corroborate these insane stories my mom always tells."
The response, like when he sent the audio to his friends, has been intensely positive. At press time, nearly 150 backers had pledged almost $14,000 to help make Red Dog.
"I didn't think about getting a publicist. I thought I might just get a star or two to tweet out the thing and maybe get it funded," Dick said. "I did a soft launch, and before I even put it out myself, I had a flooded inbox of dancers and people who have been [to Red Dog]. I'm excited that people are responding just to the front end of it."
In addition to the film, Dick is recording original music to send to people who give $15 or more to the campaign, which ends May 3. Learn more at lukedick.org.
"What I see, what I like about it, is it's a story of an enduring love of a parent in a strange circumstance that isn't ideal," he said. "There's humanity even in the darkest corners of 10th Street."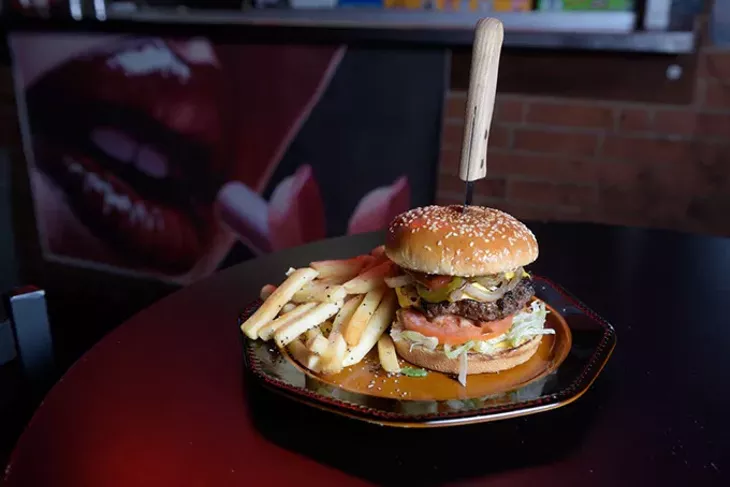 Garett Fisbeck
Jalapeño Tex-Mex burger and fries at Red Dog Cafe.
Red Dog Cafe
The first thing you need to know before heading into Red Dog Cafe, 6417 NW 10th St., is that it is still a strip club and you will see some nudity. The building is lit mostly by red neon lights and flat-screen TVs hanging around the room.
The club allows smoking, so be prepared for your clothes to smell like cigarettes for the rest of the day.
Once inside, navigate straight to the back wall, where you'll find a small window to the kitchen — one of the only other sources of light in the room. That is where you order a burger.
Red Dog Cafe serves nachos and tacos, too, but the crown jewel of the tiny kitchen is its burgers. While some clubs might go cheap and easy with frozen beef hockey pucks, Red Dog uses fresh ground beef seasoned simply and charbroiled on the grill.
The cook said the most popular options are the jalapeño Tex-Mex burger ($7, including fries) and the Sooner bacon burger deluxe ($8, with fries). If you go for lunch with a view, Red Dog knocks the prices down to $6 for a burger and fries on weekdays between 11 a.m. and 1 p.m. Use the extra couple of singles for, uh … whatever you want.
A Tex-Mex burger comes covered in grilled onions, grilled jalapeños, lettuce and tomatoes. Be sure to grab some napkins before you head to a table. It's a messy burger in the best way possible.
The beef is cooked beautifully and is still quite juicy. The onions add more umami sweetness and the jalapeño has a slight bite, but nothing that will have you sweating.
The fries are fresh from the oil, too, with a gorgeous golden skin and a lovely dusting of salt.
It's an excellent lunch in a place where food might not be the first or even the third thing to come to mind.
print headline:
Red roots,
Songwriter Luke Dick's upcoming documentary Red Dog explores his childhood in one of Oklahoma City's longest-lived strip clubs.