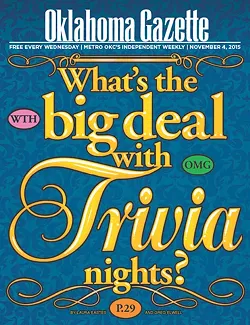 Design: Christopher Street
A guy walks into a bar in Knoxville, Tennessee, and begins to answer trivia questions.
It seems trivial or like the beginning of a joke, but that's how James Cramer's trivia jockey career began.
"I thought, 'Hey, I can do that,'" Cramer said of a night in which he watched a trivia jockey entertain bar guests for two hours with Live Trivia. "I got in touch with the manager for that area, and I spent the next six weeks at a brewery."
In 2009, Cramer became a professional trivia host, spending his evenings with good-sized crowds and firing off questions about music, movies, history, geography, science, sports and pop culture into a microphone. When he shared the answers, he heard shouts of joy and saw high-fives — although his patrons squawked or pounded the table when they missed an easy question. It was all in good fun for Cramer, who worked the gig like a DJ as he built relationships and interacted with patrons.
After those six weeks in Knoxville, Cramer was approached to bring the franchise to Oklahoma City by the president of Memphis-based Challenge Entertainment, a company that provides Live Trivia and other game services to bars and restaurants across the United States.
Two weeks after the conversations, Cramer arrived in OKC to get Live Trivia rolling. In November 2009, Old Chicago was the first to welcome Cramer and Challenge Entertainment, and trivia fever spread quickly. Six years after starting in two Old Chicago locations, Cramer now oversees trivia nights — along with a few other bar games — at more than 30 locations, including The Boom, Saints, Deep Deuce Grill and The Garage Burgers & Beer.
"I'll put it this way: When I talk to a bar or a restaurant manager about what they offer, they mention drink specials, menu promotions and televisions. But what sets them apart?" asked Cramer before answering, "Entertainment that is free."
Trivia nights offer competition, prizes, camaraderie and a different sort of nightlife fun that many different age groups can get into, Cramer said.
"You can have a group of friends, still eat and drink, but the trivia questions become part of it," he said. "They are going to be at the bar anyway. Why not be entertained?"
Getting lost
Tuesday nights are not, traditionally, the busiest nights for bars.
Kevin Sine, owner of 51st Street Speakeasy, said Tuesdays might be so slow that it's barely worth being open ... except for trivia.
Those stopping in for a nip at Speakeasy after 8 p.m. on a Tuesday might be hard-pressed to find a table in the non-smoking wing. Even around the corner from the stage, it's packed.
At the front of the room, seated at a wide folding table, are comedians Ryan Drake and Spencer Hicks, the emcees and quizmasters of The Lost Ogle Trivia Night.
Patrick Riley, owner, founder and head writer for the "obscure local social blog" TheLostOgle.com, said his trivia career began in 2010, when he and a writer for the site stopped in at the venue after doing a radio show for The Spy.
"There were three teams. One guy was on stage, asking questions for 10 people," he said. "I love trivia nights. I'm a trivia nerd. That was just sad."
So he went to Sine and asked how much they paid that trivia operator and said he'd do it for the same amount. TLO Trivia Night has been going strong since, only taking breaks for holidays and Thunder playoff games.
The mini empire has grown in fits and starts and also hosts weekly competitions at Anchor Down and Buffalo Wild Wings.
"Trivia works best at a bar," Riley said. "Anchor Down feels more like a bar, and at Buffalo Wild Wings, we're in the bar. It just has a more grown-up vibe to it."
The vibe might be the only thing grown-up about the stage show, which relies just as heavily on the often-sophomoric humor of its hosts as it does the strength of its questions. Riley said the silliness and occasional crassness of the atmosphere is a draw.
"The chemistry of the hosts is key. It helps fill the void between questions," he said. "Our questions are designed to get people talking to each other. That's where it becomes fun."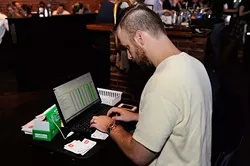 Garett Fisbeck
James Cramer hosts trivia at Deep Duece Grill in Oklahoma City, Thursday, Oct. 22, 2015.
The game
At Live Trivia, teams receive a scoring card and about 20 small pieces of paper. The card allows a team to keep track of points earned, and the note card-sized paper is for submitting answers to the trivia jockey. After a question is asked, a song is played. At the end of the song, all answers must be turned into the jockey, who then reveals the answer.
After three rounds with three questions each, a halftime question is announced. Teams play an additional three rounds and face a final question. The top three teams earn prizes, which often include a reduced bar tab or gift certificates for future visits to the eatery.
Challenge Entertainment trivia jockeys look to the company for the questions, which are uploaded onto computers they view throughout the night.
Questions can be multiple-choice or call for more than one answer. For example: "What actress had a minor role as the wife of the title character in the 1998 film The Big Lebowski? And name the 2015 film that actress starred in with the subtitle 'Oh Hell No!'"
The answer is Tara Reid and Sharknado 3.
Cramer admitted that sometimes questions are difficult and, at times, the answer can be disputed. Often, the question's phrasing allows for more than one answer.
"I'll tell them to pull out their phone and show me a source for it," Cramer said. "If they find it, I'll give them credit. The whole point is we want people to have fun and come back."
Garett Fisbeck
Joe Cox shows his answer card with his team name, "One Point Titty One Gigglewatts" during Live Trivia at The Boom.
The format
Rather than turn in a slip of paper after each question, Lost Ogle trivia features four rounds of 10 questions followed by a "Final Ogle" question. The depth of knowledge needed to compete at Speakeasy might stymie those who find Challenge Entertainment's trivia difficult.
Riley works with his writers to craft questions each week and draws on current events, history, literature, sports and the somewhat infamous percentage questions.
Megan Hulshizer competes on Tuesday nights and hosts Thursdays at Anchor Down. She and her friends (team name Saudi Labia on a recent evening) have a childish and somewhat successful penchant for answering percentage questions with "69."
Riley calls those a great equalizer because even hardcore trivia nerds have to guess when one comes up.
For the serious players and teams, both The Lost Ogle and Challenge Entertainment provide league opportunities for trivia supremacy. Teams return two or three times a week to test their knowledge with an opportunity to move points totals forward into the next week until the ultimate winning team is named.
Cramer said Challenge Entertainment sent "close to a dozen" OKC league teams to Las Vegas for the 2015 National Trivia League finals, where they played for large cash prizes.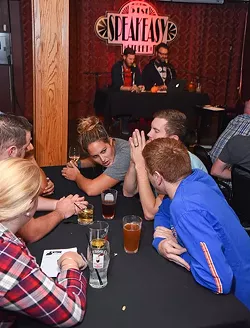 Mark Hancock
A group of friends play during The Lost Ogle's Team Trivia Night at the 51st Street Speakeasy, 10-20-15.
The players
Trivia nights offer unique opportunities to bring friends, neighbors or coworkers together. Maybe one person knows a lot about literature and art, while another is an engineer and passionate golf fanatic. Add in others with different strengths, and a trivia team is formed.
Laci Bevans plays at Deep Deuce Grill. Her strengths are music and movies, but she likes interacting with teammates and crafting an occasional blind guess in hopes of answering a question correctly. Recently, she guessed the state of Washington as the home of the Olympic Peninsula. She was right.
"Sometimes I don't come for the trivia but it is happening when I get here," Bevans said.
Longtime friends David O'Donnell, Bryan Denehy and Jared Michaels said it was their first trivia night in a while and it was a great way to grab a few drinks and chat.
For Jacob Galleciez, who takes part in The Lost Ogle league with his team We Didn't Reddit, it combines everything he loves: drinking, jokes and useless knowledge.
Zach Gozlan said his team, Participation Trophy Wives, loves TLO Trivia Night because it happens late on Tuesdays, a good night to get away with friends, enjoy a drink and avoid children.
"It's like being productive and drinking at the same time," Gozlan said.
There is also something to be said for winning something.
Challenge Entertainment venues allow gamers to earn bar tab credits. (Full disclosure: A third-place finish earned Oklahoma Gazette members Laura Eastes, Greg Elwell and Garett Fisbeck a $10 tab reduction at Deep Deuce Grill.) Rewards inspire players to take the game seriously and keep drinking, much to the delight of venue management.
"On the business side, it increases sales," Cramer said. "Trivia keeps you in your seat longer."
Sine said cash prizes and beer giveaways at TLO Trivia Nights make dead Tuesdays much more lively and bring in a crowd that might not otherwise visit Speakeasy.
"It really has a great vibe. The drinking is fairly moderate, lots of professionals, not so many out-of-control college kids," he said. "The mayor [Mick Cornett] comes in about once a month. It's dinner and entertainment."
If you walk out knowing something new, that's just a bonus.
Print Headline: Obscure pursuits, Smart bar owners draw an intelligent mix of Q-and-A lovers as trivia night popularity grows across the metro.