At the Norman library, readers don't always find the Harry Potter series out on shelves. The same goes for young adult novels written by John Green, who penned bestseller The Fault in Our Stars.
The absence has nothing to do with bans or challenges by concerned citizens. Instead, readers find literary value as well as entertainment in such books, making it hard to keep the titles in stock, said Leanne Cheek, teen reading selector and coordinator for Pioneer Library System.
"I think one of the quickest ways to get a book read is to ban it," Cheek said as she worked at Norman Public Library West.
Works by J.K. Rowling and Green share a common burden with well-known titles like Harriet the Spy, The Catcher in the Rye, The Grapes of Wrath, One Flew Over the Cuckoo's Nest, The Lorax and The Kite Runner. According to the American Library Association's Office of Intellectual Freedom, a parent, school leader or concerned citizen fought for removal of those books from classrooms or school or public libraries. Sometimes they were successful.
Each year, during the last week of September, the American Library Association's Banned Books Week highlights challenged books, focuses on the harms of censorship and celebrates the freedom to read.
Like the national organization, Oklahoma Library Association encourages state libraries to do the same. At Pioneer Library System, with branches in Cleveland, McClain and Pottawatomie counties, patrons mill around displays highlighting banned and controversial books. Often challenged for subjects like violence, homosexuality, offensive language and sexually explicit material, the books spark discussion among visitors.
"It is always fun to see the look on someone's face when you start the conversation about why a book was banned," Cheek said.
Garett Fisbeck
Librarian Tricia Sweany stands by a banned books display at Kieth Leftwich Memorial Library at Oklahoma City Community College.
Banned in Oklahoma
Two of the state's most celebrated authors and their works hold unique ties to banned and challenged book lists.
Oklahoma City-born novelist, scholar and literary critic Ralph Ellison's Invisible Man, which won the 1953 National Book Award for Fiction, has been banned from high school reading lists and schools in Pennsylvania, Wisconsin and Washington. Themes of black nationalism and Marxism are frequently cited in book challenges. In 2013, a North Carolina school board voted 5-2 to remove all copies of Invisible Man from school libraries.
Tulsa-born author S.E. Hinton's coming-of-age novel The Outsiders has been challenged and banned for its depictions of gangs, violence and drug and alcohol use. The novel, which tells the story of two rival socio-economic teen groups — poor Greasers and privileged Socials — in the 1960s, was challenged 15 years ago at a West Virginia middle school.
Oklahoma communities also have stirred controversy. In 1988, Aldous Huxley's Brave New World was challenged as assigned reading at Yukon High School because of the book's language and moral content.
More than 50 years ago, an Oklahoma City group, Mothers United for Decency, objected to D.H. Lawrence's Sons and Lovers. The group created a "smutmobile," which traversed the city displaying "objectionable" works, including Lawrence's.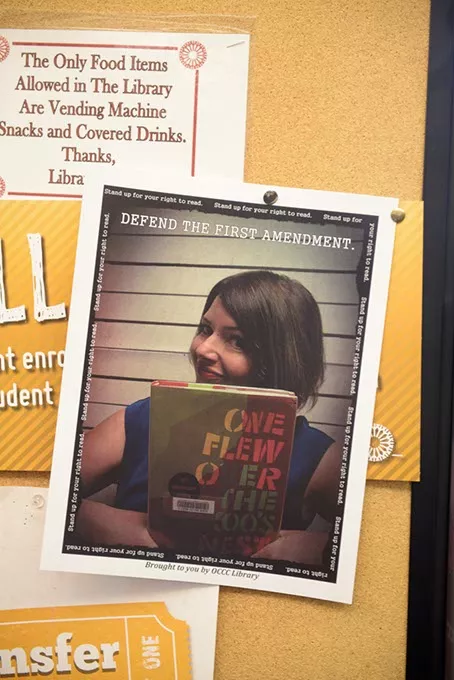 Garett Fisbeck
Fliers around the Oklahoma City Community College campus show staff posing with their favorite banned books.
Close encounter
As the daughter of a librarian, Tricia Sweany, who now works in the Oklahoma City Community College (OCCC) library, spent much of her young life surrounded by books.
However, Sweany first came to appreciate Banned Books Week after encountering a challenge while interning at a library during her pursuit of a master's degree.
The challenge against Alex Comfort's The Joy of Sex illustrated sex manual was a learning experience. Library staff quickly responded and listened to the patron's concern about children potentially coming across the book in the public library. Staff emphasized that the library offers a wide range of materials for the community but also understood not all materials were suitable for everyone. The book stayed in the library, but it was moved to a higher shelf.
Now, as a librarian at OCCC, Sweany creates the annual Banned Books Week exhibit at the front of the south OKC college library. It features Beloved, To Kill A Mockingbird, The Scarlet Letter and others.
"It's a really good teaching moment," Sweany said. "People will stop, look through the books and they don't understand why the books were banned."
To entice students into the library, Sweany asked OCCC faculty and staff to help create fliers. This year, 23 of them posed with their favorite banned book in front of a pseudo police lineup and had their pictures taken. Students walk by campus fliers picturing First Amendment defenders "caught" with banned books.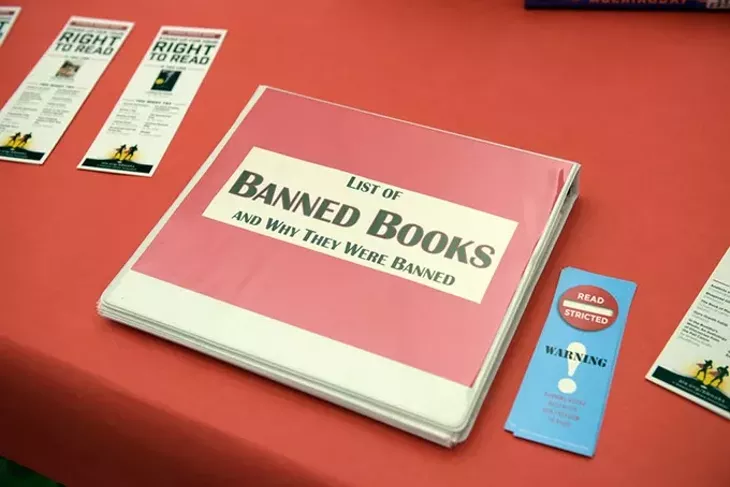 Garett Fisbeck
Annually, the Oklahoma City Community College library features a display with information about banned or challenged books during the national Banned Books Week.
Teaching banned books
As an elementary school teacher, Dr. Elizabeth Willner knew she needed to select reading that sparked student interest and classroom discussions.
Since her students were boys and girls ages 10 to 12, Willner looked for literature that provided in-depth views on friendship, school life and real-life adolescent situations. For years, she assigned Katherine Paterson's Bridge to Terabithia.
"I would start the lesson with saying, 'The next part we will read has a word in it and we've all heard it before. Let's not make a big deal,'" said Willner, who has taught in Wyoming, Colorado and Indiana schools. "We read it and everyone was fine."
Following its 1978 Newbery medal, awarded each year to the most distinguished American children's book, Bridge to Terabithia became a school and library staple. Woven into a tale about two friends are themes of mortality, child abuse, parental relationships and escaping the outside world. Those themes, along with offensive language, have prompted some parents to fight to keep the book out of children's hands.
Willner, an Oklahoma City University education professor, doesn't deny words like "hell" and "damn" are used in the novel. She believes good learning comes from reading about negative characters and troubling plots. Those topics encourage rich discussions in which students come to better understand the world around them.
As a professor, Willner now inspires her students to teach from books like Bridge to Terabithia and Lois Lowry's The Giver, also frequently banned.
"Literature is both a window and a mirror for us," Willner said. "We become a part of the world, not apart from the world."
The law
Many look to the First Amendment as book challenges arise. That's not a wrong approach, but courts have struggled and produced split decisions in book banning cases. While the First Amendment protects freedom of speech, it also places safeguards on the right to receive speech.
Often, there are many factors to consider when examining a book challenge case, such as who initiated the challenge or removed the books and for what reasons, said Oklahoma City University law professor Mark Blitz.
"There is a strong First Amendment principal that government should not be controlling access to what ideas people expose themselves to," he said. "What's not clear is how you implement that principal, if courts can implement that principal in an environment where libraries have to constantly make decisions about the content of their collections."
The First Amendment and book censorship are of unique interest to Blitz, who wrote a legal brief in the 2003 U.S. Supreme Court case United States v. American Library Association. The court ruled that public library use of Internet filtering software does not violate users' First Amendment rights. Additionally, the U.S. Congress can require public schools receiving E-Rate dollars to install website filtering software.
In a better-known Supreme Court case, Board of Education, Island Trees Union Free School District v. Pico, the court issued guidelines, in part, that ensured books can't be removed from school libraries because a school board disagrees with the themes or opinions in the literature.
Challenges arise
Each year, librarians and library staff across the state undergo Oklahoma Library Association training for how to deal with book challenges. Librarians are encouraged to set library policies and establish plans to deal with patrons who are unhappy with books in the collection.
Often, communication diffuses or clears up misunderstandings before they become written complaints. Public libraries strive to never remove books, but certain situations call for moving books to other sections or behind the counter.
"Our goal is to make sure that anyone can choose a book they want to read and that nobody else can limit their choices," said Cheek, chairperson of the association's intellectual freedom committee.
When an Oklahoma library is faced with a formal complaint, the state association stands ready to help. Depending on the case, the association aids with legal representation, media relations or embarks on a letter writing campaign.
Three years ago, a Durant High School mother called for copies of Toni Morrison's The Bluest Eye to be removed from the southeast Oklahoma high school library. Cheek and other association members responded.
"The librarian had a policy in place, and she stuck with it," Cheek said. "They kept the book. It was a great example of how the process can work."
---
Rebel readers
Oklahoma Gazette asked Oklahoma City metro fine arts leaders about their "best-loved" banned or challenged book. Often, banned books are worth reading, and these six community leaders named titles providing powerful lessons on race, justice, friendship and overcoming unbelievable struggles. It's time to read.
Invisible Man by Ralph Ellison
Provided
Adam Ledbetter (center)
"In Invisible Man, Ellison gave a powerful and enigmatic voice to the forgotten. The nameless narrator lives in a strange well lit nowhere and is, in fact, invisible. Through the power of and precision of their own self-awareness, [the narrator] lives in brighter illumination than anyone else in New York. Since reading this, I have a growing self-awareness as a default. No matter what the world says or thinks, the truth is the only freedom we will ever enjoy."
— Adam Ledbetter of OKC-based soul and R&B duo Adam & Kizzie
Gazette file
David Holt
"I would have hoped that the racial issues addressed by Ellison were more historical than current, but unfortunately, this year's presidential campaign has unearthed bigotry that has been underground for a long time. I think regardless of how the election turns out, the younger generations, of which I am a member, will have some work to do to restoring the supremacy of equality, respect and love over bigotry and hate. A work like Invisible Man can play a role in that effort, just as it did in the 1950s."
— OKC Republican Sen. David Holt, board president of Ralph Ellison Foundation

The Color Purple by Alice Walker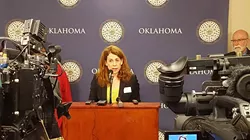 "As a young reader, it opened my eyes to sexism and abuse that I had no personal experience with. As an adult, it saddens me that Walker's story of child abuse and domestic violence isn't that different from the harsh reality that many Oklahoma women face today. Only though finding their own voice and through their friendships do the characters in The Color Purple find the strength to advocate for themselves."
— Danielle Ezell, Oklahoma Women's Coalition executive director

Of Mice and Men by John Steinbeck
"Read the book. Allow Steinbeck to illustrate these brilliant characters in your brain. Is the film good? Yes. Is the play good? Yes. Is the filmed version of the play good? Sure. But nothing compares to the first time you meet George and Lennie between the pages of a paperback and bring them to life with a little bit of your imagination."
— Alyx Picard Davis, deadCenter Film Festival event coordinator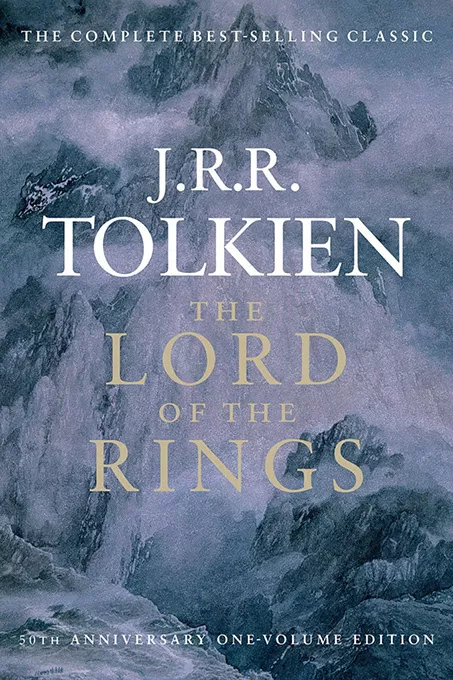 The Lord of the Rings book series by J.R.R. Tolkien
"Censorship is one of the insidious forces that undermines the basic freedoms of expression that our democracy thrives on. Far from being satanic, the characters in Tolkien's trilogy confront moral choices in times of peace and war that can teach us about the consequences of our own actions."
— Daniel Simon, editor-in-chief of World Literature Today, published by the University of Oklahoma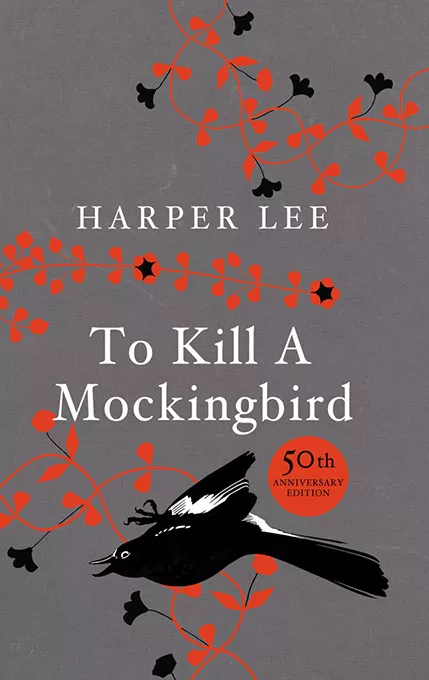 To Kill a Mockingbird by Harper Lee
"Right and wrong exists and is worth standing up for — even if it doesn't turn out the way you hope it will. Following the crowd is the easy thing to do. If something is right, it remains the right thing to do. Those of us living today may think we know everything and are doing everything right. All one needs to do is watch the news to see that we are not better than those who came before us. We must continually strive to treat others as we would like to be treated."
— Blair Lanning, Opportunities Industrialization Center (OIC) of Oklahoma County, Inc. literacy coordinator
---
Banned (or challenged) in Oklahoma
Find these books in local bookstores or check out books, audio or ebooks from a public library near you, or download them from online retailers. Movie adaptations of most also are available on streaming services like Amazon, Netflix and iTunes. Learn more about titles available from libraries at
metrolibrary.org
.
One Flew Over the Cuckoo's Nest by Ken Kesey: The counterculture author's stark-yet-humanizing 1962 novel about residents and staff in an Oregon psychiatric hospital was pulled from Alton school libraries in 1975, the year the book-based movie hit theaters. The novel is often cited as one of the most banned and challenged books in United States history for its imagery of controversial therapies, self-harm, violence, suicide, sexuality, mentally incompetent criminals and often-tyrannical institutional processes. (Streaming)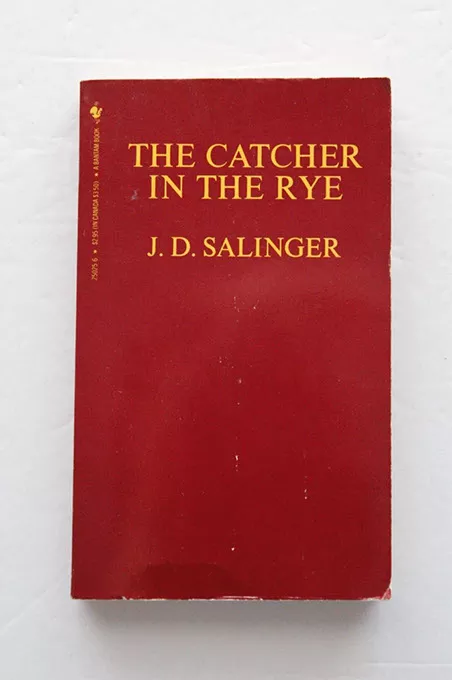 The Catcher in the Rye by J.D. Salinger: In 1960, a Tulsa teacher was fired after she assigned the novel to her sophomore English students. She appealed and won back her job, but the book was pulled from school curriculum. The phonies. Though no "official" movie version exists, the 2013 Salinger documentary examines the author's life and impact of his greatest work.
To Kill a Mockingbird by Harper Lee: Reinstated to Muskogee High School's freshman reading list in 2001 after years of challenges and complaints in previous years about racial slurs used in the book about a white attorney who defends a black man against false rape charges in 1930s Alabama.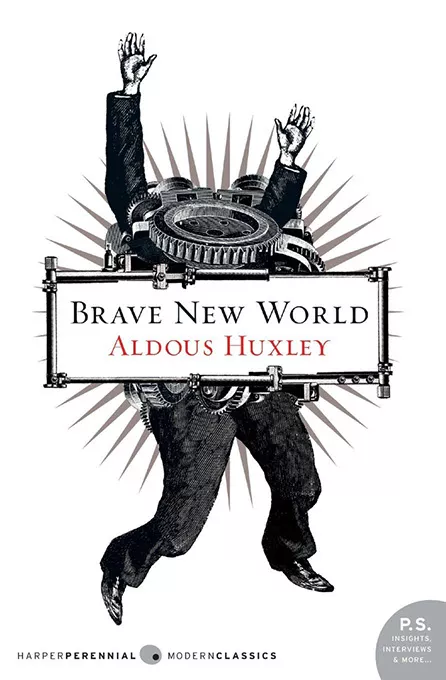 Brave New World by Aldous Huxley: The futuristic sci-fi novel set in London in AD 2540, first published in 1931, was challenged by Yukon High School parents as required reading in 1988 due to language and "moral content."
Sources: American Library Association, National English Honor Society, Los Angeles Times and reading banned books
— By Jennifer Chancellor
---
Print headline: Read on; It's Banned Books Week. Find a copy of To Kill A Mockingbird or Invisible Man and read. But first, take a look at the metro's connections to challenged or banned literature.