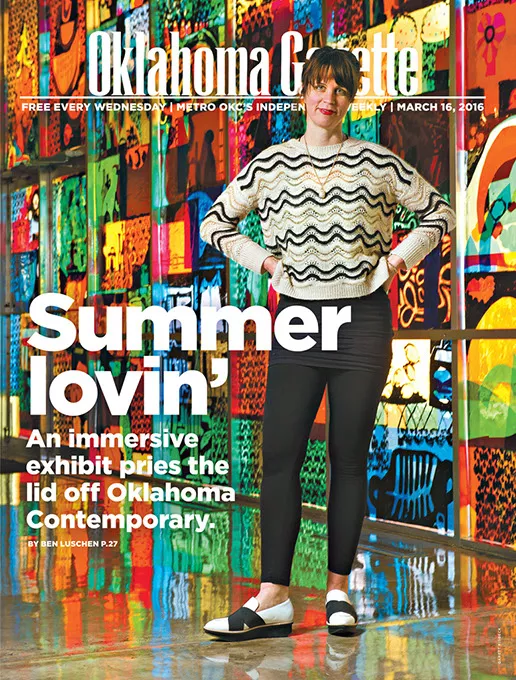 Photography by Garett Fisbeck
Daylight breaks through brightly colored panes that checker the glassed-in lobby. The reflected hues of stained glass signal something pure. Come nighttime, light from within pushes its way through, illuminating the gallery like a kaleidoscopic dream.
This is art from the inside out.
Pry the Lid Off is locally born artist Summer Wheat's immersive art installation housed at Oklahoma Contemporary Arts Center, 3000 General Pershing Blvd. It was installed in February and runs through Aug. 12.
A lace pattern inspired by a dollar store tablecloth is the backdrop for Wheat's vibrant window display. Images of present-day wares — wineglasses, fashionable boots and stiletto heels — overlay the display.
They are unlikely pairings.
Wheat, now a New York resident, said Pry the Lid Off is the latest development in a series of works devoted to 17th-century Dutch Golden Age masterpiece "The Milkmaid."
Stylistically, nothing in the self-described maximalist painter's exhibit resembles Johannes Vermeer's classic oil painting. No one in Vermeer's time marched around in pumps, yet each concept displayed examines some aspect of his work.
"Obviously, my work doesn't look anything like this painting," Wheat said. "This is all imagined, a playful rendition of how I'm reimagining [the milkmaid's] world."
Provided
Summer Wheat
Finding beauty
Wheat didn't consider herself a fan of the type of art "The Milkmaid" represents. She first saw the painting when she was in her early 20s.
She hated it. More accurately, she tried to hate it. She examined every detail of the piece as she searched for ways to articulate her disdain, but the opposite happened. She began to understand what made it great.
"What ended up happening is I fell in love with it," she said.
Wheat became obsessed with the plaster wall behind the painting's subject. The color range used to depict how the sunlight unevenly hit a white wall fascinated her. She loved its texture — the nails, the small punctures and rivets.
Wheat also thought about the maid's world beyond that wall. She reimagined what was happening inside the painting. How could she give new context to a female servant? How could the common, traditional idea of a maid be made uncommon?
"It's a feminist piece," she said. "I'm empowering her and reassigning her role in the world, but then honoring the idea of servant and what it means to be a servant and to serve each other."
In Pry the Lid Off, Wheat said, she marries old and new, conventional and personal. It's her most recent installment in a series of exhibits exploring aspects of the servant's world. Each exhibit explores a new room in the maid's house.
Wheat said Oklahoma Contemporary's display examines storage space. It's a loose narrative, but one she intends to take all the way.
"I want to kill her off in a way to end the collective consciousness," Wheat said, "and kill off the idea of this female servant that's embedded in our genetic code."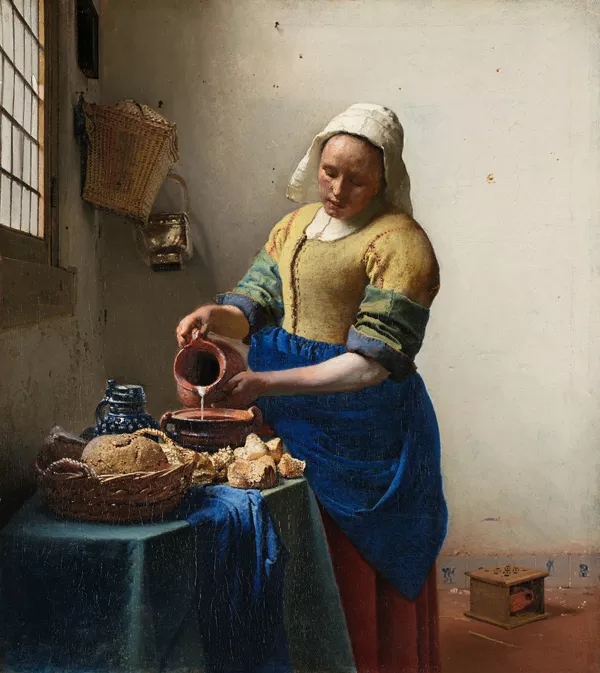 Provided
Johannes Vermeer's 17th century masterpiece "The Milkmaid"
Removing the lid
Wheat tinkers with Vermeer's elements of light and color through her faux stained glass display. Near the front of the exhibit, a black plywood board with negative space cutouts hangs on one of Oklahoma Contemporary's white walls. It resembles a dish rack.
Pry the Lid Off is a site-specific art installation. Wheat began working on it after curator Julie Maguire approached her about the opportunity two years ago.
Before she created anything, Wheat walked through the gallery and visualized what she could do with the space. The concept behind the exhibit was to transform the area into a storage container, something someone could rip the lid off to see the goods inside.
While developing the installation in New York, Wheat used small scale models and peered inside to arrange her work.
"The whole space turned into a giant dollhouse where I was able to move things around a lot," she said.
Creating a site-specific exhibit so far away from where it would be installed was challenging, even aside from transportation. Wheat completed her stained glass display piece-by-piece, in smaller squares.
At home, she could hang up only four pieces at a time. She saw the complete work for the first time after it was installed in Oklahoma City. She said she was excited when it worked.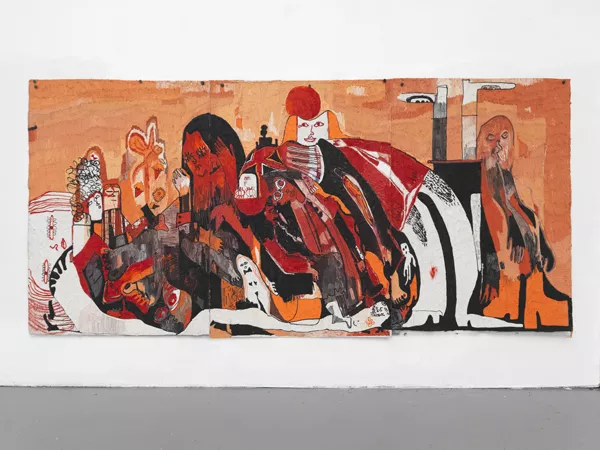 Provided
"Strawberry Sun," 2015, acrylic paint on aluminum mesh
Searching skies
Among the installation's standout pieces are a pair of large, night-sky tapestries: "Valley of Life With Alligators" and "Valley of Life With Snake." From a distance, they appear to be made from some sort of fabric. Closer inspection reveals dried blots of colorful paint and handmade beads.
Wheat created the tapestries by pushing acrylic paint through aluminum window mesh. Up close, bright yellow stars look like colorful children's clay pressed through a mold and placed on black mesh. They look and feel like actual textiles.
As much as Pry the Lid Off is about "The Milkmaid," it also is an opportunity for Wheat to reconnect with her Oklahoma upbringing. She graduated from Casady School before moving away. She briefly returned to finish her undergraduate studies at the University of Central Oklahoma before moving to New York.
Each time the artist returns to the state, she is mesmerized by its open sky. She remembered driving down country roads under the deep-blue expanse. She listened to — and for the first time, connected with — music.
"My main relationship to a lot of these works has to do with the sky. It's like [how] I use all the elements of the painting," she said. "I think about the sun coming in through the window, and my relationship to the sky here in Oklahoma was always the most important thing I had here."
More of Wheat's personal connections with the state are featured near the back of the installation. The artist included large, busily painted collections of boots and bows in a section comprising what might have been the maid's wardrobe. She said boots and bows are staples found in every Oklahoma girl's closet.
Hanging near the bows is a painting inspired by canary yellow trousers infamously worn by Wheat's grandfather. She said her grandparents were eccentrics and had a major impact on the person Wheat is today.
They kept peacocks and very large sheepdogs in the yard. Their home looked like a medieval castle. They drove around in a car that was as brightly yellow as her grandfather's pants.
"They were very worldly and exposed me to a lot of things," Wheat said. "My grandfather went to Russia and China a lot and would always bring me back presents from really exotic places."
Provided
"Nightshade," 2015, acrylic paint on aluminum mesh
Inspiring others
Part of Oklahoma Contemporary's mission is art education. Being a contemporary art outfit, it does not often have opportunities to bring in works of masters like Vermeer. Pry the Lid Off runs through the summer camp season, and Wheat's installation will be integrated into the gallery's youth programs.
The venue's Circle Room is set aside for children to explore elements of Wheat's project. One display resembles the faux stained glass at the entrance and allows youths to blend colors over a light panel. Another lets them thread colors in a way reminiscent of her tapestries.
"It makes me happy to serve a purpose that way, that I could influence [someone]," she said.
When she was a first-grader, an animation artist came to school and wowed her classmates with a pencil and a large sketchpad. Like a magician, he made bunny rabbits appear on the page and hop within and outside its limits.
From that day on, Wheat was entranced by the world within white space. Maybe that is why she was so fascinated by the white plaster walls in "The Milkmaid."
"I've always been interested in the white of a canvas and the space a painting occupies, that you can go into and travel in," she said. "It actually is a dimensional surface; it's a dimensional opportunity."
Print Headline: Beyond walls, Summer Wheat uses inspiration from 17th-century art and her Oklahoma upbringing in Pry the Lid Off, an immersive new Oklahoma Contemporary exhibit.