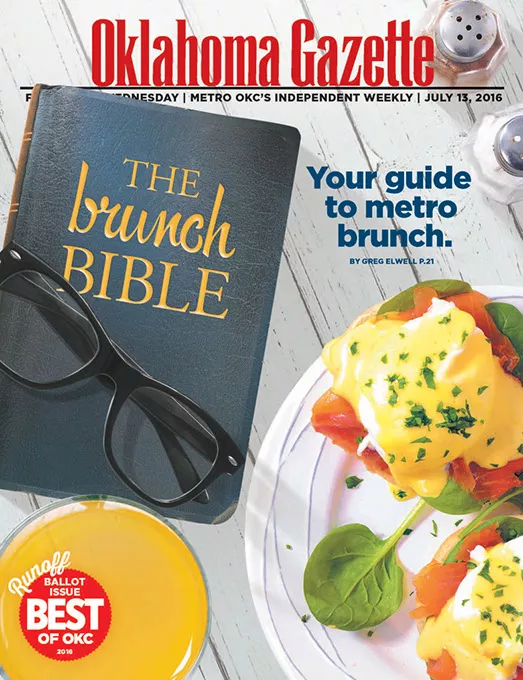 Design: Christopher Street / Photo: bigstock.com
And on the seventh day, humans looked around at the heavens and the earth, the light and the darkness and the beasts of the field and decided to do a little creating of its own.
Yea, verily, and they called it brunch.
Our ancestors figured out a simple equation: breakfast + lunch + a little booze = brunch.
Brunch in Oklahoma City used to be simple, too. There were diners, sure, and places open for breakfast and lunch, but few places actually served "brunch." Options were minimal. It used to be so fancy, too; an indulgence reserved for birthdays and holidays.
No more. Brunch exploded over the past few years, covering the metro in hollandaise sauce and mimosas. At this point, it's challenging to find a restaurant that doesn't open on Sundays to serve bloody marys and eggs Benedict.
The trick is finding the best around, wherever you are, and whatever fills your needs, so Oklahoma Gazette staff curated this list of suggestions — we call them commandments, just for fun — to aid you on your quest for a heavenly brunch.
Garett Fisbeck
Eggs Benedict with cheese grits at Classen Grill in Oklahoma City, Friday, June 26, 2015.
Thou shalt have eggs Benedict.
A brunch without Benedict might not even qualify as brunch.
From the simple classic made with a toasted English muffin topped with Canadian bacon, poached eggs and creamy hollandaise sauce to some wild variations, it's hard to beat this brunch staple.
The most important ingredient is the egg. When poached correctly, the white is set but not rubbery. A gentle nudge with a fork reveals a hidden treasure of ever-so-lightly cooked yolk ready to burst forth and trickle down to the meat and bread below.
Though it's a thoroughly American creation, one of the finest examples in Oklahoma City is found at a local bastion of French cuisine, La Baguette Bistro, 7408 N. May Ave.
It's little surprise that Michel Buthion's restaurant would excel at hollandaise sauce since the emulsion of egg yolk and butter is one of five "mother sauces" in French cooking. Featuring pit ham instead of Canadian bacon, its eggs Benedict is a delight.
For a little variety, Park Avenue Grill inside Skirvin Hilton Hotel, 1 Park Ave., serves a braised beef short rib Benedict. To stand up to the rich, fatty meat, chefs stack their version with strong flavors of kale and pickled red onion and ladle a blue cheese hollandaise on top.
Museum Cafe at Oklahoma City Museum of Art, 415 Couch Drive, serves a build-your-own Benedict option, allowing diners to pick from Canadian bacon, spinach and smoked salmon.
But if you're looking for a straightforward eggs Benedict, it's available every day at venerable Classen Grill, 5124 Classen Circle, alongside fried potatoes and a slice of cheesy grits.
Garett Fisbeck
Bloody Mary at Packard's, Thursday, June 30, 2016.
Thou shalt serve bloody marys and mimosas.
Not everybody who goes out Sunday morning wants the hair of the dog that bit them Saturday night, but a cocktail can be a delightful way to perk up an otherwise-staid meal.
Luckily, local restaurants are happy to oblige.
Mimosas, a blend of orange juice and sparkling white wine, are plentiful at spots ranging from casual (The Wedge Pizzeria, 4709 N. Western Ave.) to elegant (The Drake, 519 NW 23rd St.).
But for something a bit stronger, many brunch spots roll out the bloody mary bar.
A mix of spiced tomato juice and vodka, bloody marys are a brunch tradition, but at Packard's New American Kitchen, 201 NW 10th St., it's up to guests to mix a perfect one. With a choice of regular or spicy juice and your favorite brand of vodka, diners head to the bar to season glasses with horseradish, hot sauces, salts, peppers and a variety of vegetables, pickled and otherwise.
Basically, it's an alcoholic salad bar, and it's a joy.
Other venues with a bloody mary bar include Whiskey Cake Kitchen & Bar at 1845 Northwest Expressway and Pearl's Oyster Bar at 5641 N. Classen Blvd.
If you'd rather put a breakfast cocktail in the hands of a seasoned bartender, you might prefer one of the S&B's Burger Joints that dot the city. They offer a big list of variations. And whether stopping at Rococo, 2824 N. Pennsylvania Ave., for the a la carte brunch or Rococo Northpark, 12252 N. May Ave., for the "cruise-line" brunch buffet, both locations offer an exquisite vegetable-infused vodka bloody mary.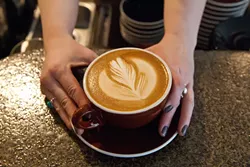 A fresh latte made by barista Tori Goben, at Coffee Slingers Roasters. mh
Thou needst good coffee.
You don't want a stiff drink, but that doesn't mean you can't have a beverage. One of the great joys of breakfast at a restaurant is getting a great cup of coffee — which, sadly, isn't a guarantee.
For top-notch joe and a full menu of breakfast-y options, Joey's Cafe, 12325 N. May Ave., is worth a visit. Not only are there stacks of fluffy pancakes and crab-stuffed omelets, but it serves a low-acid organic Brazilian coffee that is flavorful and rich without being bitter.
Norman breakfast stop syrup., 123 E. Main St., serves Stumptown Coffee from Oregon alongside a menu of traditional (and nontraditional) eggs, waffles and biscuits and gravy.
If you're more interested in imbibing caffeine than eating a full-on breakfast, the metro is blessed with a bounty of great coffee shops. An early local challenger to the Starbucks crown is Coffee Slingers, 1015 N. Broadway Ave., where java jockeys can create espressos, pour-overs and French presses from the venue's house-roasted coffees.
A few blocks away, newcomer Clarity Coffee, 431 W. Main St., brings in great beans from roasters across the country. Co-owner Steve Willingham said he focuses on bringing the best roasts he can to Oklahoma City so customers can experience a range of what great coffee can be.
Thou shalt open
a little early.
All too often, brunch is like Christmas morning. We wake up craving it, but we have to wait and wait for our favorite places to get cooking.
Thankfully, some restaurateurs understood diners' plight and decided to open early.
Shining star of the south side Sherri's Diner, 704 SW 59th St., is in a crack-of-dawn pancake war with Hungry Frog Restaurant, 1101 N. Pennsylvania Ave.
Both spots serve some of the city's finest flapjacks and have the heart to open well before 10 a.m. Sherri's starts service at 6 a.m., and things get hopping at 6:30 a.m. at Hungry Frog. (Careful, though — Hungry Frog is closed on Sundays, so make sure to visit another day.)
A little farther north is Abraham's Western Cafe, 4716 N. Western Ave., which is better known for onion burgers but makes a dandy spot for an early morning plate of bacon, eggs and pancakes.
Want to class it up a little more? Check out the city's growing number of hotel restaurants, which open early to fix high-end eats. In addition to Park Avenue Grill, which opens at 7 a.m. on weekends, there's Flint, 15 N. Robinson Ave., inside Colcord Hotel; Ember Modern American Tavern, 6300 Waterford Blvd., inside Renaissance Waterford Oklahoma City Hotel; and Viceroy Grille, 1200 N. Walker Ave., inside Ambassador Hotel.
Garett Fisbeck
Homemade thick-cut bacon at R&J Supper Club in Oklahoma City, Friday, July 1, 2016.
Thou ought to cook
the bacon right.
Pigs hate brunch for obvious reasons. They're never invited as guests, only as food. But the real insult to our cloven-hoofed friends is when they aren't even cooked correctly.
So when going out for brunch, it's important to find places that cook bacon just right: mostly crispy with just enough chew to keep the slice from shattering when you take a bite, sending shards of pork flying like brunch shrapnel.
One great place to find bacon, day or night, is The R&J Lounge and Supper Club, 320 NW 10th St. Brunch at this bar starts midnight Saturday, but even on a weeknight, you can find homemade, extra-thick cut bacon with blue cheese and truffle honey.
At brunch, discover a thinner, crispier version as a side with a croissant, ham and Brie French toast or eggs and toast.
Another top spot is Kitchen No. 324, 324 N. Robinson Ave., where chefs cure their own McCabe's small-batch bacon before frying it for lucky customers. Thick, chewy and nearly radiating with big breakfast flavor, it's a must-have.
Thou needst some pastries.
While at Kitchen, there's a big pile of pastries just begging customers to forgo their usual order of Green Eggs and Ham for a cruller or chocolate croissant.
In fact, many spots serve brunch sweets.
All About Cha, with locations in OKC and Edmond, has cases full of desserts that are just as tasty early in the day as they are later.
And new food truck Holey Rollers, which keeps its location updated on Twitter @holeyrollersokc, serves doughnuts in a variety of drool-worthy flavors like spicy Mexican chocolate, banana walnut sea salt and lemon poppyseed.
Don't forget the pastry whiz kids making doughnuts and macarons from scratch at Belle Kitchen, 7509 N. May Ave. and 30 NE Second St. Since you're already having dessert for breakfast, go ahead and grab some homemade ice cream, too.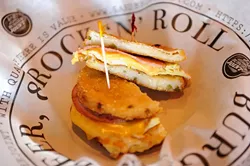 Thou can throw in a burger.
Brunch is still an indulgence, which might be why so many local spots make a breakfast version of Oklahomans' favorite dish — the burger.
At The Pump Bar, 2425 N. Walker Ave., the aptly named Brunch Burger is an entire breakfast piled on a jalapeño cheddar bagel. It is covered in havarti cheese, bacon, hash browns and a poached egg with deli mustard hollandaise sauce. Be sure to ask for extra napkins.
Recently reborn VZD Restaurant & Bar, 4200 N. Western Ave., serves a slightly different take on the breakfast burger, topping an all-beef patty with soft-scrambled eggs and a seeded roll.
S&B's Burger Joint offers breakfast burgers, too. The 5929 N. May Ave. location begins serving them at 9 a.m. all the livelong day, including the Sunday Morning Coming Down with Sriracha ketchup, bacon, hash browns, American cheese and a soft-fried egg.
Garett Fisbeck
Shrimp and grits at Hillbilly's in Oklahoma City, Tuesday, Dec. 8, 2015.
Thou shalt spice things up.
If heavy food makes you feel sluggish, open your eyes by wrapping your mouth around some dishes that bring the heat.
Cafe Kacao, 3325 N. Classen Blvd., is home of the cobanero omelet stuffed with carne asada and doused in creamy cobanero pepper sauce. The pepper sauce will keep you alert and hungry for more.
Shrimp and grits are another favorite spreading across Oklahoma City. It's on the menu at Ember, and another top spot for spicy shellfish is Hillbilly's, 1 NW Ninth St. Let your server know your preferred spice level before you order, though, because this dish can burn you from the inside out in the tastiest way possible.
For international flair, check out the popular brunch at Café do Brasil, 440 NW 11th St. The Orfeu Negro's potent blend of black bean soup, pork, poached egg and spicy green sauce will wake you up while the delightful Carnaval Hangover, including scrambled eggs with spicy homemade chorizo, will have you begging for a caipirinha cocktail to cool you down.
Thou shalt make
reservations.
Nothing makes a hero feel more like a zero than suggesting brunch at a beloved eatery and then showing up just in time to make your friends and family wait an hour for a table. Don't be that person. Lots of come-and-go spots don't require reservations, but for some of the most popular ones, call at least a few days in advance.
Why take your chances by walking into Cafe 501, 5825 NW Grand Blvd., or Rococo when you can reserve a spot online? Opentable.com is a resource for making sure you have enough room for everyone at the right time.
Thou can just
eat breakfast, too.
Brunch is wonderful, but it doesn't have to be a production. There are plenty of places to grab a simple meal of perfectly cooked eggs, buttery toast and fresh-from-the-griddle pancakes.
Local-favorite-turned-interstate-success Jimmy's Egg is so ubiquitous it's almost ridiculous. But it's hard to argue with a spot that knows how to make those omelets right every time.
Eggington's, 737 W. Danforth Road, in Edmond is an import from Casper, Wyoming, but it's still a great place to stuff your kids full of chocolate chip pancakes while chatting with friends.
Newly opened Sunnyside Diner, 916 NW Sixth St., runs the gamut from diner favorites huevos rancheros and corned beef and hash to variations on eggs Benedict, as well.
Now go, brunch lovers. Remember, the only sin is skipping brunch. We just pray we get an invite to join you.
---
BRUNCH GOSPEL
Garett Fisbeck
Meat lovers sandwich on everything bagel at Old School Bagel Cafe in Moore, Thursday, Sept. 17, 2015.
Downtown
Kitchen No. 324 324 N. Robinson Ave. kitchen324.com 405-763-5911
Flint 15 N. Robinson Ave. flintokc.com 405-605-0657
Old School Bagel Cafe 211 N. Robinson Ave. oldschoolbagelcafe.com 405-778-8938
The Ground Floor European Cafe & Bakery 211 N. Robinson Ave. groundfloorcafe.net 405-232-2233
Park Avenue Grill 1 Park Ave. skirvinhilton.com 405-702-8444
Midtown
S&B's Burger Joint 20 NW Ninth St. sandbburgers.com 405-270-0516
Hillbilly's 1 NW Ninth St. fullhillbilly.com 405-702-9805
Pierre Pierre Crêperie 7 NW Ninth St. pierrepierreokc.com 405-600-9494
Kamp's 1910 Cafe 10 NE 10th St. kamps1910cafe.net 405-230-1910
Iguana Mexican Grill 9 NW Ninth St. iguanamexicangrill.com 405-606-7172
Elemental Coffee Roasters 815 N. Hudson Ave. elementalcoffee.com 405-604-9766
Waffle Champion 1212 N. Walker Ave., Suite 100 wafflechampion.com 405-525-9235
Stella Modern Italian Cuisine 1201 N. Walker Ave. stella-okc.com 405-235-2200
Café do Brasil 440 NW 11th St. cafedobrazilokc.com 405-525-9779
Automobile Alley
Packard's New American Kitchen 201 NW 10th St. packardsokc.com 405-605-3771
Broadway 10 Bar and Chophouse 1101 N. Broadway Ave. broadway10okc.com 405-212-3949
Coffee Slingers Roasters 1015 N. Broadway Ave. coffeeslingers.com 405-609-1662
Pelotón Wine Bar & Cafe 900 N. Broadway Ave. peletonwinebar.com 405-605-0513
Plaza District
Cafe Antigua 1903 N. Classen Blvd. facebook.com/cafeantigua1 405-602-8984
Hungry Frog Restaurant 1101 N. Pennsylvania Ave. 405-524-0686
The Mule 1630 N. Blackwelder Ave. themuleokc.com 405-601-1400
District House 1755 NW 16th St. districthouseokc.com 405-633-1775
Oak & Ore 1732 NW 16th St. oakandore.com 405-606-2030
Wildberry Pancakes at Cafe Kacao. mh
Uptown 23rd/Paseo
Picasso Cafe 3009 Paseo Drive picassosonpaseo.com 405-602-2002
The Pump Bar 2425 N. Walker Ave. pumpbar.net 405-702-8898
Guyutes 730 NW 23rd St. guyutes.com 405-702-6960
Pizzeria Gusto 2415 N. Walker Ave. pizzeria-gusto.com 405-437-4992
Jeff's Country Cafe 3401 N. Classen Blvd. 405-524-2023
Cafe Kacao 3325 N. Classen Blvd. cafekacao.com 405-602-2883
The Red Cup 3122 N. Classen Blvd. theredcupokc.com 405-525-3430
Cheever's Cafe 2409 N. Hudson Ave. cheeverscafe.com 405-525-7007
The Drake 519 NW 23rd St., Suite 111 thedrakeokc.com 405-605-3399
Old School Bagel Cafe 511 NW 23rd St. #101 oldschoolbagelcafe.com 405-602-3447
Big Truck Tacos 530 NW 23rd St. bigtrucktacos.com 405-525-8226
Guernsey Park 2418 N. Guernsey Ave. guernseypark.com 405-605-5272
Classen Curve
Cafe 501 5825 NW Grand Blvd. cafe501.com 405-844-1501
All About Cha 7300 N. Western Ave. allaboutcha.net 405-840-7725
Flip's Wine Bar 5801 N. Western Ave. flipswinebar.com 405-843-1527
Pearl's Oyster Bar 5641 N. Classen Blvd. pearlsokc.com 405-848-8008
Deep Fork Grill 5418 N. Western Ave. deepforkgrill.com 405-848-7678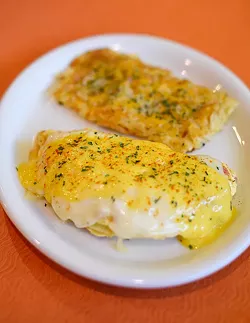 Garett Fisbeck
Eggington's Omelette at Eggington's in Edmond, Wednesday, March 9, 2016.
Edmond
Eggington's 737 W. Danforth Road eggingtons.com 405-285-1580
The Hash Retro Diner 1149 E. Second St. facebook.com/hrdedmond 405-471-6747
Cafe 501 501 S. Boulevard cafe501.com 405-359-1501
Katie's Country Griddle 229 S. Santa Fe Ave. 405-359-6372
Lottinvilles 801 Signal Ridge Drive lottinvillesrestaurant.com 405-341-2244
The Deuce breakfast with coffee at Jim's Diner. mh
Northwest OKC
Whiskey Cake Kitchen & Bar 1845 Northwest Expressway whiskeycakeokc.com 405-582-2253
La Baguette Bistro 7408 N. May Ave. labaguettebistro.com 405-840-3047
Beverly's Pancake House 3314 Northwest Expressway 405-848-5050
Classen Grill 5124 N. Classen Blvd. 405-842-0428
S&B's Burger Joint 5929 N. May Ave. sandbburgers.com 405-843-8777
Lola's Family Restaurant 9148 N. MacArthur Blvd. 405-722-8262
Jim's Diner 6317 N. Meridian Ave. jimsdinerok.com 405-495-5105
The Boom 2218 NW 39th St. theboomokc.com 405-601-7200
Gazette / file
syrup.
Norman
syrup. 123 E. Main St. syrup-breakfast.com 405-701-1143
Scratch Kitchen + Cocktails 132 W. Main St. scratchnorman.com 405-801-2900
Fancy That 215 E. Main St. fancythat.us 405-307-0541
The Diner 213 E. Main St. 405-329-6642
Pub W 3720 W. Robinson St. pubdub.com 405-701-5844
Seven47 747 Asp Ave. seven47.com 405-701-8622
Blu Fine Wine & Food 201 S. Crawford Ave. gldining.com/blu 405-360-4258
Legend's Restaurant 1313 W. Lindsey St. legendsrestaurant.com 405-329-8888
---
Print headline: Brunch bible; Oklahoma Gazette takes readers to church with our guide to metro favorites.