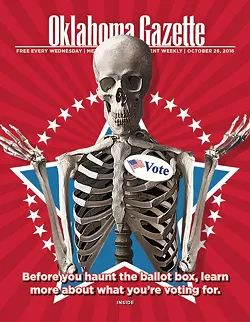 Cover design: Anna Schilling / Oklahoma Gazette
It's everyone's democratic and civic duty to vote on Nov. 8, and this year's ballot is an important one. This issue includes stories on Oklahoma's multiple state questions, the Libertarian party, races to watch, our roundup of uncommon candidates and more. It also features the League of Women Voters of Oklahoma's 2016 Voters Guide. The election doesn't have to be scary. Oklahoma Gazette helps you navigate the many elections and issues.
Find more coverage in this week's print issue, on stands now, and in Oklahoma Gazette's Nov. 2 print edition.
Related stories
• 2016 Election: Oklahoma ballot questions explained • 2016 Election: The Libertarian Party returns to Oklahoma's ballot after a 16-year absence • 2016 Election: Metro races to watch • 2016 Election: Uncommon contenders for state Legislature include millennials, educators, transgender woman • 2016 Election: Joe Exotic's White House run just the beginning of his political aspirations, even if he's not on the ballot in Oklahoma • 2016 Election: As Election Day approaches, many seek help navigating flack attacks • Letters to the Editor: Oct. 26, 2016
Additional resources
• Oklahoma State
Election Board
• Council on American-Islamic Relations
CAIR-OK 2016 Voter Guide
• Oklahoma Policy Institute (nonpartisan, independent economy and government think tank based in Tulsa)
2016 Oklahoma state question guide
• American Civil Liberties Union
Oklahoma state question voter guide
•
Vote411.org
, nonpartisan information of federal and local elections, supported by the League of Women Voters •
Ballotpedia
, the nonpartisan encyclopedia of American politics • State Question ballot language via
State Election Board
• View election and state questions as they'll appear on
Oklahoma County ballots
•
The Gayly
's 2016 election coverage •
I Side With
, an unaffiliated political website that features a simple survey on eight issues, from domestic policy to education, and matches voters to candidates with similar platforms and beliefs