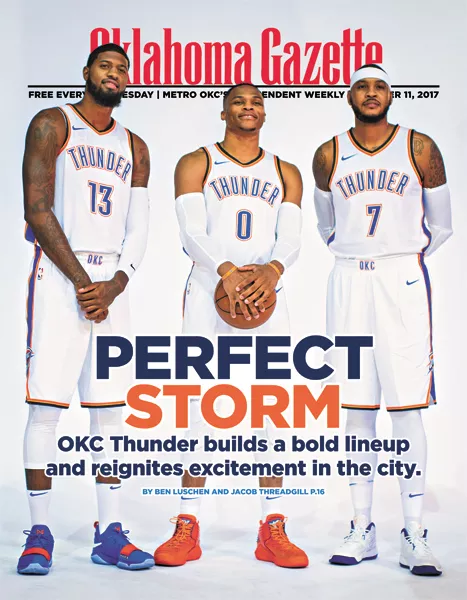 In Oklahoma City, today is Russell Westbrook Day, as was yesterday, as is tomorrow and forevermore.
When the beloved Oklahoma City Thunder point guard signed a five-year, $205 million contract extension with the team Sept. 29, the entire city was rightfully thrilled — or, more accurately, relieved. Only Westbrook and forward Nick Collison remain from the team that moved to OKC from Seattle in 2008. The NBA's reigning Most Valuable Player is both the key piece to the team's continued on-the-court relevance and the city's oldest and most loyal basketball friend.
Mayor Mick Cornett was so excited about the extension that hours after the deal was announced, he signed an official proclamation naming every day in OKC henceforth Russell Westbrook Day. In a proclamation signed in 2016, Cornett had previously made Aug. 4 the star's municipal holiday.
Basketball optimism is once again at a fever pitch in OKC thanks to a pair of unexpected blockbuster offseason trades that brought established superstars Paul George and Carmelo Anthony to the Thunder. But things seemed considerably bleaker just a year ago.
Kevin Durant went public with his decision to leave the team for the Golden State Warriors on July 4, 2016 — a day most city residents will never forget.
Certain jerseys were burned. Certain player-owned restaurants were panned in online Yelp reviews. More seriously, people began to wonder how the city would continue to support the team if its run of success began to diminish. Through the team's entire history in OKC, the Thunder was either among the league's top contenders or on-track to get there. There was never a time when the team's fortunes seemed on the decline.
These were fears not just raised by anxious OKC residents, but nationally as well. In a Deadspin article published days after Durant's decision, writer Kevin Draper wondered if the departure might eventually lead to the team's own future relocation — additionally citing a downturned state economy and the death of minority team owner Aubrey McClendon.
"For the first time since the [Seattle Supersonics] relocated," Draper wrote, "it isn't a given that fans turn out in droves, that even non-sports fans watch the team on TV, that Oklahoma City residents stay engaged in the wider NBA. The franchise no longer has a trump card in its battle for local attention with college football. Because Kevin Durant left, for the first time, building and maintaining the Thunder fan base won't be a given."
The idea sounds laughable in hindsight, but after Durant's decision, some analysts and heartbroken fans believed the Thunder should have considered trading Westbrook before he could spurn the team for a larger market and once again leave OKC high and dry with nothing in return.
If the Thunder and team general manager Sam Presti had heeded this advice, it is highly unlikely that its roster would be as star-studded heading into the 2017-18 season. For the time being, the Thunder has schemed its way back to contender status — a position to which it is already accustomed.
Zach Beeker / Oklahoma City Thunder / provided
Thunder coach Billy Donovan center left will guide the team's new player nucleus, including from left Paul George, Russell Westbrook and Carmelo Anthony.
'Worth millions'
When including the New Orleans Hornets' (now known as the New Orleans Pelicans) two-season stint in the city, State Sen. David Holt, R-Oklahoma City, said the number of stars local fans have had a chance to cheer for is impressive.
"Think about the all-time Oklahoma City team that you could field," Holt said. "Chris Paul, James Harden, Kevin Durant, Russell Westbrook, Paul George, Carmelo Anthony. You could have Peja Stojakovic and David West coming off the bench."
The OKC Republican representing District 30 is the author of the book Big League City: Oklahoma City's Rise to the NBA and served as Cornett's chief of staff during the team's move from Seattle. He is also a 2018 mayoral candidate hoping to succeed Cornett, who is running for governor.
Holt said the Thunder's speedy rise back to prominence is not only good news for the team's win-loss record, but a key development for the city's financial fortunes and national perception.
"It's basically a commercial for Oklahoma City that's going to be running in the sports pages and sports talk shows of America for the next year," he said. "That's worth millions of dollars in image-building for our city and helps counteract, quite candidly, bad perceptions that have come out of the state Capitol in the last few years."
Despite fears the Thunder might be entering an extended period of malaise after Durant's departure, a record-setting season from Westbrook last year and a dynamite offseason this summer have provided plenty of excitement in OKC.
Holt said he believes the team has been smart in positioning itself for a day when its basketball fortunes are not as bright. By becoming integral to the community, the Thunder brand might be able to transcend its record.
But that theory has still yet to be fully tested. And with quality management, it might not need to be.
"I'd like to think that we love our Thunder regardless of wins and losses," Holt said, "but I don't see any need this year to test the theory."
Zach Beeker / Oklahoma City Thunder / provided
Russell Westbrook speaks with teammate Carmelo Anthony, who was acquired through a trade with the New York Knicks in September.
Trade anatomy
The seeds for the Thunder's acquisition of Anthony and George were sown in Summer 2014. In his first offseason as the New York Knicks president of basketball operations, legendary Bulls and Lakers coach Phil Jackson was at a crossroads.
Anthony was a free agent, the Knicks were coming off a middling season and their star was considering an offer of less money from the Chicago Bulls to contend for a title. In Jackson's exuberance to keep Anthony in New York, he included a complete no-trade clause in Anthony's maximum contract, giving Anthony veto power over any potential trade. At the time of the 2014 extension, only Dirk Nowitzki and Kevin Garnett had similar deals. The Knicks had leverage with Anthony in 2014 — they could offer him the most years and highest dollar amount on the market — but Jackson threw in the no-trade as an unnecessary mea culpa.
Later in the 2014-2015 season, after the Knicks began to devolve under Jackson's leadership, the Thunder made a midseason trade, sending disgruntled point guard Reggie Jackson and receiving Enes Kanter as the highlights of a three-team swap.
Much of the Internet scoffed during the ensuing offseason when the Thunder matched Portland's four-year, $70 million restricted offer to Kanter. It was a lot of money for Kanter, a gifted offensive player with range who consistently ranked as one of the worst defensive centers in the league.
The size of the Thunder frontcourt would become part of the team's identity as the rest of the league was transitioning to small-ball lineups. Steven Adams, Serge Ibaka and Kanter helped the Thunder outrebound the Warriors 160 to 122 in its three wins over Golden State in the 2016 Western Conference Finals, but Klay Thompson's historic heat check in game six ended the Thunder's best shot at returning to the NBA Finals.
Before Durant announced his departure that offseason, Presti flipped Ibaka to the Magic for Victor Oladipo and the pick that became forward Domantas Sabonis, both of whom were all that was needed to get George from Indiana after George's public wish to be traded and perceived desire to return to his native Los Angeles hurt his value on the trade market.
The Thunder positioned itself to take advantage of front office mismanagement across the Eastern Conference. Anthony told SiriusXM radio that a draft night deal was in place to send he and George to the Cavaliers, but the deal fell apart. Cleveland owner Dan Gilbert fired GM David Griffin days before the draft without having a replacement in place.
As the Knicks looked to move Anthony to a team to which he would waive his no-trade clause, the pickings were slim. First, Anthony declared he wanted to be in Houston, but with the Rockets only able to offer the albatross of Ryan Anderson's contract to match Anthony's salary, the deal went nowhere fast. Anthony relied on his relationship with George and Thunder assistant GM Troy Weaver, who coached Anthony during his run to a national championship as a freshman at Syracuse, to convince Anthony to agree to a trade to OKC.
The deal couldn't happen without Kanter's contract. A deal that was much maligned at the time ended up being integral to the trade because it allowed the salaries, which included Doug McDermont's deal, to match.
Zach Beeker / Oklahoma City Thunder / provided
Russell Westbrook signed a five-year, $205 million contract extension in late September, likely cementing the Oklahoma City Thunder's competitive relevance for the near future.
Making pieces fit
The offseason overhaul addresses two of the biggest areas of concern for the Thunder after Westbrook's unprecedented NBA season: It helps build depth and gives Westbrook more room to operate driving to the basket.
The Thunder were outscored 51.3 points per 100 possessions when Westbrook sat on the bench during its opening round series loss to the Rockets this past season. With Westbrook on the floor, Oklahoma City outscored Houston in the series.
The addition of George and Anthony gives head coach Billy Donovan the chance to stagger the minutes of his three stars, meaning one of three can be on the court at all times and they can still play crunch time together.
To further agitate Knicks fans, Anthony expressed enthusiasm about starting at power forward at his introductory Thunder press conference after years of bristling at the move in New York, only playing it for long stretches out of injury necessity in the 2012-2013 season, which was also the zenith of team success during his Knicks tenure.
The Thunder swapped Sabonis as power forward — his three-point shot cooled considerably after shooting over 40 percent the first month of his rookie season — for Anthony, who made 43 percent of his catch-and-shoot three points last season, according to NBA.com's SportVU data. Anthony becomes a much more dangerous partner in the pick and pop than Ibaka or Sabonis for Westbrook, and Westbrook's driving lanes will be that much more clear.
The addition of free agent Patrick Patterson, a career 36 percent three-point shooter, also gives the Thunder the spacing it needs and allows the Thunder to go big, sliding George in as shooting guard in place of defensive specialist Andre Roberson or playing Patterson as a small ball center.
The possibilities of exciting lineups is what led to senior ESPN writer Zach Lowe giving the Thunder the No. 2 ranking in his annual League Pass ranking, and one that never happens without chaos in the Eastern Conference.
'Domino scenario'
For some, the Durant decision was more than a strike against the team's on-court potential; it was a knock against their earning potential.
Audrey Lisle, creative project manager at ID Solutions, which owns the T-shirt printing label and shop 405 Threads, 3821 S. Robinson Ave, experienced this firsthand. The store is known for its Adams and Kanter-modeled "'Stache Bros" and James Harden-themed "Fear the Beard" shirt designs, both of which passed into obsolescence due to trades.
"[When Durant left,] we have the added aspect of the business side of it, too," she said. "We're like, 'What do we do with all of these shirts now?'"
Lisle said if she has learned anything through 405 Threads' five years of printing Thunder-themed merchandise, it is that nothing is certain. Players get hurt or move to other teams when you least expect it. While Anthony's arrival from New York was cheered by many fans, it meant the team had to trade away former 'Stache Bro Kanter, making the shirt design obsolete. But that's life in the NBA.
"We just see it as an opportunity to do new things," Lisle said.
Tree & Leaf Clothing graphic designer Steven Silva said he too was once fearful of what Durant's departure might mean for OKC and his company's printing business.
"It's like this domino scenario," he said. "If Kevin leaves, then the economy's bubble bursts, then Russell leaves, then the team's not good and fans stop supporting it and maybe the Thunder leaves and Oklahoma is set back like 20 years. You start spiraling on stuff like that."
As OKC fans know now, that spiral never came. In the heat of Westbrook's record-breaking season last year, Tree & Leaf, 1705 NW 16th St., introduced its popular "Notorious MVP" shirt design. Last year, Adams could be seen wearing the shirt in a video promoting Westbrook's MVP campaign.
"Anytime you can see the players don't hate the shirts that we're making, it's always cool," Silva said.
The store ordered a large new shipment of the design following Westbrook's extension. Silva said Tree & Leaf is feverously working to develop new shirt designs themed around new arrivals George and Anthony and will continue to develop shirts as the season unfolds.
"You can get a Thunder shirt pretty much anywhere," he said. "Everyone already has two, three or five in their closet. For us it's just like, 'Well, we need to be thinking of something more creative.'"
Visit 405threads.com and treeandleafclothing.com.
Print headline: Booming business, The Thunder's lightning-quick resurgence has Oklahoma City back on the NBA map.