It's okay to be a quitter.
That's what Oklahoma Gazette staff learned as we interviewed six locals who took the plunge, walked away from secure day-job incomes, said goodbye to colleagues and ventured into the unknown by launching a startup, pursuing their passions and trusting their instincts.
What better place to be a quitter and explore options than Oklahoma City? Entrepreneur magazine ranked OKC as the nation's No. 1 city worth moving to if you want to start a business. The magazine, designed to inspire entrepreneurs worldwide, cited OKC's strong small-business lending environment, lower cost of living and growing population as reasoning behind the high ranking.
Other business publications have taken notice of the city's economic climate. Kiplinger, a monthly publication reporting on smart money decisions, also has ranked OKC the best city to start a business. CNNMoney also handed OKC its top ranking for a business-friendly environment.
Recently, Datafox's list of Best Cities for Tech Start-Ups (Outside of New York and California) ranked OKC No. 10 nationally. Personal finance website WalletHub ranked it the tenth-best city nationally for Hispanic entrepreneurs.
Some people prefer the term innovator to entrepreneur. At SixTwelve, innovation is underway in the unique work/live education center in Paseo Arts District. Former classroom teacher Amy Young launched the venture in 2010.
Following a passion doesn't necessarily mean becoming an entrepreneur, either. Music industry veteran David Broyles made a career change three years ago in hopes of inspiring and educating the next generation of musicians. He didn't start his own business, but he strikes a different chord as an instructor at the Academy of Contemporary Music at the University of Central Oklahoma (ACM@UCO), located in Bricktown.
It's no coincidence that OKC is home to a strong startup community. More than 1,600 go-getters are part of the OKC Entrepreneur Group on Meetup, a popular online social networking portal.
Local entrepreneurs find support through local private organization i2E and creative coworking facilities like The 404 and The Barn OKC. Specifically, i2E focuses on growing local business with help from state funding. More than 160 companies, including WeGoLook, a technology company that took shape after local Robin Smith had an idea to help internet shoppers, have received investments.
Sometimes, quitting is the right thing to do. For these quitters, stepping off the career ladder and onto their own path was the right move.
By Laura Eastes and Candice Macis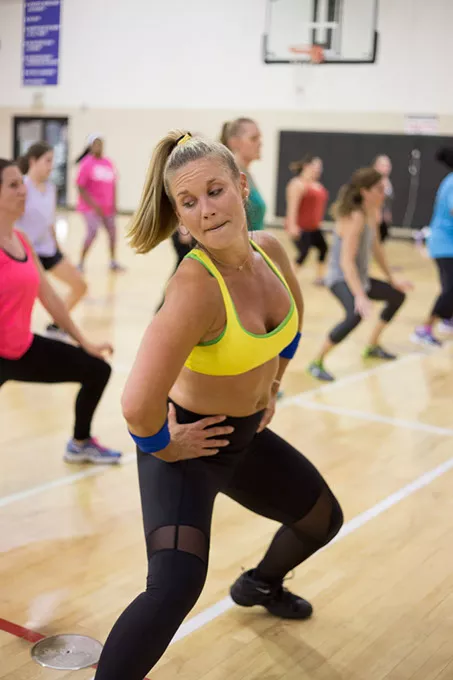 Emmy Verdin
Lauren Fitzgerald of Club Fitz teaches class at the Key Health Institute in Edmond, Oklahoma on Monday, June 13, 2016.
Twerk it
Twerk team membership, it turns out, is nondiscriminatory.
Visitors at Lauren Fitzgerald's CLUB FITz class at Key Health Institute, 14701 N. Kelley Ave., in Edmond are all genders, ages, ethnicities, orientations and fitness levels. They gyrate their hips in unison, mirroring their instructor's enthusiastic stomps and shakes around the wide-open gymnasium floor.
Class participants are not the only ones watching Fitzgerald closely. Her CLUB FITz YouTube channel features dance routines for some of the most popular hip-hop and club music and has amassed over 300,000 subscribers. She has become a celebrity in the nation's dance fitness community.
Fitzgerald was enrolled in her first dance class at age 3 and has nurtured a passion for rhythmic movement and dance fitness ever since. She moved to Oklahoma in 2012 as an anesthesiologist but became a full-time fitness coach in December.
"I saw too many anesthesiologists who had been doing this for decades and were just miserable and unhappy," she said. "They all had the same complaints and had the same problems. I didn't want to be that person. You only get one life, and I want to love what I do every day."
Fitzgerald, who runs CLUB FITz along with her partner Kelsi Comer, said she is on track to make as much or more as she did in the operating room by coaching and internet revenue within the next three years.
An anesthesiologist's role is an important one, but they usually see patients after a health emergency. Fitzgerald said keeping people healthy and preventing them from needing surgery in the first place is what makes her new job in fitness so rewarding.
"I take pride in the fact that I kill people and make them sore," she said. "It's a fitness class, you know? But it's an hour long and time goes by fast because they're having fun. But I'm still killing them. I'm still making them sore."
By Ben Luschen
Take risks
Seated in WeGoLook's conference room, surrounded by framed "looker" stories and a plaque recognizing a partnership with internet giant eBay, Robin Smith has learned a lot in her seven years of running a technology startup in Oklahoma City.
"I don't think you need to be an industry expert to be an industry leader," said Smith, CEO and co-founder of WeGoLook, a technology company with a crowdsourcing platform that's often referred to as "the Uber of inspections."
Smith, along with the founders of Airbnb and Uber, is living proof of such a statement. All three companies were founded on simple ideas that led to developing technology-driven solutions. Now, those solutions are well-known services that rival and even surpass some of the world's largest businesses in transportation, hospitality and inspections.
Smith is the brain behind WeGoLook, which began following a 2009 conversation with a friend over a potential purchase from eBay. Skeptical of the seller's claims, Smith said there had to be an independent service to verify product descriptions and photos. However, the mother of two with a background in sales couldn't find anything.
"Why not build it?" she asked herself.
A year later, with the help of a single software engineer, WeGoLook launched online with 4,500 lookers, or agents, ready to vet online sellers and provide detailed information and photos for customers looking at vehicles and other goods over the internet. Smith viewed her online business as a tool to avoid internet scams and ensure consumers get what they pay for.
"I was pretty naive," Smith said. "I thought as soon as eBay heard about this, they would love it. I thought once people start talking about it, they are going to love it."
It took time for consumers and eBay to catch on to WeGoLook. Now, one of the nation's largest insurance companies outsources many of its inspection services to WeGoLook and visitors to eBay Motors have the option to order an inspection from the Oklahoma City-based company.
More than 27,000 people in the United States, Canada, the United Kingdom and Australia work as WeGoLook lookers, and 100 people are employed in the office near downtown Oklahoma City.
Smith, who grew up in Gracemont, showed early signs of her entrepreneurial spirit. In elementary school, the principal put an end to her first business selling yarn belts in school colors to her classmates. After studying at the University of Science and Arts of Oklahoma (USAO) and East Central University (ECU), Smith pursued a career in media advertising.
Prior to launching WeGoLook, she walked away from a secure job to open her own consulting firm with a focus on internet car sales. When the business idea for WeGoLook surfaced, her confidence in the venture was grounded in her past experiences.
Her advice to young entrepreneurs is simple: Be dedicated, be adaptive, take risks and pursue innovation.
"When you know in your entire body and soul that something can work and how valuable it can be, you are willing to do anything," Smith said.
By Laura Eastes
Garett Fisbeck
Jonathan Groth posees for a photo at WSKY, Tuesday, March 29, 2016.
Full satisfaction
If you enjoy the dishes designed by Slaughter's Hall and WSKY Lounge head chef Jonathan Groth, thank his dad.
Groth's father pointed him to the Coach House apprenticeship program — a training ground that has disproportionately populated Oklahoma City's restaurants with high-quality chefs — after Jonathan decided to leave behind a career in advertising.
"I know I wanted out of advertising," he said. "I asked myself, 'What do you want to do? What would you enjoy doing the rest of your life?'"
His answer: Leading a kitchen.
He always enjoyed creating cuisines. Watching a cooking show, he decided to try making a pea risotto for himself.
"It was my first foray into high-end cooking," he said.
But he always enjoyed cooking. When he and his friends got together to talk comic books, he'd make snacks. Fifteen years later, he still gets requests for his "meat muffins" recipe.
If he was going to be a chef, he needed training, which is where his father came in. After seeing an article about the apprenticeship program, his dad sent him to talk with current Vast head chef Kurt Fleischfresser, who brought him into the Coach House program.
After graduation, Groth worked in different venues across the city, including Platt College, before he was recruited by Fleischfresser to be head chef at The Lobby Cafe & Bar and then at The Tasting Room. Eventually, he took over at Slaughter's Hall, where he constantly fine-tunes the menu.
He's still creative, he said, but instead of building client campaigns, he builds salads and sandwiches he knows people will enjoy.
"I don't want the person who gets the salad to be disappointed," he said. "Everyone who gets a dish here needs to be satisfied."
If you can make a salad somebody loves so much they have to tell their friends about it, you have a fan for life.
By Greg Elwell
Emmy Verdin
Amy Young poses for a photo at SixTwelve in Oklahoma City, Wednesday, June 8, 2016.
Artistic outreach
Amy Young started SixTwelve in Paseo Arts District as a way for young people, older people and everyone in between to come together as a community through learning and creativity.
"The idea is for kids and adults alike to work together to build this community around food and creating art, or DIY — whatever it is you want to learn how to do," she said from the freshly renovated space at 612 NW 29th Street.
SixTwelve is a progressive community center. Children are central to its focus, and in the pre-k program, Young purposefully leads through her extensive experience as an elementary music teacher and education curator at Oklahoma City Museum of Art. The space also boasts an after-school program, an organic community garden and rotating artists' residences.
"SixTwelve is about trying to encourage people to try to learn to take care of themselves and also how to take care of each other," Young said.
Young's school fulfills her dream in many ways.
"When I was little, I actually played school with my friends instead of house. … I made kids use our old textbooks and things like that," she said. "It was just silliness, but it turned into something."
In addition to the successful school, where teaching is done for the whole child and not just for testing, the community garden thrives. In exchange for fresh vegetables and an opportunity to learn about sustainable urban farming, volunteers donate their time every Wednesday and Saturday.
Partners like Sierra Club, deadCenter Film Festival and Oklahoma Food Cooperative have come together to support monthly community group meetings, game nights and art classes. Young also has ties to Savannah, Georgia, since it's where she completed her master's thesis in art history, and she plans to start an artist exchange program between OKC and that city.
By Candice Macis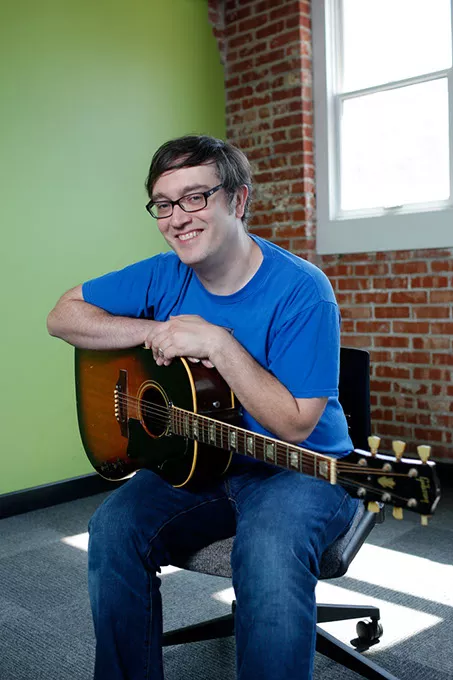 Garett Fisbeck
David Broyles poses for a photo at the Academy of Contemporary Music, Thursday, June 16, 2016.
Plucky enterprise
From his beginnings as a "middle-management retail drone" to his current post as a music theory professor at ACM@UCO, music has always been a defining characteristic of David Broyles' life.
"Most of the things I do every day have something to do with music," Broyles said. "I certainly had my share of discouragement along the way, but ultimately, I couldn't imagine doing anything else."
Broyles founded Dr. Pants, a local music act specializing in alternative rock similar to Weezer and Phish. With pop culture-laced tracks with names like "If I Were John Cusack" and "Kenny Loggins," the band's sound can be pretty strange and eclectic, especially when compared to Oklahoma's more folk-oriented music scene. But that hardly matters to Broyles, whose musical influences include The Beatles, R.E.M. and My Bloody Valentine.
"We're really serious about the fact that we're not so serious," he said.
While Broyles likes to have fun with live shows and experiment with his own work, he takes his love for music and teaching seriously.
"The payoff of getting to teach at ACM and work with those students and see them and their passion get fed and nourished is so amazing," he said.
He has spent years performing with Dr. Pants and his wife, singer-songwriter K.C. Clifford, he likes to give students a real-world perspective on pursuing music as a career.
"I say things like 'Be prepared to work really hard' with the knowledge that people won't fully understand them until they get hit in the face with it," Broyles said. "Working in music can be so much fun, but you have to work your butt off to get to that point and not let the discouraging part outweigh the fun parts."
By Keaton Bell
Garett Fisbeck
Charles and Ronda Parker in their RV in Oklahoma City, Wednesday, May 18, 2016.
Road signs
Charles Parker and Ronda Williams were too young to retire, so they became professional RVers.
"Her dream is to do this," Parker said of his wife. "My dream is financial security."
His dream came true first. After leaving graduate school in San Francisco in 2007 to work as a commercial photographer, he launched a company that takes pictures of paper.
Oklahoma Document Imaging now employs about 70 people in eight states. The business takes high-quality images of oil and gas documents for land professionals and title attorneys. Running that company now sits on his friend's shoulders because Charles and Ronda hit the road.
After socking away 80 percent of their earnings and investing in real estate, the couple decided to downsize their lives. They don't have a house, and they have very few possessions, although one of them is pretty big: a 2015 Winnebago Brave they named Mellow Yellow.
They spend 9 months of the year roaming the country, visiting family and stocking their next venture: FindWell, a vintage shop built from their travels.
Their home on wheels is about the size of a New York City apartment but has constantly changing views. And while sating wanderlust via Winnebago isn't the most eco-friendly lifestyle, Parker and Williams closely monitor everything they use and every ounce of waste they create.
They still have creature comforts, including their creatures. Pekingeses Bozz and Zelda and a Newfoundland named Bernadette travel everywhere with them.
Eventually, they might try and make a documentary about their adventures, Parker said, but they currently share their whereabouts on their website, chuckandmeintherv.com.
By Greg Elwell
Print Headline: The American dream, These Okies quit their corporate day jobs and followed their passion.