Photo: Bigstock.com / Photo illustration: Christopher Street
When asked about her family's Christmas traditions, 30-year-old Shawn Wilson is like most others with a fondness for the holidays.
She smiled before sharing that Christmas is a cherished time of year for her family, especially for her grandmother, who always decorates the house with Santa figurines and trims the family's holiday tree. As a child, Wilson picked one present from underneath the tree to unwrap on Christmas Eve. She selected wisely, and her three younger sisters followed her lead; the other gifts would have to wait until the next day.
As she got older, Secret Santa became part of the family's gift-giving mix. Regardless of the gift distribution, the family always gathered for a big holiday meal to cap off another Christmas together.
Wilson's vivid childhood memories are still clear as day. However, her demeanor became somber as she spoke about this holiday season.
"It is one of the toughest times of the year," Wilson said. "Being incarcerated, you miss your family. You want to be there. If they could only give us day passes and we could go for a few hours, I promise I'd come back."
An inmate at Kate Barnard Community Corrections Center in Oklahoma City, Wilson is serving an eight-year sentence for robbery and kidnapping. If there is a bright spot to reflect on this year, Wilson said it's her decision to make a change. In October, she enrolled in the culinary arts training program at The Education and Employment Ministry (TEEM). The nonprofit provides education and job placement services to inmates three to six months before their scheduled release.
"My grandma visited the [TEEM] website, and she cried," Wilson said.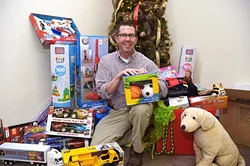 Mark Hancock
Kris Steele of TEEM organizes donations for the children of incarcerated parents.
The website helped her south-Texas family understand the services the re-entry program offered in OKC.
"My family is behind me and supporting me because they know I am making steps to better my life," she said.
With Wilson's determination, TEEM's direction and motivation from family, this will be her last Christmas in the custody of the Department of Corrections.
"[My grandma] told me on the phone she is going to leave the Christmas tree up until I get home, which is the first week of February. So my grandmother's Christmas tree will be up seven extra weeks this year," Wilson said.
As TEEM's executive director, Kris Steele hears stories like Wilson's often.
Incarceration has "reaching effects on the entire family." Some of those family members are children, and many participants are parents. It is difficult for a parent who misses Christmas morning with their children, but added stress comes from parents who wonder if their child is remembered.
This year, no child will be forgotten, as TEEM staff organized a toy drive this fall. Donations of action figures, games, dolls and more were displayed in a store-like setting. Family members of TEEM participants came "shopping" with no funds exchanged after family members, often grandparents, selected holiday gifts for youngsters. The project reached 120 children.
The event was viewed as a success in its inaugural year, and Steele said staff and participants are thankful for the toy donations and gifts made to the nonprofit throughout the year.
Donations as small as $15 can cover the cost of a participant receiving their birth certificate, which is essential for employment. A gift of $50 allows a participant to ride the Embark public transit bus to and from their new job for a month. Scholarship gifts around $1,000 cover tuition for trade education programs, like culinary arts or welding.
"No gift is too small," Steele said. "Whatever level of donation it is, we will utilize it and maximize its reach."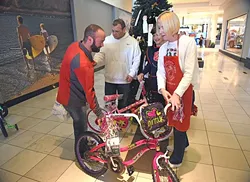 Mark Hancock
From left, Moore Oklahoma business owners, Greg Derr, and Michael Milligan bought gifts for ten children, including bicycles, and turned them over to Salvation Army volunteers, June McCoy and Terri Holcomb, at the Angel Tree in Penn Square Mall, 12-8-15.
Traditional giving
The same rings true for staff and volunteers of The Salvation Army Central Oklahoma Command when manning the iconic red kettles dotted across 68 metro locations. Salvation Army bell ringers accept donations from pennies and dimes to dollar bills. In years past, the metro campaign has raised half a million dollars.
Maj. Carlyle Gargis said kettle donations help sustain the area command's social services programs for the coming year. In the OKC area, the Salvation Army operates a 109-bed emergency shelter, outreach programs at five senior centers, a year-round food pantry and an after-school program in El Reno. Bell ringers will accept donations through Dec. 24.
Another well-known holiday campaign for the Salvation Army is its Angel Tree program, which provides the public an opportunity to bring holiday cheer to underprivileged children and seniors by donating gifts. This year, 5,000 children and their families are part of the program. Those parents and guardians visit the Salvation Army this week to pick up gifts.
"One of the reasons why I love this program so much is these parents are able to take these gifts home, wrap them and put them under their tree," said Gargis, area commander. "On Christmas morning, their children know they've been remembered, too. Our hope is that those children would never know The Salvation Army was involved."
For those who know of Salvation Army's involvement, it is a holiday blessing.
"There is always tears and faces of being overwhelmed. You have to remember how tough it is on someone who couldn't take care of their family and had to ask for help," Gargis said. "That's a tough deal in itself, but it is met with very nice gifts, a food basket, a Bible and a loving face of someone who cares."
Mark Hancock
Jo Jones, president-elect for the Association of Fundraising Porfessionals, in the waiting room at Infant Crisis Services, on North Lincoln Blvd, in OKC, where she works, 12-9-15.
Thankful Tuesday
Infant Crisis Services board members shared their gratitude to donors and supporters by swapping Giving Tuesday for Thankful Tuesday on Dec. 1.
"It was fun for us to say thank you instead of asking for a donation," said Jo Jones, director of development and communications for the local nonprofit. "Of course, people still made donations, but it was a little different tack."
This was the second year that Infant Crisis Services, a nonprofit that provides life-sustaining formula, food and diapers to babies and toddlers, participated in the four-year-old holiday. Giving Tuesday follows Black Friday, Small Business Saturday and Cyber Monday, but instead of shopping, consumers give to a charitable organization.
The Giving Tuesday concept has grown in popularity with nonprofits, which typically mark the day by emailing donors or rallying social media for donations. It also kicks off the start to holiday giving and year-end generosity, said Jones, who also serves as president-elect of the Association of Fundraising Professionals, Oklahoma Chapter.
"This is certainly a really good time of the year for nonprofits, and certain nonprofits will remind their donors the clock is ticking," said Jones about donations paying off at tax time.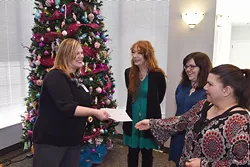 From left Katie Fry with The Children's Center Rehabilitation Hospital in Bethany accepts a check from Vivian Noah, Katie Schwarz and Patricia Thweatt with Auto Finance USA. (Mark Hancock)
Giving guidance
Oklahomans are known for giving, whether it be money, meals, clothing or time. The state's philanthropic spirit became known the world over after the 1995 Alfred P. Murrah Federal Building bombing. The community came together to help neighbors and strangers. Out-of-state visitors took notice and called the service commitment the Oklahoma Standard.
The standard continues and is most visible in times of distress, like after the 2013 Moore tornado or the Oct. 24 Stillwater parade crash. A facet of the standard is charitable giving, and OKC is the seventh most charitable major metropolitan area in the nation. The Chronicle of Philanthropy released the rankings in a 2012 report that showed Oklahoma County residents donated $628 million to charity and Cleveland County residents added $158 million for that year alone.
"In Oklahoma, we do have some very wealthy companies, individuals and foundations, but I think it is more than just that," Jones said. "It goes down to the individual. … Not only are people charitable, but there are thousands of charitable organizations out there for people to support."
Oklahoma Center for Nonprofits reports there are more than 19,000 nonprofits across the state, which makes it challenging to select which organizations to support.
Jones recommended that donors reflect on their passions when deciding where to give.
"Many of the people who give to Infant Crisis Services either just had a baby or are new grandparents," Jones said. "They can't imagine a child doing without."
Jones also suggested researching organizations by visiting GiveSmartOKC.org, an online resource administered by Oklahoma City Community Foundation, utilized by many metro nonprofits.
Through search options, it is easy to locate information about an organization, its management, governance and financials. Each nonprofit also lists contact information for volunteering and giving, along with a Web address.
Mark Hancock
A woman donates a few dollars at the Salvation Army collection kettle, manned by Gladys Brady, a paid bell ringer, near an entrance to Penn Square Mall.
Office space
For the 40-member staff at OKC's Auto Finance USA office, the act of giving is a yearlong endeavor.
Though the level of giving tends to heighten during November and December with an office canned food and coat drive benefiting The Salvation Army, co-workers continue to donate to the recently established community giving fund.
Coworkers Katie Schwarz, Patricia Thweatt, Cynthia Trujillo and Vivian Noah said the fund began after seeing missed opportunities to give back to and benefit their community throughout the year.
It began after asking coworkers to nominate local nonprofits to support through office fundraisers. Through an online ballot, they selected A New Leash on Life Inc., an organization that trains service dogs.
No one pulled out a checkbook to donate. Instead, the office environment changed. To participate in casual Fridays, workers donate $10 at the beginning of each month. In the break room, vending machine prices were raised a small amount and the extra change was earmarked for their chosen charity. Staff meetings featured raffles for prizes, which were purchased by redeeming reward points earned from buying office supplies.
Unique ways to support a cause, mixed with co-worker camaraderie, led to donations of more than $1,000 to each of the three local nonprofits, including Yukon's Pets & People Humane Society and The Children's Center Rehabilitation Hospital in Bethany.
"None of us are rich, and many of us live paycheck-to-paycheck, but we can still help those in need," Noah said.
Coworkers showed pride as they discussed fundraising. The pride carries into talks about the benefiting nonprofits. After giving to A New Leash on Life, a representative and a service dog stopped by the office to thank employees.
"That's what people like about it," Schwarz said. "They had a part. They contributed because they were connected."
The holiday season brings on giving, but it's the influence on those donations that keeps Oklahomans giving in December and year-round.
Print Headline: Sharing spirit, This holiday season and year-round, local businesses, employees and community organizations prove why metro-area residents are some of the most generous in the nation.