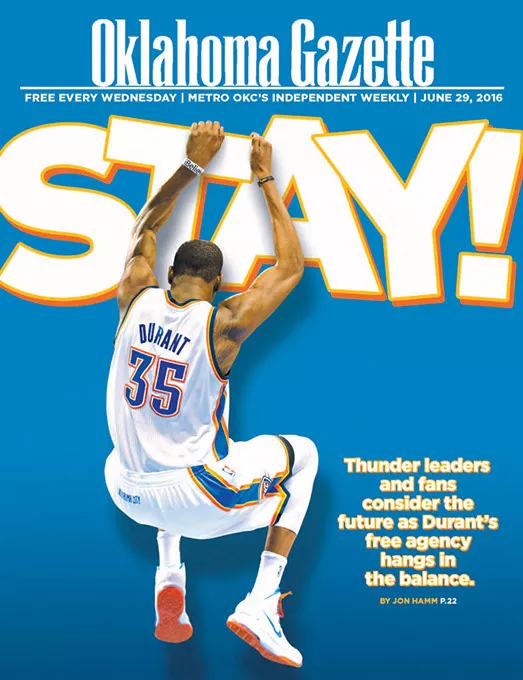 Cover Design: Christopher Street
Thunder All-Star and All-NBA forward Kevin Durant has achieved much in his career, but this summer promises him an opportunity he hasn't had before.
When the clock strikes midnight Eastern Standard Time on Thursday, Durant will no longer be under contract to play for Oklahoma City Thunder. He will be the most sought-after free agent of the summer. He can choose to continue his basketball career here or in Oakland, Boston, Be?ikta? or anywhere in between. July 1, he becomes a free agent, free to do what he wants any old time.
Durant hasn't been with the Thunder as long as Mick Jagger has been a Rolling Stone, but it might seem that way. He's a founding Thunder player and has been with the team since the Seattle Supersonics relocated from The Emerald City to The Big Friendly in 2008. If Durant is Jagger, then Russell Westbrook and Nick Collison are Keith Richards and Charlie Watts.
As with members of any hit-making music act, Durant's performance is critical to the team's success. Basketball is a sport in which a team plays only five people at once, and they play both offense and defense. Subtract a superstar from that five-man lineup and the team will likely falter. Contrast this to football, which has 11 men on the field and its players specializing on offense, defense, kicking and punting. Players are much more fungible in that sport no matter how elite they might be.
Durant is not the Thunder's only soon-to-be free agent. Guards Dion Waiters and Randy Foye also are free to change teams this summer. While both played critical Thunder roles during last season's playoff run, Durant is the one who will most impact the team's future.
Satisfaction
As Durant has grown in stardom, the Thunder has likewise grown in prominence. Since 2011, the team has appeared in the Western Conference Finals in four of the previous six postseasons, including an NBA Finals berth in 2012. The era could have been even more impressive if not for significant and ill-timed injuries. Westbrook's torn meniscus derailed a potential title-winning run in 2013. A strained calf muscle took versatile forward Serge Ibaka out of the lineup for two critical Western Conference Finals games in 2014. An unprecedented spate of injuries, which included Durant missing 55 games due to a broken bone in his foot, knocked the Thunder out of the playoffs completely in 2015.
The Thunder bounced back to stage with a somewhat improbable playoff run earlier this year that ended with a conference finals loss to the Golden State Warriors, fresh off winning the most regular season games in NBA history, in seven games. Thunder even held a 3-to-1 game advantage over the Warriors, and many assumed it would advance to the NBA Finals. Had the Thunder been locked in a series with any other than the league's winningest regular season team, it might have. Instead, the Warriors won the final three series games and put Durant and the Thunder's title hopes on hold for at least another season.
Merely making the NBA's version of the Final Four doesn't satisfy every fan, especially those who subscribe to the Ricky Bobby mentality of "If you ain't first, you're last." Clearly, no banners hang celebrating conference finals appearances, but clearing that bar several times in a short span places a franchise among the elite.
Still, Durant just completed his ninth NBA season and remains without an NBA title on his resume. He turns 28 in September and is entering the prime of his career. Whatever decision he makes, the 2013-14 MVP has to consider the likelihood of winning an elusive championship as he ponders his future.
Under his thumb?
Some fans nervous about the Thunder's future remember recent major free agent defections. Two of the biggest were when Shaquille O'Neal left the Orlando Magic for the LA Lakers in 1996 and when LeBron James took his talents to South Beach in 2010. The Magic put up a valiant effort to remain relevant after O'Neal left, but it imploded within three years. The Cavaliers became one of the worst teams in the NBA and remained that way until James surprisingly returned in 2014.
There's not much comparison to draw from those scenarios and the one Durant faces. O'Neal left Orlando in part because he felt the Magic low-balled him with its initial offer, reportedly in the range $80 million over four years. The Lakers began moving heaven and earth in order to make an offer of $120 million over seven years. O'Neal made what he has long described as "a business decision."
Such a situation won't occur with Durant and the Thunder. NBA players and owners implemented maximum salaries after a contentious 1999 lockout, and the rule has remained ever since. Durant's first-year maximum salary is expected to be around $26.4 million. That will be the most any team can offer him. The Thunder won't find itself in a situation where it could be outbid by another team.
James left behind an aging Cavaliers squad unable to attract a costar. The Cavaliers became so focused on "win now" moves that it depleted its overall talent and left few promising future prospects. Durant faces no such situation in Oklahoma City. He has had a co-superstar in Westbrook for the past eight seasons. The Thunder was the 10th-youngest NBA team last season with an average age of just under 26 years old. That includes 22-year-old rising star Steven Adams, whose improved play in the postseason has many wondering how high his ceiling actually is. Key playoff performers Waiters, Andre Roberson and Enes Kanter are age 24 or younger. The team is set to be just as much of a contender over the next five years as it has been the past five years.
Rock and a hard place
Having all of that young, developing talent is helpful in another way. If Durant chose to leave, it wouldn't leave Chesapeake Energy Arena cupboards completely bare. The Thunder's status as an NBA title contender would take a massive, if not terminal, hit. His departure would give the Thunder room under the NBA's salary cap to attempt to fill his void. In simple terms, the salary cap is a complex system that helps maintain competitive balance across the league and sets limits on how teams spend money on player contracts. The way the Thunder is positioned, it would not have room under the salary cap unless Durant left.
Suffice it to say having cap room is not a scenario the Thunder front office wants. The Thunder could theoretically retool around Westbrook if Durant departed, but Westbrook can become a free agent next year. It could attempt to lure the next best replacement on the free agent market, such as Charlotte's Nic Batum, Golden State's Harrison Barnes or Atlanta's Kent Bazemore. None have notched an All-Star appearance. It would be like replacing the horsepower of a Dodge Viper with a Honda Accord.
Spider and the fly
Durant has given mostly canned responses when asked about his future. Last August, Durant was asked not about his future specifically but about what frustrates him about media coverage of the NBA. He gave a response that would serve as a fallback any time the topic of his free agency came up.
"Along with Matty Ice (Thunder PR man Matt Tumbleson), I've got two people that I trust with my life: my agent and my manager, who's my best friend as well," Durant told reporters during a Team USA minicamp in August. "I trust them with my life. So if you hear sources or anything, don't believe it if it didn't come from them. I tell them everything. We bounce ideas off each other. We collaborate on a lot of different things. They give me advice. So throughout this year, if you hear sources from anybody, it's not true unless you hear it from Charlie Bell, Rich Kleiman or Kevin Durant."
Media was prepared to ask Durant about his future when the Thunder played on the road. A virtual circus was anticipated as Durant and company traversed the country. All told, the experience was mostly tame.
When asked about his future, Durant's responses were fairly consistent. He often rotated through responses such as "I don't think about the future," "I'm just focused on playing better each and every day" or "I haven't really thought about it." As much as the media probed and phrased questions in various ways, Durant offered nothing definitive. He didn't allow his uncertain future to distract the rest of the team.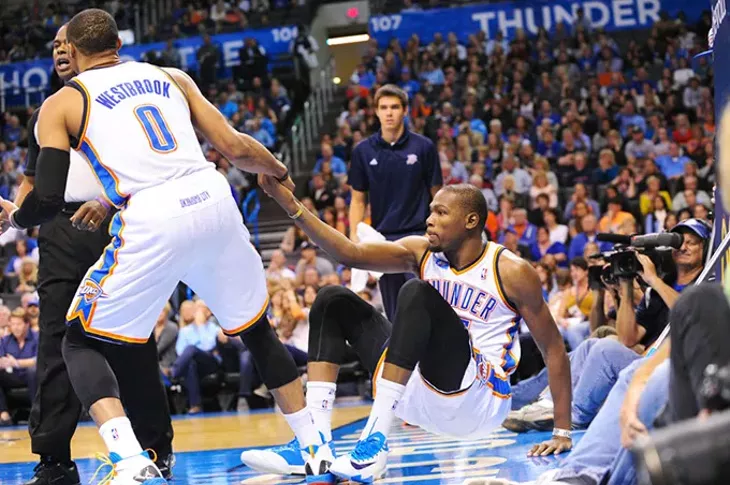 OKC Thunder player Russell Westbrook helps Kevin Durant up off the court after a tumble in this 2013 photo. | Photo Gazette / file
Respect
As important as Durant is to the Thunder, he has made perhaps a bigger impact on Oklahoma City and surrounding communities. Most famously, Durant made a personal donation of $1 million to Red Cross disaster relief efforts in May 2013 after devastating tornados wreaked havoc on parts of Oklahoma City suburbs. Durant also reached out to Nike and convinced the company to donate $1 million in apparel and profits from Durant's signature basketball shoe.
In 2015, Durant made a pair of notable community contributions through his Kevin Durant Charity Foundation. A new basketball court was unveiled in September at North Highland Elementary School as part of the foundation's Build It and They Will Ball initiative. In December, the foundation made a third donation to Positive Tomorrows, an Oklahoma school that provides elementary school education for homeless children.
"They needed some help and, simple, I just wanted to help them," Durant told Anthony Slater of The Oklahoman when he personally presented a check to the school.
Oklahoma City needs Durant in the community just as much as the Thunder needs him on the basketball court.
Shine a light
All 30 NBA teams hold exit interviews with the media as their season ends. The head coach and the players sit down one at a time to discuss the past season, the future and anything in between. The interviews serve as an epilogue to a thousand-page novel that has left fans riveted night after night. Fourteen teams get to meet the media as soon as the regular season ends because they missed the playoffs. Fifteen others meet the press after they lose a playoff series. Only one faces the media as an NBA champion.
The Thunder didn't hold exit interviews after completing a downtown Oklahoma City championship parade route. Instead, it held them June 1 after its loss to the Warriors. Naturally, media and fans looked forward to Durant's words and body language, prepared to dissect each frame-by-frame and word-by-word like a modern-day Zapruder film. Durant spoke positively about the season and praised his teammates. The first question thrown his way was about what factors go into his summer decision. Durant paused before thoughtfully answering.
"When I sit down and think about it, to be honest, I haven't put that list together, I guess. But just being around great people, being in a great basketball environment — that's the two most important things for me," he told media. "That's all I really care about, who I'm going to be doing life with every single day, who I'm going to be playing basketball with every single day."
Durant was then asked whether he wanted to be courted the way James was in 2010, with all the pomp and circumstance normally reserved for King Edward VII.
"That's not who I am," Durant responded. "All that other stuff that comes with… y'know, being who I am and being in this position is not really for me.
"It may seem like I'm not talking and I'm not giving information, but I'm just really trying to make sure I tie everything up properly and make this thing right."
The NBA's free agency period begins Friday. Players and teams can agree to terms, but no contracts can be signed until Tuesday due to a moratorium. That could make for an excruciating week for fans awaiting definitive word about Durant's decision.
One former Thunder player doesn't seem concerned. During exit interviews, Ibaka was asked about Durant's situation. The Congo native's response summed up the feelings of most observers.
"Where he going to go? Tell me," he said. "After what we did in the playoffs this year, where? If he gonna go somewhere, where?"
Editor's note: Jon Hamm is an NBA Insider for 107.7 The Franchise and a contributor to dailythunder.com. He has studied the complexities of the NBA's Collective Bargaining Agreement for more than 15 years. You can follow him on Twitter @JonMHamm.
Print Headline: Dancing with Mr. D, OKC Thunder leaders and fans consider the team's future as Kevin Durant faces free agency.