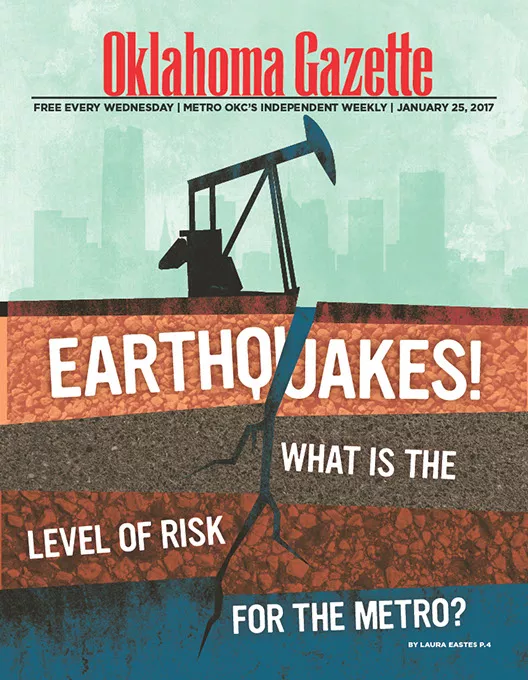 Cover: Christopher Street / Oklahoma Gazette
A few years ago, a random query from an Oklahoma City television journalist about the recent earthquakes rumbling near and around the oil hub town of Cushing came from out of the blue.
As the publisher of the Cushing Citizen, David Reid was straightforward in his response to the reporter.
"The oil industry is very important to us," he said, recalling the conversation. "If these little, cute earthquakes is all we have and that's as bad as it is, then we don't need to do anything to impede these people's process of providing a service and making money."
To make his point, he ended the call by saying, "As long as those little rumbles don't hurt anything or anybody, it's not a problem."
As the ground began to shake more frequently and more severely, Reid explained, opinions about earthquakes began to shift among the 8,000 residents of Cushing.
In 2015, the Oklahoma Geological Survey (OGS) recorded 21 earthquakes with epicenters no farther than three miles west of Cushing, which is one of the largest oil trading hubs in North America.
As residents braced for the next quake, much of the damage was limited to windows and doors rattling and household items falling over.
Then came the 5.0-magnitude earthquake the evening of Nov. 6, 2016. Its strong seismic waves dislodged bricks, broke windows and displaced people from their homes and businesses.
Images of fallen bricks and cracks in the walls of Cushing's historic buildings were broadcasted across the country to accompany headlines of Oklahoma's injection-induced earthquake problem.
Just two months earlier, a 5.8-magnitude quake shook the community of Pawnee and rattled the rest of the state and six surrounding states.
It signaled an earthquake crisis as Cushing joined the list of Oklahoma oil field towns ailed by such manmade quakes — homes and businesses were wrecked, property values were impacted and communities were forever changed.
"The only people in the whole mix that say these earthquakes aren't man-made and not caused by wastewater disposal wells are those directly in the business," said Reid, whose newspaper building was damaged in the November earthquake. "They are in denial."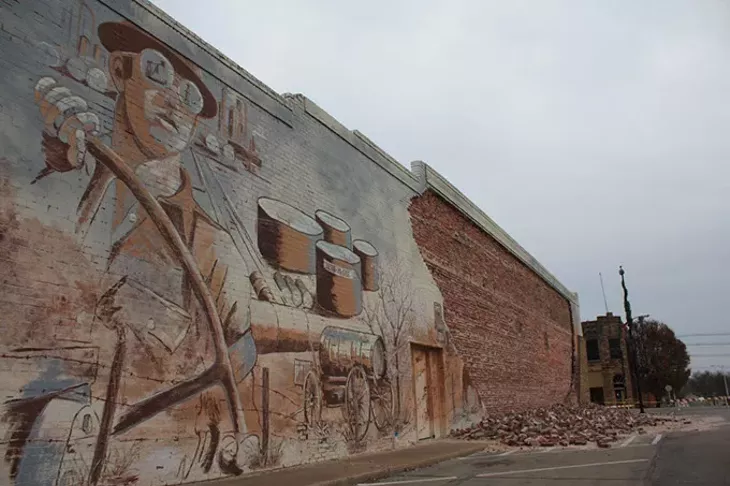 A wall of mural bricks fell from the Lions Club building in downtown Cushing following a 5.0 magnitude earthquake in November. | Photo Laura Eastes
Making earthquakes
Recently, Oklahoma, a state more known for tornadoes than seismic shifts, earned the title of "earthquake capital" by the national media when the Sooner State's seismic rate surpassed earthquake-known places like Alaska and California.
Before 2009, Oklahoma averaged around two magnitude 3.0 or higher earthquakes a year. The state experienced more than 850 earthquakes in 2015 alone, followed by 623 quakes last year. The majority produced small seismic waves causing little or no damage.
The cause, scientists say, is injecting wastewater from oil and gas drilling into deep underground wells. It's a position that earned the support of the U.S. Geological Survey and OGS back in May 2014, when the two agencies issued a joint statement on their analysis of induced earthquakes and warned about the chance for a damaging magnitude 5.5 or greater quake hitting central Oklahoma.
Behind the rise of earthquakes is the rise of wastewater volumes. Injection well technology was first developed in the 1930s and utilized for decades by oil companies.
These days, most companies drill their deposits with hydraulic fracturing to crack the rock to release the oil and gas. As the oil and gas come up the well, so does hazardous water. The operator pumps the water down a different hole drilled far below the oil reservoir.
In certain situations, as more and more fluids are injected into a wastewater well, pressure can build up on deep geological faults, explained Jacob Walter, lead seismologist at Oklahoma Geological Survey.
"I tell people you are lubricating the fault zone," Walter said. "When you lubricate the fault zone, the rocks want to slip because of preferential stresses in the crusts. When those rocks slip across one another, that's when you have an earthquake. It happens fast and the ground shakes."
Not all wastewater injection wells induce earthquakes; however, the Arbuckle formation — Oklahoma's ideal disposal well — was flagged by Stanford University scientists for its high volumes of injections and induced earthquakes.
Those same scientists also predict over the next few years — as Oklahoma takes regulatory measures to dispose of less wastewater and cuts back on oil and gas activity — wastewater injection will decrease, but the threat remains high for a damaging earthquake.
OSU College of Arts and Sciences http://cas.okstate.edu
Geologists can forecast with probability but not predict with certainty where earthquakes are likely to occur, said OSU geology professor Todd Halihan. | Photo provided
Real threat?
Some believe the Oklahoma City area, located not far from earthquake epicenters in Edmond and north central Oklahoma, is particularly vulnerable for seismic activity.
That assumption is not wrong but requires digging into the most recent reports from the U.S. Geological Survey (UGS) and OGS. Because of the increase in the number and severity of earthquakes, the UGS began creating a separate, short-term hazard map that estimated the chance of experiencing an earthquake last year.
On the hazard map, central and northern Oklahoma appears in red and orange, implying a high level of earthquake risk.
In fact, Oklahoma is listed as the most significant hazard area for induced seismicity.
The map will not satisfy people who want to know the short-term likelihood and danger of earthquakes, explained Todd Halihan, a professor of geology at Oklahoma State University.
Halihan advises there is a level of uncertainty associated with the map. Geologists can forecast with probability, but not predict with certainty where earthquakes are likely to occur.
"We've discovered that we are not good at predicting them," Halihan said. "We can say in the next 10 years, there is one likely to go here with tectonic earthquakes, the natural ones. We struggle with how do we tell people and it doesn't move. If it doesn't move, then you will have people say they will never listen again."
The Nemaha fault, which extends north from Oklahoma City into Kansas and Nebraska, gives many concerns about a catastrophic earthquake in the metro.
Walter, the state seismologist, explained the Nemaha fault is a concern, but the dangers of it slipping and causing an earthquake are unlikely based on the way tectonic forces are working.
"If you look at Oklahoma — we can see this with all of the earthquakes in north central Oklahoma — we find the principal stress direction is compressive in the east to west direction," Walter said. "What we know about the Nemaha fault from the geology is that it runs north and south. If Nemaha was running east to west, we would be really concerned. The present-day stress direction suggests it's not prime to slip."
"It reminds me of addiction," said Ward 2 Oklahoma City Councilman Ed Shadid. "Oftentimes, with addiction, there is denial. We certainly had that in the beginning." | Photo Gazette / file
Slow response
A 5.7-magnitude earthquake jolted Prague, a community about 60 miles east of Oklahoma City, in November 2011. At the time, it registered as the strongest recorded tremblor in state history and damage was substantial.
Thirteen homes were destroyed and two people were injured.
As scientific findings pointed to a connection between disposal wells and earthquakes, many thought it was only a matter of time before state officials acted on the issue.
As neighboring states began to take action, like Arkansas officials calling for a moratorium on injection wells, not much came from Oklahoma's oil and gas regulator (the Oklahoma Corporation Commission; OCC) or the state Legislature.
The slow call to action frustrated Oklahoma City Councilman Ed Shadid, who represents Ward 2 in northwest Oklahoma City.
Following the passage of Senate Bill 809 in 2015, municipalities cannot regulate the oil and gas industry within their borders and they must rely on the OCC.
"It reminds me of addiction," Shadid said. "Oftentimes, with addiction, there is denial. We certainly had that in the beginning. There was absolutely denial that oil and gas activity had anything to do with it. Like the alcoholic, there is this sense that we can't live without oil and gas. … Just like family and friends can enable an alcoholic, our politicians and regulators enabled the oil and gas industry by not taking them to task on curtailing disposal well activities."
The OCC did take some action, first in spring 2015, when OGS scientists attributed the increase in seismic activity to injection wells in the Arbuckle formation.
Following the Sept. 3 Pawnee earthquake, the OCC ordered 37 wastewater disposal wells in a 514 square-mile area around the epicenter to be shut down indefinitely.
After the Cushing quake, the OCC unveiled a plan to suspend 58 disposal wells from injecting into the Arbuckle formation.
In late 2016, anticipating a major increase in oil and gas drilling in the state's South Central Oklahoma Oil Province and the Sooner Trend Anadarko Basin, OCC and OGS developed seismicity guidelines intended to reduce earthquake risks through three courses of action.
What's next?
Earthquake recovery was slow to start in Cushing, where loose bricks littered the sidewalk and boarded-up storefront windows were common a month after the quake, Reid said.
Last month, a structural engineer advised bricks on three of the corners of Reid's two-story brick building needed to be repaired and relaid. It's a job that could easily cost more than the newspaper building's worth.
Reid is one of the lead plaintiffs in a class-action petition filed in state court in December.
Local residents whose homes and properties suffered major destruction joined in the suit, which alleges the damages "were caused by Defendants' pollution of the environment within and around Cushing, Oklahoma through the disposal of fracking wastewater with injection wells."
The defendants are White Star Petroleum, Crown Energy Company, Petro Warrior LLC, FHA Investments LLC and Cher Oil Company. Additionally, 25 unnamed companies were included in the filing.
Reid explained there is more at stake in a lawsuit against the oil and natural gas companies playing a role in inducing earthquakes.
"We want compensation for our damages, we want the truth and we want solutions," he said. "Come up with a solution so that we don't have to deal with injection wells causing earthquakes anymore."
Print Headline: Shaken state, As Cushing residents work to repair damage from November's record-breaking quake, what can Oklahoma City do to prevent similar tremblors from hitting within city limits?